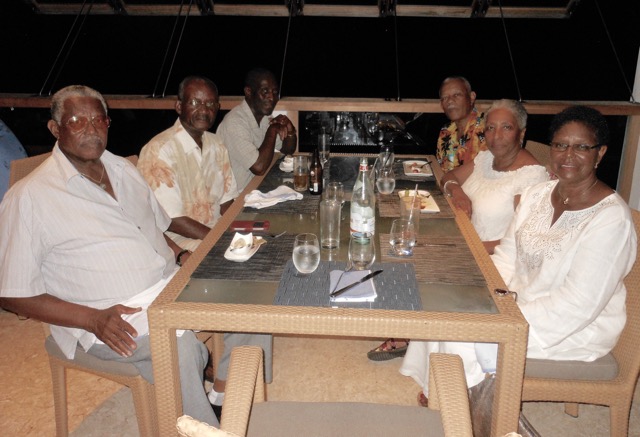 Bajans get together at Hamilton Princess Hotel
(l-r) John McConnie, Orson Daisley. Vendal Bridgeman,
Ralph Sealy, Jennifer Sealy and Madeline Daisley
It was fifty years ago that four young Barbadians joined the Bermuda Police on February 13th 1966, as part of the first group of West Indians to be recruited into the Force.
We were delighted to receive this photo and to hear that Vendal Bridgeman, Orson Daisley, John McConnie, and Ralph Sealy got together for a most enjoyable dinner at the Hamilton Princess Hotel to reminisce about their service and life in Bermuda.
The four officers, together with several more new recruits from Barbados and Bermuda attended Basic Training Course #7 held at the Police Training School at Prospect from February - May 1966.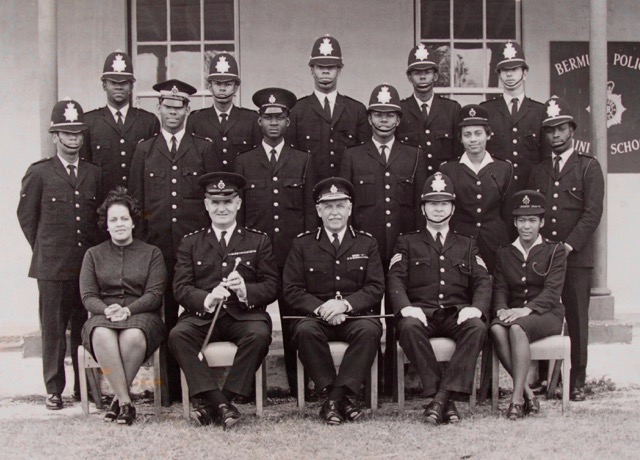 Basic Training Course #7 - May 1966
Top Row (l-r) Anthony Timothy, Ralph Sealy, Clyde "Tango" Burgess,
Algernon "John" McConnie, Raymond Sousa
Middle Row - Erskine Warner, Steven Dean (Cadet), Orson Daisley,
Robert Strickland, Gloria Jean Trott, Vendal Bridgeman
June Dickenson, Chief Insp. Roy Chandler, COP George Robins,
Sgt John Cafferky, Gertrude Cannonier
John, Orson, Ralph and Vendal arranged to have a special 50th Anniversary Get Together during this year's Annual Cup Match holiday, with Orson making the trip from his home in Barbados; Ralph and his wife Jennifer flew from their home in Willow Grove near Philadelphia; John still resides here in Bermuda; and Vendal would certainly have felt very much at home at the Hamilton Princess because he is still Director of Security at Princess which recently underwent major renovations and is a truly magnificent hotel complete with a splendid marina in perfect time for next year's America's Cup here in Bermuda.
Orson, John and Vendal served for many years in the Bermuda Police Service, all three going on to become senior officers before retirement. The photo below can be found in an article about the History of the Bermuda Police at http://expobermuda.com/index.php/articles/312-policehistorylecture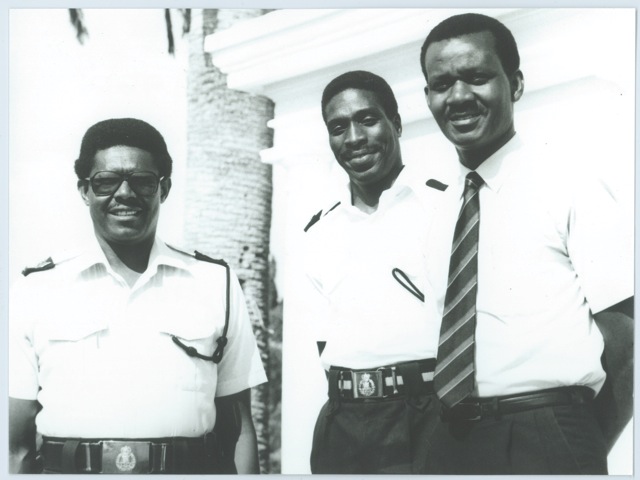 Inspector John McConnie, Chief Inspector Vendal Bridgeman and Inspector Orson Daisley
Following his retirement Orson returned to his homeland in Barbados where he is now fully retired but keeps busy and active pursuing his hobby of floral gardening to the degree that he has been President of the Barbados Horticultural Society for the past 6 years, and for the past 3 years has been travelling to England for the Annual Royal Horticultural Society Chelsea Flower Show where his society has won the Gold Award three years in a row.
Anyone who has ever seen the Chelsea Flower Show either on television or attending in person will know there is no more prestigious event anywhere in the World, and receiving the Gold Award three times in succession clearly indicates that Orson's Barbados Horticultural Society is at the pinnacle of floral gardening.
The Telegraph did an excellent article (May 2015) on Barbados' entry in last year's Chelsea Flower Show, including a great interview with Orson which can be found at
http://www.telegraph.co.uk/travel/destinations/caribbean/barbados/articles/Chelsea-Flower-Show-the-gardens-of-Barbados/
There is also a lovely article published in Business Barbados congratulating Orson and his team on winning their 3rd consecutive Chelsea gold for the garden with the theme "This Place, Barbados" at
http://businessbarbados.com/press-releases/barbados-wins-gold-chelsea-flower-show-2016/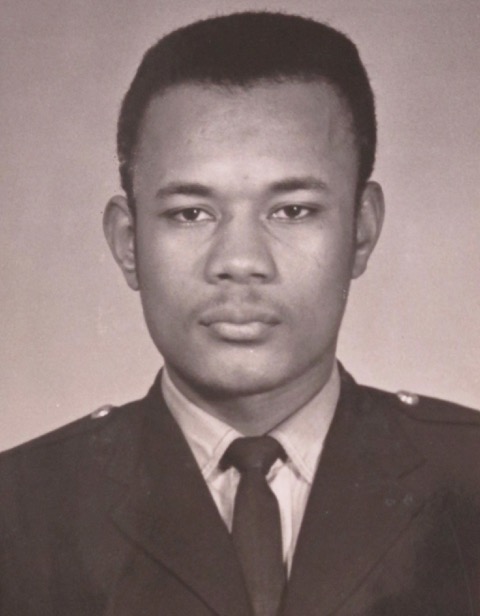 Young P.C. Ralph Sealy
Ralph Sealy served here for 2 years from 1966 – 1968 before moving to the U.S. with his American wife, Jennifer, who he met here in Bermuda. They settled in Philadelphia where Ralph was a successful banker for over 30 years.
Ralph and Jennifer are now fully retired but Ralph still dabbles in the stock market, and continues to be very active with his singing career for over 55 years as a basso profundo in the Anglican Church.
He was a regular member of Holy Trinity Cathedral Choir in Hamilton while serving in the Bermuda Police, first in Central Division on beat patrol, then as Parish Constable in Central Parishes.
And as with Orson, Ralph also has the gardening bug! He wrote to say, "I spend much of the summer in my community garden growing organic vegeatables that my family, church friends and anyone I give some to will rave about their quality and taste. They look forward each year to receiving a bag or two of vegetables from me."
Ralph has also written to say that he and his wife Jennifer had a great time during their visit to Bermuda. In addition to 2016 being the 50th Anniversary of Ralph and his fellow Bajans arriving in Bermuda, it is also 50 years ago since he met Jennifer in Bermuda, and they will be celebrating their 50th Wedding Anniversary next year.
While on Island Ralph was delighted to meet up with Clayton Carter and his wife. Ralph attended Cup Match on the first day and ran into Clyde "Tango" Burgess briefly in the clubhouse (Somerset Cricket Club) although he admits that the heat and humidity got to him so he watched the second day on television in his hotel. For the information of anyone who hasn't been in Bermuda for the Annual Cup Match Classic in recent years, it is now broadcast on ZBM television. Ralph says he really enjoyed the cricket since he had not seen any first class cricket in many years. Ralph and Jennifer also ran into Gertie Barker on their way into a restaurant, and would like to have seen more their old friends but time ran out on this visit. It would not be a big surprise if Ralph and Jennifer happen to return to the Island next year to celebrate their Golden Wedding Anniversary.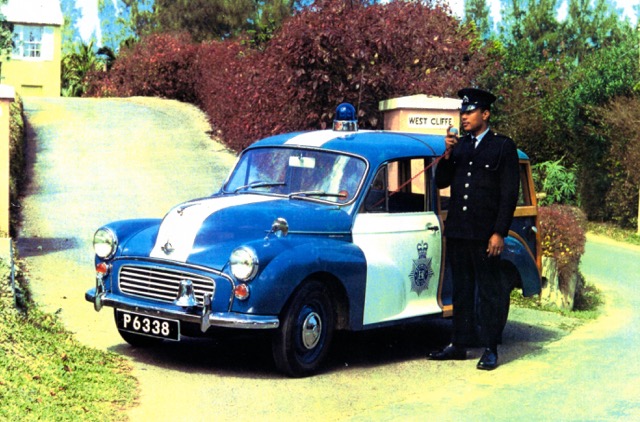 Parish Constable Ralph Sealy with his Morris Traveller P6338
We published an article several year's ago about the use of Morris Minor cars by the BPS which features a photo of Ralph with his favourite Parish patrol car which is, of course, a Morris Minor. The article can be viewed at http://expobermuda.com/index.php/latest-news/164-morrisminors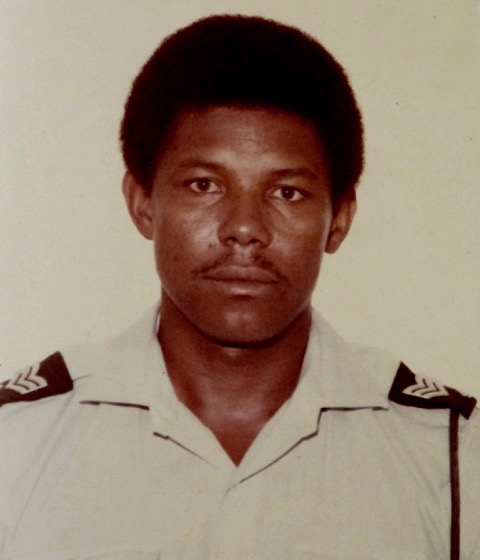 Sergeant John McConnie
John McConnie was always an active sportsman, a regular member of the Police cricket team who also enjoyed playing squash, as did Vendal Bridgeman. John no longer plays sport but still follows his sports with great passion, especially the current West Indies Twenty/20 cricket world champions.
Since his retirement from the BPS at the rank of Inspector John travels the length and breadth of Bermuda as a very popular taxi driver. No-one who knew John all those years ago would have any trouble instantly recognizing his hearty smile and chuckle!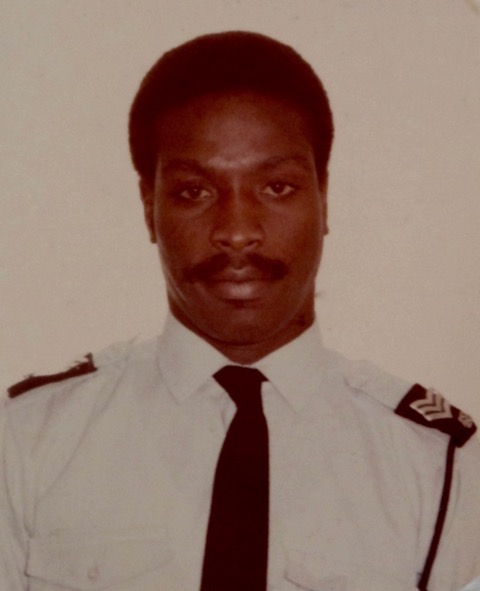 Sergeant Vendal Bridgeman
Vendal Bridgeman served in the BPS for over 26 years, retiring as Chief Inspector, and has been working as Director of Security at the Hamilton Princess since then. Those who are quite long in the tooth may recall that Vendal was following in the footsteps of another retired Chief Inspector, Roy Chandler as Head of Security at the Princess.
As mentioned earlier, Vendal enjoyed playing squash at the Prospect Squash Court, and as a Bajan he also played some cricket. We just discovered this photo below proving that both Vendal and Orson turned out to play for what we believe to be the St. George's Divisional Cricket Team. Can you recognize the other team mambers?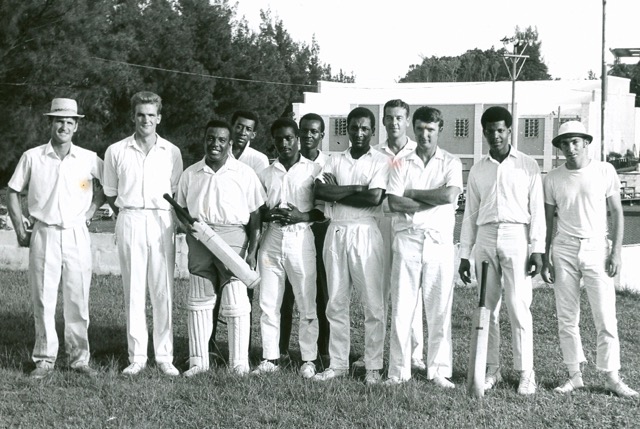 Eastern Division Cricket Team with Vendal and Orson centre.
Can you recognize the other team members?
Vendal was a keen golfer a few years ago but not sure if he still finds the time to get out on the course.
He and his beautiful wife, Louise, are regular attendees at our Expo functions.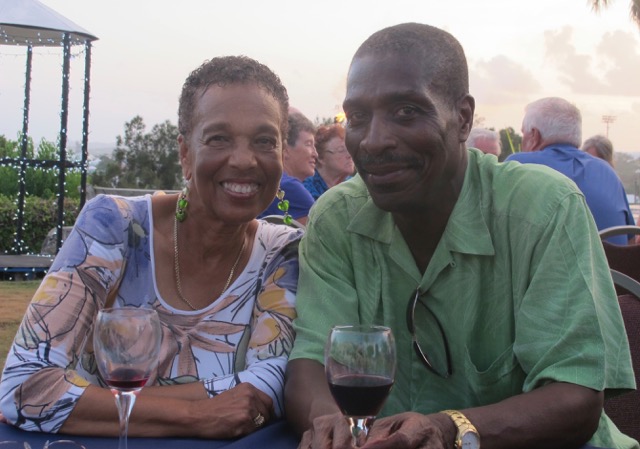 Vendal and Louise attending one of our ExPo Summer BBQ's
It was a pleasure to receive the photo of these four Bajans who got together to celebrate the 50th Anniversary of their arrival in Bermuda as young new recruits in the Bermuda Police, and all have contributed positively to their respective communities whether here or abroad.