Stories of Bermuda's Policemen
who served in the Military during
John Skinner, Inspector (retired)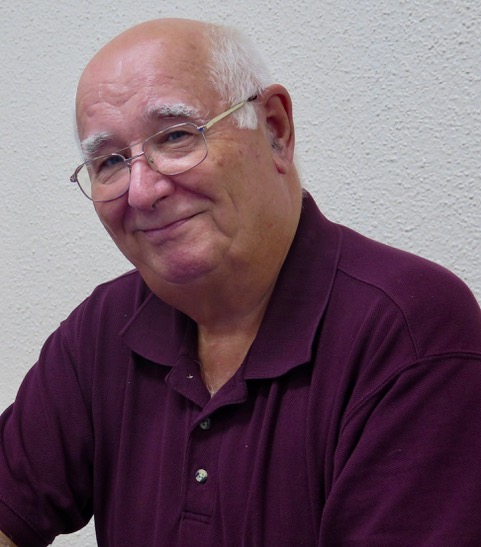 In the course of researching the Names and Life and Service dates of members of the Bermuda Police (please see www.expobermuda.com), I became aware of the many great stories that involved these men and their women. As we are in the period between the 75th anniversary of Victory in Europe and the 102nd anniversary of the end of the final conflict in World War One, it seemed an opportune time to write an article on the World War One military experiences of members of the Bermuda Police.
DEDICATION
This article honours those members of the Bermuda Police Force who risked their lives to defend Great Britain and its Empire, and especially Bermuda, following attacks by members of the Central Powers.
Rifleman Thomas Allison, 200th Canadian Battalion
Gunner Daniel James Benjamin, Bermuda Contingent Royal Garrison Artillery
Sergeant Major Thomas Cornelius Boyd, Royal Artillery
Private Frederick William Browning, Royal Marines
Gunner John V Burgess, Bermuda Contingent Royal Garrison Artillery
Chief Stoker Walter Arthur Garrett Card, Royal Navy
Corporal Ernest Charles Case, Royal Marine Artillery
Private George John Samuel Castle, 38th (Ottawa) Division Canadian Expeditionary Force
Sergeant Albert Henry Churm MM, Bermuda Volunteer Rifle Corps
Bombardier Frederick James Clements, Royal Marine Artillery
Corporal Frederick Cray BCdG, Royal Marine Light Infantry
Seaman Alec Henry Creer, Royal Navy
Lance Bombardier Charles A. Darrell, Bermuda Contingent Royal Garrison Artillery
Gunner Walter Easton, Bermuda Contingent Royal Garrison Artillery
Sergeant Godfrey Raymond Evans, Bermuda Contingent Royal Garrison Artillery
Sergeant Patrick Joseph Farrell, Bermuda Volunteer Rifle Corps
Air Mechanic Victor Edward Fender, Royal Air Force
Sergeant Ellis Fearneley, Royal Marine Light Infantry
Private James Finlayson DCM, MM, Scots Guards
Gunner David Kingston Fishenden, Bermuda Contingent Royal Garrison Artillery
Seaman Claude James Geake, Royal Navy
Private William Henry Hodson, 163rd Battalion Canadian Expeditionary Force
Private Edward James Howes, 38th (Ottawa) Division Canadian Expeditionary Force
Private George James Isted, 2nd Battalion Royal Sussex Regiment
Private Robert Percival Lowe, Royal Army Medical Corps
Gunner Bradshaw Stephen Lynch, Bermuda Contingent Royal Garrison Artillery
Private John Strang McBeath, Scots Guards
Lance Corporal Lewis William Morris, Lincolnshire Regiment
Corporal Kenneth John Munro, Seaforth Highlanders
Corporal Charles William Pantry, Royal Marine Artillery
Gunner Arthur L Richardson, Bermuda Contingent Royal Garrison Artillery
2nd Lieutenant Albert Edward Rogerson KPM, Argyll and Sutherland Highlanders
Gunner John Leslie Rounthwaite, Princess Patricia's Canadian Light Infantry
Seaman Eric Saul Arthur Smith, Royal Navy
Corporal Harry William Smith, Royal Marines
Lance Corporal Walter John Spershott, Royal Sussex Regiment
2nd Lieutenant Stanley St. Clare Stone, Royal Air Force
Private Alfred Cornelius George Tear, 2nd Battalion Bedfordshire Regiment
Private Cecil George Tingey, 21st Division Machine-Gun Corps
Private Eric Willoughby Virtue, Bermuda Volunteer Rifle Corps
Corporal George Edward Wailes, Royal Fusiliers/2nd Battalion Lincolnshire Regiment
Private Sidney Ewart Wall, 163rd Battalion Canadian Expeditionary Force/ Royal Canadian Rifles
Sergeant Charles Christopher Watson, MSM, Bermuda Contingent Royal Garrison Artillery
Colour Sergeant William Newbold Talbot Williams, Bermuda Volunteer Rifle Corps
Gunner Cecil E. Wilson, Bermuda Contingent Royal Garrison Artillery
Regarding the following five men, I have found credible evidence of their military service during World War One, but have not been able to trace the Unit(s) in which they served.
Alfred Henry Burrows
Robert James Henderson
William Alfred Neasham
Thomas Andrew Pearce
Henry Benjamin Walker FCdeG
The following Constables were appointed in 1919. It is believed all the recruits in this year were former military personnel, but no record of military service has been found for these men.
Constable R.E. Butterfield
Constable William A. Butterfield
Constable William Beecher Ratteray
Constable Ambrose Samuel Winfield Williams
Constable Winfield Williams
This research has had the additional challenge of having to rely almost exclusively upon on-line content, except for the Government Blue Books, (Government Schedule of Taxes, Duties, Fees and All Other Sources of Revenue). The local libraries and museums are closed because of COVID 19 restrictions.
I am extremely grateful to the very helpful staff at the Bermuda National Archives for the access to the Blue Books which they gave me in 2019. I am also grateful to the Bermuda National Library Digital Collection, from where a lot of the information was gleaned, especially from the digitized copies of the Royal Gazette. (The Royal Gazette has gone through several name changes over the decades and for simplicity I have just referred to it as the Royal Gazette).
Where names are mentioned in the newspaper articles, I have attempted to verify the information as some of them are inaccurate. This was caused by mishearing or misinterpreting handwriting, type setting errors and other reasons.
The websites of the Bermuda Ex-Police Officers Association (XBPOA), ancestry.com, the Lincolnshire Regiment, the Canadian Expeditionary Force (C.E.F.), Forces War Records the United Kingdom Imperial War Museums and Wikipedia were also very useful.
As a result of the Blitz of England during World War Two only about one third of the original British military personnel records from World War One now survive. Also the fires in the 20th century in Bermuda, at the Hamilton Hotel and the Bermudiana Hotel destroyed many Bermuda Government records, include those of the Bermuda Police. This has necessitated recompiling records from many other sources.
I must also thank Joseph Simmons, a former Bermuda Police Reserve, and Marilyn Simmons, who have created an impressive website on Webtrees recording the details of many of their Bermuda relatives, especially those who lived in the west end.
Where I have known of potential family members I have approached them for information. I hope and expect that this article will also generate a lot more information which we will add to in due course.
For ease of identification, extracts from news sources and other articles are in italics. I have tried to be faithful to the wording and punctuation in these articles. I have edited some of them to concentrate on the subjects of our articles and often standardised the abbreviations from those originally printed for ease of understanding.
I know that there are personnel omitted who should be included. In most cases it is because I could not verify that a particular record related to a specific person. In one case a military website gave me over 300 men to choose from and without additional information it was not possible to identify the individual's record. In another case an undocumented comment indicated that the subject was wounded whilst serving with the Irish Cavalry. No other reference to the subject's military record could be found and too date his family have not been able to confirm the story. Also there will be errors of fact for any number of reasons. All of these I take responsibility for.
I ask you to email additions or corrections to This email address is being protected from spambots. You need JavaScript enabled to view it. so we can periodically update this article.
During the First World War the men of Bermuda enrolled in four main groups: the Bermuda Volunteer Rifle Corps (B.V.R.C.), the Bermuda Militia Artillery (B.M.A.), also known as the Bermuda Contingent, Royal Garrison Artillery(B.C.R.G.A.), the Canadian Expeditionary Force (C.E.F.) and individually into all three arms of the various allies' military services. A number of men served in the military before joining the Bermuda Police Force.
Wikipedia has published a very helpful history of the B.V.R.C., the B.M.A. and the C.E.F. These descriptions are in Appendix One, Appendix Two and Appendix Three respectively at the end of the main article.
This article is supported by a lot of information which in due course will be archived in the Bermuda Police Service Museum. Access to this research can be requested via the Bermuda Ex-Police Officers Association or the Bermuda Police Museum c/o Police Headquarters, Bermuda.
WORLD WAR 1 STARTS
On 28th July 1914 the Royal Gazette, in a small one paragraph story on page 2, reported the start of WW1 as follows:
WIRELESS REPORTS.
The R.M.S. Caribbean arrived at Grassy Bay yesterday afternoon, and reports by Wireless that War has been declared between Austria and Serbia.
There was a lot of speculation in the newspaper over the next week until on 4th August 1914 a local Proclamation stated that the Royal Navy Reserves and Royal Navy Volunteer Reserves world-wide were being called into service.
And then on 6th August 1914 the following Official Notice was published in the Royal Gazette:
A Proclamation!
I, the Officer Administering the Government and Commander-in-Chief and Vice Admiral aforesaid being satisfied by information received by me, DO HEREBY PROCLAIM that War has broken out between His Majesty and the German Emperor.
Given under my hand and the Great Seal of these Islands
This fourth day of August, A.D. 1914.
By His Excellency's Command,
R. POPHAM LOBB
Colonial Secretary
GOD SAVE THE KING!
Martial law was declared and new regulations and two pages of Official Proclamations and Official Notices were promulgated in the Royal Gazette. These included a regulation which stated that because martial law had been declared six named men from each parish were to report for duty to their nearest Police Station for duty as Extra Constables.
The Royal Gazette of 14th December 1901 quoted the 'Extra Constable' legislation It was originally drafted in the 18thcentury and stated:
In any temporary emergency, or for any special occasion or purpose, the Governor may authorise the employment of such number of Extra Police Constables, not exceeding [ number to be added ] as may be required for any general, or special, or local duty: and each such Extra Police Constable while so employed shall be a member of the Police Force, and shall be subject to the same discipline and control as the Police Constables.
A few days later the list of names of the men was modified, which tends to show the haste in which the first list was made. Later, on the 25th August 1914 two men from each Parish were 'terminated', (a term seemingly used ending service for administrative reasons), and in October an additional man from each Parish was also terminated.
The Official Gazette reports the dismissal (which seems to indicate a conduct or standard of efficiency reason for end of service) of Police Constable G.E. Wailes as of 30th January 1912. It is not known when he joined the Police but he is mentioned as Constable George Edward Wailes in a Royal Gazette report in mid-November 1911 at an inquest into the death of one Alexander Gilmour. Gilmour was the first engineer of the SS Louise and he appeared to have drowned in Hamilton Harbour.
George Wailes is later mentioned in the Royal Gazette of 29th December 1914.
CORPORAL WAILES WOUNDED.
By the mail of yesterday we learn that Corporal G.C. Wailes was wounded on the 17th November in an engagement at Ypres. Cpl. Wailes was attached to "C" Company of the 2nd Bn. (Battalion) Lincolnshire Regt (Regiment) at the time. He received a wound in the leg, and is progressing favourably in the hospital at Henley-in-Arden, Warwickshire and, to use his own words, "is anxious to return to the firing line."
Cpl. Wailes, who is a Bermudian, enlisted in the Royal Fusiliers. He served 12 months on the Hamilton Police Force.
Cpl. Wailes informs us that Private Ferrier, who was one time in the employ of R. Dickeson & Coy., and Corporal Morris, who was a constable on the Hamilton Police Force, are both well."
That article has created a lot of confusion among historians (including Wikipedia – see Appendix One) as it appears the author confused George Edward Wailes with his father George Crossland Wailes.
George C. Wailes is reported to have come to Bermuda with the military in the 1880s. He later bought himself out of the military, married and settled in Bermuda. Broad Arrow Lodge No. 1890 under the United Grand Lodge of England (U.G.L.E.) records Corporal George Crossland Wailes of the York and Lancaster Regiment as a member in 1886.
A damaged Enlistment Form survives which records that George Edward Wailes enlisted at the age of 18 years and one month, into the Royal Fusiliers as number 11445. It gives his residence as St. Georges, Bermuda and in faded pencil states he has previously served as a Constable in the Bermuda Police and also in the "B.V.R.C.". The date of enrolment is burnt off.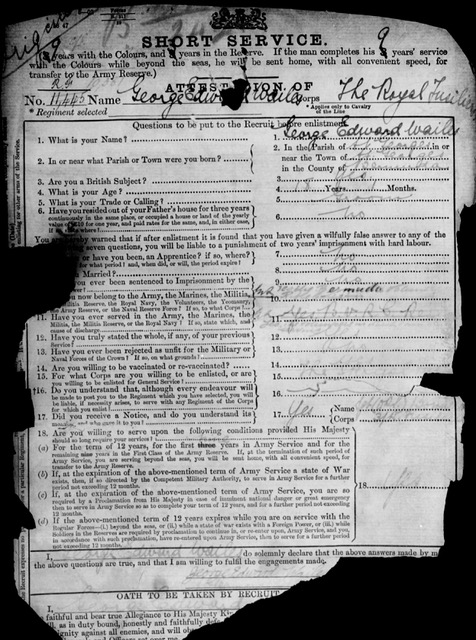 Enlistment Form of George Edward Wailes on
joining the Royal Fusiliers (© National Archives)
Wailes later moved to the Lincolnshire Regiment with the Regimental Number 10381. In July 1915 the Royal Gazette published the names of the First Contingent of the B.V.R.C. which was attached to the Lincolnshire Regiment, after it had arrived in England. Their Lincolnshire Regiment Regimental Numbers commenced at 17085 which seems to indicate that George Wailes probably joined up soon after he left the Bermuda Police.
We do not have a record when Constable L.W. Morris joined the Bermuda Police, but an official notice states that he had resigned his probationary period as a Constable on 2nd April 1913.
A somewhat surprising notice appeared in the Royal Gazette on 7th July 1914:
POLICE.
Probationary Appointment.
Mr. L.W. Morris to be a Police Constable, on probation, with effect from the 4 of July, 1914.
We believe he is the same Constable Morris.
Lewis William Morris, the son of Michael Morris (a musician) and Rachel Morris of Sydenham Hill, Surrey, England was believed to have been born in April 1887. He was baptised on 5th June 1887 at Christ Church, Gypsy Hill, Surrey, England. Michael Morris, who was a member of the West India Regiment, died in Bermuda in 1915.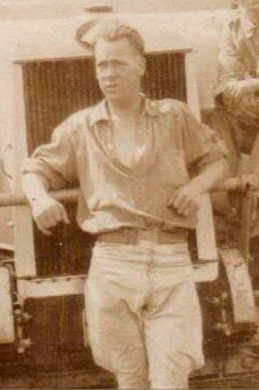 Undated photo of Lewis William Morris
We don't know when Lewis Morris left the Bermuda Police, but Lincolnshire Regiment records indicate that L/Cpl Louis (sic) William Morris, Regimental No. 10380 disembarked on 5th November 1914. Another regimental record states that L/Cpl Morris died of wounds on 7th December 1914 at No 8 General Hospital, Rouen. He was buried at Bois Guillaume Communal Cemetery, Bois-Guillaume, Departement de la Seine-Maritime, Haute-Normandie, France.
A military record dated 1922 requests that his medals (The British War Medal and the Victory Medal), be sent to his mother Mrs Rachel M. Morris of 91 Melrose Avenue, Hintonburg, Ottawa, Canada.
A short note on medals. The Victory Medal was awarded to all who received the 1914 Star or 1914-15 Star and, with certain exceptions, to those who received the British War Medal. It was never awarded alone. These three medals were sometimes irreverently referred to as Pip, Squeak and Wilfred. Eligibility for this award consisted of having been mobilised, fighting, having served in any of the theatres of operations, or at sea, between midnight 4th/5th August, 1914, and midnight, 11th/12th November, 1918.
The British War Medal: This British Empire campaign medal was issued for services between 5th August 1914 and 11thNovember 1918. The medal was automatically awarded in the event of death on active service before the completion of this period. (Source - www.forces-war-records.co.uk).
On 10th October 1914 the Royal Gazette contained a notice:
MR. P. J. FARRELL, (Quartermaster, Bermuda Volunteer Rifle Corps), to be an Extra Constable with effect from the 8thof October, 1914.
This was quite an interesting appointment. Quartermaster P.J. Farrell was Patrick Joseph Farrell who was born in Bailieboro, Navan, Ireland on 28th February 1874 to Cornelius and Jane McMahon Farrell.
At the age of 13, Cornelius was enrolled in the Royal Hibernian Military School in Dublin. On 19th September 1871, whilst a Corporal of Royal Engineers, he married Jane McMahon in Quebec, Canada. Later that year Cornelius was posted to Bermuda. On 14th June 1883 he obtained his discharge from the Army, in Bermuda, after completing his second engagement. In 1885 he died. It is believed that he died of yellow fever.
On 14th December 1886, in St. Georges, Bermuda, Jane McMahon Farrell married George Augustine Constantine Tear. The following year George Tear was appointed Superintendent of Police of the Bermuda Police Force.
An unusual pair of entries appeared in the Government Notices in the Royal Gazette on 5th November 1914.
RURAL POLICE CONSTABLE S.B. RICHARDSON, Paget Parish, is granted leave of absence with effect from the 7th of November to the 6th of December, 1914, inclusive.
A.L. RICHARDSON to act as Rural Police Constable, Paget Parish, vice S.B. RICHARDSON, with effect from the 7th of November to the 6th of December, 1914 inclusive.
A.L Richardson was Arthur L. Richardson. We do not know his relationship with S.B. Richardson although he was most likely a close relative. As Gunner 1199, Arthur L. Richardson was a member of the 1st Contingent B.C.R.G.A. He served with the unit for the duration of the war. He returned the Bermuda as a Bombardier.
Rural Police Constable S.B. Richardson, of Paget Parish remained a Constable until 1919.
The Royal Gazette of 12th January 1915 reported on the names of the 89 officers and men of the First Contingent B.V.R.C. to go to Europe.
On 9th February 1915 the Royal Gazette published a slightly unusual but useful article.
A SOLDIER'S POST CARD.
We have been favoured by Mr. George Tear, of Hamilton with an inspection of a post card which he has received from his son, Private Alfred Tear, who when the war began was in New York. He immediately left for England and joined the 6th Battalion of the Bedford's, was afterwards transferred to the 3rd Battalion and left for France on the 12th of January.
The post Card is very interesting as showing the rules under which military correspondence is allowed.
Of ordinary size it runs as follows:-
I am quite well.
I have been in hospital
— sick and am doing well.
—- wounded — hoped to be discharged soon
I have been sent down to the base.
I have received your letter dated.
— telegram.
— parcel.
Letters follow first opportunity.
I have received no letter from you lately.
— for a long time.
The writer strikes out any sentence which does not convey the information he desires to give and the Card without date or place name is marked by the company officer.
It is rather remarkable that of Mr. Tear's family, three are volunteers, two being in the contingent for the front.
Mrs. Dixon, (Miss Maud Tear) was in South Africa with her husband, who, since the war has been promoted to Lieutenant and is recovering from a severe wound in England. Mrs. Stroud, (Miss Daisy Tear) is the wife of Q.M.S. Stroud, A.S.C., who has been in France ever since the war began, and the son in the Bedfords who saw his sisters in England before leaving for France.
On 13th April 1915 the Royal Gazette reported on the death of former Superintendent George Tear.
THE LATE MR. GEORGE TEAR
We regret to have to record this morning the sudden death of Mr. George Tear, who died from Typhoid fever early on Sunday morning at the residence of his step-son, at Spanish Point. The deceased had been feeling unwell for several days; and on Friday morning last he was on his way to attend to his duties in connection with the arrival of the Bermudian when he became worse and returned home.
Mr. Tear who was nearly 53 years of age, was a native of Falkirk, Stirling, Scotland, and came to Bermuda when a young man, as a sapper in the Royal Engineers, and was stationed at St. George's. He afterwards took his discharge from the army and married Mrs. Farrell, who died four years ago. He then came to Hamilton to reside and for sixteen years he held the responsible position of Superintendent of Police. Later, he went into business and established a real estate agency, and lately was employed as a Special Constable by the Corporation of Hamilton.
The funeral, was largely attended, took place on Sunday afternoon from Spanish Point to Pembroke Church. About fifty members of the Bermuda Mechanics Beneficial Association, of which the deceased was a member for a number of years, having held the office of Secretary-Treasurer, marched in the procession.
The following pall-bearers were members of the above society:
Messrs. F. Beck, C. Robertson, C. Legg, S. Adams, L. Simmons and P. Roberts. The Rev. W.J.F. Groves officiated the funeral service.
The deceased leaves an only son, Alfred, who is at present at the Front; two daughters, wives of Lieut. Dixon, and Staff Sgt. Major Stroud; and three step-sons, Messrs. James, Joseph and John Farrell.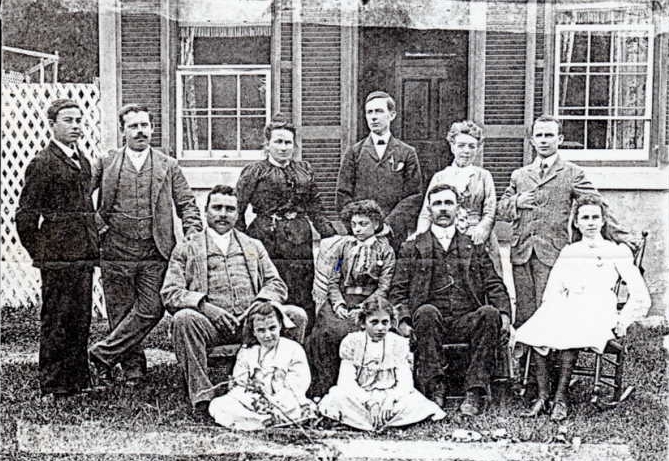 Photograph of George Tear and Jane McMahon Farrell's
blended family (source ancestry.com)
Supt Tear's son Alfred Cornelius George Tear was appointed a Constable on 26th May 1914 but was dismissed on 29th June 1914. No reason was given.
On 4th May 1915 extracts of a letter from Alfred to his father were published in the Royal Gazette.
A LETTER FROM THE FRONT.
A Young Bermudian Writes.
Mr. A.G. Tear, only son of the late Mr. George Tear of Falkirk, Spanish Point, Pembroke has written a letter from which we make the following extracts. It was addressed to his father, but did not arrive here until after his death.
I've had my first taste of fire. I've been in the firing line at Wolvergem and Ypres. Wolvergem is the place where the London Scottish did their famous charge. I was a little restless at first, of course, that is only natural, but after a couple of hours I became used to it: now I don't care a hang about it.
It's a great life the Tommies lead in the trenches. They are as happy as the day is long. Its fine fun wading about up to your knees in mud and the bullets whistling about your head. If you happen to look over the top twice in the same place a German sniper will have you: its good fun dodging them. Of course I suppose you have read enough to know what kind of place Ypres is; its very warm there, l can assure you, plenty of Jack Johnsons coming over all the time. It's a fine life we live out here, Dad, all kinds of fun. We dig ourselves in the ground like rabbits and defy the Germans to drive us out. They shell us in the daytime but don't do us very much damage.
Of course we don't shell them, no, only a little bit. The big guns are barking behind us all day long, shells rushing overhead. The German shells tell you where they are made: they seem to say Krupp as they come through the air. After the days shelling is over we start in; one minute the troops on our left get the wind up, they start blazing away, then we catch the complaint and so on it goes down the line. Then it gets quiet for a little while: all of a sudden you hear a trench mortar go off with a very loud bang; then we're off again.
We are so close to each other that we can hear the Germans singing and talking in the day time. When it gets a bit quiet they sing out to some of our Tommies and you may bet your life that Tommy always has an answer for them. Another thing in the night time, as soon as they get it in their heads that we are coming, up goes hundreds of star shells. Then what a racket. Good Lord! Thousand of shots are fired and she suddenly dies down. Then you hear Tommy say "wind up again." Of course its not always wind up, it is true, but Tommy can always give any two Germans a run for their money.
Our officers are the finest men that ever walked. I've often heard Americans pass remarks about them at home but I wish they could see them out here. They have no fear at all; they don't know what it is. It makes a fellow feel proud to think he has such men as they to lead them. They go into everything with a dash that would make any man proud to serve under them.
On 8th May 1915 the Royal Gazette reported that the first contingent of the B.V.R.C. was bid farewell from Bermuda. They included Pte. E.W. Virtue of St Georges and Michael John Farrell.
Private Eric Willoughby Virtue would later join the Bermuda Police Force. Private Michael John Farrell was a stepson of the late Police Superintendent Tear.
24th July 1915 saw some unfortunate news from the Front regarding former Constable Thomas Cornelius Boyd.
THOMAS C. BOYD WOUNDED.
"Tom Boyd" formerly a non-commissioned officer in the Royal Artillery took his discharge at St. George's several years ago and married Miss Evelyn Richmond, daughter of Mrs Hubbard. After being in government employ for some time, he went to New York, and went into business for himself. Last October, being in England he could not resist the temptation and re-enlisted in the Royal Artillery.
His promotion was rapid. In less than a week he was a corporal and two weeks later a sergeant. He proceeded to the Front and for several months had a good time of it. His many friends at St. George's and other parts of Bermuda will be sorry to learn that a recent communication from the front written by the hospital orderly, informs Mrs. Boyd that her husband has been seriously injured in the head and on account of the many bandages thereon cannot see to write. Mrs. Boyd is in great distress at the news received and has the sympathy of "Tom's" numerous friends and others in her anxiety. For some time Sgt. Boyd was an assistant at the Hamilton Gaol.
Constable Boyd was born on 16th May 1873. He married Miss Evelyn Catherine Hubbard and he served in the Police from 1st October 1908 on transfer from the Goal. He left Police service about a year later.
One must assume that he recovered from his wounds as on 7th February 1918 the Royal Gazette reported briefly that:
Sgt. Major Thos. Boyd, R.G.A., returned from the front on Saturday and is at St. George's for a short visit.
This was followed on 16th that Mr. and Mrs. Thos. C. Boyd had sailed for New York.
In September 1918 Thomas Cornelius Boyd registered for the US draft and stated he was employed as a guard for the US government working out of Bush Terminal in Brooklyn and that he lived in Brooklyn.
On 21st August 1915 a letter from Michael Joseph Farrell, another step-son of the late Supt. Tear was published in the Royal Gazette.
The following is another most interesting letter from Michael John Farrell to his brother Joe.
Belgium,
26 July, 1915
Everything seems to be going on very well at present. We get at little shelling now and again and the aircraft have a scrap over our heads. We brought down two yesterday, we are getting used to shell fire now. Capt. Tucker asked me to do the cooking, and it is allright being on your knees firing up a couple of old tin cans, with a few canteens for pots, with the top of a biscuit tin for a frying pan, and both sides shelling away over your heads. Then all at once the order comes up "Dinner up, Cook." A couple of star waiters (Lincolns) with pipes in their mouths do the waiting. There are a few stores handy where we can do a little buying by sending down a man. The other night they had to dig me out of a dug-out, and l can tell you I suffered some pain. There were five of us using it, and of course I had to be the one in the middle that made me the last in getting out. You will understand that I bore most of the weight.
Well, anyway, when l did get out I was dead from knees downward. I was then taken to the doctor, who cheered me up by telling me that I'll be allright and that I would get more than that at a football match. The next day he gave me a dry bandage with M.D. Lovely, limping about. George Tite was in with me and we shouted like -— for help. The boys are delighted with having a shot at the Huns, and standing on the firing line taking your chance is allright; but the other side would break your heart— up to your middle in mud, passing sheets of iron, lumber, and bags, pick and shovel. You might know one of the boys from a Lincoln by his voice; men going out or coming in, jamming you up hard and some fellow letting you know that your gun is poking him in the eye. But for all that we are happy. When we get a chance we sit around and chat about home, picturing old Warwick Camp and all the rest, talking of the girls and boys and mothers, and of how kind they were to us, I had a wash yesterday, what a treat. When the boys saw me they asked me where l got it and I told them in a Jack Johnson hole. Some others tried it, but stirred the mud up and they were worse then before, but the towel brought it off. Alfred and I are writing to each other; it seems nice to be able to hear from each other from trench to trench and I am glad to say he is O.K.
M. J. FARRELL.
On 10th July 1915 Pte. Alfred Tear had another letter published in the Royal Gazette:
LETTER FROM THE TRENCHES.
Interesting Letter from Alfred Tear to His Brother.
The following extracts from a letter from Alfred Tear to his brother will be read with much interest. "Alfie" has been several times reported wounded, and once dead, but he is still in the land of the living, and we hope his good luck will stick to him, and bring him savely (sic) home again, covered with honour.
Writing from Belgium on June 16, he says: "We have been 24 days in the trenches without coming out but glad to say we have been relieved at last. We came out night before last. Joe, boy, we are having very busy times now, we are giving the Huns all that's coming to them, of course, we don't have it all our own way; they make things very warm for us but still, l think that every Tommy has made up his mind that we have got to win and l don't think that they will ever face us in a real good fair fight. The dirty devils keep using gas on us but we are now prepared for them. It's terrible stuff to use on a man, it's impossible to hold a position against them unless you are fitted out with helmets that are issued for that purpose. Thank the Lord that the people at home in England moved quick in supplying us with them. Every man has one now, so now we can go at them again for fair. Joe, boy, it's a great shame, to see the fine chaps that are giving up their lives out here. I tell you Joe, that England should be proud of her sons.
While I'm writing this Joe, the German shells are bursting all around us but we are in dugouts in a railway embankment, we live like rabbits for all the world. This morning the Germans put a few shells over our heads but caught no one, all they managed to do was to tear down some telegraph poles and knock down a few trees around us and that's all. I had a bit of fun the other day up in the trenches. One saucy German kept on sticking his head and shoulders over the parapet repairing it. I had him the second shot; he was a good distance away from our trench too, about 400 yards to our ½ right, he thought no one could see him but your humble got him. We have rifles fitted for sniping. You don't have to put your head over the parapet; they are fitted with periscopes, so it's quite easy. Well, anyhow, Joe, roll on when it's over and I get back once more in old Bermuda."
14th December 1915 saw the following published:
B.V.R.C. IN TRAINING
Latest Enrolment for Active Service
The following are the names of the young men of the B.V.R.C. now in training at Prospect, for active service abroad, attached to the 38 Ottawa Regt. Others are expected to be enrolled in a day or two.
The first two names of the 34 listed were No. 190 Sgt. Williams, W.N.T. of Pembroke and No. 53 Sgt Farrell, P.J.
Sgt. Williams, W.N.T. or William Newbold Talbot Williams we shall see a lot more about later.
George Wailes is next heard of on 24th April 1915 when the Royal Gazette reported:
CORPORAL G. WAILES
The First to Return.
The first Bermudian to arrive from the seat of war is Corporal G. Wailes who returned by the SS Chaudiere having been discharged as medically unfit.
The Corporal has a story to tell which will be of a thrilling interest to us who have scarcely yet realised the storm and stress of war. He saw all the horrors of Ypres where he was wounded on Nov. 17. He was again wounded in March, receiving seven wounds in all, and went into hospital in Birmingham, England, whence he was discharged as unfit to return to the front. His wife and child, who followed him to England, are still there, but he has come back to his native land having done his part in the great conflict, where we trust he may recover from his wounds of which he still bears traces. We shall publish Corporal Wailes' experiences which we hope to hear in detail as soon as he has recovered from his voyage.
Unfortunately it seems the Royal Gazette never did publish his exploits.
Long Service Awards for 20 years service were published in the Royal Gazette on 23rd May 1916.
VOLUNTEER LONG SERVICE MEDAL.
The under mentioned members of the Bermuda Volunteer Rifle Corps have been awarded the Volunteer Long Service Medal:
Private J.A.W. Farrell,
Quartermaster Sgt. P.J. Farrell,
Colour Sgt. A.J. Foggo,
Corporal H.M. Fox,
Private J. Lambe,
Sgt. C.H. Lane,
Quartermaster Sgt. H.B. Powell
Colour Sgt. W.N.T. Williams
Quartermaster Sgt. J.W. Robinson.
On 20th June 1916 the Royal Gazette published a list of Bermuda Contingent of the Royal Garrison Artillery (B.C.R.G.A.) which had recently arrived in England.
The List included Gunner D. Benjamin, who was Daniel James Benjamin. He was born in St. Kitts in the West Indies on 27th August 1891. How and why he came to Bermuda is not known, but he survived the War and on 1stNovember 1919 became a Constable of the Bermuda Police Force. He was stationed in St. Georges. He married Josephine L. Brown, also of St. Kitts and they had a son in Bermuda. In 1923 they moved to New Haven, Connecticut, USA.
In 1942 Daniel James Benjamin was working at the Oakdale Tavern, Wallingford, Connecticut, USA when he completed a US Draft Card. He applied for Naturalisation on 21st November 1952. He is believed to have died in New Haven, Connecticut on 5th February 1960.
On 10th October 1916 the Royal Gazette published a list of about a dozen wounded casualties, none of whom had been or were to be members of the Bermuda Police. The same edition reported four promotions including:
17164 Private E. Virtue, app. paid Lance Corporals, 1 May, 1916.
Four days later the newspaper reported:
News has been received at St. George's from the Front of the wounding in action of Eric Virtue, 1 Contingent, B.V.R.C., son of Pilot F.G. Virtue and Mrs. Virtue of St. Georges.
The 24th October 1916 edition of the Royal Gazette had the following note:
Pte. Virtue's Wounds.
By a letter from Pte. Eric Virtue received from the front on Saturday, we learn that he was wounded in his arm, chest and head by shrapnel. He will be a long time in hospital.
On 19th November 1916 the Royal Gazette reported the death at the Front of Pte. Nathaniel Benjamin Harriott, B.V.R.C. who was more popularly known as "Dick,"
PRIVATE HARRIOTT KILLED IN ACTION.
News has been received this week from Capt. Tucker and Lieut. Earle that Private B. Harriott, who was reported as missing some days ago, has been killed in action.
Private Harriott who was only 19 years of age, was the youngest son of Mr. and Mrs. Benjamin James Harriott, of Paget, (Mr Benjamin Harriott for a short time was an Extra Constable soon after war was declared.)
Besides his parents he leaves a brother, Mr. Arthur Harriott, and three sisters, Mrs. Henry Rance, Miss Mallie Harriott and Miss Maggie Harriott. The bereaved family have the heartfelt sympathy of the whole community.
Pte. Nathaniel Benjamin Harriott, B.V.R.C. is buried at Thiepval Cemetery, Picardy, France. He was the nephew of Florentius Frith Harriott who was a Paget Parish Constable from 1887 to 1888.
New arrivals were reported on 18th November 1916.
A large crowd gathered on Front St. to welcome the newly arrived regiment, 2/4 East Yorkshires.
Sergeant Stanley Ingham, D.C.M., and Private Michael John Farrell, both of the 1st Contingent, B.V.R.C., who have been invalided, arrived with the East Yorkshire Regt.
About this time His Excellency the Governor had been considering the welfare of the men serving overseas and far from home. The discussion on the finances involved, occupied many column inches in the Assembly Reports of the Royal Gazette. The story about what the Bermuda Contingents Committee (B.C.C.) accomplished was published in the Royal Gazette of 7th October 1919. This article is at Appendix Four and may assist understanding the circumstance being described when reading later reports.
The Committee Rooms were a popular rendezvous for members of the Bermuda Contingents on leave in London and also other service personnel who had previously served in Bermuda.
On 20th January 1917 a letter from Pte. Grosvenor Sullivan was published in the Royal Gazette. Pte. Sullivan's brother, Constable Oliver Berry Marshall Sullivan joined the Police on 15th October 1917. He served in the east until he left the Force in 1924.
FROM BERMUDIANS AT THE FRONT.
Another of our regular correspondents, Pte. Grosvenor Sullivan, A Coy., B.V.R.C. (2 Contingent) says that the two contingents (first and second B.V.R.C.), are just like one big family now and whoever receives a present from home shares it, as far as it will go, with the others. … Eric Virtue had not returned from England. They all felt the cold ... We have had several enquiries by letter and otherwise as to how letters and papers should be addressed to men of the B.C.R.G.A. in France. Not one of our bundles of papers or letters have miscarried, as each bundle and letter is numbered, and they are all forwarded to:
Br. JAMES E. SMITH,
Bermuda Contingent R.G.A.
No. 1 Supply Depot.
B.E.F.
France.
who distributes them among the men.
P.S. If you are writing to a friend enclose a blank sheet of paper for a reply. Paper is very scarce in the trenches and the boys have to write on anything in the shape of paper that they can get hold of.
It should be noted that Grimsby, England was the Depot Base of the Lincolnshire Regiment. On 30th January 1917 the Royal Gazette carried this story:
FROM THE FRONT.
The following is an extract of a letter received by Mr. Fred. G. Virtue, of St. George's from his son, Corporal Eric W. Virtue, who has been in hospital at Grimsby:-
"I left London for Grimsby on Dec. 14 after doing ten days sick leave and I have enjoyed every minute of it. Oh its great to be a wounded soldier in England. They handle you like a doll for fear you might break. In Grimsby it is raining nearly all the time. If its not raining its snowing. So you can imagine how pleasant it is here. I received ten (10) shillings from Mrs. Tucker, a few days ago, that had been sent from the good people of Bermuda. They are very good to us, as we often get a few shillings from some person or fund. Mr. Fred Outerbridge was very good to me. He sent me a $5.00 note for Xmas; was awfully good of him wasn't it. So I have just written him a long letter.
Well Papa, I'm back to Grimsby, as you know already; I do not know how long I shall be kept here. On my return from Hospital and ten days sick leave, I reported to the Dr. and he gave me three (3) months light-duty, he also said it would be some time before I should be able to carry equipment again. Well I'm not anxious to go out again believe me but if I have to go, I shall go with a good heart. I am glad to be doing my bit for the great cause.
I was glad they gave Sgt. Ingham such a great turn out as he certainly deserved it, if ever a man did. I can sincerely say there was not a man that did more than he did on the first few days of July in the great offensive." (This related to a medal ceremony conducted by the Governor, but indirectly reported on by the Royal Gazette.)
The Royal Gazette of 28th April 1917 published some sad news:
SGT. FARRELL AND CORPL. TURINI KILLED IN ACTION.
Yesterday the sad news was received of the death of two members of the B.V.R.C., who, like numbers of others have given up their lives in defence of right and justice of civilization. The news received was to the effect that Sgt. P.J. Farrell and Corporal B.L. Turini had been killed in action.
Corporal Turini, son of Captain Turini, of St. George's, went to the front with the 1st Contingent. Previous to his enlistment he was a great favourite in the Ancient Capital, where great sympathy is felt for his parents and other relatives.
Sgt. Farrell was a member of the second contingent Machine Gun Section. Even as a volunteer, Sgt. Farrell, better known as "Pat," was always a popular and enthusiastic soldier. Previous to answering the call of his country he was for a number of years in the employ of the Model Bakery, now conducted by the Bermuda Bread Coy.
He leaves a widow and three children, who reside at Spanish Point, and two brothers, one of whom Pte. James Farrell is serving at the front with the first Active Service Contingent, and the other is Mr. John Michael Farrell, who was also a member of the first contingent, but was recently invalided home.
The relatives and friends of these gallant young men have the heartfelt sympathy, of the whole community in their sad bereavement.
Sgt Farrell was a stepson of Superintendent Tear.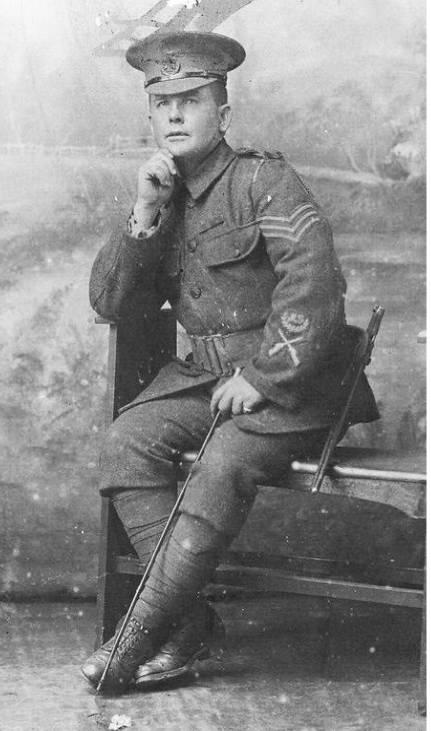 Sergeant Patrick J. Farrell in full uniform sitting on a bench.
Postcard sent from the front to his half sister
Daisy Stroud nee Tear in 1916.
(Source contributed by: Philip124947 ancestry.com)
On 7th June 1917 a very short announcement appeared in the Royal Gazette:
On Monday next Sgt Ellis Fearneley, R.M.L.I. will be married to Miss Iris Adcock, daughter of Mr and Mrs J. Newton Adcock, at Dockyard Church, Ireland Island.
So who was this member of the Royal Marine Light Infantry and why is he of interest to us? Ellis Fearneley was born 14th October 1886 in Kidderminster, Worcestershire, England. On 12th March 1919 he joined the Bermuda Police Force.
His military career started at the age of 19 when he enlisted in the Royal Marines as Marine No. 13650 on 8th January 1906. On 7th February 1910 he was promoted to the rank of Corporal and on 1st January 1915 promoted to the rank of Sergeant. He served in various Royal Navy ships and land bases of the Royal Marines until 10th October 1914 when he was posted to HMS Caesar.
Wikipedia tells us that: At the outbreak of the First World War in August 1914, HMS Caesar was brought back into full commission and transferred to the 7 Battle Squadron of the Channel Fleet; the squadron was charged with the defence of the English Channel. In December 1914, HMS Caesar was detached from the 7 Battle Squadron and transferred to Gibraltar to serve as guard ship and gunnery training ship there. In July 1915, she transferred to the North America and West Indies Station, serving as guard ship and gunnery training ship at Bermuda and patrolling the Atlantic.
This explains in part how Sgt Fearneley came to marry a Bermudian girl. Wikipedia continues: HMS Caesar's North America and West Indies Station service ended in September 1918, when HMS Caesar was transferred to relieve HMS Andromache (the old second-class cruiser and former minelayer HMS Latona) as flagship of the Senior Naval Officer, British Adriatic Squadron, at Corfu, the last British pre-dreadnought to serve as a flagship. In September 1918, HMSCaesar went to Malta for refit as a depot ship, during which she was equipped with repair shops and with leisure facilities such as recreation rooms and reading rooms. This conversion completed, she took up duties in October 1918 at Mudros as depot ship for the British Aegean Squadron.
Sgt Fearneley was transferred to the Royal Marine Base, Plymouth on 5th December 1918 from where he was demobbed on 6th March 1919.
Bermuda Government 'Blue Books' record that Ellis Fearneley commenced government service on 12th March 1919. The Royal Gazette of 26th August 1919 recorded a court case and a witness was Acting Chief Constable Fearneley.
The Blue Books report that he was promoted to Inspector of Police under Chief of Police Sempill on 1st November 1920. Subsequently he was often the subject of articles in the Royal Gazette as a prosecutor in the Police or Magistrates Courts.
The Royal Gazette did not formally report Inspector Fearneley's departure from Bermuda but did carry a minor paragraph about the longshoreman complaining about the amount of luggage he took with him. The Canadian authorities in Halifax, Nova Scotia, Canada record that he arrived on the SS Chignecto on 1st June 1922; that he intended to permanently reside in Canada and that he was en route to stay with a friend in New Brunswick.
Subsequently the Fearneleys moved to East Angus, in Quebec and raised a family. Ellis Fearneley is believed to have become a realtor. He died in 1963 and is buried at Westbury Crematorium, Quebec, Canada
One of their sons, Flight Sergeant Francis Newton Salisbury Fearneley R.C.A.F. was killed on active service on 12thNovember 1943 in an air crash in England.
The Royal Gazette in those days was not adverse to publishing rumours and did so on 4th October 1917.
It is rumoured that local Pilot Herbert Virtue, now on the St. George's Police Force, will shortly take charge of the local steamer Narcissa and that Mr. Oliver Spurling will likely succeed him on the Police Force.
There is no trace of a Constable Oliver Spurling in the Blue Books, but there is a Constable O. Sullivan who joined St Georges Police in May 1917. Constable O. Sullivan was promoted on 15th October 1917. He was Oliver Berry Marshall Sullivan who served until 1924.
Herbert Arthur Virtue was born about 1887. He joined the Bermuda Police Force as a Constable on 1st June 1910. It seems he also had a second job as a Pilot.
On 28th February 1918 the Royal Gazette reported on the medical progress of Herbert's brother Eric and also his brother Roy.
Pilot Fred G. Virtue received very good news by this mail from both of his sons, Roy and Eric who have been at the Front for a long time. Roy has been recommended for a commission and Cpl. Eric Virtue, B.V.R.C., is out of hospital having recovered from his wounds, has left Ireland for England and has successfully passed his examinations for promotion. Eric quite recently, met Lt. Bernard Smith, also a St. Georgian.
By 21st May 1918 from an article in the Royal Gazette it seems Eric Virtue had been promoted, but the promotion was probably given by the Royal Gazette rather than the military authorities.
Sgt. Eric Virtue 1 Contingent B.V.R.C. has been singing "It's a long, long way to Tipperary" before and ever since leaving Bermuda. By this mail he informs his friends that he has reached there at last and has had the good fortune to meet some acquaintances made at home. He has quite recovered from his wounds.
Warrant Officer Fred Taylor informs his father-in-law, Pilot Fred G. Virtue, by this (letter passed Military Censor) that he was in the great drive and that many of his friends were captured and marvels at his own fortunate escape as he was close up. Fred is quite well and sends his kindly remembrance to his Brothers in the "Order of Oriental Cross" which Order he joined during his sojourn in Bermuda; His having taken place at St. David's Island and there are not more than a quartet of members present on that occasion now alive.
On 13th July 1918, Sgt W.N.T. Williams had a letter published.
NEWS FROM THE FRONT "SOMEWHERE IN FRANCE."
Sgt. W.N.T. Williams of the B.V.R.C. in a recent letter from France replying to one written from Bermuda on Good Friday last says:
"A picnic on Grape Bay sounds good, and you tell me that your thoughts across the scene of the mighty offensive on the Western Front while you gazed on the peaceful ocean and pleasing view of the South Shore.
Little did you think I was in the thick of things. Just now we are in billets and what a reaction to be away from the awful roar of guns! After one has been through it, it seems a miracle that so many escape. Sgt. Churm and Cpl. Medeiros both won the Military Medal and Morgan is promoted to Company Sergeant Major, Marshall and Stephenson to Corporal and L/Cpl. respectively.
Sgt Churm was Albert Henry Churm who would later join the Bermuda Police Force as a direct entry Sergeant. Sgt Williams' letter continued:
"Letters from home are a long-time getting here. (May 10th) I have only received those posted on 29th March and April 1st. Am very busy these days, but one expects life to be strenuous at this time.
The weather is warmer, indeed quite hot. The scenery around here is grand and would be better seen than described. The fruit trees are in bloom and there are flowers everywhere. I expect we shall move up again shortly and cannot expect a prolonged rest. I hope you saw the account of the glorious Division to which we belong. We swell with pride when we know that 100,000 men were held back by us. Just imagine four times our number; and they could not break the Khaki Line any more than did the Russians the thin Red Line half a century ago. Our brave boys got a terrible shock, but stood to their guns well and I will send the names of those with us and you will note the preferment they have richly deserved:
A/CSM J. Smith, D. Coy. A/CSM J. Morgan, D. Coy.
Sgts. W.N.T. Williams, Mach. Gun. Sect., C.P. Lines, B. Coy., A.H. Churm, M.M., B. Coy., F. Medeiros, M.M., B. Coy., G. Tite, D. Coy.,
Cpl. F. C. Marshall, B. Coy.
L/Cpl. L. Stephenson, B. Coy.
Rfn. L. Mullins, Coy. Runner, C. Mullins, Pioneer, A. Sodergren, C. Coy.
"I deeply regret to report the death of Rfn. W. White at the C.C.S., and the loss of Rfn. O'Connor and A.G. Smith is keenly felt. We have not heard anything of Sgt. Baker and Rfn. R.C. Wilson, but it maybe fairly safe to say they are prisoners.
"Rest assured that Bermuda may be proud of her boys. Though small in number now, yet we are still full of fight. Both Sgt. Churm and Sgt. Medeiros well deserved their promotions, and there is no doubt that the Huns paid a heavy death toll when their ranks were torn by the hail of lead from the Lewis guns in the hands of these brave men. Frank Medeiros is lionised in the Regt. and Churm none the less. The Ireland Island C. Society might well be proud of their late salesman."
Since these letters were written Sgt. Williams has been in hospital again but states that he is progressing rapidly toward recovery and able to move around the wards.
The Royal Gazette of 1st October 1918 reported on two bravery awards.
B.V.R.C.'S REWARDED FOR BRAVERY IN THE FIELD.
The Command Orders of yesterday contain the following:
"His Majesty the King has been graciously pleased to approve of the award of the Military Medal for bravery in the Field to the under mentioned:
25337 Pte. (L/c) A.H. Churm, Bermuda Vol. Rif. Corps.
25344 Pte. F. Medeiros, Bermuda Vol. Rif. Corps.
L/c. Churm and Pte. Medeiros have since been promoted to the rank of Sergeant.
The Military Medal ranks third in precedent, behind the Distinguished Conduct Medal and the Victoria Cross. Many World War One soldiers believed that the Military Medal had been introduced to save awarding too many D.C.M.s. You will see one Bermuda soldier's opinion about this later.
It is unfortunate that when the Military Medal was established in 1916, that because the award was to be backdated, it was decided that the official publication of the award would not include a citation or description on why the Medal was awarded. Some 120,000 Military Medals were awarded in World War One. However some newspapers were occasionally able to obtain information about awards to their local soldiers and published the details.
The 10th November 1918 Royal Gazette reported the death of former Constable Herbert Virtue:
The death occurred on Tuesday morning at 4.30 o'clock of Capt. Herbert Virtue of the S.T. Narcissa, son of Pilot F.G. and Mrs. Virtue of Lemon Grove, from Spanish Influenza.
Sad to say, his intended wife, Miss Lea Costello, is seriously ill of the same malady. This trouble appears to have become serious at St. George's since Sunday. Many St. Georgians working to westward have been brought home with the "Flu," or it is called here, 'Spin' since Saturday night.
On 15th October 1918 Sgt Eric Virtue had a letter published in the Royal Gazette.
Eric Virtue writing from France Sept. 10th and 15th:—
"As for myself, I am going on fine; at present we are having a few days rest just after doing another bit, but I don't think it quite as rough out here as it was during my last stay. Just now we are sure giving Fritz a real rough time of it, with the result that everyone is in good spirits over it. Of course I am hoping that this rotten job does not last much longer, in fact, I really think the time is nearly at hand when I shall be on my return journey to the Old Rock.
"I see by the Royal Gazette and Mid-Ocean there is a great lot of talk concerning conscription in dear little Bermuda. I consider my homeland is doing well in this great war. "
L.C. in a letter just received says that Roy was in to see them a few days ago and he is looking fine. He was then on his way to Whitley Camp to train for his commission; he will have quite a few months in England before coming out this way again. I, also, am going in for a commission. I don't know what you all will think about it at home but to tell you the truth I really think it would be nice to have one; so don't be surprised when I write and tell you that I am in training, as nowadays a fellow has to try and better himself in everyway.
"You will be surprised when I tell you that I went out yesterday and saw Fred, he is not far from where I am at present; he was surprised when I walked into his office. I remained as long as possible and talked over the latest news. Glad that you enjoyed yourself out at Glen Duror on the day of the regatta. I wish that I had been there to have had tea with you. What was the matter with the B.V.R.C. to let the A.O.C. defeat them in the gig race?"
Another article on the same page reads:
The extracts recently published by us from the letters of Roy and Eric Virtue to their parents were so generally appreciated at St. Georges and elsewhere by the correspondent's friends that Pilot Virtue has very kindly permitted us to publish interesting extracts from letters to hand by the last mail.
From Pilot Virtue's son-in-law, Conductor Fred Taylor, France, Sept. 9:
"Well, have you heard the good news that our Roy is training for a commission. I am sure that you will all be delighted at the news and proud of his success. I have not heard full particulars, but I hope he is remaining with the Artillery and not going with the infantry. I can tell you I feel overjoyed at the news and I know it will delight all the people at St. George's.
He has won his commission by field service and that's the stuff to give them, our Tommies say.
"I have another bit of news to give you which may interest the late Wor. J.I. Smith's family and others. You remember Capt. I.J. Connor, R.E., who married the younger of Mr. Smith's daughters; well in passing over some of the recently captured ground I came across the grave of Major I.J. Connor, R.E., I think the date read July, 1916. I am sure that they will be glad to know that in spite of all the recent fighting over the ground that the grave is quite intact and the cross is untouched.
"I had it trimmed up a little bit; that was all I could do. There are no flowers or anything else about this part or I would certainly have placed a memento there. Well, Pop, what do you think of things now? Have we not done well? It has been very hard going, day after day, week after week, but still our boys have stuck to him and are still on his heels. We all hope to push him back beyond his old Hindenburg Line, but, of course, there will be some stiff fighting roundabout there. It does seem strange going back over this ground which we traversed before but, mind you, it has quite a different appearance and in some places you would experience great difficulty in finding the places where the villages once stood. It would make you weep to see some of them.
"I have not yet heard from Eric since he came over this side; I expect a line from him any time now. Our establishment has had some rough times of it lately and we have had quite a few narrow escapes. For that let us be truly thankful. It gets on your nerve a bit while it lasts and of course you feel as if you represented a target as big as a house, whereas in reality you are invariably trying to double yourself up until you have your feet up round your neck somewhere; at all events you would be surprised to see how small a space a man can get into when necessity arises. We often have a good laugh at each other after the affair is over. The other day we came on a Maxim pit dug out by the Boches for winter quarters and I assure you it was some place, every inch of it boarded up with 1½ to 2-inch timber and divided off into nice little rooms fitted with fire places all ready for the winter weather. Of course we took it on as a nice safe place from shell and bombs, and it proved quite comfortable the first two days and then one or two began to scratch – you know the rest. A good bath and a change were essential, but things do not seem right yet.
ARMISTICE
On 11th November 1918 the Armistice was signed and the fighting stopped. The Royal Gazette devoted the whole of it's Front Page on 12th November 1918 to the matter and included an article on how Bermuda received the news.
HOW BERMUDA GOT THE NEWS
Patriotic Meeting Addressed by His Excellency--Throngs Fill the Streets of Hamilton--Display of Bunting--A day of Rejoicing.
Bermuda received the great news early yesterday morning.
The booming of guns from Government House carried the message while steam whistles on vessels in Hamilton Harbour took up the noisy refrain.
From 6 o'clock onward there was a continuous din punctuated by shouting from groups of early risers in the streets. The departing Halifax steamer waked up the last sleepers in town with repeated tooting of her hoarse whistle. Everyone was out early and felicitations on the event went from mouth to mouth. All had guessed what the First sounds proclaimed. The signing of the truce was forecasted in the previous news and it was no surprise. But the popular joy was none the less exuberant.
Early extras, issued by the Royal Gazette for free distribution, confirming the reports and were eagerly scanned.
Then came the announcement of a noon-day celebration at the Public Buildings.
It was necessarily informal but the person flocked by hundreds from all parts of the Colony to hear the Governor's stirring address. Col. Land turned out the troops.
Members of the Legislature and leading officials appeared, school children paraded through the streets to the meeting place and a joyous assemblage was awaiting His Excellency when he entered with his A.D.C. Capt. Leighton, and members of his staff, promptly at 12 o'clock.
He was received by the throng with hearty applause as the East Yorks band struck up their Welcome. His speech (given in another column) was enthusiastically received. He expressed admirably the sentiments of everyone present and every word found its echo in the hearts of the patriotic audience.
After his address was concluded the band played with great spirit the national airs of the various Allies, cheering following each hymn.
The drizzling rain, which later came down in torrents, failed to dampen the ardour of the people. Crowds thronged the sidewalks for hours waving flags and cheering.
A bicycle procession of schoolboys, headed by Master Jack Turkcer, passed noisily through the streets, tooting horns, ringing bells and generally waking things up.
All the business houses and most of the private residences had been hastily but effectively dressed out with bunting while the colours of the Allies made a brave showing everywhere. Sailors from the Allied ships in port were to be seen on all sides joining in the festal spirit.
Overworked but cheerful clerks at the cable office were besieged with questions and the telephone operators were kept busy. Everyone wanted the very latest news.
A torchlight procession scheduled by the E. Yorks and a parade had been arranged for two o'clock by the American Navy Club, had to be postponed on account of the downpour of rain and toward evening the town became quieter.
The following week, on 16th November the Royal Gazette has some worrying news for the Virtue family.
Pte. Eric Virtue, A Coy. B.V.R.C., B.E.F., France, has, we regret to relate, been reported missing since Sept. 29. Eric when last heard from, was expecting to go to the O.T.C. to work up for his commission.
You will note Eric's rank is now reported as Private. However on 21st December 1918 the Royal Gazette had more positive news.
Pilot and Mrs. F G. Virtue of Lemon Grove were the recipients of many congratulations on Thursday on the announcement by cable, of the information that their son Pte. Eric Virtue was safe in England and no longer prisoner of war in Germany.
On 4th January 1919 the Royal Gazette published a letter from Sgt Baker which gives a description of what happened to the men released from German Prisoner of War camps and how they returned to England.
FIRST BERMUDIAN TO QUIT GERMAN PRISON
Sgt. Baker writes of his experiences.
The following letter from Sgt. Charles A. Baker, who left Bermuda with the First Contingent, B.V.R.C., has been received by his father, Mr. C.H. Baker. The writer says:
"A line to say that I had received your very welcome letter dated Nov. 15 and I might also say that it is the first since I was taken prisoner.
We had a dandy voyage over from Germany; we left Dantzig at 2 p.m. arrived off Copenhagen 12.30 p.m. the following day and then on to Leith, (Scotland). It was just a dead calm all the way until we neared the Scottish coast when it became a little choppy, but even then one could have sailed a canoe. We came over in the Danish ship S.S. Russo under the Red Cross and were treated exceedingly well.
We had a jolly fine reception at Leith and in fact everywhere. Well, I was the first Bermudian or at least B.V.R.C. to be released from Germany. Ronald Wilson and Atchison G. are both over this side now so suppose Gerald Smith and McNichol, W., will be returning shortly, also E. Virtue, who they learned today, was a prisoner.
Well, it grieved me very much to hear that Walter (White) had died of wounds, as he was my best pal and was so sorry to see him get wounded.
I was quite surprised to learn of Leon Powell's recovery as poor boy, he looked so bad I did not think he would live to get over it.
Well, father, I have not got time to write all the kids so they must take the word for the deed. Well, how pleased I am to learn of your visit to the States and hope that you have greatly benefitted by it. Well, really took long enough to forward that card. I wrote you a P.C. on 19 May, and 26 June. Letters 4 Aug, 18 May. P.C. 28 Aug. Letter 11th Sept., 21 Sept, 2 Oct., 17 Oct., and one in Nov. from Schneidemuhl, Germany. The former ones were from France, behind the lines where we were jolly near starved to death, although did not say so in my letters or they would never have reached their destination. But thank God I am in England now and getting good wholesome food not pigs-meat as before.
I was at the Committee Rooms today (B.C.C.) and Major Dill came in to bid them goodbye, off to Bermuda, also I met Fisher, Rodrigues and some of the B.R.G.A. I met several of them at the U.J. Club the other evening. Lawrence Mullins was on leave a few days ago. I also saw him and he sends his best regards to all.
Sunday morning I had the pleasure of inspecting the dishonoured and surrendered U.C. 95. I also saw one of the U-boats which were quite small compared to the U.C. 95. Tomorrow afternoon I am visiting my friends in Croydon and on Thursday I want to go and see Iva, so my time is pretty well taken up. I am going to Devonshire again to see Mrs. Tucker and friends there and calculate to spend a couple of weeks at Mrs. Barnes.
Kindly give my respects to all the folks; tell them I am doing quite well and expect to be back in Bermuda in a little while.
At the moment I am enjoying two months leave, so you see I will be able to have a good look around before I return.
I am going to forward a parcel containing, a couple of souvenirs, etc.
I am going to have another trial at the Bulbs as I have learned a wrinkle so think it will be alright this time.
Let me know if there is anything I can get for you in the needle and thread line, if so I will do my best.
The B.C.C. Rooms were the rooms of Bermuda Contingent Committee which had been set up as a meeting place in London for Bermudian service personnel. Their supporters back in Bermuda organised charitable 'care parcels' for the troops. The U.J. Club was the Union Jack Club, a London Club for servicemen.
On 9th January 1919 the Royal Gazette published a letter from Private Eric Virtue:
BERMUDA WAR CAPTIVE REJOICES IN FREEDOM
Extracts from Pte. Eric Virtue's letter to his father and mother, Pilot and Mrs. Fred G. Virtue, Lemon Grove, St. George's.
"British Camp,
Lemwarden,
Holland,
Nov. 27, '18.
"Just a few lines; to let you know I am quite well and in the best of health, also enjoying myself here. We arrived at this camp a few days ago from Germany and I can assure you both I was pleased to get away from there. I will not go into all the details of what happened while I was there as my stock of writing paper is very limited, but will tell you all when I arrive back at the Old Rock which I do not think will be very long now.
"We are having a real live time here in Holland, everything is fine, there is a concert to go to each night and some real live food to be had which was something of the past when across the border, believe me.
You will have received my letter I sent from Dulmere, Germany, by the time you receive this, so you can see it will not be necessary to send that parcel I asked for.
"We are not sure when we shall be sent across to England, but according to rumours it will not be many days pass before they do send us. I think we are only waiting for clothes to make us look a bit respectable, for we look more like a mob at present.
I guess the people at home feel a lot happier now, while this awful business is over. I certainly do; and what with the prospects of seeing you both and all at Lemon Grove very, very soon. I could just about tickle myself to death. Fancy it is nearly four years since I left home. I never thought I should be away so long, believe me.
Anyway, roll on the day I sight the little Rock; won't that be some day!"
The letter sent by Eric from Dulmere, Germany, has never reached his parents. We know that Eric's many friends will be delighted to read the forgoing.
A couple of weeks later the Royal Gazette reported:
By this mail we have received news of and from many Bermudians and others in whom Bermudians, especially St. Georgians, are interested.
Pte. Eric Virtue, B.V.R.C., wrote from Grimsby Dec. 18, was quite well and thoroughly enjoying himself after his captivity in Germany.
Conductor Fred Taylor was quite well in France, Dec. 12th, writes a descriptive letter.
Capt. Whitmore. R.G.A. was quite well and spent Christmas in France.
Sgt. Wm. H. Hodson, 10th Canadian Reserve Batt., who married Miss M. Martin of St. George's, is at Bramshott, England, and is quite well.
The Royal Gazette eulogised William Henry Hodson in its edition of 18th February 1946 on the occasion of his retirement.
SGT. W.H. HODSON RETIRES FROM POLICE FORCE
Electric Clock Presented At Farewell Party Friday
A large gathering of Police officials and other friends of ex-Sergeant William Henry Hodson, attended a farewell party held in his honour on Friday evening last in the White Horse Tavern dining room, St. George's. The occasion was an official presentation to Mr Hodson, who has retired from the Police Force after 23 years of service.
The Commissioner of Police, Mr. J.S. McBeath, presented Mr. Hodson with a suitably inscribed electric clock as a token of esteem from the members of the Force. The Commissioner expressed his pleasure on hearing that the ex-Police Sergeant had secured a position with a well known firm in St. George's and said he knew Mr. Hodson would give his employers the same excellent service he had for twenty-three years given to the Police Department.
His Worship, Mr. Leon Fox, Mayor of St. George's, also spoke at the function, which was attended by Mr. Cleve Hayward, Pilot Ivor Reid, Mr. Philip Packwood, Mr. Arthur Woodman, Police Superintendents Charles Pantry and Percy Miller, and Chief Police Inspector Tingey. Musical honours were accorded Mr. Hodson by Constable Denbrook and Pilot Reid, with L.A.C. Robinson, R.A.F., at the piano. Refreshments were served during the evening, and Mr. Woodman was thanked for making the White Horse dining room available for the occasion.
Mr. Hodson joined the Bermuda Police Force on September 8, 1922, and was promoted Sergeant on August 1, 1942. He spent four and a half years in the Army, three and a half years of which was with the Canadian Army Expeditionary Force during the First World War. Prior to joining the Police Force, he was a member of the staff of HM Prisons.
He was awarded the Colonial Police Long Service Medal on November 1, 1940, and on November 1, 1945 was awarded a Bar to this Medal. A conscientious Police Officer, Sergeant Hodson is well liked at St. George's where he was stationed during most of his service.
William Henry Hodson was born on 19th April 1889 in Bingham, Rushcliffe, Nottinghamshire, England to William Coupe and Azuba Hodson Cobb. How he came to Bermuda is yet to be revealed, but he enlisted in the 163rd Battalion Canadian Expeditionary Force on 14th July, 1916, at Prospect, Bermuda.
At the time of his enlistment Pte 661127 Hodson was a store clerk and lived on Clarence Street, St. Georges with his wife Mabel. Mabel and William had married in 1912 at the Methodist Church in St. Georges, Bermuda.
He had previously served for 3 years and 265 days with the 2nd Battalion, Bedfordshire Regiment.
The 163rd Battalion was on garrison duty on Bermuda until late November 1916. On arrival in Europe, the 163rd was absorbed into the 10th Battalion which saw some of the fiercest fighting on the western Front. At Hill 70 in August 1917 the battalion had the distinction of receiving more gallantry medals than any other Canadian combat unit in a single action in the course of the First World War. I have not been able to ascertain if Private Hodson was awarded any gallantry medals.
He is reported to have died in Bermuda 8th April 1975.
The Royal Gazette also reported that:
Cadet Roy Virtue wrote from the O.T.C. Borden Camp, Hants, England, Dec. 15. When writing he was in the best of health and as full of fun as usual.
Sgt. Ritchie, well-known in local Masonic circles, who was here in the 163 Regt., C.E.F., has returned to Montreal, Canada, and when writing was quite well.
No news as to the whereabouts of Pte. Grosvenor Sullivan has reached St. George's for several months.
On 28th January 1919 the Royal Gazette featured a letter from Sgt W.N.T. Williams.
LETTER FROM BERMUDA SOLDIER IN FRANCE
The following letter was received this mail from Sgt. W.N.T. Williams, 2 Active Service Contingent, B.V.R.C. It is dated Dec. 21 and Jan. 3.
"St. Marguerite Camp, near Dieppe.
"Just one or two days more and Christmas will be here. I had hoped to spend it in England but it was not my luck. When the roll stopped I was three down the list. There are so many instructors from the line who had been out a longer time than I had and, although I am one of the Senior Instructors at this camp, I had to take my turn with regard to length of service in France. I may catch the New Year, but there is not much hope, as railways are generally so congested.
"We have had a bad storm for three days: the wind blew about 80 miles an hour. Some damage done to our camp. One night three of us ran out of the hut and took shelter in another as the roof was coming off. It is not very pleasant to get a smack or a cut from a piece of sheet iron driven along by an 80-mile wind.
Sir Douglas Haig crossed the Channel in the midst of the storm. It must have been a rough trip. Imagine the reception which awaited him!
"Am starting on leave Christmas Eve after all. Funny that the ball started again after having stopped... Everything has slacked down here and we have not much work.
"Boxing Day. - Here I am in dear old London. Arrived at Dover Christmas Eve at 6pm., reached London at 10, after a lot of delays.
Had Christmas dinner with friends in London. Leave today for Ireland and then back to Weston for the New Year. I am due in France on the 7th. London is very gay: there are thousands of troops in the city. Just fancy, 11,000 coming over from Boulogne the day before Christmas Eve.
"London, Jan. 3rd. Having a fine time. Went to Ireland on the 26th. Got in Cork at 12 noon on the 27th. Saw Stanley Smith and Fisher at Headquarters. Left for Weston at noon the 28th. Found a full house at the W——'s. All home for Christmas. R. and M. with the youngest look well and we talked over Bermuda to our hearts content. Spent three enjoyable days at Weston and stayed at the Imperial Hotel.
"Returned to London New Year's Eve and since then spent three days with Mr. and Mrs. Blaise at Forest Gate. They have been so kind to several of our boys and have sent me the London papers regularly. We went to the theatre last night and I have tickets for the Shaftsbury on Saturday. Am enjoying myself immensely and feel splendid.
"R.C. Wilson is in the 2 London General Hospital and he has just returned from Germany. I went to see him on Sunday and have a chat. Went to the Committee Rooms and asked all about the boys and they are O.K.- Capt. Tucker has the matter in hand re getting us home and we hope it will be soon."
The Royal Gazette of 1st February 1919 had a lot of news about the Bermuda boys who were in the UK waiting to come home.
Corporal Harry Palmer, B.C., B.V.R.C. writing to Mrs. F. G. Virtue from Picquigny, France, Dec. 30, 1918, says in part: "Your most welcome letter of Dec. 1st arrived O.K. this afternoon; there is nothing to thank me for, but I knew what effect Eric being reported missing would have on you and being Eric's pal it was my duty to let you know what happened to him for we lost nearly all the Battalion that morning, and the next I went over the same field to make sure what had happened to him and then I knew that he was safe but in German hands with lots of others.
As you already know he is on leave and looking fine and fit. He has no doubt written and told you I walked into the house at Grimsby and gave him a surprise of his life for he thought I was still in France and had written to let me know he was back again. I went over to England with the colour party to get the 1 Battalion's colours, so had a few days leave but did not get Xmas there for we got back on the 23.
I visited the Committee and asked them about sending you a cable, which they said they were going to do, that was before I went up to see Eric. I found out from L.C. that he was back safely so I did not send them a telegram to let them know I was coming as I wanted to give Eric a surprise and believe me I did.
I was awfully sorry to hear of poor Herbie and you have my heartfelt sympathies. The letter you wrote to Eric telling him about Herbie, he got when I went to Blighty, for I had got it and after the armistice was signed I knew I would soon be hearing from him, but before I heard from him I saw him, which was much better, but he knew of Herbie's death from a Bermuda paper that you had sent to M.D.
I hope now that the day is not far off when we shall all meet again on the little Bermuda Rock. It just lies with the Bermuda government how long it is to be before we get back again. While I was in London I went to see Ronald Wilson in hospital and poor kid, I hardly knew him, he is in a fearful condition, (Harry Palmer saw Wilson some time previous to the time he was seen by Lt. Virtue) for he is poisoned all over his body, he is a proper wreck to what he was before, but I am pleased to say he is picking up a lot now. We are in a very nice village now, it is only about 12 kilometres from Amiens, and we are allowed passes so it is fine. Since the armistice I have been to Paris on leave and had a fine time and was only back two days when they sent me to England with the Colour Party; so on the whole I have had a decent time.
Conductor Fred Taylor, writing 2 inst., says that he got his usual two weeks leave which he spent at home and that for once, during their four years at his country's disposal, that Roy, Eric and himself met together in London at Christmas and had a jolly reunion.
Eric Virtue writes from Grimsby and speaking of the reunion in London at Christmas says that Roy was in his new uniform and looked fine. He expected to be discharged from the service at Lincoln in two or three days from that date (Jan. 2).
Friends and acquaintances of Pilot Fred G. Virtue and Mrs. Virtue of Lemon Grove will be pleased to learn that their son Roy A. Virtue of the C.E.F. has successfully passed his examination and has been commissioned a lieutenant in B. Battery, Canadian Reserve Artillery Brigade, at present stationed at Borden Camp, Hants, England.
Lt. Virtue in a letter to his parents dated Jan. 2, states that he saw R.C. Wilson, the day previous at the hospital and that he (Wilson) is beginning to look fine, but that he had a rough time of it while a prisoner in Germany. He saw Gerald Smith who looks good, but says "that he does not feel too grand".
And then on 15th May 1919 the Royal Gazette raised hopes that some men were imminently returning from the war.
WAITING TO WELCOME OUR RETURNING CONTINGENTS
Steamship "Mexico" not heard from yesterday is expected to come in today.
Nothing was heard yesterday from the U.S. "Mexico" which is bringing home the men of the Bermuda contingents. The vessel had been expected to arrive in the forenoon but she did not come and it was found impossible to get in touch with by wireless.
Meantime the plans for a big patriotic reception have been all arranged and when the ship docks in Hamilton our soldiers will find the people ready to extend a warm greeting.
Should they arrive this morning a number of shops will close to enable employees a better opportunity to witness the veterans' triumphant march through the city's main thorough fare to the Public Building, where His Excellency the Governor will address the returned soldiers.
Men who have already returned from the front have been requested to be in attendance and will be given a place of honour in the enclosure.
The article then listed the names of the men expected to return. The men arrived on 17th May 1919 and on 20th May the Royal Gazette described their arrival.
Bermuda Welcomes Her Sons Home From War
Popular Demonstration in Honour of the Returning Men of the Bermuda Contingents
Speech of Welcome by H.E. the Governor.
A Memorable Occasion.
Glorious Bermuda sunshine marked the homecoming of our soldiers as, shortly after 8 o'clock on Saturday morning they were brought up to Transportation Wharf by the tender "Corona" where the Guard of Honour awaited them.
The band of the 2/4 East Yorks played stirring patriotic airs and the throng which lined Front Street setup a cheer as the men stepped ashore. The scene was memorable. After years of hardship and battle in the great cause of liberty these fighters who had braved death on many occasions were once again back on their peaceful native soil, so far removed from the field of battle.
Every effort had been made to give them a fitting reception. Flags and bunting waved in the breeze; whistles from the harbour craft roused the echoes in a loud salute; men, women and children dressed in holiday garb had assembled from all parts of the Colony. The sidewalks were lined with people and the balconies of the buildings overlooking the line of march were crowded. It was an inspiring spectacle. Upon the lawn in front of the Public Buildings when the marchers arrived were the officials and legislators appointed to receive the Contingent.
Lines of men in uniform were drawn up along the driveways and flags fluttered in the breeze. On the bunting draped stand which had been erected in front of the old building stood H.E. the Governor, with Capt. Leighton, A.D.C., Vice Admiral Morgan-Singer, Hon. Colin Rees-Davies, Hon. W. E Jackson, Sir Thomas Wadson, Hon. A.F. Smith, Hon. S.S. Spurling, Major T.M. Dill, Worshipful W.J. Boyle, Col. Des Voeux, and others.
Among the ladies on the platform were Lady Willcocks, Mrs. Morgan-Singer, Mrs. Colin Rees-Davies. As soon as the men of the Contingents were in position facing the stand, His Excellency with Sir Thomas Wadson passed along the line giving each of the men a hearty handshake and a warm greeting. Then the Governor addressed them in an impressive and eloquent speech of welcome.
Three cheers were called for and a hearty response was accorded. The proceedings were concluded to the strains of "God Save the King," and then the men separated and went to their homes with members of their families who had previously been given an opportunity to greet them aboard the tender. The arrangements had been well planned and were carried out smoothly and without a hitch.
3 N.C.O.s and 20 men were named as returning including Pte. E.W. Virtue.
Pte. R. McNichol and Pte. F. Adcock, who on account of their injuries were unable to march with their comrades and were conveyed to the Public Buildings in a carriage to receive His Excellency's Welcome.
Eric Willoughby Virtue would be promoted to Company Sergeant Major but would suffer from the effects of his injuries and mistreatment whilst a prisoner for the rest of his short life. He died in St Georges on 26th August 1929. The Royal Gazette reported that his funeral was very impressive.
3rd July 1919 saw the report of the arrival of four more men.
MORE BERMUDIANS RETURN.
Four more of Bermuda's sons who have seen active service in the great world war, returned home by the Chaudière from Halifax on Tuesday morning. A good number of people were on the dock to meet the homecoming soldiers, and Sir Thos. J. Wadson, on behalf of the colony, officially welcomed them. Col. W.R. Winter, O.B.E. and Capt. Talbot were also present.
The arrivals were:
Sgt. C.E.P. Linea, B.V.R.C., who was a member of the pioneer contingent of the corps.
Corpl. J.S. Doe, who belonged to the Canadian Medical Corps, is the son of Mr. Duncan M. Doe.
Pte. G. Castle, who joined the 38 Ottawa Regt. when they were stationed here, belongs to Somerset.
Pte. K.L. Adams, who belonged to a Canadian infantry regiment, is the son of Mr. Leslie Adams of Devonshire.
George John Samuel Castle was born 11th December 1877 in Sandy's Parish, Bermuda, a son of Ruben and Harriet Ward. He married Eldora Jane-Lee Swan on October 23, 1902 at St. James Church, Sandy's.
In common with a number of Bermudians who preferred to sign up with the Canadian forces, on 8th December 1915 he enlisted in the 38th Ottawa Division. He indicated that he had previously served 9 years with the B.V.R.C. He gave his occupation as Stoker, and that he was married with three sons and three daughters.
The 38th sailed for England on 31st May 1916. On August 15th the unit was sent forward into the trenches at Ypres. They spent the next two years at various points on the front or just behind it. Some 700 were killed and 2,000 wounded. Close to 300 decorations were awarded to members of the 38th. The 38th returned to Canada in June 1919.
Constable Castle joined the Bermuda Police on 19th October 1919 but only served a short while.
Constable Castle was one of a number of men who joined the Police in 1919 and for whatever reason served less than a year. His later life is not known at present.
Private George John Samuel Castle
Canadian 38th Division (source ancestry.com)
12th July 1919 was a Gala Day in Bermuda and is described by the Royal Gazette of 15th July:
THE RETURN OF THE B.C.R.G.A. GALA DAY IN BERMUDA
There was no mistake about the homecoming of the R.G.A. Everything else went by the board.
From early morn to dewy eve the streets were crowded with enthusiastic admirers and no reserve or modesty marked the proceedings.
We are free to admit that the scene was much more appropriate to the occasion than some of our receptions have been even allowing for the fact that the return in a body made matters much easier.
The long wait, the hot weather, the false reports, all failed to damp exuberant spirits, and when at length the troops landed at the Transportation Company's wharf, Front St. witnessed an unprecedented scene.
There was no possibility of maintaining the wonted discipline. Ranks broke and relatives accomplished more than the enemy had done.
Proudly they fought their way to the Public Buildings where His Excellency the Governor, together with prominent officials and interested citizens, were assembled.
A fine body of men they presented! Proud they might well be. An honourable record, deserved recognition, and a safe return.
On all sides it was heard that the horrors and privations of war had improved everyone. Officers looked in the pink of condition; men were smarter, more reliable and obviously more self respected.
His Excellency addressed them as only he can. Although suffering from hay fever, his voice rang out sonorously and clearly, and his stirring speech was punctuated by ringing applause.
A pleasing feature of the reception at the Public Buildings was the unfurling of Bermuda's flag (Lieut. J.B. Dickinson) whilst Capt, C. Leighton A.D.C. held the Shield, both of which were recently presented to the Bermuda Contingents in London.
After the Governor's speech, the men were marched to the Oddfellows Hall to partake of refreshments, and His Excellency complemented the returning officers each of whom was presented by the C.O. Major Dill.
We congratulate the Contingent on its safe arrival. From the Commanding Officer down to the humblest in rank, nothing but high praise is due.
From a peaceful island and unexciting pursuits they were thrown into the devastating horrors of the Great War. They acquitted themselves not only worthily, but with distinction. They met in friendly rivalry with other regiments hailing from more experienced communities, again they excelled
This is a proud record. It has one grave disadvantage. It is not easy to live up to a high standard. The eyes of Bermuda are on the returned soldiers.
Men of the R.G.A.! Show that you can live in peace, as you fought in war.
The address of His Excellency the Governor was as follows:-
"Officers, NCO's and Men of the Bermuda Contingent Royal Garrison Artillery:
I count myself fortunate in being present today to greet you in the name of the Legislature and people of this Colony, before I proceed on leave.
You have well done your duty on the battlefields of France: have gained a wider knowledge of the Empire and learned much of many of our brave Allies and I feel sure that by your brave conduct and bearing in the future you will prove that there is no more noble and uplifting life than a soldiers especially when it is spent, as yours has been, in so righteous and just a cause.
Men of Bermuda, we are proud to welcome you home.
The Battery embarked in May 1916, 4 officers and 206 other ranks, Lieut. (now Major) Dill in command and by 24thJune (or only three weeks later) you were on the Somme front. Surely almost record time. You remained on the Somme front till December and then proceeded for shipping work to Marseilles.
In April 1917, you bore your share in the operations on the famous Vimy Ridge. Here Gunner Stowe was killed and Sgt. Tregaskis of the European Staff was seriously wounded.
In May and June, 1917, you shared in the capture of the Messines Ridge suffering several casualties from wounds and gas.
From June 1917 to January 1918 you were on the Ypres salient where you were joined by the second contingent of two officers and 40 men from Bermuda. Here Bombardier Place, Gunner Swan and Gunner Mussenden were killed and Sergeant Sercombe (European Staff) Gunners D. Smith and Burrows and 12 others were wounded.
Gunners Manders and Knight received the Military Medal for distinguished bravery and the General Officer Commanding VIII Corps sent the following order:
"Your unit has been working on ammunition supply in this area since April 1917 and though sustaining severe casualties and latterly working under the most trying climatic conditions the work done has been consistently good.
On your leaving the VIII Corps the Corps Commander wishes his appreciation conveyed to all ranks."
In July 1918, you were on the Lys front and lastly in the final advance in Belgium, Lieut. Wrigg was awarded the Military Cross, and Sgt. Sergeant the Military Medal, for gallant work under very heavy shell fire. Lieut. Wrigg is still serving with the Army of Occupation.
Major Dill has specially mentioned to me the excellent work done by the European Staff who went from the R.G.A. in Bermuda; of eleven such two were severely wounded, four were promoted to other Batteries, two earning the Distinguished Conduct Medal and two are here today, viz: Battery Sergeant Major Frost and Battery Quartermaster Sergeant Locke, who have both done excellent work through-out, and the men of the Company from St. George's who have specially come over today will be proud to hear this.
Surely such a record of work done by you Major Dill, your officers, N.C.O's and men, need no further words from me, and I am glad to tell you that all ranks of the Battalion now quartered here, the 2/4th East Yorks, when they heard that a Guard of Honour was to receive the returning Contingent, unanimously offered to serve on it; a compliment I am sure you will highly appreciate.
I will before dismissing you read the report of the Field Marshal Commander-in-Chief His Majesty's Forces in France.
"Bermuda Contingent of R.G.A.
"This Contingent served with the Canadian Corps during the operations in May and June, subsequent to the capture of Vimy Ridge. They were employed on Heavy Ammunition Dumps, and great satisfaction was expressed with their work.
Though called upon to perform labour of the most arduous and exacting nature at all times of the day and night, they were not only willing and efficient but conspicuous for their cheeriness under all conditions.
Their officers rendered valuable services in the management of the dumps. The unit also worked on ammunition dumps from the end of June to the beginning of September in another Corps. On more than one occasion the dumps at which they were employed were ignited by hostile shell fire, and much of their work was done under shell fire.
Their behaviour on all these occasions was excellent, and commanded the admiration of those with whom they were serving. In fact the manner in which they carried out their work under all conditions was strikingly good." (Field Marshal Douglas Haig, 1st Earl Haig).
You have been and seen the Great War; you have inscribed your names for all times on Bermuda's Scroll of Honour, and now you are home I wish to tell you that if any of you desire work as soldiers, after a short spell of leave, I offer a certain number service for one year as soldiers in the Royal Garrison Artillery in Bermuda on the same terms exactly as the British units. I hope many of you will enlist. I wish you all God speed and a very happy meeting with your families and friends.
Another article in the same edition described the reception the returning soldiers received in their home town of St. Georges. The Editor was not above using the occasion to promote easier access to the town.
RECEPTION IN THE OLD TOWN
Saturday was a Gala Day in the "Old Town." From early morn a procession of carriages was on its way westward, carrying friends and relatives of the boys of the Bermuda Contingent, R.G.A. who were expected to arrive at Hamilton during the morning in the S.S. "Ulua".
About 8.30 a.m. the Duce (sic) of Clubs was hoisted at the mast head of the signal station at Fort George, and a shout went up "Trooper! The boys are coming." Then the local steamboats broke out all their bunting, the streets and flag staffs in the town were all dressed with flags and the streets became alive with people, all anxious to know when the boys would arrive.
About 9 a.m. the "Ulua" passed up the channel to Hamilton and an anxious waiting fell to the lot of those remaining in the old town.
About 4 p.m. it became known that the "Corona" was coming round the north side, owing to the state of the tide, being unable to come through the Reach. (By the way, will the day ever come when this water way will be made practicable for ordinary steam-boat traffic? Here is a chance for the local authorities to get busy. The dredger can be used by private individuals to improve their properties, why not use it to benefit the public?)
About 4.30 p.m. she entered the harbour through the Town Cut Channel, and docked at Convict Bay where the boys landed, being met by Captain Hesketh, R.A., Adjutant, Rev. A.T. Tucker, Chaplain, and the president and officers of the St. George's Branch of the League of Empire, and the Ladies of the St. George's Patriotic Home Club.
Having landed, a procession was formed, headed by the bands from Hamilton and St. George's and the ladies of the above club and marched through the town by way of York Street, Custom House Square, Water Street to Market Square, where the procession was met by His Worship, the Mayor, W.J. Boyle, Esq., and the members of the Corporation and a large concourse of the people.
Addresses of welcome were given by His Worship the Mayor, the Rev. A. Tucker, and Mr. J.S. Paynter, President of the St. George's Branch of the League of the Empire. A number of hearty and rousing cheers were given and the men broke ranks and were heartily welcomed by all, and gradually dispersed to their homes.
The bands marched round the town playing patriotic tunes, and finally everybody, pleased with everybody and themselves, agreed to call it a day and retired to their homes happy.
The general appearance of the boys spoke well for their treatment since the end of the war, as they looked a happy and hearty lot, surely doing credit to the country of their birth as well as to the old country which has just sent them back.
God grant that such a call may never come to Bermuda again, but should the day ever come, when the mother country has to send out a cry of need, we are sure that the boys of Bermuda especially those of the coloured race, will never be found wanting in loyalty and readiness to respond to the call of duty. They all deserve well of the Country to which they belong.
Not all of Bermuda's soldiers were home by this time. One in particular, Sgt Williams, later to be the first Sergeant Major of Police in Bermuda, used the period between the end of the War and returning home to attend an event he may not have been able to, once he was back in Bermuda. The Royal Gazette of 5th August 1919 described the occasion.
HOW MASONS CELEBRATE PEACE
By A Freemason.
With all the pomp and circumstance of Masonic ritual Freemasons are celebrating peace today at the Albert Hall. An Especial Grand Lodge is to be held this afternoon at which The Grand Master of England, the Duke of Connaught, is presiding. Vested in the gorgeous regalia of their offices and resplendent with jewels, some 8,500 Masons from all parts of the country are attending.
"Everyone must wear black morning or frock coat, black tie, white gloves, and full Masonic clothing. Masons are inspected at the entrance by assiduous officials as fussy as any Provost Marshal, and are liable to be sent away if not clothed according to regulation. It is painful to think of the plight of a man who, in a moment of forgetfulness, dons a coloured tie or a check suit! But Masons are very strict on points of detail.
It is a mistake, however, to suppose that ritual and dressing-up and dining out are the chief point of Masonry. Freemasonry is a great human brotherhood binding men together by the bond of fraternity, and it teaches above all else the Virtue of charity. It has proved itself great value in keeping men together during the war, and it has, in many practical ways, helped our sailors and soldiers. Men in the field have found their Masonry useful to them in a variety of ways.
But apart from that the Masonic charities have done excellent work in providing for the widows and children of men who have fallen in the war. In one year a sum of over £200,000 (Over £10 million at 2020 values) has been collected for Masonic charities, which include support for old people and widows of Masons and schools for boys and girls. Several hundred boys educated at Masonic schools have served in the war, and a great many of them have gained decorations.
During the past four years Freemasonry has made great strides in this country. Numerous new lodges have been established. The rites of Masonry have been practised by our fighting men under all sorts of conditions abroad. The interned troops in Holland formed, by special permission of the Netherlands Grand Lodge, a lodge of their own, and this has since been recognised by the Grand Lodge of England.
Some people object to Freemasonry because it is a secret society. Secrecy is certainly a necessary part of Masonry, but in England, lodges have never been used, as in some parts of the Continent, for political or religious propaganda.
Freemasonry inculcates the brotherhood of man. It stands for patriotism, good citizenship, and practical charity. It is a promoter of peace on earth and goodwill towards man. The fact that the Duke of Connaught is Grand Master and that the Prince of Wales has recently been initiated into its ranks should be sufficient proof that there is nothing sinister in its secrecy.
We understand that at least one Bermudian Mason was present. Sgt. W.N.T. Williams.
We mentioned earlier the opinion many soldiers had about the Military Medal. The Royal Gazette of 26th August 1919 gives one local veteran's comments.
SGT. WILLIAMS RETURNS
Sgt. Williams, B.V.R.C., went to the war full of enthusiasm, high purpose, and determined duty. He carried out his duties to the satisfaction of all. The corps is proud of him.
Every unit to which he was attached is proud of him, but he comes back with a grievance.
Our interviewer met him with a sheaf of enquiries. He hoped to obtain information at the rate of a column a minute. He had a long list of engagements with a space left open for the Sergeant's experiences.
He had questions on the voyage, food, atrocities, billets, French charm and German hellishness. He was prepared for views on the League of Nations, the Bolsheviks and conscientious objectors, but the gallant soldier turned a deaf ear to the charmer.
He was full of his grievance. He considers Bermuda is possessed of the bravest soldier in the British Army in the person of Sgt. Churm, and he is disgruntled because his ideal solder has only the Military Medal.
He told, with eyes full of admiration, how Churm beat the whole of a German Army Corps. But not a word of his own share in the conflict.
Yet we are glad to know that Sgt .Williams attained much distinction. He became chief instructor in machine gunnery to one division. He was employed not only to instruct but to construct a whole school of instruction.
We congratulate him on his success .We wish him a happy and prosperous return to civil life, but we must confess to a conviction that it is Bermuda that is to be congratulated.
Since the armistice, Sgt. Williams entered thoroughly into the opportunities that England offers to the searcher for experience. While he was stationed in Winchester, he was privileged to join the Cathedral Choir, a privilege he highly esteemed as a chorister of our own Cathedral Choir.
He saw much of the college life, and, being a zealous Freemason, he used to the full the advantages that were accorded him.
We shall look forward to a detailed account at some date when he can see clearly his own exploits in the same perspective that he views others.
Later in the month the Royal Gazette reported on the return of Alfie Tear, son of the late Superintendent Tear.
CORPL. ALFIE TEAR RETURNS.
Cpl. Alfie Tear, the only son of the late Mr. Geo. Tear, returned home by the Chaudiere yesterday. (25th August 1919).
He joined the 2 Batt. Bedfordshire Regt. with which he went to the front and saw considerable hard fighting up to the time he was taken prisoner of war. He was first reported killed but was afterwards found to be in the enemy's hands.
The Royal Gazette reported on 9th September 1919 on the last contingent of B.V.R.C. soldiers to return from the War.
RETURNING SOLDIERS
Last Contingent of Veterans Arrived Home Yesterday.
Now that practically all our soldiers have returned, we have learned the secret of enthusiasm and the art of cheering.
When the "Caraquet" came alongside yesterday, by far the greatest crowd that has ever assembled to meet returning soldiers (with the exception of the occasion of the homecoming of the B.C.R.G.A.) was ready to do the honours.
Front St. was alive with people, the sheds were packed, and to add to the excitement, the road roller chose that particular time to pass by the numerous horses.
Sir Thomas greeted the heroes on behalf of the Colony, a compliment that is appreciated by all, but in addition to this official welcome, quite an unusual number of prominent military men and civilians were present to honour the occasion.
Sir Thomas Wadson spoke as follows:
Each one was addressed by name in order of military rank, and then followed, as under.
"We greet you right warmly on your return from the battle front where you have taken part in the greatest and most terrible war known to history, where you have aided each in his place in bringing about the complete victory won by Great Britain and her Allies, over an enemy who sought to dominate the world, and crush it under the heel of Prussian Militarism. Happily the designs of the enemy have been frustrated, happily the world is now again at peace and you are able to return, some with decorations on which we congratulate those who have received them, and we congratulate all of you on having thus done your duty faithfully in the cause of freedom and justice, and we cordially welcome you to your homes and kindred."
The returning soldiers were:—Lieuts. C. Nelmes, R.A.F. Late attached to Somerset Light lnf. and F. Paterson.
Sgt. Major Morgan and wife, Sgt. Mullin, Sgt Baker, Sgt. Churm, M.M. and wife, Sgt. Medeiros M.M. and wife. Ptes. J.A. Smith, G. Sullivan, R.C. Wilson, M.M., all of the B.V.R.C.
Sgt. Sweeney, 58 Canada, Pte. Fox.
A full account will appear in our Thursday's issue.
Instead of a fuller description of the homecoming, the Royal Gazette of 11th September 1919 carried the following article about Sgt Churm:
STORY OF SERGT. CHURM
We are proud to be able to give our readers an account of the work done by Sgt. Churm, B.V.R.C.
His bravery, his coolness in the face of great danger, and his skill in manipulating his gun filled not only his comrades with admiration, but commanded the notice of the General commanding the Division.
Bermuda has every reason to be satisfied with the deeds of her soldier sons
Whilst everyone did his duty nobly, we are glad to record the gallant actions of one of whom the B.V.R.C. is justly proud. Indeed, most of them will not be content until Churm has been further distinguished in orders.
Our interviewer reports that only one more difficult task has been accomplished, that was getting information out of the hero.
"Sergeant Albert Churm, B.V.R.C. was in France from Feb. 23, 1916 until Feb. 19, 1919 with the 1st Batt. of the Lincolns, 21st Division, all the time, never being seriously wounded so as to leave the battalion. He has the General Service medal, the Victory ribbon and the ribbon of the Military Medal, for the Medal itself has not yet been sent him.
"The Occasion on which the Medal itself was won by Sergt. Churm was when the Bosche made their great and last big offensive in March, 1918.
Their bombardment began at 4 a.m. and continued until 8 a.m. and every third shell was a gas shell; our men had to keep their gas masks on all the time. The mist and smoke were so thick that it impossible to see 50 yards.
"The enemy advanced and managed to break through the 16th Division, going through for about a kilometre and a half and then turning and attacking in the rear. Sergt. Churm and a Lewis gun team of 25 men were on Chapel Hill. They had lost three teams and guns during the bombardment and at this moment Churm took the gun.
"Four of the team, himself, C. and L. Mullins and W. McNichol were Bermudians. The trenches on both sides of them were full of Germans who were bombing with great vigour until at last, the others being either killed or wounded. W. McNichol was taken prisoner and C. Mullins had gone to ask for more men. Churm was left alone to serve the gun, which he did single-handed until a shell got under it and blew it to pieces. Fortunately he was not quite close to the gun at the moment, having stooped to take a full magazine in place of an empty one, this saved his life although the concussion of the shell laid him flat.
"In a few seconds however, he recovered and seizing a rifle lying near he fired it three times at the trench to his right hand, hoping to hit the Germans; he regrets that he is not sure that he hit any of them. Seeing that his only chance was to rejoin his comrades if possible he managed to accomplish this.
"The action of the machine gun crew evidently stemmed that portion of the German advance and was a most meritorious piece of work since the order which was read on the field, when the ribbons were pinned on Sergt. Churm by the Corps Commander General Sir Julian Byng ran as follows:
"For holding a trench by himself on the first day, March 21st, of the great Bosche offensive. Holding up the enemy and causing great casualties amongst them and in this way enabling our troops to get back to a better and safer position
"On the occasion of this presentation there were many others, both men and officers who had behaved with great bravery in other parts of the line and these, after receiving the ribbons, were ordered to 'take the salute' from the Corps, representatives of which marched past them with bands playing and 'eyes left' as they passed the heroes of Chapel Hill. One hour and a half they stood and the saluted said it was harder work than fighting."
The Military Medal ribbon is dark blue in wide stripes at the outer edge and narrow red and white stripes within.
As mentioned earlier the Royal Gazette of 7th October 1919 reported on the closing down and accomplishments of the Bermuda Contingency Committee. The same edition carried the bravery award citations of six of the returnees, including two future policemen.
No. 1023 Sgt. A. H. Churm, B.V.R. Corps.
Awarded Military Medal for conspicuous gallantry when in charge of four Lewis Guns. During the German attack on 21 March 1918 when most of the Lewis Gunners had become casualties and three guns knocked out of action he took the remaining gun and used it with great effect on the advancing enemy until it also was struck by a shell and smashed.
He then picked up a rifle and fired at the oncoming enemy until the German Bombers working along the trench from a flank forced him to retire.
Joined the B.V.R. Corps on 1 December 1915 for the purpose of proceeding to the front. He left Bermuda with the second Contingent in May 1916. On arrival in France was immediately sent into the trenches and subsequently took part in the following actions:
Attack on the Hindenburg line between Hennin and Croisselles on 3rd and 11th April 1917.
Paschendaele Ridge October 1917.
German offensive from 21 March to 29 April 1918.
German attack on Chemin des Dames 27 May 1918.
Second battle of the Somme 24 July 1918 and continued in the advance until the armistice was signed.
No. 190 Colour Sgt. W.N.T. Williams, B.V.R. Corps.
William Newbold Talbot Williams was born on 19th May 1878 to James Henry Williams, a Ships Husband, (Wikipedia - Under maritime law a Ship's Husband, is an agent appointed by the owner of a ship, with the authority to act on behalf of the owners) and Jane Emelia Williams nee Talbot. William was baptised at St Paul, Greenwich, England on 11th August 1878. How he came to Bermuda remains to be discovered but his father in some sources is referred to a 'Captain' so his parents may have brought him to the islands.
Awarded Volunteer Long Service Medal under Army Orders 123 of 1916.
Enrolled as a volunteer on 13 January 1896. Was selected as one of the representatives of Bermuda Contingent to attend at King George V coronation in 1911 and was decorated with the Coronation Medal at that ceremony.
Volunteered for active service with the first Bermuda Contingent in December 1914 but could not be spared from his employment with the Royal Army Ordnance Corps. In May 1916 he was allowed to proceed with the second contingent and served at the front till conclusion of hostilities.
He took part in the following engagements,
Battle of Kemmel Hill April 1918.
Battle of Champagne.
Second battle of the Marne May 1918.
Commencement of Allied Offensive Somme July 1918.
The Royal Gazette of 23rd October 1919 carried the following story:
There are nine men of the Bermuda Contingent, R.G.A., now in Kingston, Jamaica, which place they were sent en route for Bermuda from England. Cable advices were received yesterday stating that H.M.S. Constance would arrive here with them on Saturday.
Overseas men of Bermuda are very anxious to form a Veterans Association on the same lines as those now existing in Canada and elsewhere. But, as with a good many other things in Bermuda, it seems hard to make a start.
Last night a meeting of a number of returned men was held at the Point Pleasant and they will hold a reunion dinner on a date to be announced later.
On 30th October the Royal Gazette reported a low key arrival for the men from Jamaica.
Yesterday also there arrived the oiler "War Dogra" of 5560 tons, from Jamaica. Twelve members of the B.C.R.G.A. who had been awaiting passage to Bermuda from Jamaica disembarked in Grassy Bay from this ship.
Injuries sustained in battle sometimes had long term affects as suggested in this the Royal Gazette article of 23rdMarch 1920:
The House also agreed to a further expenditure of £450 on behalf of Cpl. A.G. Tear and Pte. Gordon Hollis, who are now receiving treatment in a sanatorium in New York.
A similar sum was also reported as approved by the House in mid April 1920.
In August some hopeful news.
MR. TEAR'S HEALTH.
The friends of Mr. Alfred George Tear, who is undergoing treatment at the Loomis Sanatorium, New York, will be glad to learn that he has made very good progress and the outlook for his recovery seems excellent.
It will be remembered that Mr. Tear suffered great privations whilst a prisoner of war in Germany, which doubtless was the cause of his failing health.
But on 3rd April 1921 the Royal Gazette carried sad news
BERMUDA VETERAN'S SUDDEN DEATH
Mr. J.W.A. Farrell Was One of the First Contingent B.V.R.C.
The death of Mr. James William Allen Farrell; age 47, occurred at ten o'clock on Wednesday night at the Washington House, East Broadway, Hamilton.
He was well known locally as the "Big Drummer" of the B.V.R.C. Band and was among the first to volunteer for active service during the late war. He and his brother Mr. M.J. Farrell, who is now employed in one of the United Fruit Company's steamers, were members of the 1. B.V.R.C. Contingent, and another brother, Sergeant Joseph Farrell, went over with the 2nd Contingent and was killed in France. His half brother, Mr. Alfie Tear, also saw service at the front and unfortunately whilst serving with the Bedford Regt. was taken prisoner by the enemy, through whose treatment his health became impaired, and he is now in a United States sanatorium.
They are of soldier stock and the Empire's need found them all in the vanguard of that great army which saved the world from the withering blight of Prussian militarism.
The hardship and exposure resulting from active service did permanent and irreparable harm to Mr. Farrell's constitution and he returned to Bermuda before the body of the B.V.R.C. Contingent, having been discharged as medically unfit. For many years he has been employed with the R.E. Works Department at Prospect and during last summer was in the King Edward Hospital for eight or ten weeks. Since then he has enjoyed but indifferent health, though he worked right up until the day of his death, which was sudden and unexpected and caused by heart failure.
Major R.J. Tucker, O.B.E. Commanding B.V.R.C. says of him that. "He was always a keen soldier, a willing worker, a staunch comrade and one whom it will be difficult to replace in the Corps." These words, coupled with the fact that he wore the Long Service and Good Conduct Medals, 1914-15 Star, General Service and Victory Medals, leave nothing further to say as to the man's character and ability.
Besides his brother Mr. M.J. Farrell he leaves two half sisters, who before their marriage were the Misses Maud and Daisy Tear, to mourn his loss. To all of these will be extended the sympathy of a wide circle of friends in their bereavement.
Throughout the city flags were yesterday at half mast as a tribute of honour and respect to one of Bermuda's War Veterans and the funeral with full military honours took place at two o'clock yesterday afternoon from the Washington House to St. Edward's Roman Catholic Church, thence to the Pembroke Cemetery where the body was laid at rest.
Father McCarthy officiating. The firing party was furnished by the Bermuda Volunteer Rifle Corps. of which, at his death, Pte. "Jimmie" Farrell was still a member.
The coffin bore many beautiful wreaths, which testified the esteem in which he was held by his friends.
In the Royal Gazette of 23rd March 1921, the Government was reported to still be assisting with the hospital bills of Messrs Hollis and Tear.
The House of Assembly met yesterday afternoon.
The first Message dealt with concerns two men of the B.V.R.C. Active Service Contingent now in a sanatorium in the States. There is considerable improvement in the health of Hollis, who has been advised to seek employment in the western States, but the general condition of Tear is not so satisfactory. In reply, the House sent a Message stating their willingness to arrange for the settlement of accounts for the cost of these men up to the end of last year, to provide for the maintenance of Hollis up to April next and Tear to June in the sanatorium, and then to give each a gratuity of £300. (£60,000 or about $75,000 at 2020 values).
29th July 1921 was a very special day for the Bermuda Police Force as reported by the Royal Gazette.
GOVERNOR INSPECTS POLICE FORCE
Fine Record of Members
Yesterday at noon, His Excellency the Governor inspected the Bermuda Police Force and presented a number of medals earned by members during the war.
Most of the members had already received their medals and decorations, so that at yesterday's ceremony only five members remained to receive their medals from the Governor.
The men presented a fine appearance as they marched to the grounds of the Public Buildings. Very smart in drill, spick and span in appearance and an excellent showing of healthy, vigorous manhood. Very gratifying to, was the large assembly of civilians and the applause which greeted each recipient.
His Excellency, addressing the Force, said that twelve months had elapsed since the formation of the Force on its present footing, and it gave him great pleasure to testify to the excellent work done by the Police during that time. They had won completely the confidence and esteem of the Public and no higher tribute could be paid them.
Their work was onerous, dangerous and full of responsibility. The care and protection of law abiding citizens was entrusted to them, and they had carried it out bravely.
The case of P.c. Rogerson was an instance of the dangers attached to their office, and, if that Constable should decide to remain in Bermuda; it would be his privilege to see that suitable occupation was found him.
In any case, it had given him much pleasure to recommend him to the Secretary of State for the Police Medal, a medal as honourable as any war medal.
His Excellency took keen interest not only in the honours awarded by him, but in the various decorations worn by other members of the Police Force. After the ceremony, the whole Force was photographed with the Governor by Mr. Lusher.
On 4th September 1946 the Royal Gazette published the following Obituary:
OBITUARY
Albert Edward Rogerson
The death took place yesterday of one of the most esteemed members of the Customs Department's airport staff when Mr. Albert Edward Rogerson, of Paget, (an Assistant Collector of Customs) died at the age of 52. A former member of the Bermuda Police Force, in 1921 Mr. Rogerson won the King's Police Medal for Gallantry in breaking up a riot on Reid Street and making an arrest in spite of wounds which eventually caused him to be invalided out of the constabulary.
Mr. Rogerson came to Bermuda when the late Police Chief Sempill completely reorganised the Force, bringing out a number of Englishmen and Scotsmen, some of whom continue in service today. (The Police Commissioner, Mr. J. S. McBeath, is one of them.)
After being invalided out of the Police Force, Mr. Rogerson served for a time as manager of the Riddell's Bay Golf Club, later becoming chief steward at the Belmont Manor Hotel.
The past six years he had spent in the Customs Department of the Government, first as an Extra Revenue Officer and latterly as a Civil Servant on the airport section of the Customs staff. High tribute to his efficiency and unfailing good humour was paid yesterday by the head of that department, Mr. Ralph Gauntlett.
Born in Wakefield, England, Mr. Rogerson came of Scottish ancestry and his home was at Grangemouth, Scotland. During the First World War he served overseas, being a second lieutenant in the Argyll and Sutherland Highlanders when hostilities ceased.
Although he was not affiliated with any Bermuda Lodges, Mr. Rogerson had been a Freemason since 1919, his mother Lodge being Zetland, No. 391, of Grangemouth. At one time he was a regular attendant at the meetings of Atlantic Phoenix Lodge in Hamilton. Officers and members of which will conduct Masonic last rites at the funeral this afternoon.
The cortege will leave the residence, "Swansea," Paget at 4.30 for St. Mary's Church, Warwick, where interment will take place at 5 p.m.
The pall bearers to the church will be: Superintendents Charles W. Pantry and George Smith of the Police Department; Messrs. Harry Smith and Jack Critchley, of the
Bermuda War Veterans' Association; and Messrs. Ralph Gauntlett and Frank Crisson of the Customs Department.
Atlantic Phoenix Lodge will meet at 3.45 o'clock for the purpose of proceeding to the funeral.
The article of the Royal Gazette of 29th July 1921 continued:
We append a full list of distinctions won.
Sergeant A.H. Churm, Military Medal.
Albert Henry Churm was born in Naas, Ireland in March 1882, to Mr & Mrs Mathew H. Churm. Mr Churm had been a soldier and served in many places around the world including Gibraltar where a daughter Rosalie was born in 1874. He subsequently settled in Bermuda.
Albert Henry Churm was a member of the 2nd Contingent, B.V.R.C.
He returned to Bermuda via the USA in August 1919. He described himself as a Blacksmith and was accompanied by his wife Alice of Bearwood, Smethwick, England.
He joined the Bermuda Police Force on 1st November 1919 as a direct entry Sergeant and was posted to Central. He resigned in 1923 and went on to have a long career with Gosling Bros. He was also a founder member and a long time committee member of various veterans associations in Bermuda. During WWII he was commissioned as a Lieutenant in the Bermuda Home Guard and later promoted to Captain.
Constable F. Cray, Belgian Croix de Guerre
Frederick Cray was born on 26th May 1894 in East Moseley, Surrey, England. He was the son of William, a bread maker, and Mary. Frederick joined the Royal Marine Light Infantry on 3rd January 1913 at the age of 18. His enlistment document indicates he was born in Southsea, Hampshire, England and that he was a Riveter in the Dockyard there. In June 1914 he was posted to HMS Iron Duke and took part in the Battle of Jutland and other actions. His military record is endorsed 'Diploma Belgian Croix de Guerre sent by post 28/11/21'.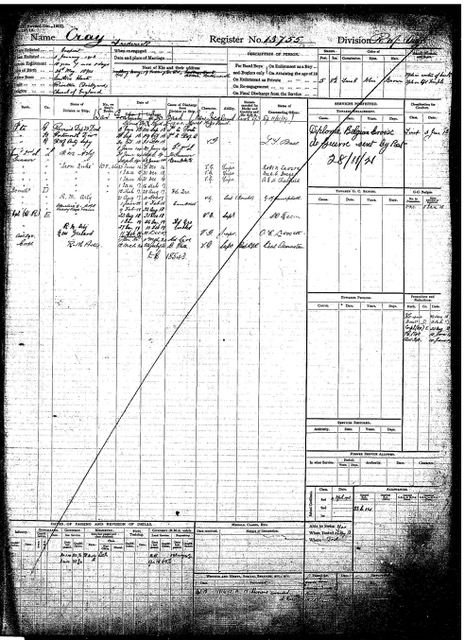 Corporal Cray's record of service in
the Royal Marines (© The National Archives)
He left HMS Iron Duke in August 1917 and became part of the Royal Marine Artillery and the R.M.A. Heavy Siege Train in the Antwerp area, where it is believed he earned the Belgian Croix de Guerre.
Frederick Cray was officially demobbed on 22nd July 1920 and joined the Bermuda Police Force on 9th August 1920. Police Sergeant Frederick Cray resigned on 7th March 1937 and became a Master at Arms on the cruise liner Monarch of Bermuda which regularly sailed between New York and Bermuda.
Constable H.B. Walker, French Croix de Guerre, 1914 Star
Henry Benjamin Walker was born 29 July 1892 in Melbourne, Australia. Although he held the French Croix de Guerre, and the 1914 Star, I have been unable to prove his military service as many Walkers with the first name Henry or Harry are recorded without any fact that allows me to definitely identify our Henry.
Henry Benjamin Walker joined the Bermuda Police on 9th August 1920. He travelled to Bermuda via Canada and on his Canadian Immigration form stated that his languages were English and Welsh.
On 20th September 1921 the Royal Gazette reported that "the Rev. Canon Henry Marriott presented on behalf of members of the Cathedral Choir six silver teaspoons to Miss Janet Tumbridge and Mr. H.B. Walker of the Bermuda Police Force who will be married on Thursday at the Cathedral."
On 15th July 1923 they had a baby daughter. However PC Walker was dismissed from the Force, together with Constable George James Isted, on 28th February 1923. No reason was given.
In June 1924 ex-PC Walker travelled to an address in Watford, England stating he was an Engineer. On 10thOctober 1933 he left Watford for Bermuda and stated his occupation as Gardener. From 1935 Walker is recorded as completing many trips on the Monarch of Bermuda as a Master at Arms.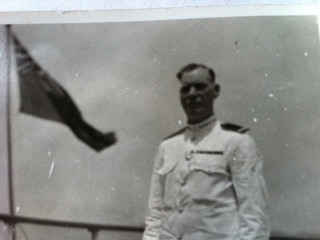 Undated photograph of Henry Benjamin Walker,
Master at Arms, believed taken on Monarch of Bermuda.
Constable R.J. Henderson, 1914-15 Star
Robert James Henderson was born on 6th October 1894 to Donald Edward Henderson and his wife Catherine in Chelsea, London, England.
In 1917 Robert Henderson apparently married Ida M. Carter in London, but they were divorced in 1919.
Tracing his military service is also a challenge, but it is known that he served in the Bermuda Police Force from 1st May 1921. The date he left the Force is unclear, but was probably mid 1922. On 1st July 1922 he is reported as marrying Cecily Elmina Ray in Oyster Bay, New York, USA.
On 30th December 1922 he is recorded as a passenger on the Fort Hamilton, a regular ship plying between Bermuda and New York. His occupation is listed as Clerk and his wife as living in Hamilton. In 1936 they travelled to Bermuda with four children. Their intended address was recorded as St. Clements Mansions, Fulham, London S.1. and his occupation as Police Constable. Their permanent address is listed as Bermuda. He does not appear in the Blue Books for the period so it is likely that he was a Dockyard Policeman.
Cecily died in 1984. Robert James Henderson died in Miami, Florida on 25th December 1968. Both are buried in Pembroke, Bermuda.
Constable K.J. Munro, Military Medal, 1914-15 Star, British War Medal.
Kenneth John Munro is believed to have been born at Lochbroom, Rossshire, Scotland on 29th August 1899. He later became Private S/40392 of the Seaforth Highlanders.
The London Gazette Issue 30172 stated:
His Majesty the King has been graciously pleased to award the Military Medal for bravery in the field to S/40392 Cpl. K.J. Munro, Sea. Highrs.
As was the practise with Military Medals awarded in the Great War there was no citation. There were several hundred awarded in that one Gazette.
Following his release from the army on 9th August 1920 Munro joined the Bermuda Police Force. He left the Force in 1924. At sometime he married and subsequently his wife died.
On 20th April 1948, at Christ Church, Warwick, Bermuda, whilst employed as a gardener, he married Mrs Irene Kate Knight nee Winnell, a housekeeper. An unconfirmed report states that Kenneth John Munro died in Bermuda in 1970.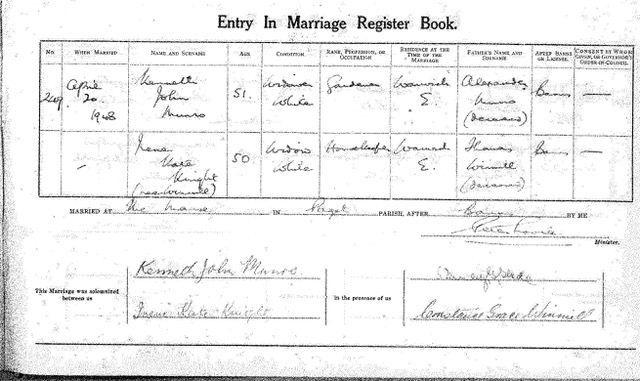 Wedding Record of Kenneth John Munro and Irene Kate Knight
nee Winnell (source Christ Church, Warwick, Bermuda).
Constable T.A. Pearce, Military Medal, 1914-15 Star, British War Medal.
Thomas Andrew Pearce is believed born about 1890. We are unable to prove his war service as we have not been able to find a Pearce who was awarded the Military Medal.
Constable Pearce joined the Bermuda Police on 9th August 1920. On 15th January 1925 he was awarded the Royal Humane Society certificate for rescuing a small boy from the deep waters of Market Wharf St Georges. His Police service ended some time after June 1925. It is not known conclusively what happened to him after that.
Constable H.W. Smith, 1914 Star.
Harry William Smith was born on 13th April 1891 in Orpington, Kent. He was a Shop Assistant when he joined the Royal Marines on 5th August 1909. As a member of the 63rd (Royal Naval) Division he was taken prisoner at Antwerp, when the Division was cut off from the allies on 9th October 1914. The men were to spend the rest of the war at Groningen, where they were held in a camp they dubbed HMS Timbertown, a name inspired by the wooden huts where they were quartered. (Source Wikipedia).
Corporal Smith received a free discharge from the Royal Marines on 20th July 1920. He joined the Bermuda Police on 9th August 1920 and resigned in 1925. He later became Chief Warden of Prisons.
Constable J. Finlayson, Distinguished Conduct Medal, Military Medal, 1914 Star, G.S. Medal, Victory Medal (Mentioned in Dispatches).
James Finlayson was born in September 1883, in Scotland (perhaps Edinburgh). He was a son of Railway Guard James Finlayson. He enlisted in the Reserves on 2nd February 1905.
On 3rd October 1906 he married Julia Edith Macdonald, at Holy Trinity Church, Aldershot, Surrey, England. James was a listed as a "Soldier".
In 1909 they arrived in Canada and in 1911 they were living in West Hamilton, Ontario where James was a Clerk. In August 1914, he left Canada, for Great Britain, and there enlisted in the Scots Guards. It appears that he had been a Police Constable in the Hamilton, Ontario, Canada area as The Ottawa Journal (Ottawa, Ontario, Canada), of 24th November 1914 ran the following story:
"SCOTS GUARDS LOSE 700 OUT OF 1,200 IN 18 DAYS.
By Canadian Press. Hamilton, Ont., Nov. 24.
Ex-Constable James Finlayson, in a Colchester hospital with a shattered arm, writing to Chief Smith here, says that the Scots Guards lost 700 out of 1200 men in 18 days' fighting in the vicinity of Ypres. Finlayson is a reservist who left here the first week war was declared."
The London Gazette of 15th Sept. 1915 published the following citation:
"5912 Private J. Finlayson, 2nd Bn., Scots Gds.
For conspicuous gallantry and devotion to duty when left in charge of eight or nine wounded officers at Kruseik on 28 October, 1914. At great risk of his own life he dressed their wounds and obtained food for them, all the time exposed to shell and sniper fire. When the house in which they were placed was set on fire by the enemy's shells, Private Finlayson carried them out of the burning house 300 yards to a disused gun pit, repeating this journey three times, one of the Officers being hit on the way. But for his courage and determination several of the Officers would have been killed or burnt alive."
This action was on the Kruseik Ridge, two miles south of Gheluvelt village, five miles east of Ypres. "On the evening of 27th October the Battalion, now less than 500 strong, took up a position in the Kruseik area; A Company (Captain Le Gallais) and B Company (Major Burgoyne) held the ridge itself with the remainder of the Battalion supporting them. The Battalion had already been in the trenches since the 17th and had lost 8 officers and 500 men."
Private J. Finlayson was discharged as unfit for war duties on 16th March 1916 (Entitled to Silver War Badge.). On 26th February 1920 he was awarded a Canadian Imperial War Service Gratuity.
James Finlayson joined the Bermuda Police Force on 1st May 1922 as a 3rd Class Constable in Eastern District. He served until 1925.
One "James Finlayson" (born 1883 Edinburgh) died 26th December 1945, at York, Toronto, Ontario.
I am grateful to https://www.greatwarforum.org for a lot of the above information on James Finlayson.
The Royal Gazette article reported that the following received their medals as stated.
Constable R.P. Lowe, 1914-15 Star.
Robert Percival Lowe was born in 1883 in Bow, London, the son of Robert and Eliza Lowe. He was baptized on 30th April 1883. In 1914 he enlisted as Private No. 284 in The Royal Army Medical Corps.
In 1916 he was a member of the South Eastern Mounted Brigade Field Ambulance when he is recorded as a medical patient at a military hospital in Sidi Bishr, Egypt. It is not known at present when he was demobbed.
He joined the Bermuda Police as a Constable in Central Division on 9th August 1920. He did not stay in the Police Force long as on 30th November 1922 the Royal Gazette reported the following:
WEDDING.
Frith - Lowe.
A very pretty wedding took place in St. Paul's Church. Paget on Tuesday evening, when Miss Elizabeth Frith, daughter of the late Mr. and Mrs. J. Frith of Turks Island, was married to Mr Robert Percival Lowe, son of Mr. and Mrs. Robert Lowe of London, England.
The ceremony was performed by The Rector, The Rev. G.B. Cooley and two hymns were sung - "The Voice that breathed o'er Eden" and "O Perfect Love." being sung by the Choir.
The bride was given away by her uncle. Mr. T. McKay Doe, the Maid of Honour being Miss Laura Doe who wore a dress of yellow silk with a blue hat. The bride was dressed in a very pretty white satin dress with pearl trimming, with a veil and wreath. Her bouquet was of white coralita.
The Church was beautifully decorated with white coralita by Miss Maud Dunkley, assisted by Mrs. Legg and Miss Jessie Loblein. The ushers for the occasion being Mr. Darrell Dickenson and Mr. Harold Llewellyn. Mr. E. Holman officiated at the organ. Mr. P.W. Feakin acted as best man.
There was no reception after the ceremony but the newly wedded couple will be at home to their friends on Tuesday and Wednesday; Dec. 5th and 6th at "Gladwyn," Paget East.
Mr. Robert Lowe, the bridegroom was in active service, served through the war and has now gone into business in Bermuda. The best wishes of their many friends will be with him and his bride.
Robert Percival Lowe died in 1960 and is buried in a family plot at St. Pauls Church, Paget, Bermuda.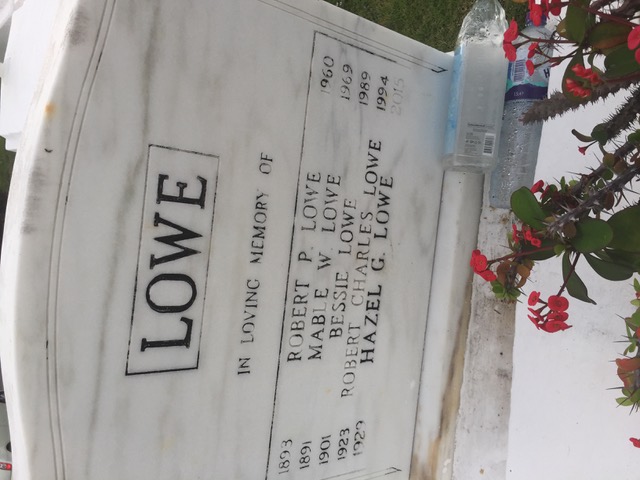 The grave of Robert Percival Lowe and his family at
St. Pauls Church, Paget. (Source: John Skinner)
Constable C.G. Tingey, 1914-15 Star.
Cecil George Tingey - On 27th March 1949 the Royal Gazette published this glowing testimonial to Chief Inspector Cecil George Tingey who was born in July 1894 to Edward and Helen Tingey of Shefford, Bedfordshire.
POLICE OFFICERS PROUD RECORD
CHIEF INSPECTOR TINGEY OF ST. GEORGES, RETIRING AFTER 28 YEARS FAITHFUL SERVICE
On May 24, after 28 years, nine months and 16 days of service, Chief Inspector Cecil George Tingey, of the Eastern District Bermuda Police force, will retire and bring to an end a career which began with the reorganisation of the Bermuda Police in 1920.
A familiar figure around the Town Square at St. Georges, Inspector Tingey is almost a part of the historical town. He has watched it and Bermuda change in the years he has been here.
Now, he says good-bye. He has been cleaning out his desks and drawers getting rid of the mementos collected after a life-time of police work - revolvers, German automatics, long and short lengths of rubber, a package of cartridges. Inspector Tingey is being pensioned off. Honourable retirement will his after his nine weeks leave which began on Wednesday.
"BORN IN BEDFORDSHIRE
Cecil Tingey was born a member of a family of 15 in Bedfordshire, England. He joined the Cambridgeshire Territorials in 1914 and went to France in April of the following year. He was wounded while fighting on the Somme and sent back to England.
After recuperating he returned to France in May, 1917, and was attached to the 21st Division of the Machine-Gun Corps. The old B.V.R.C. was also attached to this Division and Inspector Tingey's officer at the time was Mr. Herman Walker, of Bermuda, although they never met then.
After coming out of the Army in 1918, Mr Tingey returned to his parent's small hotel in Bedfordshire, but he soon headed for London to join the Metropolitan Police. After serving three months in Peel House, the police training school, he was put on the beat round Marble Arch area. Soon afterwards applications were invited to join the police force then being reorganised in Bermuda and Mr. Tingey, not exactly knowing what was in store for him applied. It wasn't long before he was sailing to Canada with other recruits from England, including one named McBeath and another named Pantry.
The recruit named McBeath rose to the highest position in the Bermuda Police Force and is at the present time Commissioner of Police: the recruit named Pantry became and still is Supt. Charles W. Pantry, Chief of the C.I.D. With Mr Tingey they are the only ones remaining out of the group of recruits that went first to Canada and then came to Bermuda by sea in 1920.
It was a very different place that recruit Tingey found himself in, after the noise and bustle of London. The new recruits settled down, however, and Constable Tingey patrolled the streets of Hamilton for two years before being posted to Pembroke West and Spanish Point. After three years he was brought back to Hamilton and made a Sergeant.
In January, 1938, he was sent to the Eastern District and became Sergeant-in-Charge. He supervised the policing of materials during the construction of Kindley Air Force Base and after the war was promoted to the rank of Inspector. Subsequently he became Chief Inspector and it is from this rank that he will retire.
KNOWS THE LAW
Inspector Tingey knows just about all there is to know about Bermuda law and criminals. He has helped catch murderers and burglars and has taken part in most of the local police work.
One of his memories is of the time he caught a murderer at St. Georges in 1939. The police got a report that the man had been seen in the Cut. Inspector Tingey with Sgt Hodson got a punt and began crossing the Bay. When they were half way across the Bay, the punt capsized throwing the policemen into the water.
But it was while searching the old hulk near Meyers Machine Shop that Inspector Tingey noticed a fresh foot print at the bottom of the hulk. A constable was sent down and the murderer was captured.
Mr. Tingey has figured in scores and scores of stealing and robbery cases and has investigated and prosecuted hundreds of cases. During the war he supervised the policing of convoys moored in Murrays Anchorage and used to take patrols out in a small motor boat to guard the ships against sabotage.
Throughout the years Inspector Tingey has watched over the people in the East End. His sunnier garb including extra long shorts is known to everybody, natives and tourists alike, in St. Georges.
The walls of his office are hung with the keepsakes and mementos of his life as a policeman. There are four walking out dress canes made from wood and polished bullets and then there is the Tear gas gun fashioned in the shape of a policeman's truncheon.
Many other curios and collectors items are to be found in his office. Each one has a memory for this long serving policeman, who is a member of the St. Georges Dinghy Club and the holder of numerous St John Ambulance Brigade certificates for first aid.
Although he may no longer wear the uniform he respected for so many years, Mr. Tingey is not going to retire into inactivity. He is already considering offers of jobs which have been made to him.
Good luck, Inspector Tingey after your faithful service to the peace-loving community of Bermuda. Yours is a record of which to be proud.
Constable Cray, 1914-15 Star.
Constable Cray has been mentioned above.
Constable C.W. Pantry, 1914-15 Star
Charles William Pantry
On 13th February 1953 the Royal Gazette reported on the retirement of Chief Superintendent Charles William Pantry.
PANTRY RETIREMENT OF HEAD OF POLICE FORCE'S C.I.D.
Chief Superintendent C.W. Pantry of the Police Force will shortly go on leave prior to retirement, it was announced yesterday by the Colonial Secretary's Office.
His successor will be Colonel Cecil Newing, who is expected to arrive in the Colony early in March.
Chief Superintendent Pantry is at present acting Deputy Commissioner of Police and since May 23 1939 has been officer in charge of the Criminal investigation Department. Born in South Africa on November 19th 1894. He left there at an early age to attend school in England. He first enrolled at Solihull Grammar School and later at the King Edward VI Grammar School at Birmingham.
Enlisting in the Royal Marine Artillery on February 27 1911 Superintendent Pantry served throughout the First World War in the Grand Fleet; with the army in Egypt and France: and on H.M.S. Moldavia which was torpedoed on May 23 1918 with the loss of 66 American soldiers.
He left the service as a Corporal on July 22, 1920 and with a free discharge from the Admiralty proceeded the next day to join the Bermuda Police Force, then under reorganisation by the Chief of Police, Mr. John Howard Sempill. Arriving in Bermuda on August 19, 1920, Mr. Pantry began his career as a 3rd class constable. Since then he has served under four Commissioners of Police -
John Howard Sempill, Digby Bettington, Ivo Stourton and J.S. McBeath.
Mr. Pantry and former Commissioner McBeath arrived in Bermuda together, and the former is the last remaining member of the Police Force who came in during the reorganisation of 1920.
Five members of the force who joined at the time of the reorganisation were former Marines and all are now residents of the Colony: Mr. Harry Smith, retired Chief Warden of Prisons: Mr. Frederick Cray, of St. George's; Mr. Jim Clements; Sergeant Ernest Case of the Civil Airport Police and Superintendent Pantry.
The retiring Chief Superintendent married Miss Violet Vallis, daughter of Mr. and Mrs. A. Vallis, in 1921, and has three sons and a daughter. His second son, Louis G. Pantry, is in the Royal Canadian Mounted Police stationed at San Quentin, New Brunswick.
Always a keen sportsman and formerly a rugger player, Mr. Pantry toured Canada in 1926 as captain of the only Bermuda rugger team ever to tour. A B.A.A. (Bermuda Athletic Association) team, it won five of its eight matches and included among its ranks the Wor. H. Martin Godet, Mr. George Holmes, Mr. Morris Cooper, Mr. "Chubby" Evans and Mr. Derisley Trimingham. The team was managed by Mr. A.E. Nicholl.
The Chief Superintendent holds a number of awards, including the Colonial Police Medal for Meritorious Service (June 9, 1946), the Hamilton Fire Brigade Medal (December 2, 1943), the 1914 Great War Star, the General Service War Medal, the Victory Medal and the Jubilee Medal.
He was highly commended by the Governor on June 28, 1924, for catching a burglar and on August 18, 1939 he was commended by the Governor for catching an escaped criminal.
Mr. Pantry said yesterday he had no particular plans for the future.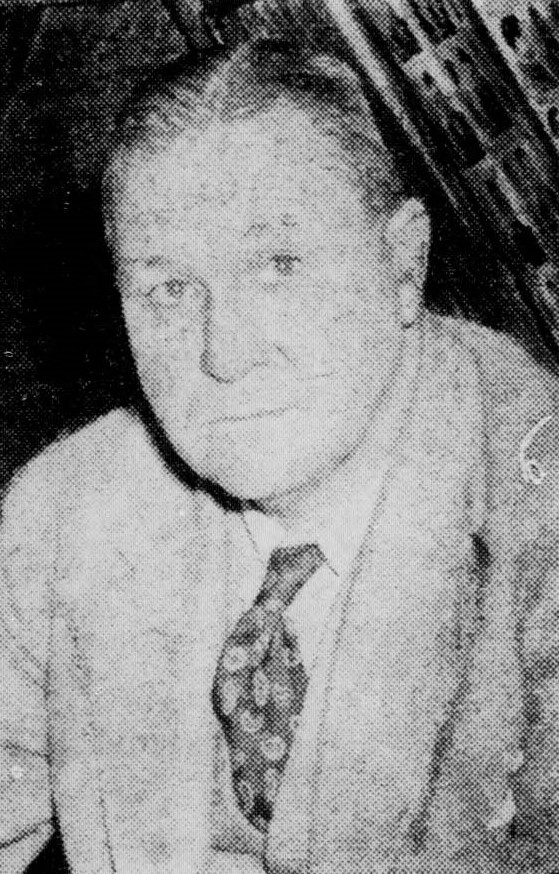 Chief Superintendent Charles William Pantry
(Source Bermuda National Library)
The last policeman to receive his medals from His Excellency the Governor was:
Constable A.H. Burrows, 1914-15 Star and British War Medal.
Alfred Henry Burrows was born in Lambeth in 1889. He noted on his 1920 Canadian Immigration Form whilst in transit to Bermuda, that he had a gunshot in the right shoulder probably as a result of his military service. His military service unit has not been traced because there were a large number of Alfred Burrows in the British forces in World War One.
He joined the Bermuda Police on 9th August 1920 as a Constable in Central Division. He married Amy Elizabeth Chiappa in June 1921 and rose through the ranks until he retired on 30th May 1942 as an Assistant Superintendent. The Royal Gazette featured his retirement on 24th August 1942
POLICE FORCE MEMBERS HONOUR FORMER OFFICER
Presentation Yesterday To Ex-Superintendent Burrows
Officers and men of the Bermuda Police Force assembled at the Masonic Hall, Reid Street, Hamilton yesterday afternoon to honour a former colleague, ex-Assistant Superintendent A.H. Burrows, who recently retired from the department following 22 years' service.
Commissioner of Police J.S. McBeath, who presided at the function, stated in a short speech that the members of the department had assembled to present a small token to former Assistant Superintendent Burrows to mark the esteem in which he was held by his brother officers and other ranks during his long period on the force.
The Commissioner added that Mr. Burrows was one of twenty constables who came to this country with the late Mr. Sempill, former Police Chief here, in 1920. Out of that number, only four are left.
During most of his service on the Bermuda Police Force, Mr Burrows was chief clerk to the Heads of the Department, stated Mr. McBeath, adding that he had no hesitation in saying that he was a very good one.
The present system of bookkeeping and the excellent filing system in the department are in no small measure due to Mr. Burrow's clerical ability.
During the past five years Mr. Burrows has not enjoyed the best of health, due to a very serious wound he received in the last war. The Commissioner stating that it was with personal regret that Mr. Burrows decided to take a medical board. However, it was good to see the former Assistant Superintendent looking so well today and he had the best wishes for a long and happy retirement from the members of the force.
Commissioner McBeath requested Mr. Burrows to convey best regards to Mrs. Burrows and to his daughter, Mavis. It was a great pleasure to hand over an assortment of glassware of standard pattern: he hoped the shipping situation would never be so bad that Mr. Burrows would not be able to use them!
Replying to the Commissioners remarks, Mr. Burrows said that after listening to the very kind words of Commissioner McBeath he felt that no speech of reply was necessary. However, he appreciated what the officers and other ranks of the Bermuda Police Force had done. He admitted he was reluctant to leave the force, but he was now employed in a different job and was glad to say that his boss told him he was doing fine. He trusted that the presentations would not constitute a farewell gift from the Force, but hoped that when the Police Recreation Club was located in new Club rooms they would not forget him when the invitations were being issued for their various functions.
Attending yesterday's presentations were Mr. M.B. Parker. Deputy Commissioner, Superintendents C.W. Pantry and Percy Miller, Assistant Superintendent George Smith, Inspectors Clark and Brown, Mr. W.N.T. Williams, former Police Superintendent, and several members and former members of the Force.
Alfred Henry Burrows died in King Edward VII Memorial Hospital on 23rd August 1956 at the age of 67. He was survived by his wife, a daughter and two grandchildren.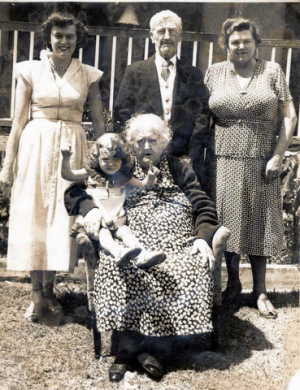 Alfred Burrows centre and then (L-R) daughter Mavis Miller,
and his wife Amy and seated his Mother in Law Margaret
and granddaughter Beth (Source ancestry.com)
Frederick James Clements was born on 28th September 1894, the son of Sgt James Clements, Royal Marine Artillery and Amelia 'Minnie' Clements nee Guard. Frederick was baptised on 11th November 1894 at the R.M.A. Church, Eastney, Portsmouth.
He joined the R.M.A. as Bugler No. 12558 on 14th February 1910 at the age of 15 years, 4 months and 16 days. His record showed that he lost over two years in seniority because he joined under age and his seniority was dated from his 18th birthday. By that time he had gained an additional 3 inches in height.
On 13th October 1913 he left HMS Africa with the rank of Gunner. After a period with 2 Company R.M.A. he embarked on HMS Erin, a Dreadnought battleship, on 10th August 1914. HMS Erin played a minor role in the Battle of Jutland.
During the spring of 1917 Gunner Clements spent a few weeks ashore with the R.M.A. during which time he was promoted to Bombardier. On 1st June 1917 he began an 18 month period of service on HMS Thunderer, an Orion class Dreadnought battleship. This service consisted mainly of training exercises in the North Sea. HMS Thunderer was at Rosyth, Scotland when the German High Seas Fleet sailed in to surrender on 21st November 1918.
Bombardier Clements was given a free discharge on 22nd July 1920 and became 2nd Class Constable Clements of the Bermuda Police Force on 9th August 1920. Like many other young Police recruits over the years, he became involved in the sporting life on the island and was a regular player in the B.A.A. soccer team and also played Water Polo for the Police.
His life was not all sport as the Royal Gazette mentioned on 9th December 1922.
BOOTLEGGING AFFAIR PREVENTED.
On Dec. 2nd, we understand that the police were instrumental in preventing liquor being conveyed on board the steamer then in harbour.
The police made for a boat in which to give chase and unfortunately Constable Clements came in contact with a wire hawser, sustaining severe injuries to his face and to one hip. He was taken to hospital and his condition is causing some anxiety.
He seems to have recovered and he left the Bermuda Police Force in 1924 and is believed to have gained employment as a mechanic. This Royal Gazette report of 15th July 1924 may explain why.
MARRIAGE CLEMENTS – SHIRLEY
Married in Brooklyn on the 5th of July Fanny Ellena Isabel, eldest daughter of the late Douglas A. Shirley and Mrs. Shirley of Warwick Parish, Bermuda to Mr. Frederick James Clements of Devonshire, England.
The ceremony was attended by Mother, sister and two brothers.
Frederick James Clements later returned to the island as an accountant and lived with Fanny in Paget East until she died on 20th February 1943.
On 25th December 1894, John Strang McBeath, a Ploughman of West Dron, near Lochearnhead in Perthshire, Scotland registered the birth of his son also named John Strang McBeath, at which he had been present at 6pm on 13th December 1894. John Senior had married Harriett Pristnall at a nearby parish, Trinity Gask, on 1st June 1891.
John Strang McBeath joined the Scots Guards on 18th January 1913 as Private 8259 and embarked for the Front in Europe on 13th August 1914. (His father joined the Black Watch on 10th November 1914 was later transferred to an Agricultural Company of the Labour Corps and released on 5th February 1919).
John, the son, was discharged in 20th June 1918 with a pension. His pension document records that he had gunshot wounds to his jaw, left thigh and right arm, but does not describe how he came by these wounds.
His pension document records his address as County Police Office, Alyth, Perthshire. A later undated entry records his address as c/o Police Station, Hamilton, Bermuda.
John Strang McBeath was appointed as a Constable in Central District on 9th August, 1920. In 1922 Constable McBeath was promoted to Sergeant Major of Police.
On 15th November 1922, he married Elsie Mildred Gauntlett, the daughter of E.A. Gauntlett and in 1st January 1927 he was promoted to Inspector. Further promotions came along and on 25th May 1939 he was made Acting Commissioner when Commissioner Stourton took up a post in Zanzibar. John Strang McBeath was confirmed in the rank of Commissioner on 1st July 1941.
The McBeaths travelled to North America several times but one trip John McBeath did on his own. The United States authorities recorded that in 28th January 1943 Commissioner McBeath travelled from Bermuda to New York on a Pan American Airways flight that originated in Lisbon. The record shows that he was on 'Official Government Business' for ten days, and travelled on a Diplomatic Passport that was issued only ten days before his departure.
Mr McBeath officially retired on 30th June 1952 and reportedly passed away on 21st June 1955.\
Ernest Charles Case was born 19th February 1894 at Sandon, Buntingford, Hertfordshire to Nehemiah Case and Elizabeth Mason Case. Ernest's military records have largely been lost but we do know that he was Corporal 12751 in the Royal Marine Artillery.
On 9th August 1920 he became a 3rd Class Constable in Central District and 1922 2nd Class Constable Central.
In 1925 he was a 1st Class Constable in St. Georges. In 1928 he disappeared from the Blue Books, but reappeared in 1940 as a 3rd Class Constable with seniority from 8th July 1940. The following year he was made 2nd Class Constable and in 1945 1st Class Constable.
On 13th February 1953 the Royal Gazette reported on the retirement of Chief Superintendent Charles William Pantry and mentioned that Sgt Case of the Civil Airport Police was present and had arrived in Bermuda with Mr Pantry.
The Royal Gazette does not report when Sgt Case moved to the Civil Airport Police but an advert appeared on 1stNovember 1951 stating that the Board of Civil Aviation was looking for staff for the 'Airport Police'.
It is reported that Ernest Charles Case died in Bermuda in June 1970.
Godfrey Raymond Evans
On 5th November 1930 the Royal Gazette reported the sad news of the death of PC Godfrey Raymond Evans.
WEST END NEWS
DEATH OF P.C. GODFREY R. EVANS
The sudden death of Police Constable Godfrey R. Evans was received by the general community of Somerset with many expressions of regret.
On Sunday evening about 7 p.m. P.c. Evans was stricken down at his home and his wife summoned assistance but he expired within half an hour from an affliction of the heart, a trouble for which he was being treated.
The late Police Constable Evans had been a member of the Bermuda Police Force since 1920 and was very popular with the officers and members of the Force and had also won the high esteem of the people of the community by his pleasant and civil deportment both on and off duty.
Before joining the Police Force the deceased had been a member of the Bermuda Militia, joining that force on May 26th 1900. When men were required during the Great War Sergeant Evans volunteered to serve his country in the services of the B.C.R.G.A., and from 17th February, 1916, until 12th July 1919, he saw active service. Since the formation of the Artillery Association he has taken a very keen and active interest in the work.
He served in the army for 15 years and 261 days and received a discharge certificate marked "Exemplary Character. "
The funeral of the late Godfrey Evans took place on Monday and was an exceptionally large one. Officers and members of the Police Force and members of the B.C.R.G.A. and Territorial's, as well as a large number of the community being in attendance.
The interment took place at the St. James' Cemetery. The cortège left the residence of deceased at 4.00 p.m. led by the Somerset Brigade Band playing the Dead March in "Saul." The hearse was followed by members of the Bermuda Police led by Superintendent W.N.T. Williams, Sgt. Burrows, Sgt. Cray, and the Dockyard Police headed by Sergeant Trew. These were followed by members of the B.C.R.G.A., the Territorial's and veterans of the Contingent who had served in the late war under the command of Sgt. Pierce. These were followed by the mourners, relatives and friends of deceased.
The pall bearers consisted of six members of the Police Force, Constables Burns, Young, Gillingwater, Landy, Down, and Cann, and six members of the Artillery, Sergeants Pierce, Ryan, Watson, Bennett, Butterfield and Fishenden. On arrival at the cemetery gate the corpse was met by the Rev. A. V. Sullivan who conducted the service very impressively in the Church.
The hymns "O God our help in ages past" and "On the resurrection Morn" were sung and the 23rd Psalm was chanted. While the body was being removed from the church to the grave Mr. Roberts the organist, played the Funeral March. After the interment had taken place Bombardier Darrell sounded the "Last Post" and the "Reveille" as a last military honour to a loyal soldier.
The wreathes were numerous, among them being tributes from the Eastern division of the Police, one from the Western Division, one from the Hamilton Division, another from the Dockyard Police, another from the Bermuda Telephone Company and many others. Also a letter of condolence and sympathy from Digby Bettington Esq., Chief of Police.
There were many other wreaths testifying to the respect in which deceased was held.
Charles Christopher Watson was a member of 1st Contingent B.M.A. as Gunner 1086. He returned to the island at the end of the war during which he was promoted to Sergeant. He was awarded the Meritorious Service Medal for his service during the war. He joined the Bermuda Police Force on 23rd February 1920 and served until about 1925 as a Constable in Eastern District.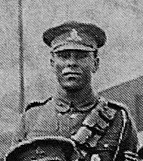 Sergeant 1086 Charles Christopher Watson
Bermuda Contingent Royal Garrison Artillery
He died on 11th December 1935 and the Royal Gazette on 14th December 1935 carried a report of his funeral. It also carried more details about his life.
MILITARY FUNERAL AT ST. GEORGES
The Late Sergt. C. C. Watson
The funeral of the late Sergt. Charles Christopher Watson, M.S.M., B.C.R.G.A. who died on December 11th took place in the afternoon of the same day at St. George's, and was widely attended, and deceased was given military honours.
Sergt. Watson held the rank of Bombardier, B.M.A. when he terminated his engagement in 1904. During the Great War he joined up for service overseas in 1916, and enlisted in the B.C.R.G.A.
During the latter part of the war he was permanent Battery Orderly, a duty which he carried out most efficiently, and he received the Meritorious Service Medal. After his return to Bermuda in 1919, he served for several years in the Police Force, and later was employed at the St. George's Hotel and the St. Georges Machine Shop. At the time of his death he was steward of the St. George's Recreation Club. He had been a most enthusiastic member of the Royal Artillery Association since the organisation of the Bermuda Branch in 1926, and served every year as a member of the Executive Committee, and his loss will be keenly felt.
The funeral cortege left the residence led by the Independent Order of Good Samaritans, and preceded slowly through the streets of the town with the B.M.A. Band under L/Sergt. Furbert playing the Dead March in Saul.
Behind the coffin, which was draped with the Union Jack, were the following pall bearers, all members of the Contingent: Gr. D.K. Fishenden, Gnr. S.A. Wears, Gnr. C. Smith, Gnr. N.J. Richardson, Gnr. G. Richardson and Gnr. S. Dowling.
Major P.L. Lightbourn (Retd.) and members of the B.C.R.G.A. Contingent under Sergt. H.L. Pierce, and members of the various R.A.A. Sections were present. The family mourners were Mrs. Watson (Widow) Mr. E. Watson (Son) Miss Sybil Watson (Daughter) and Mr. Edward Watson (Brother). The procession moved to the A.M.E. Church where the Revd. C.M. Morgan conducted a memorable service, the sacred edifice being crowded. The hymns "Jesu Lover of My Soul" and "Abide With Me" were sung and the Choir rendered an anthem. The address of the Revd. C.M. Morgan was a moving and eloquent one.
In St. George's Cemetery where the interment took place, at the conclusion of the service the "Last Post" and "Reveille" were sounded by L/Sergt. Furbert. At the conclusion the Good Samaritans held the service of their Order. Many Floral tributes were sent, several of which were from the societies with which deceased had been connected.
William Newbold Talbot Williams
On 11th October 1933 the Royal Gazette published this short paragraph.
PERSONAL
"Billy" Williams of England, more familiarly known as Mr. W.N.T. Williams, of Bermuda, retiring Superintendent of Police, is sailing on the "Monarch" today.
He plans a brief holiday, about ten days in the United States, and will return to Bermuda at the expiration of that short but indefinite period.
In 1952 Mr W.N.T. Williams was mentioned in a report about an inquest. He was listed as the Coroner for the Western District. William Newbold Talbot Williams is reported to have died on 27th April 1954.
My researches have produced information on the military service some of the men who joined the Bermuda Police Force after World War One and whose military service was not mentioned in the Royal Gazette . In time my hope is that we will have a complete list. Some of these policemen would have a long lasting influence on the future of Bermuda during their police service and/or in the civilian world.
Walter Arthur Garrett Card was born in Bermuda 1st November 1880. He was a Farm Boy when he joined the Royal Navy as Seaman 357327 at RN Devonport on 14th March 1901 for a 12 year enlistment.
In 1910 he married Mary Josephine Murphy in Cork, Ireland and they were later to have four children.
On 14th March 1913 he re-enlisted and qualified for Petty Officer in 1913 and Chief Stocker in April 1915.
Walter Card served on several ships and at the outbreak of World War I he was on HMS Endymion. In November 1914 he was transferred to HMS Vivid, a shore station used for training. In April 1916 he was posted to HMS Active.
By the beginning of 1916, HMS Active was assigned to the Grand Fleet and played a minor role in the Battle of Jutland in May that year. Shortly afterwards, she was briefly assigned as the flotilla leader of the 4th Destroyer Flotillaand escorted the main body of the Grand Fleet during the Action of 19th August, when the German High Seas Fleet sortied out to shell Sunderland. They were faced by the British Fleet of five fast battleships, six battle cruisers, 20 destroyers, 5 light cruisers and 25 submarines, and so returned to port.
By the end of the year, HMS Active was assigned to the Dover Patrol and was present during two battles with German destroyers, but was not engaged in either. HMS Active was based in Ireland by the beginning of 1918, but was soon transferred to the Mediterranean Fleet and was based in Gibraltar for the rest of the war.
In April 1918 Chief Stoker Card was transferred to HMS Bellona. The ship had been converted into a minelayer in mid-1917 and made four sorties to lay her mines before the end of the war. Card left HMS Bellona in mid-1919 for HMS Colossus, a dreadnought battleship assigned to the Home Fleet. He was retired on 20th May 1921 as a Senior Petty Officer, from the shore base HMS Vivid.
Walter Card then subsequently returned to Bermuda and on 1st August 1922 was appointed a 2nd Class Constable in Central Division and served until he resigned on 1st January 1933. He subsequently worked for Gosling Brothers for many years.
On Thursday 26th November 1953 the Royal Gazette reported on the visit to Bermuda of Her Majesty the Queen and H.R.H. Prince Phillip. During the visit ex-Petty Officer Walter Card had the honour of being presented to Her Majesty and had brief chats with her and Prince Phillip. Walter Arthur Garrett Card died in Bermuda in 1955.
Walter Easton Gunner 1180 Walter Easton was part of the 1st Contingent, Royal Garrison Artillery which went overseas in 1916. He returned on 1st July 1919. Constable W.S. Easton was appointed on 1st November 1919 and served about a year. They are believed to be the same man.
On 11th April 1930 Walter Easton, aged 30 took part in the United States census in Paterson City, New Jersey. At the time he reported that he was married to Evelyn, aged 28, and that they had married in 1928. They owned a $5,000 home. He stated he was born in Hamilton, Bermuda, although both his parents were born in New Jersey. Evelyn was born in New Jersey and her parents were born in Virginia. He was a moulder in a steel foundry and she was a bookkeeper.
Walter Easton stated that he was a veteran of WW1. This leads us to believe than Gunner 1180 Easton may have been only 16 when he was sent overseas. Recruits for the 2nd Contingent had to be 18 years of age on enlistment.
Walter Easton is reported to have died in 1973, some 10 years before Evelyn. It is not known if they had any children.
Bradshaw Stephen Lynch enlisted as Gunner 1202 in the B.M.A. and was part of the Bermuda Contingent Royal Garrison Artillery which embarked upon the ship Grampian at Bermuda on 29th May 1916, to sail for the United Kingdom.
He served with the B.C.R.G.A for the duration of the war and returned to Bermuda on 1st July 1919. Constable B.S. Lynch served in Hamilton from 1st November 1919 until some time in 1920.
On 28th August 1923 the Royal Gazette reported on a Medal Presentation for the B.C.R.G.A. Gunner Bradshaw Stephen Lynch who had rejoined the B.M.A. on leaving the Police, and was one of the recipients of the Victory Medal and the British War Medal. Other details of his life have yet to be discovered.
David Kingston Fishenden is believed to be Gunner 1219 David Fishenden of the B.C.R.G.A. If so, young Gunner 1219 Fishenden was probably recruited under age as it appears that he was born in 1900. After serving with the B.C.R.G.A in Europe and returning to Bermuda, on 1st November 1919 he was appointed a Constable in St. Georges. He resigned in 1920.
He married Villa Nelmes and they had eight children. David later died in St Georges on a date to be ascertained, but in 1957 he was fit enough for a trip to the United States.
Government Blue Books record Constable C.E. Wilson joined the Bermuda Police Force on 1st November 1919 and was stationed in Hamilton. He is not mentioned in the 1920 Blue Book which indicates he left sometime during that year.
On Line military records show Gunner 1198 Cecil Wilson served in the B.C.R.G.A. One site suggests that he was Bermuda born; another that he was born in April 1898 in Newport, Monmouthshire, but without an indication of how he arrived in Bermuda.
Two sites agree that Cecil Wilson married Rosalie Bernice Smith on 2nd November 1926 in St. James Church, Sandy's, Bermuda. The Workers Voice of 22nd January 1988 in a large article featuring Rosalie, shows that he was a Postman when they married and that they had three children but divorced about 1935.
Stanley St. Clare Stone was born 28th October 1893. How he came to Bermuda is not known at present but there is an unconfirmed suggestion that he joined the Royal Navy as a boy.
As Private 912 he was a member of the 1st Contingent B.V.R.C. and became L/Cpl 17152 in the Lincolnshire Regiment. Whilst serving with the 3rd Battalion in the trenches he was wounded by a shell fragment to the head and was treated at Potiyze Chateau which was being used as a Dressing Station.
On 28th July 1917, he transferred to the Royal Flying Corps as an Officer Cadet. 1st April 1918 saw the RFC merge with the Royal Naval Air Service to become the Royal Air Force.
The Royal Gazette of 17th October 1918 carried the following short article:
LT. STANLEY STONE WOUNDED.
For the second time Lieut. Stanley St. Clare Stone has been wounded.
The news of his recent wounding was received on Monday by his father Mr. T. A Stone, of Woodlands, Pembroke, in the following cable:—
"Regret to inform you that 2nd Lieut. Stanley St. Clare Stone, Royal Air Force, is reported wounded, on October 11th. Particulars follow when received. Secretary, Air Minister."
Lieut. Stone, who left here with the 1st Contingent B.V.R.C., was a pilot in the Royal Air Force, but owing to an affection (sic) of the eyes he was made an observer. It is thought that while acting in this capacity he received his latest wound.
We trust that the gallant officer will soon be restored to good health again.
As a 2nd Lieutenant, Stone was discharged to the RAF Unemployed List on 23rd September 1919. His arrival home was reported by the Royal Gazette on 7th July 1919.
The steamer Chignecto from Halifax made an excellent trip down and berthed in Hamilton yesterday morning.
On board was Lieut. Stanley Stone of the R.A.F. He went away with the first contingent of the B.V.R.C., and in 1917 obtained a commission in the Royal Flying Corps. He went as a pilot, but had trouble with his eyes so took up the work of observer.
As such he saw service in France. On one occasion he was nearly killed. The machine, rising from the ground, failed to clear the roof of a hangar, and fell. It caught fire, and the pilot was burned to death, Stone, however, was thrown clear. No bones were broken but it necessitated a lay up in hospital
On the occasion of Lieut. Stone's arrival he was met only by his friends. For some reason unknown, he was not met by any of the officials of the Colony or officers of his Corps, which seemed rather a pity.
On 24th May 1920 Stanley St. Clare Stone became a Constable in the Central District. He also became captain of the B.A.A. Water Polo team. By 1925 he was an Acting Sergeant and then left the Force.
He later went on to work at the Inverurie Hotel as the manager of their beach, which the hotel ran in conjunction with the Belmont. In 1934 he was also a Scout Master and began successfully promoting the formation of Sea Scouts in Bermuda.
As with many men in this article what happened to him after that is shrouded in the mysteries of time.
Thomas Allison was born in Blairgowie, Scotland on 25 May 1896. His widowed mother Mary immigrated to Canada in 1910 with 14 year old Thomas and his brother James. They moved in with her brother in law Henry and his family who lived in Winnipeg, Manitoba,
On 15th February 1916 in Winnipeg, Thomas enlisted in the 200th Canadian Battalion as Rifleman 922003. Some 65 pages of his military file are available on-line and it records that after enlistment he was transferred to the Engineer Pool.
On 4th May 1917 he was on board RMS Magantic, a troopship, en route from Halifax to Liverpool, when he missed a parade and was 'confined to barracks' for 2 days. He later served in France with the 107th Pioneers Battalion from June 1917 to January 1919.
During his service he went sick a number of times with a problem with his right heel and also a recurring hernia. Whilst in England he went Absent Without Leave in March 1919 for about 14 days. His punishment is indecipherable. He was discharged at Seaford, England on 16th June 1919 'as no longer required'.
Thomas Allison was recruited in the UK by Chief of Police John Sempill and took up his post as Constable in Hamilton, Bermuda on 9th August 1920. On January 18, 1921 he joined Atlantic Phoenix Lodge. He was the first of some 8 Constables of his intake to join that Lodge during the ensuing year.
Thomas Allison is not recorded in the 1921 Blue Books, however on 26th April 1940 Thomas, his wife Helen and two daughters and a son were recorded in the US Census as living in Blohm Street, Westhaven, New Haven, Connecticut and that he was the proprietor of a Gasoline Station.
In 1941 Thomas Allison born Blairgowie, Scotland on 25th May 1896 completed a US WW2 Draft Registration Card and gave the same address and that he was employed by the High Standard Mfg. Co. Inc.
United States Social Security Records report that Thomas Allison died in November 1979.
Frederick William Browning was born on 6th July 1897 in Islington, London to William, a stonemason and Annie Browning, a charwoman.
On 1st December 1914 Frederick William Browning, a seaman, enlisted as Private 21569 in the Chatham Division, Royal Marines and was posted to the Recruit Depot at Chatham. His record noted that his service towards his Good Conduct Badge between 1st December 1914 and 5th July 1915 did not count as he was underage. He was only 17 years of age.
On 18th August 1915 Pte. Browning was transferred to Victory Division of the Royal Marine Brigade. In 1916 he was transferred to HMS Cyclops, a repair ship with the Grand Fleet which was based at Scapa Flow. On 21st January 1918 Pte. Browning transferred to Chatham Division and in May that year to HMS Egmont.
HMS Egmont was a 'stone frigate' protecting the island of Malta. He returned to Chatham in July 1919 and Pte Browning was discharged on 20th October 1919 with a General Character of 'Very Good'.
In 1920 Frederick William Browning saw service with the Royal Irish Constabulary which was the police force in Ireland when that country was part of the United Kingdom. In 1920 many British ex-army men were recruited into the R.I.C. known as 'The Black and Tans' in an attempt to suppress the Irish fight for independence. The Black and Tans became notorious for reprisal attacks on civilians and civilian property, including extrajudicial killings, arson and looting.
This episode has relevance in a later facet of the life of Frederick Browning.
By this time he had married Elsie Belinda Ellen Williams formally of Plymouth, England. In 1914 she had appeared on his Royal Marine Enlistment paper as his cousin.
On 14th July 1922 Constable Browning joined the Bermuda Police Force and was posted to Central Division. On 7thNovember 1922 Elsie Browning and their 2 year old son George arrived in Halifax, Canada in transit to join her husband. She said her husband lived at the Allenhurst Hotel, Hamilton, Bermuda. In 1923 Constable Browning was promoted to 2nd Class Constable.
On 3rd October 1924 Frederick George Browning, now reportedly a chef, arrived in Canada on board the Chignecto from Bermuda with the intention of taking up farming in South Orrilia, Ontario.
How he came to change his career is described in the excellent article on Chief of Police John Sempill by former Superintendent George Rose.
How successful the farming venture was I do not know, but Frederick William Browning is reported to have died on 12th December 1977 in Vancouver, British Columbia, Canada.
John Victor Burgess On 1st November 1919 Mr J.V. Burgess became a Constable in the Bermuda Police Force, on the same day as several ex-military men.
On 20th May 1920 the Royal Gazette printed a story that the congregation of St. Marks Church, Smiths Parish had subscribed to a memorial tablet honouring those men of the parish who had 'risked their lives in the defence of the Empire'. One of those men was Gunner J.V. Burgess.
Gunner 1096 J. Burgess is recorded in the Royal Gazette of 20th June 1916 as one of the men of the B.C.R.G.A who had recently arrived in England. An Imperial War Museum entry regarding Gunner 1096 of the B.C.R.G.A identifies him as John Burgess.
An ancestry.com record shows that a John Victor Burgess was born in Bermuda on 21st April 1898 but I have yet to find confirmation that he is the same man as our Constable J.V. Burgess.
Victor Edward Fender was born in Greenwich, London, the fourth son of Austin Henry Fender, a Gas Works Manager and Francis 'Fanny' Fender. In 1911 the family was living in Henley Upon Thames, Oxfordshire. Victor was a 17 year old apprentice builder at the Gas Works, where two of his brothers also worked.
On 11th March 1916, Victor Edward Fender enlisted in the Royal Naval Air Service. He gave his occupation as Policeman, but we do not know where. He became 212553 Air Mechanic Grade 1 Fender and was soon posted to a Balloon Section.
On 1st April 1918 the R.N.A.S. amalgamated with the Royal Flying Corps to form the Royal Air Force. Air Mechanic 1 Fender retained his rank at this time.
On 2nd March 1919, Victor Edward Fender married Adelaide Evelyn Ethel Watson, a grocer's assistant of St. Marys, Putney. On 29th March 1919 he was placed on the Reserve List.
On 9th August 1920 Constable Fender took up duties with the Bermuda Police Force, officially the only married member of his intake.
In the Blue Book of 1923 Victor Edward Fender is referred to as Sergeant Fender of Eastern District. In the 1924 edition he is referred to as Constable First Class of Eastern District. He is not mentioned in the 1925 Blue Book.
Adelaide applied for US Naturalization in December 1934. She stated she had moved to the USA from Bermuda earlier that year. She also stated that her husband Victor Edward Fender had moved to the USA from Bermuda in 1929 and she did not know where he now lived.
Alec Henry Creer was born at Brora, Sutherland, Scotland on 26th December 1895, a son of Henry and Louisa Creer. On 6th May 1916 Alec was a footman when he enlisted as Seaman L6688 in the Royal Navy.
He was posted to HMS Lord Clive on 3rd July 1916. HMS Lord Clive for most of the war was tasked with bombarding German shore facilities along the Belgian coast with her pair of 12 inch turret mounted guns.
On 15th November 1918 Seaman Creer was posted to HMS Pembroke, the Chatham shore base. The following year he spent a few months in the Mediterranean on HMS Engadine, a seaplane tender. He then had several postings, which included to HMS Malabar in Bermuda in November 1920. Following a UK posting Seaman Creer was back at HMS Malabar in August 1921 and discharged at his own request from there in January 1922
On 1st November 1922 Constable A.H. Creer joined the Central Division of the Bermuda Police Force. In common with many Policemen of the era he enjoyed sports and turned out, together with other policemen, for the B.A.A. Rugby and Cricket teams. In 1924 he was transferred to Western Division. In 1925 he returned to Central as a 2nd Class Constable and during the following year he resigned.
In 1926 his name appears in an advertisement as an agent for Wadsons who were selling radio parts and accessories. At some time between his busy professional and sporting life, Alec Creer found time to marry Miss Helen Masters, whose grandfather, Captain Edward Masters, was one of the old time Bermuda sea captains.
On 2nd January 1929 they moved to Queens, New York where they lived for many years. Alec Creer reportedly died in Highlands County, Florida USA on 22nd August 1973.
Charles A. Darrell enlisted in the Bermuda Militia Artillery as Gunner 1015. He sailed for the United Kingdom with the B.C.R.G.A on board the Grampian from Bermuda on 29th May 1916, and returned safely as a Lance Bombardier on 1st July 1919.
On 1st November 1919 he became Constable Darrell of Central Division. Like many of the ex-servicemen who joined the Bermuda Police at this time he only stayed a short while.
Also like many men of the B.M.A. his later life is currently not in the public domain.
Claude James Geake was born on 9th July 1900 in Battersea, London, England to George and Susan Geake. At the age of 17, on 13th July 1917 he married Annie Tester in Wandsworth, London, England. One report states that Annie was born in Bermuda on 3rd December 1902 which would have made her only 14 at the time they married. Their wedding certificate stated that they were both 23 years of age.
This was not the first time Geake had lied about his age. On 28th April 1915 he enlisted in the 2nd Battalion The London Regiment. On 29th February 1916 he was discharged for 'Having made a mis-statement as to his age on enlistment.'
In 11th July 1918, two days after his 18th birthday Claude, now a motor driver, enlisted at Devonport in the Royal Navy. After training he was assigned to HMS Berwick which patrolled for German commerce raiders and escorted convoys on the North America and West Indies Station.
On 13th May 1919 Stoker 119159 Geake was posted to HMS Malabar, the Bermuda shore station from where in 1922 he was discharged on compassionate grounds. His discharge papers said that he was to be a civilian motor driver.
Later that year Claude James Geake was appointed as a Temporary Police Constable in Central Division of the Bermuda Police Force. He only served a short time.
Anne Geake died in Wandsworth in 1923. It is unclear if Claude Geake was in England at that time but he is reported as living in Wandworth in the mid-1930s.
Claude James Geake died on 23rd September 1943 in Ware, Hertfordshire, England.
Edward James 'Titchy' Howes was born on 25th August 1887 in Battersea, London, England to Alfred and Sarah Howes nee Fitzgerald.
At some time he was a member of the 2nd Battalion Bedfordshire Regiment which garrisoned Bermuda between 1910 and 1912.
Edward James Howes, who was living in Bermuda with his wife Grace, enlisted with the 38th Battalion of the Canadian Expeditionary Force on 25th August 1915 which at the time was also in Bermuda on garrison duty. He produced discharge papers to show that he had previously served 5 years and 5 days with the Bedfordshire Regiment.
On 29th May 1916 the 38th sailed on the Grampian from Bermuda en route to the Western Front. The First Contingent, the Bermuda Contingent, Royal Garrison Artillery was also on board.
Wikipedia reports that The 38th as part of the 12th Canadian Infantry Brigade first went into action on 17th August 1916 to the east of Ypres. The 38th went "over the top" for the first time on November 18th in the area of Grandcourtand all objectives were gained. The battalion had about 500 casualties, including 5 officers killed and 11 wounded. The Battalion was relieved on the 20th. On Christmas night 1916 the 38th went into the line on Vimy Ridge.
The 38th spent long periods in the Front Line. On October 30th they were allocated part of the Front near Paschendaele, and this had been gained by the end of the day. They were relieved the night of 3rd November 1917, after suffering about 400 casualties. They took part in many other actions until the Armistice, suffering 700 killed, 2,000 wounded and being awarded nearly 300 decorations including two Victoria Crosses.
The 38th returned to Ottawa, Canada via Halifax arriving on 15th June 1919.
'Titchy' Howes joined the Bermuda Police Force on 3rd November 1922 and by 1924 was a 1st Class Constable. He resigned on 31st May 1937.
On 27th July 1937 he is reported to have married May Lillian Robinson of St. Georges. It is not known what happened to his first wife Grace.
On 7th August 1941 the Royal Gazette reported the sad news that Rfn. Stanley John Howes, 19 years, 'B' Company B.V.R.C., a popular Bell Boy on the ship Queen of Bermuda and a son of Edward James Howes had died as a result of an accidental gunshot wound to his stomach.
The Royal Gazette in 1941 reported that Edward James Howes was a trusted employee of Loblein Ltd and a witness in a case where a manager of the Crawl Hill store stole £83.3.6d.
Edward James 'Titchy' Howes is reported to have died in Bermuda on 26th April 1970.
George James Isted was born on 21st August 1899 in Burwash, Sussex, England a son of James and Sophy Isted nee Butcher. On 5th November 1915 at the age of 19, George, by then a Gardener, enrolled in the Royal Sussex Regiment as a Private G/8171. It appears that he was at one time attached to the Bedfordshire Regiment.
Whilst George was with The Royal Sussex Regiment it served on the Western Front including the Battle of the Somme in 1916 and Paschendaele in October 1917 and the battle of Lys and the second battle of Arras.
George James Isted was eventually demobbed and later found his way to Bermuda where the Royal Gazette of 7thApril 1922 reported that he was an Assistant Keeper of the Hamilton Goal when two prisoners went missing from a work party.
Some time later that year he was appointed as a 2nd Class Constable in the Bermuda Police Force.
On 5th October 1921 the Royal Gazette reports that George James Isted married Helen Luisa Bernard of Woodlands, Pembroke at St. Johns Church. A son Ralph James Isted was born on 26 February 1923 in Bermuda. (Ralph James Isted would later serve as a Constable in the Bermuda Police Force between 1948 and 1950)
On 15th March 1923 the Royal Gazette carried the following Official Notice without further explanation
DISMISSALS.
The undernamed Police Constables are dismissed from the Force with effect from the 28th February, 1923, respectively:—
On 14th July 1930 George James Isted arrived in Plymouth, from Bermuda on the Steamer Orbita. He described himself as a Butler and the address he gave was that of his parents. He was travelling without his wife and it has not been possible to identify if he was travelling with his employer. In October of the same year he returned to Bermuda on the Orduna.
What happened to George James Isted after his return to Bermuda has not been ascertained.
William Alfred Neasham was born in early 1896 to William Alfred Neasham, a fish dealer and his wife Elizabeth Eleanor Neasham formerly Scott in the Parish of St. Ignatius, Sunderland, County Durham.
In April 1912, the former Boy Scout, 16 year old William Alfred Neasham joined the Territorial Regiment, The Tyne Electrical Engineers. He gave his occupation as a Marine Engineer Apprentice, with 5 years still to serve of his apprenticeship.
William Neasham's war service is not so easy to trace, but a photograph of the XBPOA website shows him wearing three WW1 related service medals. There is a William Alfred Neasham who served in the Royal Engineers and with his technical experience it is likely they are the same man, but I have yet to find any reliable information to confirm this.
In April 1927 William Neasham married Helen Harriett Allan in South Shields, Durham.
On 2nd August 1928 they boarded the Orbita in Liverpool bound for Bermuda, where it is believed William had a job as a mechanic.
On 7th January 1929 William joined the Bermuda Police Force as a Constable and by 1941 had become a Supernumerary Sergeant and in 1946 a substantive Sergeant. He retired on 4th December 1950.
Although the Royal Gazette did not report on his retirement, on 24th September 1950 it did report on how his son Allan had been given a Cairn terrier as a birthday present by the owner of the pup's mother. This was because he had cared for the mother when she left the family home and hid in a nearby cave to have her pups. Apparently Allan was the only person the dog would allow near her and her litter.
William Alfred Neasham later died in Bermuda but the details have yet to be recovered.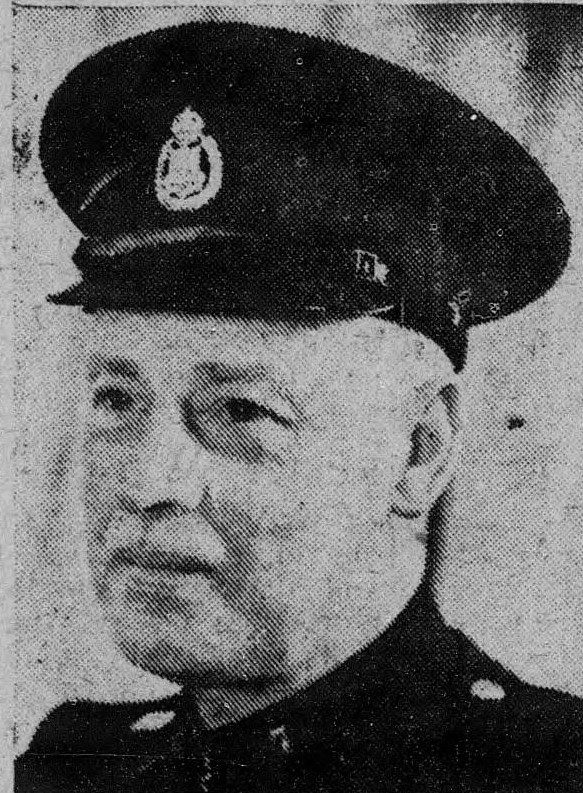 Sergeant William Alfred Neasham 1953
(Source Bermuda National Library)
John Leslie Rounthwaite was born in Simcoe, Ontario, Canada on 18th March 1898. He was the fourth son of Francis Carleton Rounthwaite who was born in Liverpool Edghill, Lancashire, England. It appears that Francis Carleton Rounthwaite's first wife Frances Dora Timmson travelled to Quebec, Canada with four children on 19th May 1880, probably to join her husband, but she died in 1886.
Later that year Francis married Maria Catherine Johnstone in Collingwood, Simcoe, Ontario, Canada and John Leslie Rounthwaite was the last of three children to bless that union.
Gunner 475532 John Leslie Rounthwaite enlisted in the Princess Patricia's Canadian Light Infantry on it is believed 1stMay 1916. Wikipedia reports "In 1916 the regiment fought major battles at Mount Sorrel and on the Somme. It was not until October 1916 that the first Canadian, Lt Col Agar Adamson, was appointed to command the regiment. In 1917 as part of the Canadian Corps, the regiment took part in the Battle of Vimy Ridge on April 9, 1917, and Paschendaele later the same year. In 1918 the regiment fought at the Battle of Amiens, Jigsaw Wood, and the Battle of the Canal du Nord as part of the great battles of the Hundred Days that ended the war.
On 26th August 1916 and again on 19th October 1916 Gunner Rounthwaite was wounded in battle. It is thought that he was discharged from the Army, in Canada, on 31st January 1919.
The Royal Gazette published a wedding announcement on 6th May 1919.
MARRIED
ROUNTHWAITE - BUTTERFIELD
On May 1st, 1919 at St John's Church by Rev. B. A. Bowman, assisted by Archdeacon Davidson, Lieutenant G. F. Rounthwaite, C.G.A. of Cornwall, Ontario, Canada, to Catherine Darrell, daughter of Mr. and Mrs. H. D. Butterfield, "Durham," Bermuda.
Lt. Rounthwaite was a brother of John Leslie Rounthwaite which may explain why John Leslie Rounthwaite joined the Bermuda Police sometime in 1921.
Constable John Leslie Rounthwaite was affiliated with Atlantic Phoenix Lodge on April 5th 1921 from a Lodge in Ontario. However on 18th July 1921 the Royal Gazette carried an announcement which indicates that J.L. Rounthwaite was enlisting in the B.V.R.C.
Another brother, Harry, is believed to have joined the other two brothers in Bermuda. In 1935 John Leslie Rounthwaite is recorded as a Poultry Retail Proprietor living in Madison, Florida, USA, with his new wife Lucy Celectia McCartney of Nebraska. By the time of Lucy's death on 5th February 1987 they were living in San Diego, California. John died in San Diego on 9th August 1969.
Eric Saul Arthur Smith was born on 17th November 1897, to Joseph George Smith and his wife Ellen Matilda Smith nee Pickwood of Beckenham, Kent, England.
Eric was a footman when he enlisted in the Royal Navy in Portsmouth on 1st December 1915 and he was posted to the shore base HMS Victory. On 2nd April 1917 he joined HMS Orvieto. On 15th December he returned to HMS Victory for a few weeks before joining HMS Caesar in the new year.
HMS Caesar was the West Indies Guard and Gunnery Training ship. In July 1918 he was transferred to HMS Malabar.
On 15th December 1919 he married Jeannette who had been born in Bermuda. Eric Smith was demobbed from HMS Malabar in May 1921.
Constable Eric Saul Arthur Smith joined the Bermuda Police Force on 1st November 1921 and was posted to Central Division. He resigned from the Police and left the island in May 1924 and moved to Detroit, Michigan, USA.
By January 1925 Eric was a Conductor and he and Jeannette had three daughters when he applied for Naturalization. Eric Saul Arthur Smith is reported to have died on 31st August 1978 in Largo, Pinellas, Florida, USA.
Walter John Spershott was born in May 1900 in Hastings, Sussex, England, a son to William Henry Spershott a carpenter/joiner and Euphemia Emily Eugenie Spershott nee Chandler.
On 27th May 1921 the Royal Gazette reported in part
WED AT ST. ANDREW'S
Miss Ada B. Denman Becomes the Wife of L Cpl. W.J. Spershott.
At eight o'clock on Wednesday evening a very pretty wedding was solemnized at St. Andrew's Church. Hamilton, when Miss Ada Bethley Denman, daughter of Mr. and Mrs. J.W. Denman, of Hamilton, Bermuda, became the bride of L/Cpl. Walter John Spershott 2nd Batt. Royal Sussex Regiment, the son of Mr. and Mrs. W.H. Spershott of Eastbourne, Sussex. England.
After the ceremony a reception was held at the residence of the bride's parents and many assembled to congratulate and felicitate the happy couple.
For six years Mrs. Spershott has been an invaluable associate, first in the office of the Bermuda Colonist and Daily News and since with that of the Bermuda Press Ltd.
At the time of the wedding the Royal Sussex Regiment was on garrison duty in Bermuda.
On 26th June 1922 Walter John Spershott became a Constable in Central Division of the Bermuda Police Force. He resigned sometime the following year.
Later, on 27th May 1946 the Royal Gazette reported on the passing of Walter John Spershott.
MR. W. JACK SPERSHOTT DIED YESTERDAY
The sudden passing of Mr. W. Jack Spershott yesterday afternoon following a heart attack came as a shock to his many Bermuda friends.
He was 47 years of age.
The deceased served through the two World Wars and received his discharge from service in World War 1 in Bermuda in 1919. Following a brief period of service on the local police force, he joined the pay office staff at Prospect and continued there until prior to the outbreak of the last war when he joined the B.V.R.C. and served some three years as Company Quartermaster Sergeant.
He again joined the pay office staff at Prospect where he was serving at the time of his death.
An enthusiastic musician, the deceased was secretary of the former Imperial Silver Band with which he played solo euphonium. With the reorganisation of the B.V.R.C. Band, Mr. Spershott joined as solo trombone and played with the band at its last public appearance recently in the Opera House. The band, under Bandmaster S.C. Pye, will play at the graveside service at St. John's cemetery this afternoon.
The deceased was a member of the Atlantic Phoenix Masonic Lodge. Surviving are his wife, who is at present in the United States due to ill health, and two sons, John Herbert and Robert Denman, who recently returned from overseas. The former serving in the R.A.F. and the latter in the Lincoln Regiment.
Funeral services will be held this afternoon. with the procession leaving the home of Mrs. J.W. Denman, King Street, Hamilton, at 4.30 o'clock to St. John's Church. The Rev. Bruce Peace will officiate.
Sidney Ewart Wall was born on 29th December 1888 in the parish of St Saviour, Southwark, London, England to Edwin Wall, a house decorator and his wife the former Elizabeth Ann Howson. In the UK Census of 1911 he was a Private in the 2nd Battalion, the Queens Regiment which did garrison duty in Bermuda from 1912 to 1914. He demobbed in Bermuda after 5 years service.
On 1st August 1914 the Royal Gazette contained the following Official Notice:
PROBATIONARY APPOINTMENT.
Mr S.E. Wall, to be 3rd Assistant Keeper, Hamilton Gaol, on probation, with effect from the 1st of August, 1914, vice Mr. G.W. Little, resigned.
On 26th June 1916 Sidney Ewart Wall enlisted in the 163rd Battalion, Canadian Expeditionary Force at Prospect, Bermuda. The battalion sailed for Europe in November and later saw action on the Western Front including Vimy Ridge and Paschendaele.
By 1922 Sidney Wall had returned to Bermuda and joined the Bermuda Police Force but only for a couple of years as 26th May 1923 the Royal Gazette carried another Official Notice:
DISMISSAL
The undernamed Police Constable is dismissed from the Force with effect from the 22nd May, 1923:—
Sidney Ewart Wall.
No reason was given.
The Royal Gazette of 21st January 1948 carried the following obituary:
OBITUARY
Mr S.E. Wall
The Last Post and Reveille were sounded, and representatives of the Royal Antediluvian Order of Buffaloes performed last rites at the graveside, when Mr. Sydney Edwin (sic) Wall, war veteran and member of the R.A.O.B. and the Broad Arrow Lodge of Freemasons was buried in the churchyard of St. John's Church, Pembroke, yesterday afternoon.
Mr. Wall, who was 61, died in the King Edward VII Memorial Hospital yesterday morning The funeral was held in the afternoon, leaving his residence at Smith's Hill, Happy Valley Road, at 4.30 and arriving at the church at 5pm.
The Rev. David Evans, curate of St. John's, officiated and there was a large congregation of relations and friends of the deceased. Mr. Norman Parker was the organist and the hymns were "Onward Christian Soldiers" and "Abide With Me".
About a year ago, Mr. Wall, who was also a member of the Bermuda War Veterans Association and the Old Comrades Club, suffered a bad fall at the B.W.V.A. headquarters, sustaining a head injury and impairing his health as a result.
Attending the funeral were Mr. Wall's widow, the former Miss Elizabeth Hughes, of Southampton, other close relatives, and representatives of the B.W.V.A., including the president, Mr. J. Hartley Watlington, and the secretary, Mr. Darrell Wainwright, and representatives of the Freemasons, the Old Comrades Club, the Old Colony Club, the Queen's Club and other organisations.
Three members of the deceased's R.A.O.B. Queen's Lodge, Number 524, in which Mr. Wall was an R.O.H., joined with three of his friends from the B.W.V.A. as pall bearers. They were James Thorne, sr., Charles King and Bert Lovell, of the R.A.O.B., and R.C. Ricketts, George Compagnion and Jack Morley, of the B.W.V.A.
Regimental Sergeant Major Ward, of the Bermuda Volunteer Rifle Corps, sounded The Last Post and Reveille while the body was lowered into the grave, to rest beside the body of the deceased's brother-in-law, Mr. Charles Bartlett, who died some two years ago. Representing His Majesty's Prison - Mr. Wall served for a time as a warder – was Warder Stewart Aubrey. The R.A.O.B. rites were performed by R.O.H. C.P. Hammond, senior member of the Order in Bermuda.
The deceased came to Bermuda in 1912 as a member of the Queens Royal West Surrey Regiment. In the First World War he served overseas with the 163rd Regiment, Canadian Army. He served in France with the Royal Canadian Rifles. Other activities during his life in Bermuda included service with the military at Prospect as Assistant Barrack Warden, and with H.M. Dockyard police.
In the sports field Mr. Wall was a prominent boxer in his day, a fine wicket-keeper, and a good billiards player.
Among the five sons who survive him are Freddie, member of the Old Comrades' Club "A" eleven, Walter "Wally" Wall, of the Pembroke Panthers, Percy, now playing for the Panther Cubs of the Bermuda Junior Football League, George, another well known footballer now in England, and Sidney, the deceased's eldest son. Others who survive Mr. Wall are his three daughters, Mrs. Ivy Carter, of Somerset, Phyllis who is married and in England; and Hilva, who is in Bermuda. Surviving sisters-in-law are Mrs. Charles Bartlett, of The Everest Hotel, Hamilton, Mrs. Harry Twitchen, in England, Mrs. Lydia Barnes, in New York, and Mrs. Edith Brady in New Jersey. Mr. Marshall Hughes, a brother-in-law, is in New Jersey.
As a mark of respect the Bermuda War Veterans Association on Front Street was closed yesterday.
Appendix One
Abridged Wikipedia report on the Bermuda Volunteer Rifle Corps
Bermuda Volunteer Rifle Corps (B.V.R.C.) was created in 1894 as an all-white, racially segregated reserve for the Regular Army infantry component of the Bermuda Garrison.
When war was declared in 1914, it was embodied to fulfil its role within the Garrison. As the economy would have suffered from taking so many young men from their jobs, some soldiers continued to perform their civil jobs, before taking their turns standing sentry at the many places around Bermuda that the B.V.R.C. guarded. The primary task the B.V.R.C. was given was guarding the coastline but it filled other roles, the most important of which was as a staging point for trans-Atlantic convoys, overseen from the Royal Navy's dockyard on Ireland Island.
Overseas contingents.
Despite operating under this constraint, the B.V.R.C. quickly formed a detachment in December, 1914, to send overseas to the Western Front. This contingent was composed of volunteers who were already serving, as well as those who enlisted specifically for the Front.
The Contingent left Bermuda for England in June 1915, travelling to Canada, then crossing the Atlantic in company with a much larger Canadian draft. It had been hoped that the Contingent could be attached to the 2nd Battalion of the Lincolnshire Regiment (2 Lincolns), which had been on Garrison duty in Bermuda when the War began. When the Contingent arrived at the Lincolns depot in Grimsby, the 2nd Battalion was already in France and the contingent was attached to 3 Lincolns instead (at least one Bermudian, though not from the B.V.R.C., Corporal G.C. Wailes, (See above re Cpl George Edward Wailes) did serve with the 2 Lincolns).
Although commanders at the Regimental Depot had wanted to break the Contingent apart, re-enlist its members as Lincolns, and distribute them as replacements, a letter from the War Office ensured that they remained together as a unit, under their own badge.
The contingent arrived in France in July 1915, the first colonial volunteer unit to reach the Front. The contingent remained as such until the following summer, by when its strength had been reduced by casualties to compose a full company, having lost 50 percent of its remaining strength at Gueudecourt (in the Somme) on 25th September 1916.
The survivors of the First Contingent were merged with a Second Contingent, of one officer and 36 other ranks, who had trained in Bermuda as Vickers machine gunners, which had recently arrived from Bermuda. The Second Contingent was stripped of its Vickers machine guns (which had been collected, in the Army, under a new regiment, the Machine Gun Corps). The merged contingents were retrained as Lewis light machine gunners, and provided 12 gun teams to 1st Battalion Lincoln's headquarters.
By the War's end, the two contingents had lost over 75 percent of their combined strength. Forty had died on active service; one received the O.B.E and six the Military Medal. Sixteen private soldiers from the two contingents were commissioned, including the Sergeant Major of the First Contingent, Colour Sergeant R.C. Earl, who became Commanding Officer of the B.V.R.C. after the war.
Some of those commissioned moved to other units in the process, including flying ace Arthur Rowe Spurling and Henry J. Watlington, who both went to the Royal Flying Corps (at least seventeen other Bermudians served in the R.F.C.), including another B.V.R.C. Rifleman, later Major, Cecil Montgomery-Moore, who detached from the Corps in Bermuda and earned the Distinguished Flying Cross in France. An N.C.O. from the overseas contingent also transferred to the R.F.C.).
By the end of the war, the B.V.R.C. had earned the battle honours Ypres 1915, Neuve Chapelle, Loos, Somme 1916, Ypres 1917, Lys, Hindenburg Line, Messines 1917, and Somme 1918. They had not seen the last of warfare, however. In 1918, the 1st Lincolns were withdrawn from France and sent to Ireland to combat the army of the Irish Republic, declared in 1916.
The B.V.R.C. benefited from Army Order No. 1, which increased the pay of most soldiers in the British Army - but that same Order did not benefit the British West Indies Regiment, which was treated as being "native".
Appendix Two
Abridged Wikipedia report on the Bermuda Militia Artillery
The Bermuda Militia Artillery was a unit of part-time soldiers organised in 1895 as a reserve for the Royal Garrison Artillery detachment of the Regular Army garrison in Bermuda. The unit was already embodied for annual camp when war was declared in 1914.
During the First World War, two contingents served as part of the larger Royal Garrison Artillery detachment to the Western Front. The first, 201 officers and men, under the command of Major Thomas Melville Dill, left for France on 31st May 1916. A second contingent of two officers and sixty other ranks, left Bermuda on 6th May 1917, and was merged with the first contingent in France.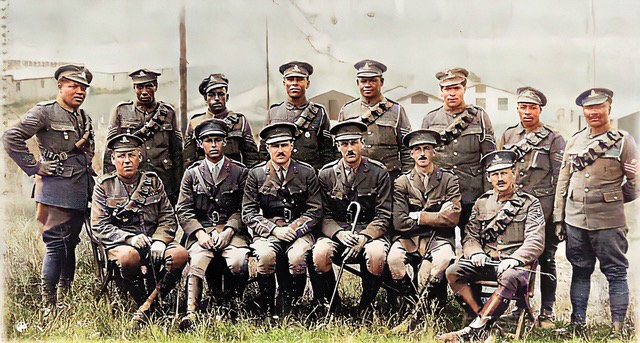 B.C.R.G.A Officers and senior N.C.O.s
BACK ROW: Sgt Lowry B. James, Sgt Frederick M. Minors,
Sgt C. Eston,
Sgt Charles Christopher Watson, MSM, , Sgt Sheridon H. Ryan,
Sgt B.C. Burchall, Sgt. George Wells, Sgt George R. Evans.
FRONT ROW: B.S.B. Frost (UK), Capt. L.C. Smith, Maj. Stuart Hamilton,
Lt. John Trimingham, Lt. A.H. Edwards, B.Q.M.S. Lock (UK)
(With special thanks to the Bermuda National Museum for help in identifying the names)
The contingent, titled the Bermuda Contingent, Royal Garrison Artillery, served primarily in ammunition supply, at dumps, and in delivering ammunition to batteries in the field. The Contingent served at the Somme from June to December 1916. They were then moved away from the Front, serving on docks until April, 1917, when they were attached to the Canadian Corps, serving in the Battle of Vimy Ridge. They took part in the Battle of Paschendaele (or the Third Battle of Ypres), from 24th June until 22nd October, where three men were killed, and several wounded. Two men received the Military Medal.
In Bermuda, the B.M.A. was demobilised on 31st December 1918, and when the overseas contingent returned in July, 1919, it was to no unit. Thirty men, who chose to remain, temporarily re-enlisted in the R.G.A. and the rest were demobilised.
Appendix Three
Abridged Wikipedia report on the Canadian Expeditionary Force
The Canadian Expeditionary Force (C.E.F.) was the designation of the field force created by Canada for service overseas in the First World War. The force fielded several combat formations on the Western Front in France and Belgium, the largest of which was the Canadian Corps, consisting of four divisions. The Canadian Cavalry Brigade and the Canadian Independent Force, which were independent of the Canadian Corps, also fought on the Western Front. The C.E.F. also had a large reserve and training organization in England, and a recruiting organization in Canada.
In the later stages of the European war, particularly after their success at Vimy Ridge and Paschendaele, the Canadian Corps was regarded by friend and foe alike as one of the most effective Allied military formations on the Western Front. In August 1918, the C.E.F.'s Canadian Siberian Expeditionary Force travelled to revolution-torn Russia. It reinforced an anti-Bolshevik garrison in Vladivostok during the winter of 1918–19. At this time, another force of Canadian soldiers were placed in Archangel, where they fought against Bolsheviks.
The Canadian Expeditionary Force was mostly volunteers; a bill allowing conscription was passed in August, 1917, but not enforced until call-ups began in January 1918. In all, 24,132 conscripts had been sent to France to take part in the final Hundred Days campaign.
As a Dominion in the British Empire, Canada was automatically at war with Germany upon the British declaration. Popular support for the war was found mainly in English Canada. Of the first contingent formed at Valcartier, Quebecin 1914, about two-thirds were men who had been born in the United Kingdom. By the end of the war in 1918, at least half of the soldiers were British-born. Recruiting was difficult among the French-Canadian population, many of whom did not agree with supporting Canada's participation in the war; one battalion, the 22nd, who came to be known as the 'Van Doos', was French-speaking. ("Van Doos" is an approximate pronunciation of the French for "22nd" - vingt-deuxième).
To a lesser extent, several other cultural groups within the Dominion enlisted and made a significant contribution to the Force including Indigenous people of the First Nations, Black Canadians as well as Black Americans. Many British nationals from the United Kingdom or other territories who were resident in Canada and the United States also joined the C.E.F.
A sizeable percentage of Bermuda's volunteers who served in the war joined the C.E.F., either because they were resident in Canada already, or because Canada was the easiest other part of the Empire and Commonwealth to reach from Bermuda (1,239 kilometres (770 miles) from Nova Scotia). As several C.E.F. battalions were posted to the Bermuda Garrison before proceeding to France, islanders were also able to enlist there. Although the Bermuda Militia Artillery and Bermuda Volunteer Rifle Corps both sent contingents to the Western Front, the first would not arrive there until June 1915. By then, many Bermudians had already been serving on the Western Front in the C.E.F. for months. Bermudians in the C.E.F. enlisted under the same terms as Canadians, and all male British Nationals resident in Canada became liable for conscription under the Military Service Act, 1917.
The C.E.F. raised 260 numbered infantry battalions, two named infantry battalions (The Royal Canadian Regiment and Princess Patricia's Canadian Light Infantry), 17 mounted regiments, 13 railway troop battalions, five pioneer battalions, four divisional supply trains, four divisional signals companies, a dozen engineering companies, over 80 field and heavy artillery batteries, fifteen field ambulance units, 23 general and stationary hospitals, and many other medical, dental, forestry, labour, tunnelling, cyclist, and service units. Two tank battalions were raised in 1918 but did not see service. Most of the infantry battalions were broken up and used as reinforcements, with a total of fifty being used in the field, including the mounted rifle units, which were re-organized as infantry. The artillery and engineering units underwent significant re-organization as the war progressed, in keeping with rapidly changing technological and tactical requirements.
Another entity within the Canadian Expeditionary Force was the Canadian Machine Gun Corps. It consisted of several motor machine gun battalions, the Eatons, Yukon, and Borden Motor Machine Gun Batteries, and nineteen machine gun companies. During the summer of 1918, these units were consolidated into four machine gun battalions, one being attached to each of the four divisions in the Canadian Corps.
The Canadian Corps with its four infantry divisions comprised the main fighting force of the C.E.F.. The Canadian Cavalry Brigade also served in France. Support units of the C.E.F. included the Canadian Railway Troops, which served on the Western Front and provided a bridging unit for the Middle East; the Canadian Forestry Corps, which felled timber in Britain and France, and special units which operated around the Caspian Sea, in northern Russia and eastern Siberia.
Appendix Four
The Royal Gazette of 7th October 1919 reported on the Bermuda Contingents Committee. An abridged version of the extensive article follows:
The Bermuda Contingents Committee Wind up of Work
The Bermuda Contingents Committee ceases its work at Michaelmas, when the office at 57 Moorgate St., London, E.C., will be closed. This address has been a familiar one to every member of the Contingents which left Bermuda to serve overseas, for from here came the monthly allowances, and a man on leave in England was always sure of a hearty welcome when he dropped in.
There was nothing that the Committee could not do for the men, and they are deserving of all thanks.
"On 18th December, 1916, His Excellency, Sir George Bullock, K.C.B., at that time Governor of Bermuda, cabled a request to Mr. Joseph Rippon (who was awarded an O.B.E. for his work with this Committee) to accept the duties of the formation of the above-mentioned Committee in London for the purpose of looking after the welfare of the two contingents which had been sent on Active Service by the Colony; viz., the Bermuda Volunteer Rifle Corps, attached to the Lincolnshire Regiment (strength 126), and the Bermuda Militia Artillery, known as the Bermuda Contingent of the Royal Garrison Artillery (strength 240), the only coloured Artillery in the British Army.
"This arduous task Mr. Rippon promptly agreed to undertake, on condition that Mr. Boswell Tucker should co-operate with him as Hon. Treasurer, and the men of Bermuda, who so willingly risked their lives for their country, owe to these two gentlemen a life-long debt of gratitude. No one who has not been in daily touch with them can form any idea of the interest they have taken, of the time they have devoted (often at the expense of their own respective businesses) and of their inexhaustible patience and energy and their forethought and consideration for everyone connected with the Committee's work.
"Rules and Regulations were drawn up for the carrying out of the letter of instructions dated 14th December, 1916, received from the Government of Bermuda, and a sub-committee was also formed, consisting of (about 15) Bermuda ladies in London, who visited wounded men in hospital and looked after their comfort and entertainment.
"Each year a grant from the Bermuda Government has been made varying from £1,000 to £1,500 for the Comforts Fund, and an allowance of 10 shillings per month has been made to each man in addition.
"The Comforts Funds explains itself, and it may be safely said that it enabled the Committee to look after the men in a way that no other Colonials can boast. The Allowance Fund was administrated in a way similar to that of Army Pay, and the men could draw it monthly or leave it to their credit on the Committee's books, as they pleased.
It was also arranged that the Committee would undertake to do shopping for the men on Active Service, paying for the goods out of these allowances and debiting the men with the amounts spent. This entailed an enormous amount of work which became more and more difficult as time went on owing to the scarcity of all sorts of things and the rise in prices. As many as 200 parcels have been purchased, packed and sent off in a month, the Committee always paying postage, and if a list of the things purchased could be given it would cause many a smile.
Enough boots and boot polish have passed through this office to supply the greater part of the population of Bermuda."
EDITORS NOTE - Following publication of this article, the author, retired Inspector John Skinner, continued his research with the intention of writing a similar article about Bermuda's Brave Blue Line who served in the Military during the Second World War. During further research he also uncovered information about additional Bermuda police officers who had served during World War One, which necessitated an additional supplement to the above article.
As with the main article, this supplement honours those members of the Bermuda Police Force (B.P.F.), who risked their lives to defend Great Britain and it's Empire, and especially Bermuda, following attacks by members of the Central Powers. These additional officers include the following, and it is possible that further research may uncover more of our officers who were a part of Bermuda's Brave Blue Line:-
Sergeant Frederick Valentine Burnard BCdeG Royal Horse Artillery
Captain Patrick Joseph Condon Royal Army Service Corps
Gunner 1102 Richard George Darrell Bermuda Militia Artillery
Gunner Frederick Robert George Joslin Royal Marine Artillery
Private Sydney Francis Frank Floyd Royal Sussex Regiment
Joseph Shanks Unknown
CLICK HERE to review the Supplement to this article.