Detective Inspector Dudley E. Swan
Served from 16th July 1951 - 23rd May 1981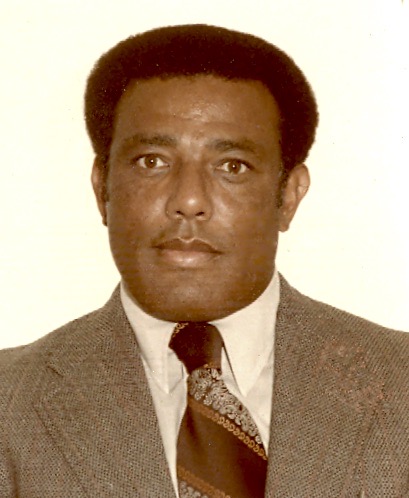 Detective Inspector Dudley Swan
EDITORS NOTE - We heard recently that our good friend and former colleague retired Inspector Dudley Swan has been in failing health and was admitted to the Extended Care Unit at KEMH. I had been working on an article about Dudley for our "Then and Now" column and was due to interview him once more before publishing the article. In view of his condition the decision was made to publish this article sooner rather than later.
Roger Sherratt
Editor
17th September 2022
The last time I spoke with Dudley just a few months ago he was telling me about a recent visit he took to TCD to re-take his driver's test. When his name was called, Dudley jumped up and literally ran over to the examiner who thought he must have had the wrong person because "90 year old's don't run across the TCD yard". Dudley passed the test with no problem – at the age of 93!
Dudley was born on 13th July 1929 in St. George's, the son of Fielding and Mayalene Swan who also had four other children, Arnold and Vanosdelle, and Eunice and Clara.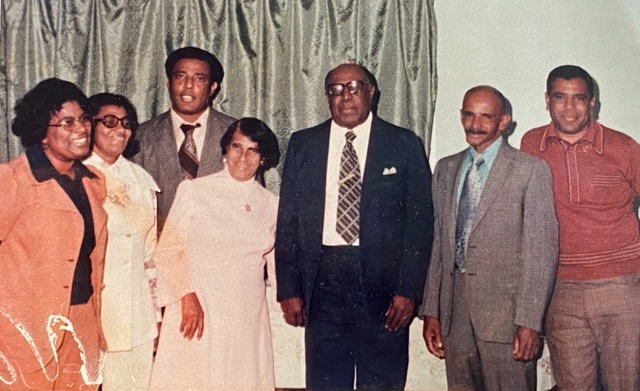 Dudley with his parents and siblings
(l-r) Sisters Clara and Eunice, parents Mayalene and Fielding,
and brothers Arnold and Vanosdelle
After leaving school Dudley started working in carpentry but he decided that was not the career for him and he wanted to be a policeman. He worked for a while for the U.S. Armed Forces at Kindley Air Force Base, but he made a decision that was to change his life when he applied for and was accepted as a police officer on 16th July 1951.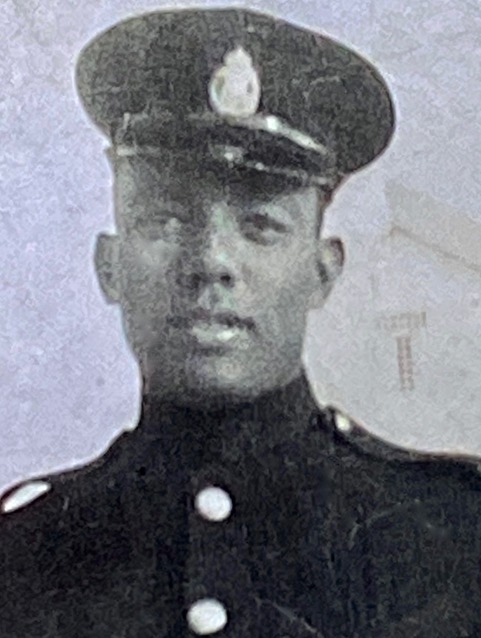 Young P.C. Dudley Swan
When Dudley joined the Police Force there was no police training school in Bermuda so new local recruits would spend a few days at Hamilton Police Station getting some very basic instructions, while recruits from overseas would have attended a 3-month course at the Police College at Millmeece in Staffordshire prior to arriving in Bermuda.
Occasional training courses were held on Island for already serving police officers, with instructors brought in from the U.K Police Training Schools for several weeks. Here is such a training course and among the attendees is young P.C. Dudley Swan.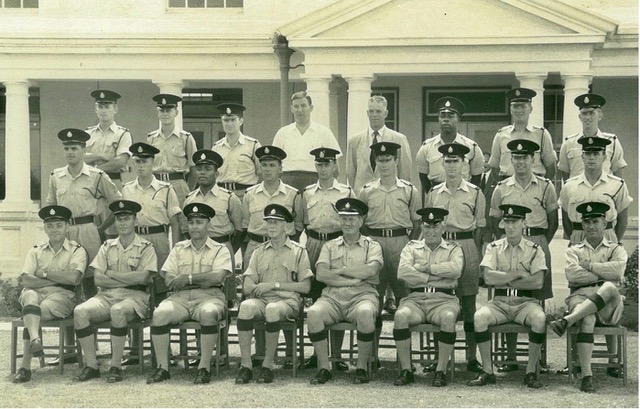 Training Course for serving police officers – circa late 1950's
Young P.C. Dudley Swan is standing
3rd from left in middle row
Dudley's first posting was to Eastern Division which would be familiar territory to him, having been born and raised in St. George's. After a few years on the beat he became a parish constable and was then transferred to Eastern CID where he served for many years.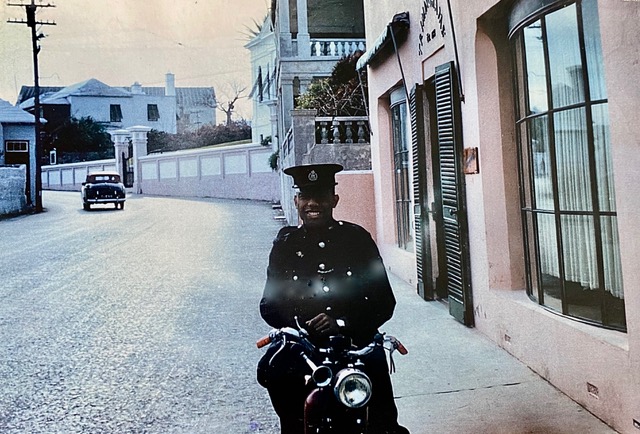 P.C. Dudley Swan on his motor cycle
on York Street on a fairly quiet day!
As a young police officer Dudley met the love of his life, Marlene Wingood, and the two were married at St. James' Church in Sandys Parish, on 21st April 1954.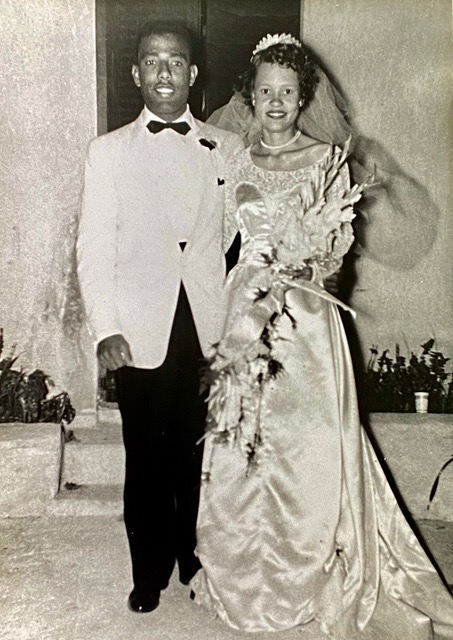 Dudley and Marlene at St. James' Church
on their wedding day
By coincidence, Marlene's sister, Lillian, had also married another young police officer, Gladwin "Doc" Hall, in 1953. Lillian and Marlene were the sisters of Hilton "Jellybean" Wingood, and Hilton followed his two brothers-in-law into 'law and order' when he joined the Police Force in March 1955.
Dudley attended the Detective Training Course at Bishopgarth, Wakefield, in 1967 and was promoted to Sergeant on 1st May 1967 becoming the Officer-in-Charge of St. George's CID.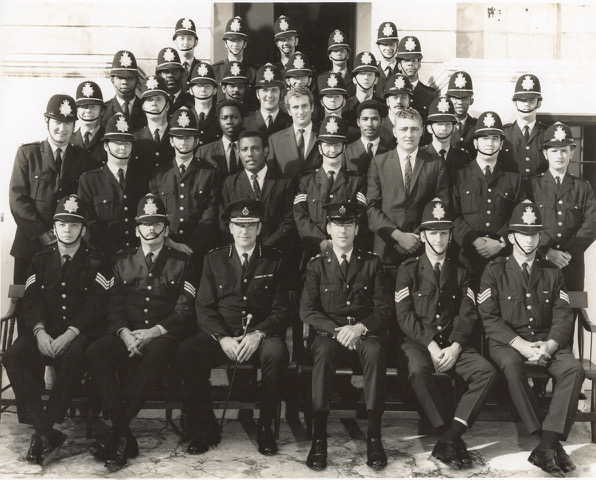 Eastern Division 1969
Back row: (l-r) Tom Hill, Ken Bent, Mike Tate, Larry Jackson,
Row 5: Carl Beckles, Orson Daisley, John 'Rigger' Morris, Jerry Molloy, Neil Cox,
Row 4: Barry Smith, Peter Jones, Clay Carter, Dave Anderson, Les Brown,
Row 3: Tony Smith, Eric Laing, Dave Chew, Mel Gibbons,
Ian Ganson, Eric Sanderson, Owen Marsh,
Row 2: Eddie Edwards, Al Proctor, Vendell Bridgeman, Dudley Swan,
Geoff Sanders, Ronnie Boggan, James Robinson, Bob Hay,
Front Row: Mike Burke, Nobby Clarke, Commissioner G.H. Robbins,
Douglas 'Red' Hebberd, Frank B. Williams, Joe Colton, Harvey Fothergill.
Although not an active sportsman Dudley played cricket for Eastern Division, and he was a passionate "Blue and Blues" fan of St. George's Cricket Club as was his father who had been President of St. George's Cricket Club. This was in contrast to Dudley's wife, Marlene, who was born and raised in Somerset and has continued to this day to wear the red and blue of Somerset Cricket Cup during Cup Match!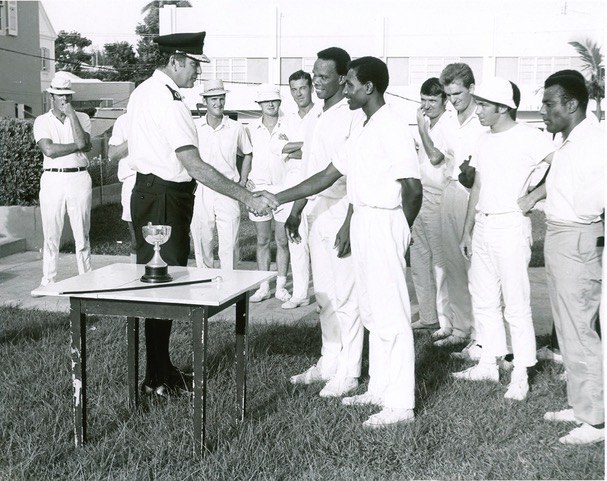 Eastern Division win Inter-Divisional Cricket Final - 1971
Captain of Eastern Division Cricket Team, Clayton Carter, being congratulated by
Commissioner George Duckett after winning the final against Western Division
(l-r) Brian Malpas, COP George Duckett, Mike Burke, Dave Barber,
Peter Stubbs (OIC Eastern Division), Oliver Bain (Captain of Western Division Team),
Clayton Carter (Captain of Eastern Division Team) , Barry Smith,
Peter Jones, Perry Fox, and Dudley Swan.
Dudley was promoted to Inspector in December 1971 and continued serving in CID, with a spell in Murder Room before being posted to Central Division in uniform. He then had spells in Eastern Uniform and Central Uniform. Dudley attended a Riot Seminar at the University of Louisville in 1979.
During his police career Dudley received 7 Commendations from the Commissioner and one from the Chief Justice. They were as follows:-
November 1958 – Commendation for good work done in the arrest of a prisoner who had escaped from the Prison Farm

May 1960 - Commended for zeal and initiative in investigating two cases of breaking and entering. Also awarded £5

October 1962 - Commended by Chief Justice for courage and restraint when dealing with a disturbance.

January 1965 - Commended by the Commissioner and the Magistrate for alertness and attention to duty resulting in the conviction of a person for stealing.

July 1975 - Commended for zeal and initiative in two cases of housebreaking

January 1966 Commended for successfully investigating the theft of watches and other property.

February 1967 Commended for obtaining information, and for detective ability as a result of which 28 cases of breaking and entering and robbery were cleared.
Dudley was awarded the Colonial Police Medal for Long Service and Good Conduct in 1969 by the Governor. H.E. Lord Martonmere.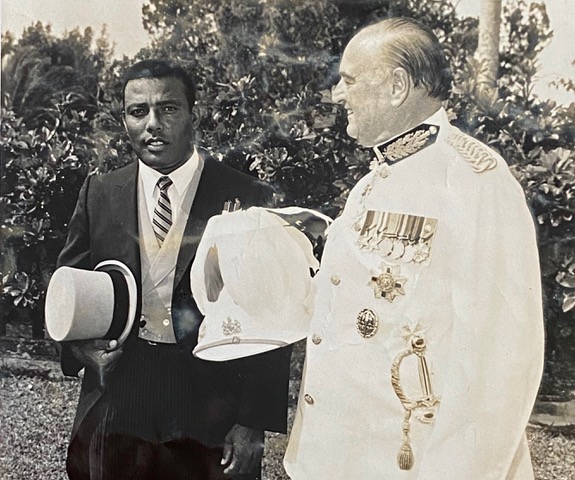 Dudley chatting with H.E. Governor Lord Martonmere
at Government House - 1969
In 1976 Dudley returned to Government House to receive a Clasp for his CPM for Long Service and Good Conduct.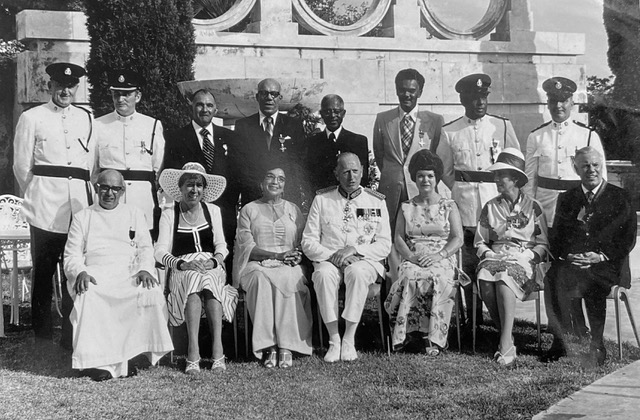 Recipients of Queens Honours - 1976
Police Officers receiving awards are Inspector Arthur Rose and
Superintendent Ian Morrison (top left), and Inspectors Dudley Swan and Ernie Moniz (top right).
The awards were presented by H.E. Governor Sir Edwin Leather
Inspector Dudley Swan attends Government House with Marlene
and their two sons, Dudley (left) and Perry (right)
Dudley retired from the Bermuda Police Service in May 1981, after 30 years faithful service. Throughout his police career Dudley had been a very popular and much liked officer with all those he worked with.
Following his retirement from the Police Service, Dudley worked for several years as a salesman for a Wholesale company and also worked for his brother's company, Swan Brothers Welding Company.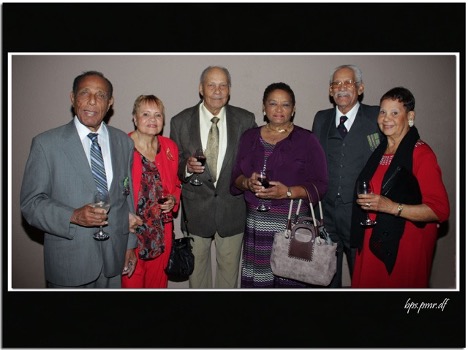 All in the Family
(l-r) Dudley and Marlene Swan, Hilton and Brenda Wingood,
and Gladwin "Doc" and Lillian Hall
Dudley and Marlene, along with "Doc" and Lillian Hall, and Hilton and Brenda Wingood, have been very supportive members of our Ex-Police officers Association, and have attended our social functions on a regular basis. Unfortunately, the arrival of Covid seriously curtailed our ExPo activities, and more recently, our good friend Hilton has been in poor health and has not been able to get out and about very much.
Between these three retirees, all related by marriage, they have a total of some 90 years service in the Bermuda Police. That surely has to be a record for any family in Bermuda.
At the writing of this article Dudley was our second senior retiree, having joined the Police Force in 1951, while our senior retiree is Inspector Gladwin "Doc" Hall who joined on 1stOctober 1950 – over 70 years ago. Their brother-in-law, retired Chief Inspector Hilton "Jellybean" Wingood was a relative 'newcomer' to the Police Service compared with "Doc" and Dudley, having joined in March 1955.
Dudley and Marlene had two children, Perry and Dudley, 8 grandchildren - Katrina, Melissa, Princess, Alex, Jordan, Desiree, Destine and Zeal, and 4 great grandchildren Kalwin, Kelsey, Robert and Jasmine.
17th September 2022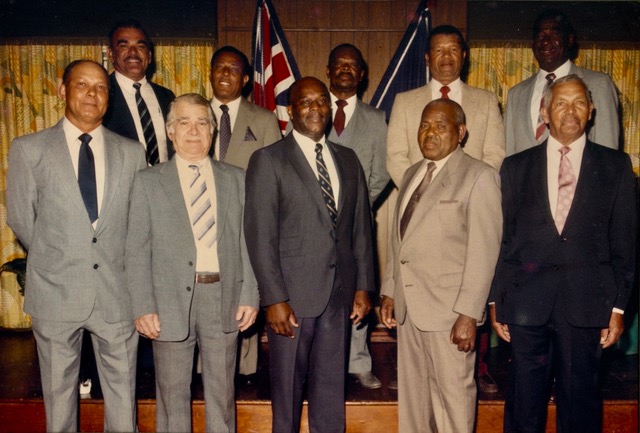 Stalwarts of the Bermuda Police
(l-r) Insp Eddie "Boxhead" Foggo, D/Insp Dudley Swan,
Insp Hubert Simmons, Insp Harry Lister, Insp Leon Bean
Chief Insp Hilton "Jellybean" Wingood, P.C. Howard Mitchell, COP Fred "Penny" Bean,
D.C. Westmore Bean, and D.C. "Mike" Cann
Editors note - The above photo is a group of great stalwarts of the Bermuda Police - Eddie "Boxhead" Foggo who served from 1961-1989, Dudley Swan 1951-1981, Hubert Simmons 1950-1980, Harry Lister 1956-1981, Leon Bean 1953-1977, Hilton "Jellybean" Wingood 1955-1986, Howard Mitchell 1942- 1971, Westmore Bean 1945-1971, "Mike" Cann 1948-1971, and of course Fred "Penny" Bean 1956-1991.
Between them they served in the Bermuda Police for over 280 years, starting with young P.C. Howard Mitchell who joined at the height of World War II in 1942, through to the retirement of "Penny" Bean in 1991.