Served from 1960 - 1985
My father, Henry George James, was born in Bermuda in 1902 and was raised here but he left Bermuda as a young man with a friend of his named Payne searching for fame and fortune. The two men ended up in Belize – then called British Honduras - and my father joined the Police Force there. He got to know another police officer named Semphill who told my father that he used to be a police constable in Bermuda before he went to British Honduras.
My father met his future wife, my mother Kathleen (nee Adolphus), a Belizean, and they married there in 1930. They had 15 children and raised 11 of us, 7 boys and 4 girls.
I was born in Belize on 3rd August 1931. I attended secondary school and then did a correspondence course with Bennett College studying for metriculation. I worked for a while as an apprentice shipwright, then for Hunter as a shipwright, but things were very slow after the end of the War, with men coming back home to find work. When I was about 15 I used to attend music classes given by a bandmaster by the name of John Wright who used to teach neighbourhood kids at his home for free. He was bandmaster of the Colonial Band which was a civilian band similar to North Village Band here in Bermuda. I was taught how to play the trumpet and have always enjoyed music since then.
During the War my father had left the Police Force and joined the Forestry Unit, serving overseas with the West Indian Regiment. He was away for about 3 years and I can vividly remember when the soldiers came back and did a victory march through Belize City. On his return he re-joined the Police Force.
At the age of 19 I applied for, and was accepted in the British Honduras Police Force. At that time my father was a District Officer (similar to a Divisional Officer in the Bermuda Police). He went on to retire in 1953 and he then came back to Bermuda with his family, including all of my brothers and sisters, with the exception of yours truly. I stayed there, still in the Police Force.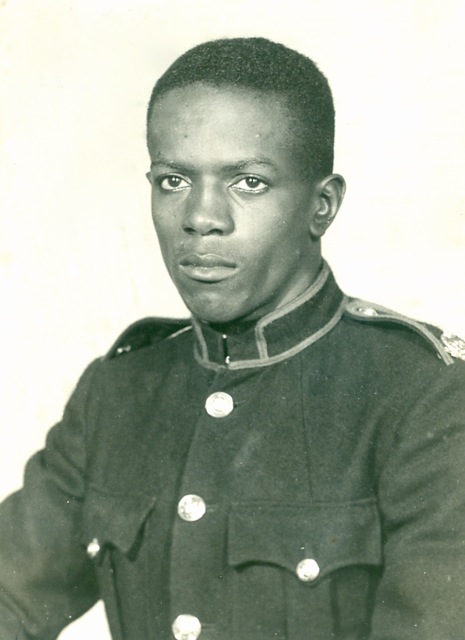 Gerry as a young constable in the British Honduras Police Force
When I joined the Police Force there we had to undergo 6 months of intensive training, including musketry, and we had to accept military discipline as part of our training. I was keen to join the Police Band but they didn't accept me at first because they said it might interfere with my studies. I'm glad to say that almost immediately after my 6 months training I was accepted in the Band. The Police Band was very popular and we would play at all sorts of special events.
I had also started to do some weight training when I was 18, and after joining the Police Force I continued and really worked at it, mostly with policemen and other civilians, for the fun of it. In 1956 I won a competition for "Most Muscular" and while in Belize I was the squat champion, and could lift 500 lbs in seated squat. At that time I used to read weight training magazines, including one with a series of health-related articles written by a man named Bill Cooke. I had no idea who he was at that time but I was to meet him years later in Bermuda.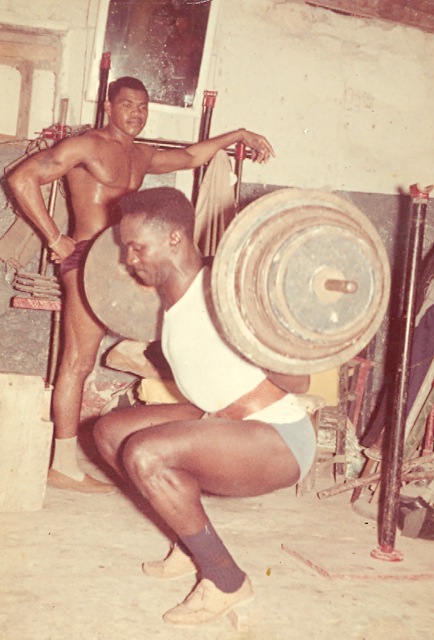 Gerry was the Belize squat champion in 1956
As members of the Police Force we could be transferred from district to district but I served my 10 years in Belize City, 4 years on the beat, 4 years in CID, and 2 years in Traffic as a motor cyclist.
I had a senior officer in CID who didn't like the fact that I was a bandsman. He said I would have to give up playing in the band if I wanted to remain in CID, so I was eventually transferred into Traffic and for the last 2 years of my service there I did quite a bit of dispatch riding for the Police and for the British Armed Forces. They had a garrison and did training out there, but they didn't have a dispatch rider so I was seconded to them, delivering classified correspondence. Police officers were not usually armed in those days in British Honduras, but I had to carry a firearm as a dispatch rider.
In 1956 I came to Bermuda for the first time to visit my family. My parents were residing at 'Edreen Villa' on Cedar Hill in Warwick. One of their neighbours was Calvin "Baldy" Hansey who was then working for Deluxe Cleaners, and I used to hang out with him (Calvin Hansey later became a champion 24th May marathon runner. He tragically died just a few days before this interview).
Quite honestly, I didn't really like Bermuda at that time. I didn't like the racial situation – the prejudice. Perhaps if I'd been a little younger but by then I was 25. I returned home to Belize and continued in the Police Force. While still in Belize I met a young lady by the name of Gloria Monsanto and fell in love.
I came back to Bermuda in 1960, again to see my family and my mother was trying hard to encourage me to stay in Bermuda. She told me things had changed for the better so I came back to look around. I guess some things had changed - but not a lot. However, I decided to apply to join the Bermuda Police and was interviewed and offered a position, which I accepted. It meant that I had to retire from the British Honduras Police Force, which I did.
I joined the Bermuda Police Force on 1st October 1960. At that time they had no course or training for new officers if you joined in Bermuda. If you joined in the U.K. as an untrained policeman you did a course in the U.K. before coming out, but my only training here was to sit in a back room at Hamilton Police Station by myself reading law books (then located on Parliament Street next to Hamilton Jail where the present Government Administration Building is now located).
My first posting was to Central Division at Hamilton Police Station and I was one of only two black men in Hamilton at that time. The other was Lawrence "Mincy" Rawlins. We were on the same watch together and we became good friends. I got to know his family very well. His mother was a lovely person with a very nice nature. But she was a disciplinarian! If she heard that Lawry had been speeding in their family car she would "ground" him and he would have to ride his mobylette to Town!
I worked on the beat in Hamilton until 1961 when I had a run in with Sgt Cafferky. In those days policemen used to man the dock gates on overtime, from 8am-12 noon, from 12 noon – 1pm, and from 1pm – 4pm. There was always a long list of volunteers for overtime on the docks. The 12noon-1pm shift was during lunch-time on the docks and the P.C. on duty would be inside at No. 6 gate.
I was on the beat on Front Street on this particular day and was making my way back to the Police Station for my lunch break which was 12 noon – 1pm, when P.C. Derek Fletcher, who was on duty at No. 6 gate, beckoned me across the street and asked me if I was relieving him. He told me that the Corporation of Hamilton wanted the gate open between 12 noon and 1pm. I couldn't help him and I crossed back over the street and returned to the Police Station for my lunch break. P.C. Fletcher spoke to Charles "Bongo" Williams and mentioned that he had spoken to me at No. 6 gate. Sgt Cafferky apparently thought that I had been inside No.6 gate and gave me a "bollocking". I tried to explain that I had done nothing wrong but he was very upset, and shortly after that I was transferred and became a Process Server, which at that time was another name for the bailiff. I was given a 250cc BSA motor cycle for process serving.
I did that for a short time, and it was while working as a Process Server that I had to execute a warrant on a premises on Brunswick Street, between Elliott Street and Angle Street, for non-payment of rent. This was in a basement of the property owned by Mr. W.E.R Joell. It was going to be vacant, and I thought that it would be an ideal location for a group of musicians to practice and hang out. By then I had made a few friends with local musicians and I ran the idea by one of them. We rented the building from Mr. Joell and it soon became known as the Musicians Club. It was used during the day-time for practicing and it also became a popular place for professional musicians to hang out after the nightclubs closed. We even obtained a liquor licence, and for a while it was frequented not only by local musicians but also visiting performers putting on shows in Hamilton. One of my most unforgettable experiences was the time when the legendary Louis Armstrong came to perform at the Rosebank Theatre and we put on a party for him at the Musicians Club. I still have the photos that were taken of Louis Armstrong with Gloria and myself.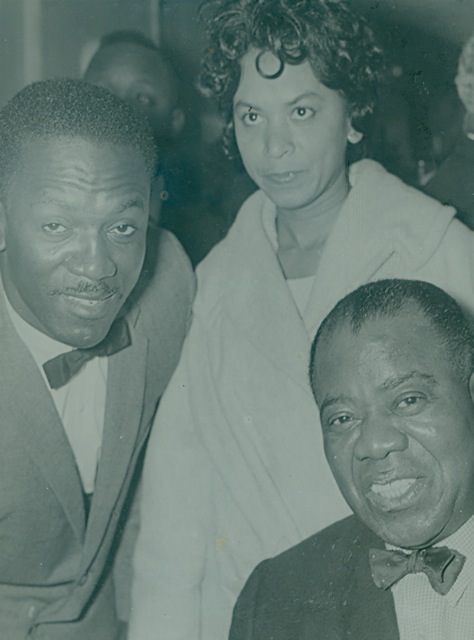 Gerry and Gloria meet the great Louis Armstrong in Bermuda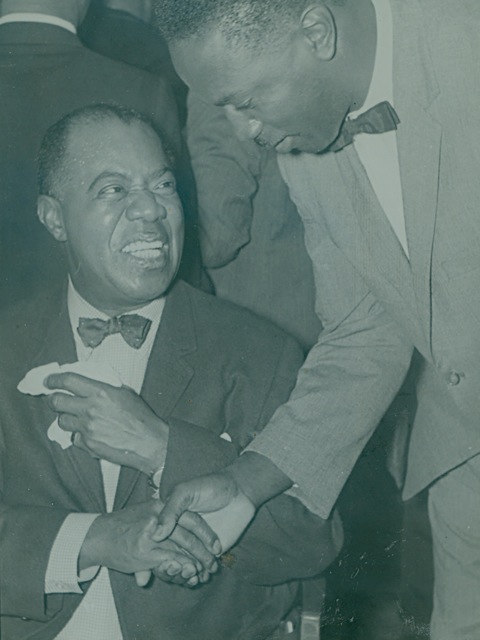 One of the most famous smiles in the world
In November 1961 I was transferred to the Parishes in Pembroke West when P.C. Carl Maybury left the job. That was great – I thought it was a fantastic job. You could really work at having a positive relationship with your parishioners who would look at you as someone quite separate from the regular Police Force.
That same year, 1961, Gloria moved to Bermuda and we were married in Feburary 1962. We have been happily married for almost 49 years.
As a parish constable I didn't know many people in Bermuda, or in my Parish, so on Sundays I used to ride my scooter around Pembroke West, introduce myself and speak to people. I told my parishioners in Pembroke West that they could call me 24 hours a day. In an emergency they could always call the Police, but I asked them to always call me as well so I would know what was going on in my Parish.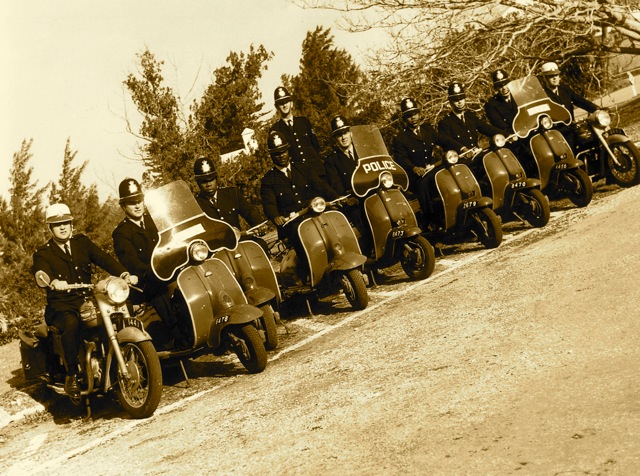 Gerry and fellow Parish Constables with Sgt. Jim Woodward
We were appreciated by just about everyone. There were some affluent people in Pembroke West who would ask that we supervise parking for their parties. And we would even help them to re-arrange tables and chairs when the parties were finished.
One of the residents of Spanish Point was Sir Henry Horseman who was quite a character. I first met him when I was doing firearms checks. In those days the parish constables had to visit every person who owned a firearm and had a firearm's licence which had to be renewed. I had arranged to meet him at his house one Sunday morning and I went to the front door which was answered by his wife who asked me to go to the back of the house – the tradesman's entrance. I told her I would come back another day, but at that point Sir Henry came out and invited me into his office – through the front door! We finished up having a long conversation and he showed me some of his photographs. Sir Henry was always chauffeur driven, and after our first meeting, whenever he passed me on the street he would have his driver give me a toot. He was always very friendly towards me.
While in the Parishes I do recall having an unfortunate run in with Woman Inspector Lee who had been brought out from the U.K. to help in organizing the new Police Women's Department. She wanted the policewomen to deal with all cases involving children. I had a problem with a fellow in Pembroke West who was known for messing around with young girls. He had a dispute with one of his neighbours and when his neighbour came home a little later he discovered his dog was missing. A child who lived next door told his mother that he had seen their landlord kill the neighbour's dog and bury it in his garden. The mother, who was very nervous about reporting the matter to the Police, called me and wanted to speak to me personally. I went to the scene, interviewed the child, obtained the necessary information, dug up the dead dog, and dealt with the culprit who was taken to Court and convicted. Unfortunately, Miss Lee was upset with me because she complained that this was a case that the policewomen should have dealt with.
During my time as a parish constable, Sgt Jimmy Woodward was in charge of the Central Parish Constables, which included Devonshire, Paget, Pembroke West, and two PC's in Pembroke East, Dudley Proctor, and Aubrey Sinclair "Tom Copper" Johnson. John Allen worked in Paget, and Harvey Fothergill in Devonshire. John Sharpe was also there for a time. Those were some of my happiest days in the Police Force. I didn't mind turning out at any time. In fact I even have god-children from my days in Parishes. I was very good friends with "Tom Copper" and we spent a lot of time together.
I think it was around 1965 that I was transferred to Operations (Traffic). I was told they were looking to integrate the Watches and they wanted a black guy on each of the three Watches. As luck would have it I was posted to Sgt Cafferkey's Watch and he assigned me to permanent Radio Room. It wasn't until Ernie Moniz took over the Watch that I had the opportunity to get out on the road.
I do remember the one night though when I managed to get out of the Radio Room. We had had a call about a man named (Kenneth Eugene) Phillips causing a disturbance at a bar on Reid Street East and threatening a policeman with a broken bottle. He left there and made his way down to the Jungle Room on Queen Street and we started getting calls that Phillips was again threatening policemen there. No one seemed to be dealing with the situation, and Sgt Cafferkey was out on patrol with P.C. Mike "Dagwood" Rickards, so I told the Sergeant that I should go and deal with Phillips. Sgt Cafferkey came up to Operations and took over the radio while I was driven down to the Jungle Room by P.C. Rickards. When we arrived Phillips was still threatening police officers at the scene with a broken bottle, and I confronted him. He made a move towards P.C. Rickards and that's when I hit him one time. After that I got a hold of him and placed him in the police car and we took him around to Hamilton Police Station where he was later charged and taken to court and convicted.
That was about the only time I got out of the radio room until Ernie Moniz took over the Watch and had me out on regular patrols. Until then they wouldn't give me a chance to go out in the cars.
After serving in Operations I was promoted to Sergeant in August 1966 and transferred to Central as a Watch Sergeant. Leon Bean was the Hamilton Police Station Inspector at that time and I think he might have been the first black uniform Inspector.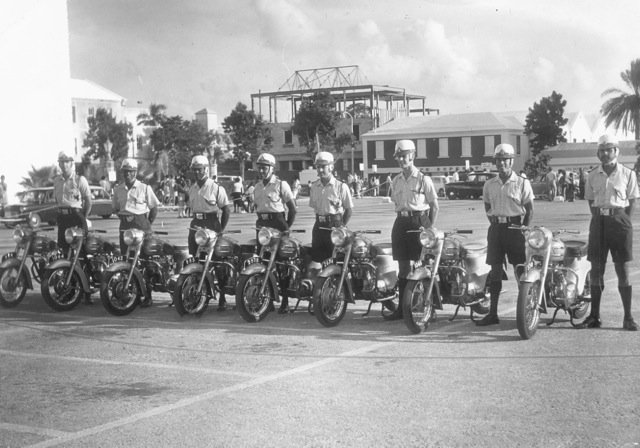 Members of the Police Motor Cycle Display team performing at City Hall Car Park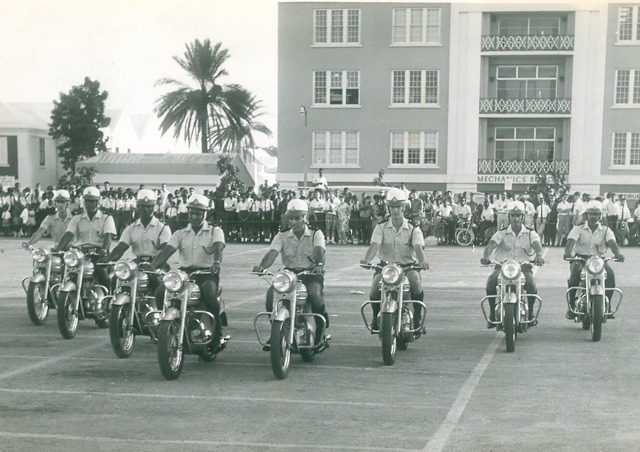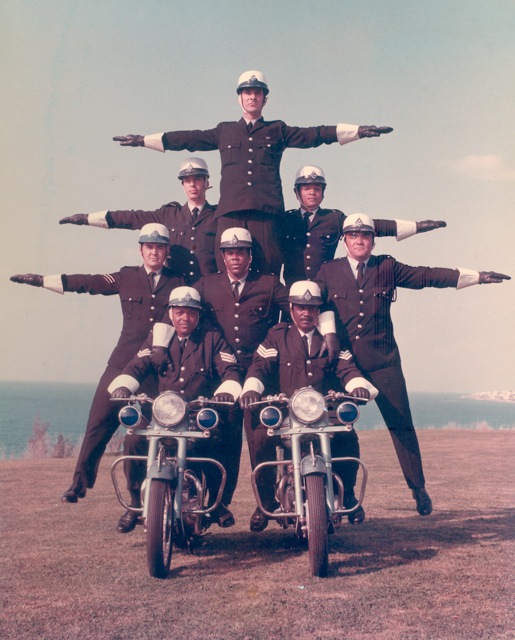 Members of the Police Motor Cycle Display Team perform the Pyramid
From top (l-r) Tom Cassin, Dennis Brookes, Erskine Warner, Sgt Harold Moniz,
Campbell Simons, Eddie Foggo, Sgt "Custy" Crockwell, and Sgt. Gerry James
Following a spell in Central Division I was transferred back to Operations in July 1967 and while there I was offered a course in General Police Duties at Bishopgarth, Wakefield, in the U.K. I attended the course in 1969 along with Hilton Wingood.
When I lived in Belize I had always had a great interest in music, and I had a bunch of records of the Black Dyke Brass Band, a works band for a carpet company in England who had quite a few East Indians in their band. Their principal cornet player was a man by the name of Jim Shepherd, and one night I visited the Kon Tiki nightclub in Wakefield where I was listening to a band and thought I recognized the playing and appearance of the trumpeter, as being Jim Shepherd. Sure enough it turned out to be him and I introduced myself to him.
I can recall meeting another person who I recognized from my time in Belize. One day while working in Hamilton shortly after arriving in Bermuda I saw a man standing outside the Hamilton Jail entrance, which was then located next to the Police Station on Parliament Street (where the Post Office is now located). As I mentioned earlier I used to read a series of articles in a bodybuilding magazine on health and fitness written by a man named Bill Cooke. I was sure the man I saw outside Hamilton Jail was Bill Cook, and I asked my brother, who was by then working as a prison officer, whether it could be him. He confirmed that there was a prison officer by that name, and after that I introduced myself to Bill. We have remained friends ever since then.
From Operations Division I was transferred to Special Branch in 1970, which was then under the leadership of Ian Morrison, with Fred Bean as second in command. I was asked to move to SB despite having no experience there, because another Sergeant was leaving. I quite enjoyed working there, and in 1971 I attended a course at the Ministry of Defence in London. I served in SB for 4 years but then asked for a transfer because I didn't see my future there. My next posting was back to Operations in 1975, this time in charge of Cycle Squad. While at Operations I was promoted to Inspector at the time when they introduced the Watch Inspector system at our "new" Hamilton Police Station near the bottom of Parliament Street. This was in September 1976.
Sgt Gerry James (centre) with members of the Police Motor Cycle Section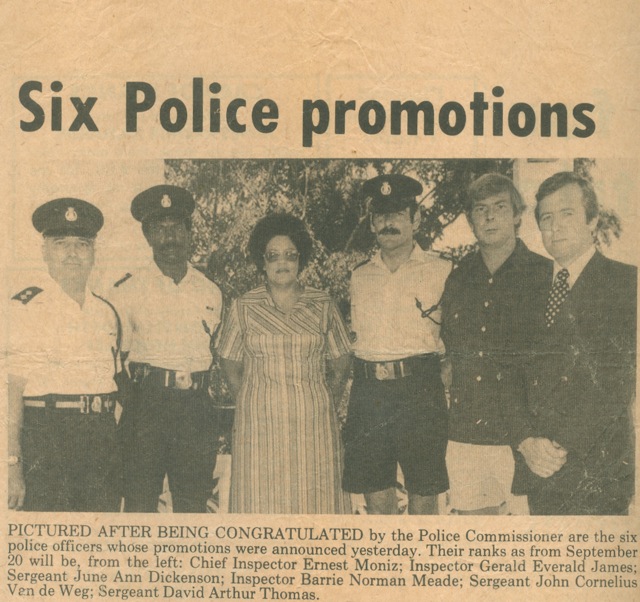 The Royal Gazette announces the promotion of (l-r) Chief Inspector Ernie Moniz, Inspector
Gerald James, Sergeant June Ann Dickenson, Inspector Barrie Meade,
Sergeant John Van de Weg, and Sergeant David "Dai" Thomas
The old police station had been demolished to make way for the new Government Administration Building, and we were moved to the old Customs building further down the street. The place was a dump and most unsatisfactory as a Police Station. The move was supposed to be for 2 years, but as of now (January 2011) the Police are still there and I've been retired for quite a few years! (Editor's note - the new Police Station on Court Street was officially opened in October 2011)
As soon as we moved in I had two major concerns, apart from the terrible condition of the building. One was that the cells were housed in a separate building and I thought this was a real security problem. The other concern was about the location of the interview rooms on either side of the corridor when you walked through the Station. I made my concerns known to senior officers but they were brushed off.
It took two serious incidents to highlight these problems. On one occasion a prisoner was being interviewed in one of the interview rooms by a detective, and they got into a fight with the prisoner hitting the police officer. The door had been locked from the inside and it was only by luck that someone happened to walk by the room and hear the sounds of the struggle. We had to smash down the door to get in there and subdue the prisoner.
On the second occasion I was sitting in the Inspector's office on the 1st floor interviewing two people when I noticed the smell of smoke. I called downstairs to enquire where the smell was coming from and the station constable had no idea. The fire alarm went off and I immediately went downstairs to check it out. It turned out that a detective had been interviewing a prisoner who had been cooperative so the detective gave him a lit cigarette when he placed him back in the cells. The prisoner decided to set fire to his blanket and the cells very quickly filled up with smoke, so much that several prisoners in the cells were overcome with fumes and had to be carried out and given first aid before being sent to the hospital for treatment. P.C. Phil Taylor also suffered serious injuries for smoke inhalation and had to be sent to England for treatment. I know that for days after I was spitting up lumps of soot.
It took these two incidents and other problems for us to have some renovations carried out, but even then the building was never suitable as a Police Station.
After working as a Watch Inspector in Hamilton I was posted to Western Division for a few months before being transferred back to Central Division where I was appointed as the Supreme Court Officer and also held the position of Black Rod for the ceremonial Opening of Parliament.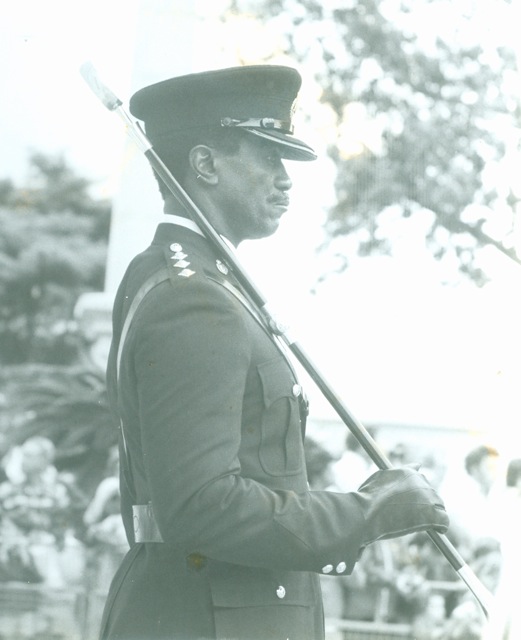 Inspector James carries out the duty of Black Rod
As His Excellency the Governor arrived at the Cabinet grounds I was required to go to the House of Assembly, and say a few formal words to the Members of Parliament to summon them down to the Cabinet Grounds for the official ceremony. Maybe because I had served in this role, I was lucky enough, on a holiday in England with Gloria, to have someone make contacts and arrange for us to have special seating to view the Opening of Parliament in London.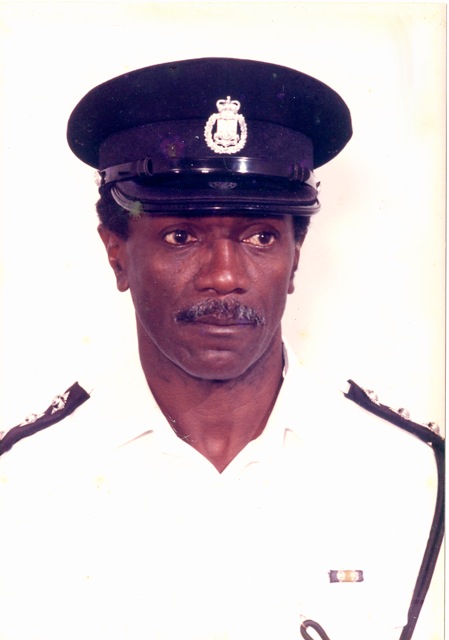 Chief Inspector Gerry James
I was promoted to Chief Inspector on 1st July 1981 and posted to Central Division for a while before being transferred down to Eastern Division in December of that same year. I remember making an appointment to meet Mayor Norman Roberts soon after I arrived in St. George's, and he and I got on fine. I really enjoyed working in St. George's. I also enjoyed a good relationship with the senior officers at the U.S. Naval Air Station, including Captain Gentry and Captain T.F. Hall. One of the highlights of my time down east was working on the Air Show put on by the Naval Air Station in 1985. It attracted many thousands of Bermudians to the Base and, fortunately, it went off without any major problems.
(Editors note - a previous Air Show had resulted in major traffic and parking issues. Following the success of the 1985 Air Show both Commissioner Fred Bean and senior officials at the U.S. Naval Air Station congratulated Chief Inspector James for doing an outstanding job in early planning for the event and in avoiding the problems that had previously been encountered.)
In 1986 I was awarded the Colonial Police Medal for Meritorious Service. I retired in November 1985 after 26 years service in Bermuda, and 10 years service in the British Honduras Police.
After retiring from the Force I went to work as the warehouse manager for Frith's Liquors. Mr. William Frith served on the Corporation of Hamilton and he became Mayor of Hamilton while I was working at Frith's. I'm now fully retired, and Gloria and I live at our home on McGall's Hill in Smith's Parish. I still enjoy my music and I also like to help people, especially members of my family.
20th July 2012
Editors note - We recently received an email from Geoff Hunt who provided us with the following additional information about Gerry:-
"Just re-read the article from Gerry James. I was the police officer confronted with a mad Kenneth Eugene Phillips at a club on Front Street East in 1965. I was a Cycle Squad sergeant, in the company of Neville Darrell, when we were called to a fracas at the (PHC) club - and I was saved from a serious assault by sweet-talking Neville. Sgt. John Cafferkey arrived with the duty van and we were in danger of the problem escalating so we decided on a strategic retreat. I was gratified to learn that Gerry had arrested this guy later in the night!
During the 1965 riots, Pastor Fubler (mentioned in my article) was brought into the Traffic Unit and interviewed by Gerry in my presence. Gerry asked him who gave him permission to be out after curfew. Pastor Fubler put his Stetson over his heart and said, "God gave me permission". A deep Yorkshire voice from the back of the congregated group of policemen said "I DID NOT" ... and everyone broke into laughter. It certainly lightened the tension of the evening.
Please pass on my best wishes to Gerry. He was a great copper."
Geoffrey Hunt