There was no prize for guessing that this is a batch of new recruits, but we wanted to know who they are, along with their instructors, and when they arrived in Bermuda. The photo is also featured in one of our recent articles and if you can locate the article it would help you to fix the date and one of these recruits.
Davie Kerr, once again, came to the rescue but we have one query about his answer. He gave us all of the correct names, but two of them are inverted compared with the caption that we have kindly been provided with by Dave Cooper. I have posted the list provide by Dave, although it looks more like a "Davie Kerr list" with all of the Force numbers included!
As you will see, Davie has listed Peter "Chalky" White where David's list has the name of Mike Ball, and vice versa. Can anyone confirm which is the correct answer?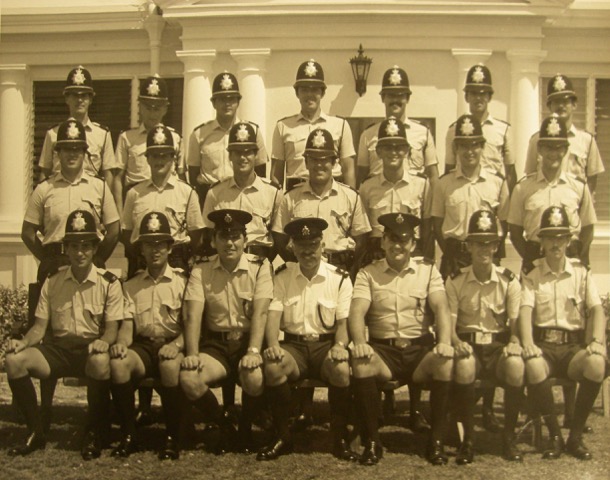 Bermuda Police Local Course July-August 1972
Front Row - 344 John Challis, 355 David St. John, Sgt 12 Richard "Dick" Murphy,
Inspector David Parsons,
Sgt 30 Patrick McBride, 279 Robert Durman, 270 David Cooper
Middle Row - 349 Michael Richardson, 281 Michael Dewar, 351 Michael Ball,
272 Brian Callaghan, 284 Peter White, 319 John Skinner, 296 Colin Cocker
Back Row - 317 Dale Thornton, 329 John "Stuart" Craig, 396 Douglas Proctor, 309 Phillip Bermingham,
299 Terence Allebone, 313 James Brodie, 297 Peter McNulty