Here is another photo we recently received which stretched back in time further than most of us can remember. It was certainly taken long before the arrival of computer technology! We wanted to know who is in it? What are they doing? Where was it taken? And approximately when?
We had lots of input and have had most of our questions answered. The photo was taken in Hamilton Magistrates Court when it was located next to Hamilton Police Station on upper Parliament Street (where the Government Administration Building is now located). Sitting in the foreground and bashing away on a manual typewriter is young constable Jimmy Woodward who sadly passed away just recently). Sitting front right is constable JCP Hanlon reviewing court papers, and sitting on the bench is The Wor Leonard Minty commonly referred to as "Minty". George Rose has provided us with several anecdotes about "Minty" who was clearly quite a character!
On checking our records it appears that the photo must have been taken sometime between March 1959 and 1960. Jimmy Woodward served in Prosecutions from March 1959 until January 1962, while Jim Hanlon was first posted to Prosecutions from 1958 - 1960 (no months recorded) , and again from September 1963 - June 1964.
Our thanks to Judy Woodward for kindly providing us with the photo, and several others of her husband Jimmy, during her visit to Bermuda just days before Jimmy passed away in Florida. Judy is working on an article about Jimmy for our 'Hall of Fame'.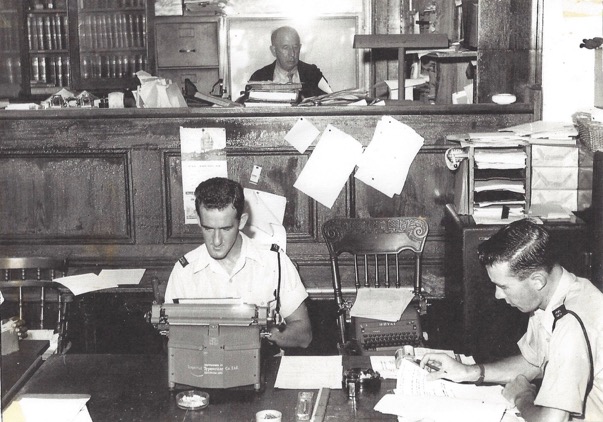 Hamilton Magistrates Court on Parliament Street next to Hamilton Police Station circa 1959-1960
On the bench is The Wor. Leonard Minty
Seated are P.C. Jimmy Woodward (centre) and P.C. JCP Hanlon (right)