We recently came into possession of this wedding photograph of a very well known police officer and his Bermudian bride. We were aware of the names of several of the men and women in the wedding party but even the family were having problem identifying three people in the photo.
We asked if you tell us who is in the photo, and where and when was it taken? We realize that you will probably need to be one of our most senior retirees to assist us with this one.
For anyone with even slightly fading eyesight we provided you with two blow-ups to assist you!
We have now been able to identify two of the men who we were not not sure of, these being Derek Brashier and Frank Farmer, but we are still having a problem with the identiity of the bridesmaid standing between Derek and Joe Nixon. If you can assist us please don't hesitate to contact us through the website. Could someone also please advise us of the date of the wedding?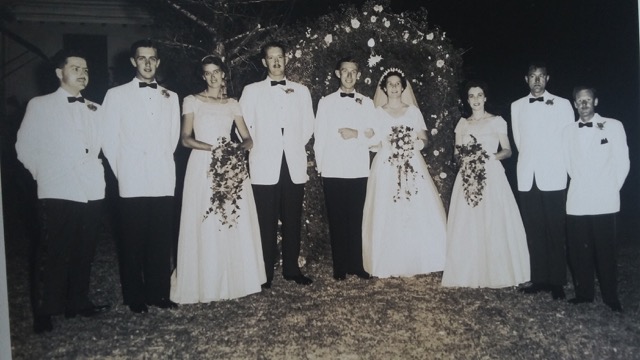 Wedding of Les Waddell and Joan Campbell
(l-r) Dr. Donald Campbell, Derek Brashier, Bridesmaid unknown, Joseph Nixon,
Les Waddell, Joan Campbell, Dorothy "Dot" Campbell, Arthur Rose and Frank Farmer