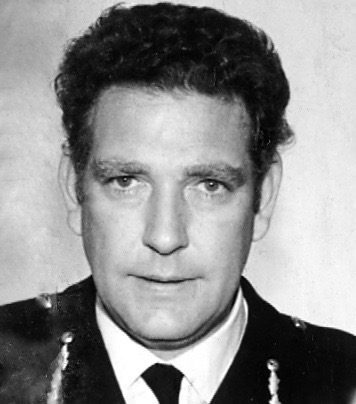 The Late Commissioner of Police, George Duckett
It is 44 years this month (9th September) since the murder of Police Commissioner George Duckett. His tragic death was followed by a series of horrendous crimes including one attempted murder, one assassination, three murders, and numerous armed robberies.
Conspiracy theories swarmed and indeed were later confirmed as offenders were brought before the Courts. At one point in time Scotland Yard murder squad officers numbered some 14 detectives on the island.
This is the story of just one aspect of the multiplicity of interwoven investigations which ensued after each terrible crime. The story by no means details the full extent of the separate investigations or the outcome of trials in their entirety – nor is it meant to; such an endeavor would render volumes in length and complexity.
Perhaps you lived through those momentous times and can add your own perspective or experiences to this ongoing historical analysis of the period? Since the passage of time, you may now be able to reveal some of your own 'quietly' interesting knowledge of events similar to that documented herein?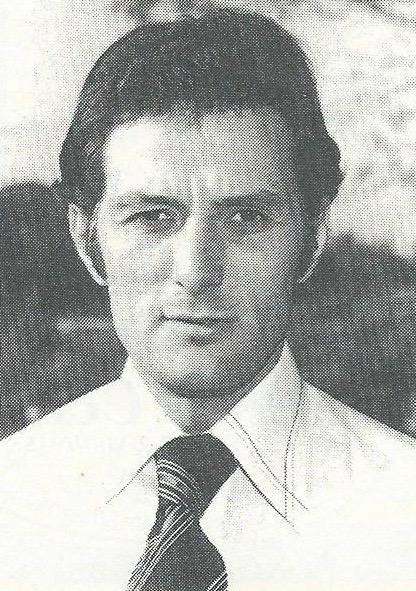 Detective Sergeant George Rose
The following account is written by then Detective Sergeant George Rose who was intimately involved in the investigations that followed the murder of Commissioner of Police, George Duckett.
'……FOLLOW THE GUNS, GEORGE'
Much has been recorded about the violent deaths of Police Commissioner George Duckett on Saturday, 9th September 1972 followed 6 months later on Saturday 10th March, 1973 by the assassination of H.E. the Governor Sir Richard Sharples together with the simultaneous murder of his ADC Captain Hugh Sayers.
And let's not forget the non-fatal shooting in the chest of the Commissioner's 17 year-old daughter and also the killing of Sir Richard's Great Dane, Horsa.
As a matter of interest, less well known aspects of the ensuing murder enquiries are outlined below – time lines are important:
MURDER OF COMMISSIONER OF POLICE: - OPERATIONS STATION DIARY #'s 898, 903/4/5/6/7/8
At 2105 hrs on Saturday, 9th September, 1972, Mrs. Duckett came to Police Operations Dept. in a very distressed condition. She stated that the Commissioner of Police had been shot and she believed he was dead. Sgt. Crockwell attended immediately as did PC 312 Smith, accompanied by Mrs. Duckett. All Senior Officers informed. Deputy Commissioner Clark informed and attended. Ambulance attended and C.O.P. conveyed to KEMH where he was found to be dead on arrival.
DEATH OF COMMISSIONER OF POLICE: The Commissioner of Police, Mr. George Duckett, O.B.E., died at approximately 2100 hours on Saturday, 9th September, 1972 as a result of a gunshot wound inflicted by a person or persons unknown.
APPRECIATION: I wish to express my thanks for the excellent turn out of the Force on Saturday evening in connection with the death of the Commissioner of Police. A number of members had of necessity to standby while preparations were made to set up the machinery of the enquiry and their patience and understanding is much appreciated. A/C.O.P.
COMMAND OF THE FORCE: Mr. L.M. Clark, Acting Commissioner of Police, assumed command of the Force with effect from 9th September, 1972.
POLICE FLAG – FLYING OF: The Police Flag will be flown at half-mast from Police buildings.
MESSAGES OF SYMPATHY: 11 September, 1972
The following [three] messages of sympathy are published for the information of all ranks:
1. "I am writing to you as Government Leader to convey to you and to ask you to convey to all officers and men of the Bermuda Police Force the deep sense of horror and shock with which I and members of the Government heard of the tragic death of the Commissioner of Police Mr. George Duckett.
As I have said publicly, Mr. Duckett was a dedicated and fearless police officer who was both devoted to the Force and to the concept of service to the community. His death is a great loss the Force, to the Government and to the people of Bermuda. Both you and the members of the Force may wish to know that I saw Mrs. Duckett this morning and conveyed to her my deepest sympathy and that of Lady Richards.
It is regrettably true that it sometimes requires a tragic incident to bring home to some of us in the community the personal courage, loyalty and sense of duty which are required of a Police Officer. I want you and all members of the Force to know that my colleagues and I in the Government are most sensible of the very high standard of service given, at all times, by the Bermuda Police, particularly under the leadership of the late Commissioner, and that you have the sympathy and the fullest confidence and support of us all in the days which lie ahead."
Yours sincerely
E.T. Richards
Government Leader
2. "We were both shocked to hear the news of your Commissioners tragic death. He was a fine officer and a good leader and his death will be a great loss to the service. We send you all our very sincere sympathy." Martonmere
The above telegram was received from ex-Governor Lord Martonmere and Lady Martonmere.
3. The following letter of sympathy has been received by the Acting Commissioner of Police from Major R.L. Johnson, Commanding Officer, Marine Barracks, Bermuda.
"I, the Marine Officers, Capt. Reed, Capt. Steger, Capt. Waller and all my marines extend our sympathy to you, your officers and men of the Police Department. Commissioner Duckett exemplified a bond of comradeship to us that flowed through your organization. We dedicated at our formal ceremony a distinctive moment of prayer and silence in honor of our missing comrade. Please extend to all your professional men our deepest regards and condolences."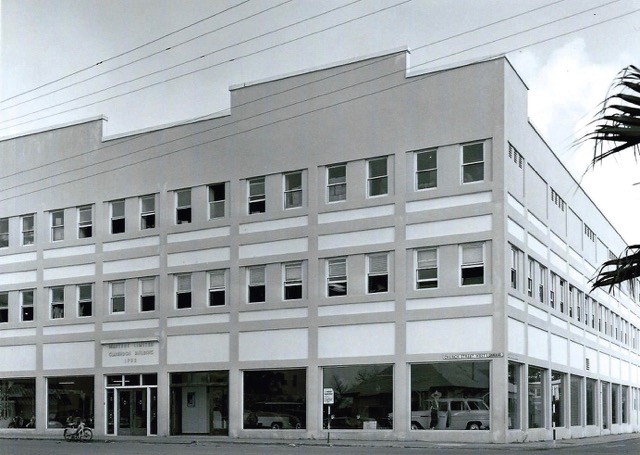 Masters Clarendon Building in 1973
THE MASTERS LIMITED - ARMED ROBBERY [Provided valuable investigative leads in killings yet to occur]
At 5.15 p.m. in broad-daylight on Saturday 24th February 1973 Mr. Anthony Mello, who worked in the stores at the Clarendon Building near the Rosebank Theatre, was locking up after the rest of his colleagues had left the building. He was on the third floor and just about to go home when two men, both armed with guns, and wearing what appeared to be stockings over their faces, jumped upon him and held him at gun-point. Mr. Mello said he put up a struggle despite there being two of them, and he was struck a heavy blow across his face with the butt of a revolver held by one of the men. He was kicked and pushed towards the vault with one of the robbers saying to him, "Now is your last chance" as he put both hands on his gun and cocked it.
When the gunmen had finally subdued Mr. Mello they forced him to open the office safe, and took all the money including $400 from his wallet. They tied him up with rope and dragged him into a toilet before making good their escape over the builders' yard eastern wall and dropping down onto Par-La-Ville Road. Mello managed to free himself and then, because there was no-one else in the building he pulled the fire alarm to attract attention. Mello said that the two men – "One was a big man and the other a bit smaller" looked as though they knew how to handle the guns. He thought that one gun might have been a .38 and the other, much bigger, a .45.
'…….. FOLLOW THE GUNS GEORGE'
In the early evening of Tuesday 27 February, 1973 when at my residence, I received a telephone call from a personal friend who was a Bermudian grocer on the island. He told me that he had before him at his home in Warwick a young man who said he knew me and wanted to speak to me about his having being held by masked gunmen after a robbery the previous Saturday evening. My friend told me that he thought it was important what the young man had to say and that I should come right away and see him. I was told that the young man was shaking with fright and afraid for his safety.
I drove immediately to the house in Warwick and there saw a youth I knew as Albert Cabral. I had previously spoken on a number of occasions to Cabral on the street during patrol investigations and the conversations with him had always been cordial. Cabral also knew my grocer friend and asked him to contact me on his behalf. I saw that Cabral was shivering with fright. He told me he'd had little sleep over the past three days and hadn't eaten because of stomach nerves. He sat in the living room and told me a story which amounted to him having been kidnapped by masked gunmen as he drove his car south on Par-La-Ville Road last Saturday evening. They jumped into his car and, under gunpoint, ordered him to drive to a house in Devonshire where he'd been held for a time. Cabral briefly told me a lot more of importance and it was evident to me that his detailed account would be of considerable assistance to not only the Masters armed robbery investigation but also to other robbery enquiries then under way. Clearly of importance was Cabral's description of the gunmen together with the firearms they possessed. Good leads can come from anywhere.
Travelling in my private car – and, at his request leaving his own car concealed in the garage on my friend's property in Warwick – I drove Cabral to Central CID at the old Hamilton Police Station on Parliament Street. Now under the cover of darkness we entered the CID offices by way of the northern side staircase. Cabral was close to panic and it took him a while to calm down after the journey and begin again to collect his thoughts. I was OIC Central CID at this time. We remained alone, locked in a back office – the Night CID officers were about their street duties and even they never knew we were there. It took a long time to debrief Cabral. He wasn't hungry and remained alert with bursts of anxiety and nerves as he recalled the events of that evening.
I briefed DCI Sheehy by telephone at his residence late that night and told him what I was doing sharing with him some of the detailed information being gained from Cabral. DCI Sheehy said he would first consult with others and he called me back some 20 minutes later and told me that the two Scotland Yard officers' then on the island in connection with the Commissioner's murder would not be called in at that time. In signing off DCI Sheehy said:
"Stay with him George. Get as detailed a statement as you can from him. Take your time. Don't let anyone else in on this. Get him something to eat and ….. follow the guns George."
I later recorded a lengthy and very detailed witness statement from Cabral concerning his ordeal at the hands of the gunmen. He slowly relaxed and became calm and focused. It would be necessary to corroborate every detail he provided in his statement – matters such as the color of the bedsheets and of the walls and curtains in the bedroom at the location where he said he was held; a description of the firearms used and any conversation he had overheard. He spoke of seeing two guns and of seeing bullets falling out of a silver colored gun into the gunman's hands as he emptied same. They cleaned their guns and lay one on a dressing table in the bedroom on top of a gun case.
"The gun that the first man held was silver in color. The whole gun was large. It was about 6" or 8" in total length. He held the gun into my left side between the two front seats." "On top of the full bag lying on top of the contents I saw another gun. It was a little longer than the silver gun and black metal with a dark brown handle." "The light skinned guy moved by the bureau and was emptying the silver gun. I saw bullets falling into his hands. He was cleaning the silver gun with his gloves. He then put the gun on top of a bag on the floor near the bureau. I then watched the dark skinned guy take the black gun out of the green bag and put it on the top of the bureau. They both took the bullets out of the gun and he rested the gun on a rectangle shaped case on the bureau. I didn't notice where the bullets went." Cabral recalled one of his captors saying: "We have got a surprise for Bobby tonight." He said he would never forget their faces.
From the start of his ordeal, Cabral pretended he couldn't understand the English language – but in fact, he was quite proficient in English. When the gunmen addressed him he responded only in Portuguese and throughout the evening they became careless in their conversations in his presence. They thought he was speaking Spanish. Cabral studied the guns as his captors exercised with calisthenics on the bedroom floor.
Cabral was afraid because the gunmen had taken off their masks in his presence and he believed he would be killed because he thought they would think he could identify them. Near the end of his ordeal he heard them talking about his fate. After initially deciding to kill him, they decided he was just too dumb to pose a threat to them and they would therefore let him go. They warned him to tell no-one or they would shoot him.
As he lay across the single bed inside the Devonshire house, Cabral was able to hear and see all matters going on around him in the bedroom. A light was on and he took note of all he could. Later, they first decided to have him drive them to Court Street where they would release him with a warning that he would be killed if he didn't remain silent. As it turned out they released him to his car outside the house and allowed him to drive away. As he put his car into gear the reverse lights came on and he saw behind him a white Capri with a black top which he hadn't noticed before in his hurry to leave the yard. Cabral did not get a good look at the driver. The Capri backed out allowing Cabral to leave. Cabral went home but was highly anxious and so upset he was unable to eat. He remained so until my interview with him on the following Tuesday evening 27th February 1973.
Shortly before midnight that same Tuesday night I drove Cabral in my private car – an MG Midget – to South Shore Road, Devonshire just east of Tee Street. Following Cabral's instructions, I entered Brimstone Hill and on the right side after going up a short hill Cabral showed me the two storey house in which he had been held prisoner that earlier Saturday evening. The house was in total darkness and no vehicles were seen in the driveway. I saw the name 'Gay Tor' on the house gate-pillar. We didn't linger nor exit my car. I purchased a meal for us both and we returned to the CID office. Cabral wanted to return to his car hidden away in Warwick where he would sleep until daybreak. I judged him to be calm and now in better control of himself and returned him to his car.
Early that Wednesday morning with Cabral's statement in hand I met with and briefed D/Supt Hammond and DCI Sheehy. Enquiries were conducted in order to identify the ownership of 'Gay Tor' and determine its relevancy to our investigations. The results were startling and impactful and ultimately led to the full identity of Bermuda's emerging crime 'Godfather'. The importance of Cabral's evidence together with all that flowed therefrom was obvious. Nothing was ever said to me personally by the Yard officers, but I did later learn -'unofficially'- that they were not pleased at having been kept away from my earlier contact with Cabral on the Tuesday night after the robbery. That course of action however was a decision not of my making.
Working with DI Dudley Swan, I prepared an Information and Search Warrant and subsequently applied for and was granted a warrant to search the premises now known as 'Gay Tor'
On the morning of Friday 2nd March 1973 at Hamilton Police Station I was in company with DI D
Swan who arrested Robert Leon 'Bobby' Green on suspicion of having been involved in the Masters robbery. Green replied:
"You must be joking. Well that's pretty good." He was cautioned but said nothing more.
It was noted that Green owned a white Capri car with a black roof.
When asked if he knew of a house named 'Gay Tor' in Devonshire, Green replied:
"I don't know if I should answer that. What's it all about?"
On further questioning Green would only say that he was negotiating his intended purchase of 'Gay Tor'.
Green was taken by car to 'Gay Tor' and on the way sitting in the rear seat beside me Green said, "Let me see the warrant." I showed him the Warrant and after reading same he said, "Okay". On our arrival Superintendent Hammond took command. With all officers keeping together we entered the house together with Green. Beginning with the bedroom on left of upper landing I said to Green as each item seized by searching officers was found,
"Is this your property?" Contemporaneous notes were recorded of all of the proceedings; of exhibits found and conversations held. The search was later expanded without gain to include the garden area outside 'Gay Tor'.
Cabral was able to identify certain articles we had earlier seized from 'Gay Tor' including:
1) Pink coloured bed sheet. 2) Oval blue case. 3) Yellow notepaper pad. 4) Light brown nylon vest. 5) Black case-box. 6) Mauve/pink sweater with rings around the neck.
Three points of interest are worthy of note:
1) 'Gay Tor' was situated in the immediate vicinity of the residence of the then Police Commissioner L.M.
'Nobby' Clark on Gables Lane, Devonshire
2) The location of 'Gay Tor' was about one-half-mile from my own residence in Devonshire
3) Such was Cabral's anxiety level in the months following his ordeal that he kept a very low profile and took to
using a disguise when in public. Such was the changing of his routine, as he had been advised, that I often had
trouble in locating him when needed.
On March 2, 1973 at Hamilton Magistrates' Court 'Bobby' Green – the self-styled "Godfather" of Bermuda's criminal underground – was sentence to six months' and three months' imprisonment, the sentences to run consecutively for assaulting a police officer in the execution of his duty and also riotous behavior. His arrest followed an incident in Court Street when police officers were assaulted and stones and bottles flung at them by a hostile crowd led by Green. Green lodged an appeal and he was released on bail.
During this same Friday afternoon, acting on reliable information received from a Bermuda Police fingerprint officer concerning his identification of a finger mark found earlier on a door handle at the Masters store crime scene, I went with other officers to search a residence on Ewing Street belonging to Dennis Allan Bean. I took possession of certain items from Bean's room and he was arrested on suspicion of the Masters robbery. During the ensuing days Bean was interviewed in the presence of his counsel. He was shown certain items seized from 'Gay Tor' including correspondence and a number of receipts in his name. He remained hostile and uncooperative throughout.
On 5th March, 1973 at about midday at Hamilton Police Station, Cabral positively identified Bean saying –
"I immediately recognized the man who was sitting down on a seat as being the man who I described in my previous statement as being the dark skinned man who I had given a lift in my car, the one who had been in the front seat of my car …….. I am absolutely certain ………. I have never seen this man before I gave him a lift and I have not seen him since that time". Bean was charged and remanded in custody until 30th March, 1973 when he was granted bail.
He was later committed for trial in the Supreme Court charged with Unlawful possession of an offensive weapon to wit a revolver; being concerned together with another person unknown and being armed with an offensive weapon to wit a firearm did rob Anthony Mello; and being concerned with another person unknown did unlawfully deprive
Albert Rodriques Cabral of his personal liberty. Bean's bail was extended pending his Supreme Court arraignment on 16th April, 1973.
On Wednesday 7th March, 1973 at Police Headquarters I showed Cabral a total of six items previously seized from a room in 'Gay Tor'. I asked him if he had anything to say about each item in turn and recorded a statement of his identification of each exhibit.
ASSASSINATION OF HIS EXCELLENCY THE GOVERNOR AND AIDE-DE-CAMP
1. His Excellency the Governor, Sir Richard Sharples, K.C.M.G., O.B.E., M.C., and his Aide-de-Camp,
Captain Hugh Sayers, were assassinated at Government House at approximately 2345 hours on
Saturday, 10th March, 1973.
2. All Police leave was cancelled and the Force placed on 12-hour shifts with effect from 0030 hours
3. Government proclaimed a State of Emergency on 11th March; this provides limited powers enabling
Police to prevent individuals from leaving the Colony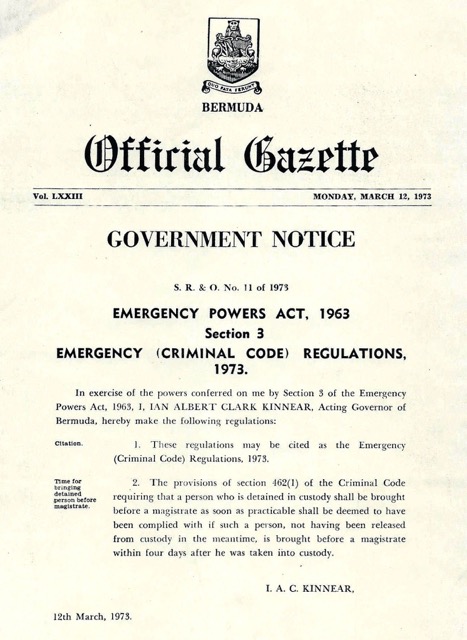 4. Detective Chief Superintendent W. Wright and Detective Inspector B. Haddrell arrived in the Colony on
11th March and will be reinforced by additional Scotland Yard personnel scheduled to arrive this afternoon.
5. All ranks of the Force must make every effort to obtain information leading to the arrest and conviction
of the person (s) responsible for these crimes. All information, regardless of how unimportant it may
appear, should be immediately communicated to the Murder Room at telephone number 2-7405, or at
Force extension numbers 282 to 285 inclusive. In view of the need to keep the Police switchboard free, all
Non-essential calls will be kept at an absolute minimum.
6. All requests by the news media for information will be referred to the Force Press Liaison Office at Ext. 226.
Police Headquarters, Prospect, Bermuda. Dated 12th March 1973
On this Saturday, at midnight, together with other CID personnel, I met with Det. Supt. Hammond in foyer of the Southampton Princess Hotel where the annual Police Ball was under way. We were given the news of the assassination of H.E. the Governor et al. – and we were placed on duty. Wives and partners were left unaccompanied in the ball room to make their own way home.
Our instructions were to 'go out in the streets and see what you can find; speak with your sources and get them to work'. I left the hotel with Dc's Gwilym Williams and Michael Goode whom I dropped off at Operations with a message for Det. Supt. Hammond that Dc Williams and I were going straight to a 'stake out' at the Harlem Heights, Baileys Bay residence of a certain person of interest. Recent criminal 'intelligence' suggested that this male person was handling firearms and trading same to friends and associates. We parked inconspicuously nearby and commenced surveillance on his residence whilst lying in a hedge along the tarmac driveway leading to his house. We were each dressed in white tuxedo jackets but were adequately camouflaged on site in black raincoats which we had grabbed at Ops earlier because of the threat of rain. We monitored the simultaneous arrival of two cars at about 2.15 a.m. and overheard conversations between the male and female occupants as they alighted from their vehicles and walked into the house. Viewing through the unobscured lighted windows we saw therein that no-one joined these recent arrivals from either within or without the house which went into darkness about an hour later.
This person of interest was not present that night but he later played a significant role in the unfolding investigations. Our observations at the residence were subject of a report later that day. At 03.45 a.m. I made contact with the Murder Room and was instructed to stand down and attend a meeting there forthwith. I was engaged throughout remainder of day in related murder actions / enquiries and finally went off duty at 6.00 p.m. Sunday. [After a straight 18 hours of duty]
Following as it did precisely 6 months after the murder of Commissioner Duckett, the Governor's assassination sparked worldwide interest and immediately posed the question – are these killings' connected?
TRANSFER: Effective: 11 March 1973 (Assassinations)
Detective Sergeant 59 George F. Rose, from [OIC] Central C.I.D. to Murder Room (Investigations)
MESSAGE TO THE MURDER SQUAD: From the Book of Experience Parts 1 and 2. Directive issued by Detective Superintendent Frank Hammond to those uniform personnel engaged in House to House enquiries:
"Verily I say unto thee, go forth to other men's dwellings and knocketh upon their doors that they may answer.
Seek their names, their employment, their movements and verify them if thou canst.
Talketh to their families ask each and all "Where wast thou" "Who was thou with" and pray they answer truly or thou will revisit them.
Seeketh their knowledge of their fellow men, be they neighbours or otherwise. Asketh them: "Who occupies the next dwelling" and when you goest there ask them who occupies the dwelling thou hast just visited so that thou may not be foxed.
Filleth in the form provided, name each and all you see. Date it, filleth in each and every question and do not forget to append thy name and number thereon. If they have talked to thee and thou has't written down their words get them to sign them. Showeth when this was done, the day, the month, the year and again append thy name and number. Ticketh off the space provided on thy form that they have made the statement.
When thou has't doneth all these things you may rest in the knowledge that thou has't done thy best and all that remaineth to be done is to hand thy form to thy master who will vet them. He may curse or praise thee or return them to thee for further enquiry.
Thy feet will be tired, thy patience tried; thy wife may grumble, thy stomach may rumble, "Yea" but satisfaction will cometh, thou will be rewarded if, through thine efforts and those of thine fellow officers, the Devil is brought to book. There endeth the lesson. Amen."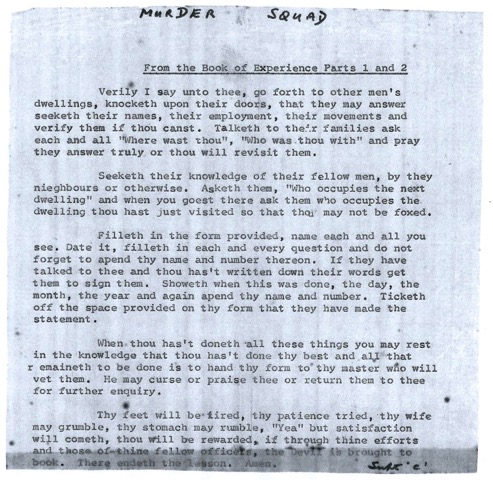 Extract from Frank Hammond's "Book of Experience"
I met frequently with Cabral after his experience in February in order to bolster his confidence and in an attempt to identify the light skinned robber who remained at large. I took Cabral into Court Street in different cars on a number of occasions in an attempt to locate the second suspect but without success. I instructed him to try his best to find the second man and report any sightings immediately. I knew that he often made lone observations using cars belonging to his friends. I spent many hours over three consecutive days with Cabral at Police Headquarters where he examined photographs of all known criminals in an unsuccessful attempt to identify the light skinned robber.
On Friday 6th April, 1973 at about 9.0 p.m. the dead bodies of Mr. Victor Rego and Mr. Mark Doe were found inside The Shopping Centre, Victoria Street, Hamilton. Both men had been shot and killed. Together with local colleagues I attended at the scene in company with Det. Supt Wright and DI Haddrell of Scotland Yard. This robbery represented the seventh armed robbery reported to the police since the beginning of the year. This double murder was the third time out of the seven reported robberies when shots had been fired. Other gun robberies such as the Tuckers Town bank related armed holdup and the Crawl Piggly Wiggly were to follow in later months.
At 7.0 p.m. on Monday 9th April, 1973 the station manager of ZFB television studios on North Shore Road, Devonshire conducted a live news interview with five men referred to as "Court Street people" in relation to what had happened to them on Court Street on the previous Friday night after the Shopping Centre murders. The men stood beside each other in a line. These men were Robert Leon Green, Dennis Alan Bean, Larry Winfield Tacklyn and two others. I watched the live news interview at my residence and very soon after it had ended I received an excited telephone call from Cabral who said he too had seen the news earlier and "I saw him. I saw the man we are looking for on the film". During the following days I spent time with other officers gathering intelligence on both Bean and Tacklyn.
Meanwhile two teams of detectives worked side-by-side trying to solve the Commissioner's murder and the double killings at Government House and those at the Shopping Centre on Victoria Street. Det. Supt. Wright spoke out saying "I have been on three murders before in London, but never this number, and never where I have been handicapped in this manner by lack of co-operation from the public". He stressed that he did not expect someone to come forward with the names of the murderers but, "tidbits" from the public could yield the vital clues that the police were looking for. Mr. Wright said that it would depend on the Bermudians themselves if they want to be "rid of this cancer in Bermudian society".
Certain operational imperatives, including a Royal visit to the Island, led to the existing State of Emergency being extended twice; with the last extension being on 18th April, 1973 for a further period not to exceed 3 months.
On 2nd May, 1973 I took Cabral to the projection room at ZFB television studios where he was shown a video-taped film of the interview as it had gone out over the air. In the room with Cabral and myself were two other civilian witnesses and a number of police officers including Commander Morrison and Supt. Wright of Scotland Yard. Cabral was told to make no comments until after the film had finished, and then he was to make his observations to the two Yard officers. I heard Cabral identify Dennis Bean and Larry Winfield Tacklyn as the two men who deprived him of his liberty after the armed robbery at Masters Limited in February. Two other civilian witnesses were present but there was no contact between them during the screening and one of those witnesses identified Tacklyn concerning the Shopping Centre murders.
On 16th May, 1973 I was engaged at the Civil Air Terminal with DS Alan Greatly of Scotland Yard and DS David Barber together with civilian witnesses, in making arrangements to meet the busy arrival of lunchtime flights. At a point in time Larry Tacklyn wearing a pork-pie type hat was immediately identified by a witness as he passed through a place where people arriving from flights could be seen approaching Bermuda Immigration. Tacklyn was arrested for the Masters armed robbery.
On 22nd May, 1973 at the Murder Room, a disguised Albert Cabral requested a change be made to his vehicle licence numbers. This request was favorably considered and new car plates were issued to him forthwith.
On 28th May, 1973 at the Supreme Court, the Honourable Chief Justice varied the sentence imposed on 'Bobby' Green at Magistrates' Court on March 2nd to run concurrently. His new total sentence was therefore six months.
On 26th June, 1973 Police offered three separate rewards, each of $100,000 for information leading to the arrest

of the person or persons responsible for the murder of Commissioner George Duckett, Sir Richard Sharples and his ADC Capt. Hugh Sayers and store owner Mr. Victor Rego and his assistant Mr. Mark Doe. The reward or rewards could be paid in Bermuda or abroad, either in cash in U.S. or Canadian dollars or sterling, or into a bank account in Bermuda or abroad or any currency stipulated by the informant.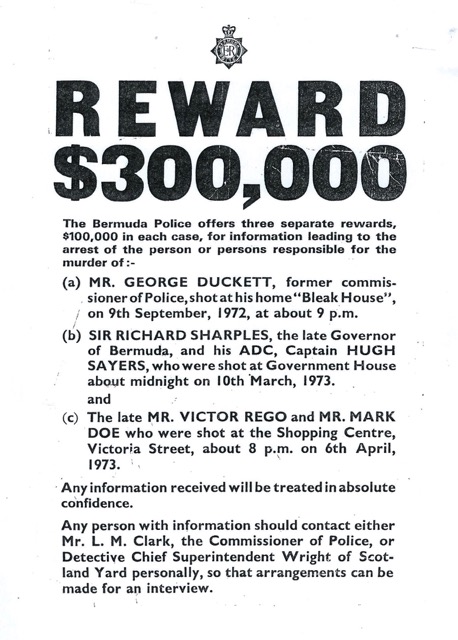 Whilst in H.M. Casemates Prison, Green made it known to the authorities that he would assist Police in their investigations into the murders. He was immediately seen and his terms for supplying information were:
(a) His immediate release and (b) His receipt of the $300,000 reward. He was adamant that he could not supply the information until released. Green implied that further trouble lay ahead which he could prevent if released. When told his release was not possible under those terms, he agreed to reconsider the matter.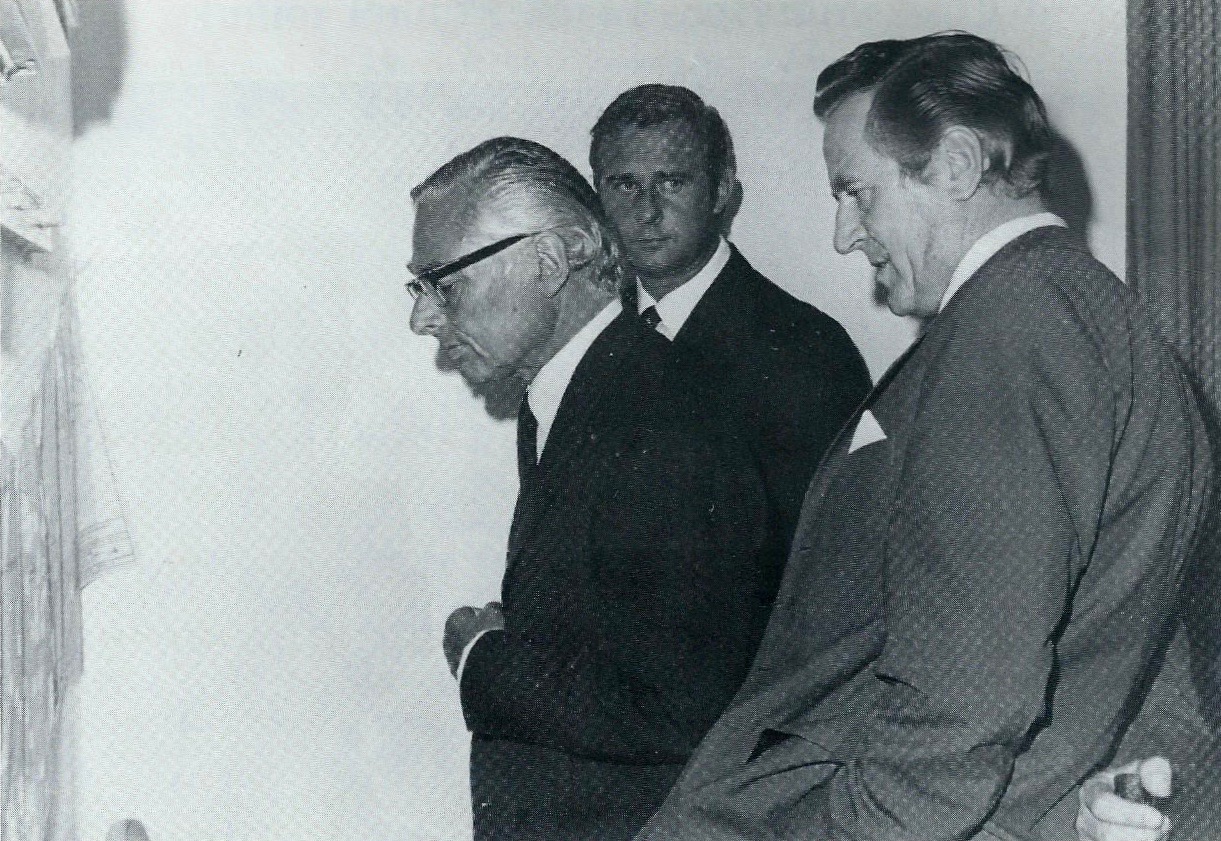 Poignant photograph taken in 1972 of H.E. The Governor, Sir Richard Sharples (left)
with the two Scotland Yard officers, Detective Sergeant Basil Haddrell, and
Detective Chief Superintendent Bill Wright who were to lead the successful
investigation into the subsequent assassination of Sir Richard at Government
House in March 1973. This photograph was taken while the two Scotland Yard
officers were in Bermuda leading the investigation into another murder.
On 2nd July, 1973 and with the cooperation of the Prison Department, Green was conveyed to Somerset Police Station, where Det. Supt Wright interviewed him in the presence of DCI Sheehy and DI Haddrell. Green then alleged that Tacklyn had shot the Governor and the dog and (Buck) Burrows, had shot Captain Sayers. Both had guns and had escaped via Marsh Folly and Bernard Park. Green said Burrows had committed the Shopping Centre murders on his own and had been in possession of three guns at the time. He said Mr. X had shot the Commissioner of Police. He was not able to give any details as to how and why the crimes had been committed, nor could he say where the murder weapons were to be found. As a result, Green was told that no arrangements could be made for his release.
On 4th July, 1973 together with other witnesses I gave evidence against Tacklyn at a long-form Preliminary Inquiry before Magistrate K.C. Nadarajah and I also formally introduced into evidence a number of items taken from 'Gay Tor'. Tacklyn was committed to stand trial at the next available Sessions of the Supreme Court.
On 21st July, 1973 Green was again interviewed at Casemates Prison by Commander Morrison, DCI Donald and DI Swan. He reiterated his previous information except to add that either Burrows or a 'certain named other' had murdered Mr. Duckett. He again implied that further trouble lay ahead which he could prevent if he was at large, but he was told that unless he could provide information to corroborate his story no negotiations could be entered into for his release. Needless to say, no further information was received from him during his stay in prison.
In early July, at the Supreme Court arraignments Dennis Alan Bean initially pleaded 'Not Guilty' but changed his plea to 'Guilty' at the start of his trial on charges including armed robbery and possession of an offensive weapon at Masters Limited. He was sentenced to concurrent terms of 12 and 2 years imprisonment and six months consecutive on the third charge of deprivation of liberty. He later lost his appeal against his 12½ years sentence.
Bean's unexpected guilty plea caused Tacklyn's trial for the Masters armed robbery to be prematurely brought forward on the Supreme Court calendar. I was informed whilst on vacation in Toronto by DC Roger Sherratt to return to duty in Bermuda to give evidence at the R v Tacklyn trial. This resulted in my having to leave my wife on vacation in Canada. [This annual leave in Canada had already been postponed for three weeks due to other court commitments].
At his 2½ day Masters armed robbery trial commencing on 24th July, 1973 I told the Court that after (female civilian witness) had been taken from the studio room, Albert Cabral, who had also been watching the film, indicated two people in the line-up to Supt. Wright. He indicated them by sequence as they stood in line. One was Dennis Bean and the other was defendant Larry Tacklyn. Two days later a majority verdict of 'Guilty' on all three counts charged against Tacklyn was rendered after 80 minutes of deliberation. A total of 15½ years imprisonment was meted out to Tacklyn for his part in the robbery by the Hon. Mr. Justice Barcilon who sentenced him to one year for possession of an offensive weapon; 14 years for armed robbery and six months for depriving Cabral of his liberty. Tacklyn subsequently lost his appeals in this matter.
On 27th October, 1976 at the Supreme Court trial of Tacklyn for the Shopping Centre murders I replied as follows during my evidence in chief to questions asked by Crown Counsel Alistair Gunning:
"Did (female civilian witness) indicate a man to you and Mr. Wright?"
"She did. A specific man she had seen on the film."
"Did that relate to the line-up of men on the film?"
"Yes. Relating to a specific man in the line-up"
"Which man did it relate to?"
"The defendant Larry Tacklyn"
Mrs. Browne Evans for the defense protested, saying that no evidence had been brought forward as to what was on the film, and the court did not know what was being talked about. Legal argument ensued having to do with the introduction of this similar fact evidence, and with defense counsel's conduct concerning her knowledge of what had happened to the film in question. The Chief Justice said that he felt Mrs. Browne-Evans may have been mistakenly making an objection. There was a lack of any defense, other than a general denial by Tacklyn from the dock.
Tacklyn was sentenced to death after his conviction for the Shopping Centre murders. After unsuccessful appeals led by Ian Ramsey, QC, Burrows and Tacklyn were hung during the early morning hours of Friday 2nd December, 1977.
I maintained an occasional personal contact with Cabral until he left Bermuda in August 1977 and settled elsewhere. Upon his departure he had no intention of ever returning to the island. Cabral left no forwarding address but some months later I was able to facilitate communication between Bermudian authorities and Cabral and obtain his new address abroad together with a separate contact telephone number, not associated with the address, which I passed on to certain local authorities at their request.
In October 1976 a slew of officers received recognition from various authorities for their contributions to the murder investigations. Their names are listed in G.O. 41/76 October 1976. My own award from the Attorney General reads as follows:
ATTORNEY GENERAL'S COMMENDATION
The Attorney General has been pleased to commend the following personnel for their outstanding work in the investigation and preparation of the R v Burrows & Tacklyn case.
To: Detective Sergeant 59 George F. Rose
It was later ruled [by London] that Governor Sir Richard Sharples had NOT been killed "in the line of duty". Furthermore, it was revealed that his widow Baroness Sharples had been forced to sell her family home in order to pay death duties.
During early 2005 I received an email from writer and author Mel Ayton requesting my help in the early stages of his research into a book he intended to write concerning the murders. Ayton told me he had spent about 2 years in Bermuda as a Prison Officer between the years 1971 – 1973. He recalled meeting Larry Tacklyn each morning when he unlocked Tacklyn's cell door only to be greeted by a malevolent stare and surely attitude. He had more to say about Tacklyn. Ayton also looked after Bobby Green and Paul Belvin during those years.
Although strict confidentiality for prospective sources was promised (sources were to remain unknown to each other) I told Ayton that I was reluctant to correspond with him using the email system. I suggested that his best way forward was to visit the island in person whereupon I would assist him in arranging face to face introductions with a number of the characters having intimate knowledge of the murders. Seemingly however, Mel had difficulties with his US publishers who were reluctant to finance his trip to the island. Near the end of my final email with him I confirmed that he was indeed "accurately placed in the middle of the nest." The last email contact from him included – I believe by mistake – the email addresses of 45 of his contacts, including my own. The list was revealing to say the least.
Justice Denied would not have been possible without the assistance of many people, including former police officers who had first-hand knowledge of the murder investigations and who knew many of the participants in the conspiracy to murder the Governor. Some of them wish to remain anonymous – and for good reason. They are either living on the island or they live in Britain or the United States and continue to visit Bermudian relatives and friends. ……. .
Source: Ayton, Mel. Justice Denied. Page 3. Strategic Media Inc., Rock Hill, SC
….. In the period 2004/2005 information I discovered in the Scotland Yard Files was given to a former senior police officer involved in the murder investigations. He wished to remain anonymous as he still lived on the island. The senior officer reached the rank of Superintendent which put him in the top half dozen officers on the island. According to one of his former colleagues in the force, "…….he was an honest man and took his job seriously and professionally…..he was one of those people who if he told you to do something you did it not only because it would be an order but because you knew it was right and that he would back you up if there was subsequently any problems; you could trust him….. He was privy to a great deal of information and procedures…..He was someone with 'status'" (4)
The senior officer said the information I supplied to him went beyond anything published in the Mid Ocean News' series on the assassinations. He also said I was correct in my conclusions about who was to blame for the assassination of the Governor and the police chief and that I was "accurately placed in the middle of the nest."(5).
Source: (5) Letter [dated 28 March 2005] from Bermudian Senior Police Officer involved in the assassination investigations and who wishes to remain anonymous, 28 March 2005.
Ayton, Mel. Justice Denied. Page19. Strategic Media Inc., Rock Hill, SC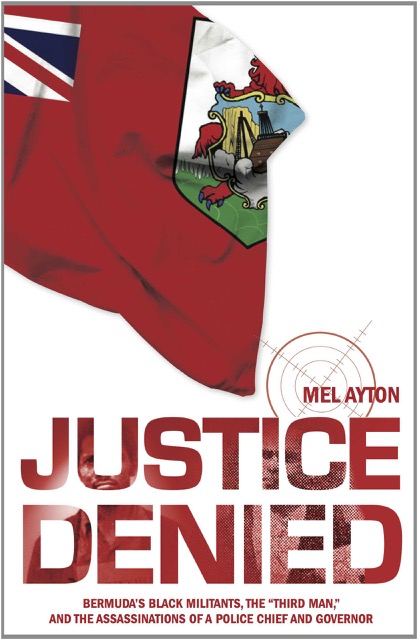 Editors note - In March 20134 we published a Press Release about the launch of Mel Ayton's extensive book on the murders of 1972 and 1973. CLICK HERE for the release.
Justice Denied provides a fascinating insight into the murders and assassination and is available at Amazon.com CLICK HERE for the link.
Here are two reviews taken from Amazon -
"Mel Ayton has written a superb portrait of an enraged island on the verge of collapse…Ayton's decade of research exposed what he demonstrates clearly is the real story behind the murders, the hangings, and the riots that ensued… It's fortunate that Mel Ayton took on the job of telling the story behind the murders and riots because the media could not.

Ayton's character detail-both victims and accused-deliver outstanding examples of professional journalistic follow-up for which he is well known, having investigated and published investigations of the controversies surrounding the John F. Kennedy assassination and the murders of Senator Robert F. Kennedy and the Rev. Martin Luther King. His reporting of details that only those directly involved would know, along with official secret communications, and trusted correspondence with the murdered governor's widow, all were the products of hard digging and commitment.The proprietorship of Justice Denied frightened more than a few publishers, despite Ayton's judgment and clarity.
Fortunately, Ayton and his agent didn't despair. Readers will find that in this new publication, Ayton tells the story wisely and clearly, deciphering the obvious tale and leading us through a maze that some in Bermuda continue to deny exists.Ayton has compiled a portrait of an island in denial when it comes to crime and politics that threatens to cast a dark shadow on Bermuda, neither sugar coating, nor shaping his work into morbid excess. Although charades recounted here likely will make your blood boil, as does mine, Ayton's tenor is not anger, but objectivity".

Dr. Carol Shuman, author and former columnist with the Bermuda Sun.
"Murders in paradise... Mel Ayton has proved in previous books that he has a consummate skill for unravelling the facts behind conspiracies or debunking them where they don't exist (JFK, RFK, MLK to name but three). His latest book is no exception. It reads like a thriller but every word is true and his telling of racism, riots, murders, and cover-ups on Bermuda makes this an unputdownable page-turner."