Diane Donald
Special Branch and Commissioner's Secretary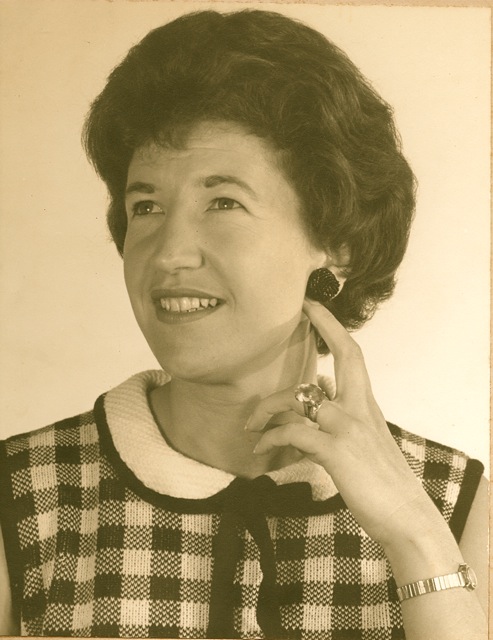 Diane Donald - photograph taken by John Logan
while she was working at Police Headquarters
Diane Donald gained a unique insight into the inner workings of the Bermuda Police Force when she was hired in June 1961 as a secretary at Police Headquarters, Prospect, where she helped in the setting up of Special Branch before becoming secretary to the then Commissioner of Police, George H. Robins.
Diane was born and raised in London, England, and prior to arriving in Bermuda with her husband in December 1960 she had worked for five years in a secretarial capacity for the CID in two Divisions of the Metropolitan Police - first in "S" Division, Hampstead, and then in "Y" Division, Wood Green. Her duties had included attending both the Old Bailey and the County of London Sessions to record notes. She gained tremendous experience working with police officers who were investigating a wide variety of cases ranging from simple shoplifting to major frauds and serious criminal cases.
On arrival in Bermuda, Diane brought with her three books of shorthand notes taken at an internal disciplinary hearing for a Metropolitan police officer who had been charged with the heinous crime of being found asleep in the back row of a cinema when he was supposed to be on duty - serious stuff! Diane had taken the notes shortly before leaving England and she breathed a sigh of relief shortly after arriving when she was advised that the officer had decided to plead "guilty" so she was spared the task of having to transcribe her notes.
Diane's husband Reg had been hired as Company Registrar with a Shipping Company in Bermuda, and it was six months after their arrival here that she secured a position as secretary to Superintendent Jim MacGregor, who along with Superintendents Harry Saunders, Frank B. Williams, and Dick Fielders, had been brought in as heads of the Force being completely re-organized by Commissioner George H. Robins. Diane was interviewed for the position by Ian Morrison who describes her as an excellent secretary.
Diane's first task was to help in setting up Special Branch with the assistance of a member of MI 5 who came out to Bermuda for a 5 week stint to work with the local staff comprising just four officers, Superintendent McGregor, Ian Morrison, Peter Stubbs and Jim Hanlon. As she points out, there were no computers in those days, and it took 5 weeks just to set up what seemed, at the time, to be a complicated cross referencing filing system.
During a recent interview Peter Stubbs recalled that Diane was always impeccably dressed and with a ready smile. She was highly efficient, and the very fact that she was hired to help set up the original Special Branch, with total access to all files, was indicative of the trust in which she was held. Peter described Diane as everybody's favourite.
After 2 years in Special Branch, Dianne was transferred to Administration and worked as secretary to Commissioner Robins. Diane says she really loved the job in spite of the sweltering non-airconditioned offices! In those days Thursday afternoons were half-days for most businesses in Bermuda, and very often Diane would find herself the only person working at Police Headquarters because she didn't work on Saturday mornings.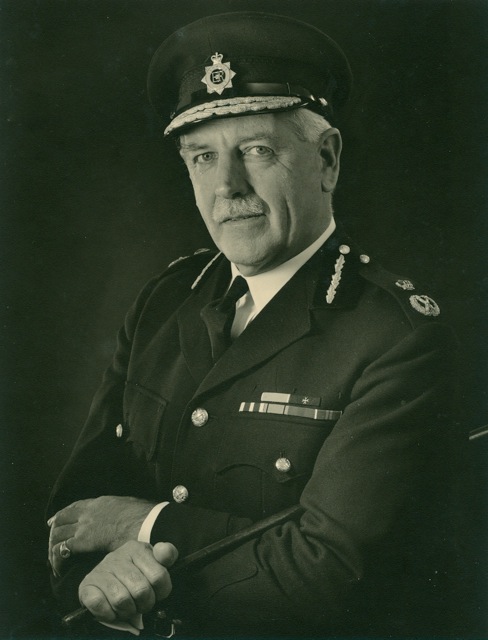 Commissioner of Police George H. Robins
Diane says she thoroughly enjoyed working for Commissioner Robins who, she points out, had a superb command of the English language, and always commanded respect. She would never have considered calling him by his first name although the by then Deputy Commissioner Frank B. Williams suggested that she call him "Frank" – also something she never did. Diane worked with Superintendent Dick Fielders who was then in charge of CID, and Chief Superintendent Harry Saunders. She performed a variety of secretarial duties including taking notes at disciplinary hearings, taking dictation for letters and reports - some of which would be highly confidential - and then transcribing them.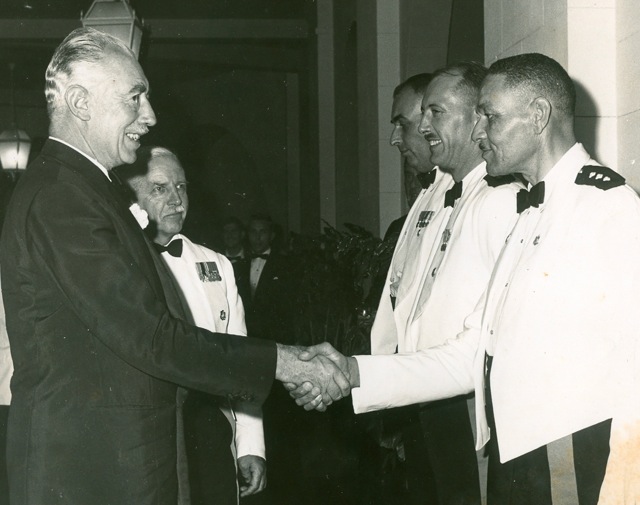 H.E. Major General Sir Julian Gascoigne is introduced to Chief Inspector Oliver Trott
by Commissioner George H. Robins. To the immediate right of Chief Inspector Trott
is Supt Joseph Nixon, and to his right Supt Harry Saunders. These Officers
were all serving in the Police Force while Diane was working at Police Headquarters.
Diane believes that to the best of her knowledge, the first time Bermuda Police Officers ever carried firearms was during the Harold MacMillan/John F. Kennedy Conference held in December 1961.
She also recalls the 1965 BELCO Riots which rocked Bermuda. However, on the first day of the riot, February 2nd 1965, she remembers that all the senior officers left Police Headquarters and she was left to her own devices and asked to lock up when she finished for the day.
One particular case that stands out to her was the tragic case of a young lady who had been babysitting and was brutally murdered. Two Scotland Yard detectives were brought out to assist with the investigation, and they were surprised when it turned out, coincidentally, that the culprit was named Trott, and the excellent detective in charge of the investigation was also named Trott - Detective Chief Inspector Oliver Trott (no relation to the culprit), and if memory serves her, one of the witnesses was also named Trott. Diane says it made the two Scotland Yard officers realize that Bermuda is indeed a tiny Island!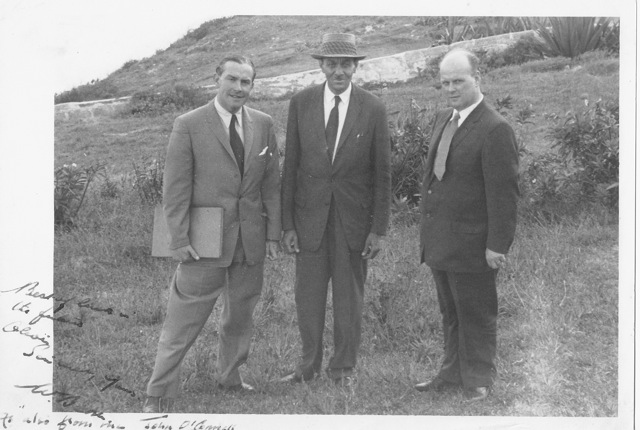 This photograph, kindly provided by Mrs. Trott, shows her husband, then Detective
Chief Inspector Trott with two Scotland Yard detectives who came to Bermuda
to assist with a major criminal investigation. We are not sure if they assisted with the
murder investigation of the baby sitter or with the Warwick Murders.
We would appreciate any assistance in confirming which case they investigated.
Diane left work in 1965 to have a baby but she still has fond memories of her four years with the Bermuda Police Force. She resides in Bermuda with her husband Reg who is now retired. Their daughter, Kimberley (Hughes) also lives in Bermuda with her husband Alun, and their two lovely granddaughters, Madison 16 and Phoebe 14.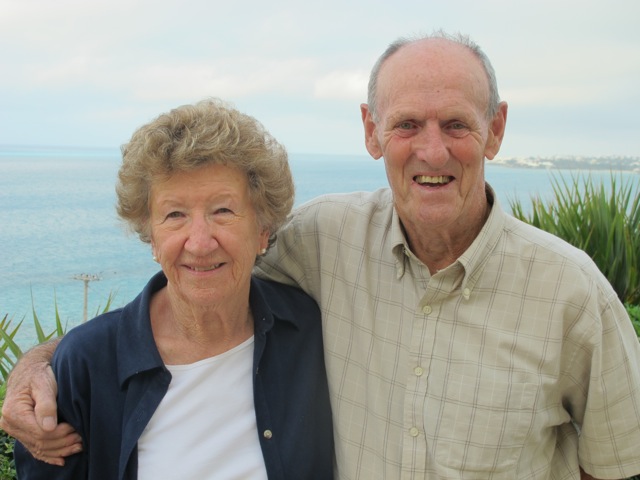 Diane with her husband Reg