EDITORS NOTE - We thought that the following article published in the Royal Gazette on 12th August 2022, might be of interest to our ExPo members, and it clearly shows that the more things change the more things stay the same! As any of our colleagues know if you have served in the Narcotics Department, in CID, or in literally any branch of the Bermuda Police Service, the scourge of illegal drug use has been plaguing Bermuda for as many years as anyone of us can remember, and it continues to do so. Bernews also reported extensively on this drug operation (CLICK HERE to view the Bernews article)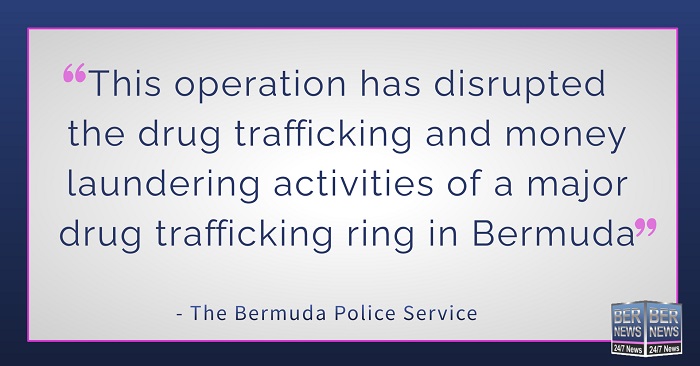 Graphic from Bernews article
The Royal Gazette published an article on 12th August 2022 (CLICK HERE to read it) about a major operation carried out recently targeting a "major" drug trafficking ring and resulting in the seizure of drugs with a street value of $500,000, together with $25,000 in cash, the removal of eitght illegal dogs, and six arrests:-
A "major" drug-trafficking ring has been broken up after police seized drugs, including cocaine, heroin, ecstasy and cannabis, with a street value of $500,000, in raids on five houses.
Officers also netted $25,000 in cash, removed eight illegal dogs and made six arrests.
A spokesman for the Bermuda Police Service said that a team from the BPS drug unit was aided in the sting on August 4 by the Serious Crime Department, Financial Crime Unit and Tactical Division.
Officers executed five search warrants at five residences in Smith's.
The police spokesman said that the raid yielded "several packages" with their contents suspected to be cocaine, heroin, ecstasy and cannabis, along with more than $25,000 in cash.
"Police also seized two hydroponic systems, designed to grow cannabis indoors, as well as a quantity of high-value goods suspected to be acquired from the proceeds of criminality.
"Six persons have been arrested in relation to this operation."
He added that police, assisted by animal wardens, also removed eight illegal dogs from some of the properties that were searched.
Detective Chief Inspector Sherwin Joseph, of the Specialist Investigations Department, said: "This operation has disrupted the drug-trafficking and money-laundering activities of a major drug-trafficking ring in Bermuda."
It comes after Michael Weeks, the Minister of National Security, vowed this summer to take a tougher stance against "violence, drug trafficking and drug-related activity, particularly targeting high-crime neighbourhoods"
Michael Dunkley, the Shadow Minister of National Security and the One Bermuda Alliance MP for Smith's North, said: "With the announcement of the police raid last week, the OBA supports the hard work of police in dealing with these challenges we face in our community.
"Drugs, illicit gains and money laundering are big challenges in Bermuda that we must deal with. Police need our support as they conduct operations that are critical to the safety of our community."
Mr Dunkley said that as a former minister he knew police were "facing a tough time on a limited budget".
"It's painstaking work that they do. Now the work remains to charge people and bring closure."
He added: "To have a number of illegal dogs around a house sends warning bells.
"Unfortunately it's been my experience that human beings who aren't raised in an appropriate way and do not have strong character and integrity will keep pushing the envelope."
He said that the community "can't continue turning a blind eye" to the illicit drug trade, adding: "We cannot afford to have people with ruined lives."