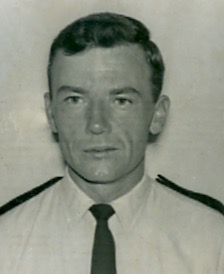 John Mulholland
We were saddened to hear of the death of our old friend and former colleague, John Mulholland, who passed away on Thursday 28th July 2022, in Santa Barbara, California, where he had settled in 2004.
We received the news from his daughter Zoe who has kindly provided us with information about her father which we have posted here in an article on our website.
John served here in the Bermuda Police from May 1961 - October 1971 working in uniform and in CID. He was an active member of our Police Drama Group, and a "survivor" of our first Boxing Tournament! CLICK HERE to view our article.
John is survived by his wife, Pearl, daughter Zoë Mulholland, son David Mulholland (Gail), grandchildren Liam and Lexi, younger siblings William Mulholland and Elizabeth Jent, nephews Phillip and Michael Jent, Roy, Neil and Andrew Dingwall, and neice Hedda Mulholland. He is predeceased by younger sister Isabella Dingwall (George).
We understand that John will be cremated and his ashes buried with Pearl's when it is her time.
We extend our sincere condolences to John's wife, children, grandchildren and his family and friends.
12th August 2022