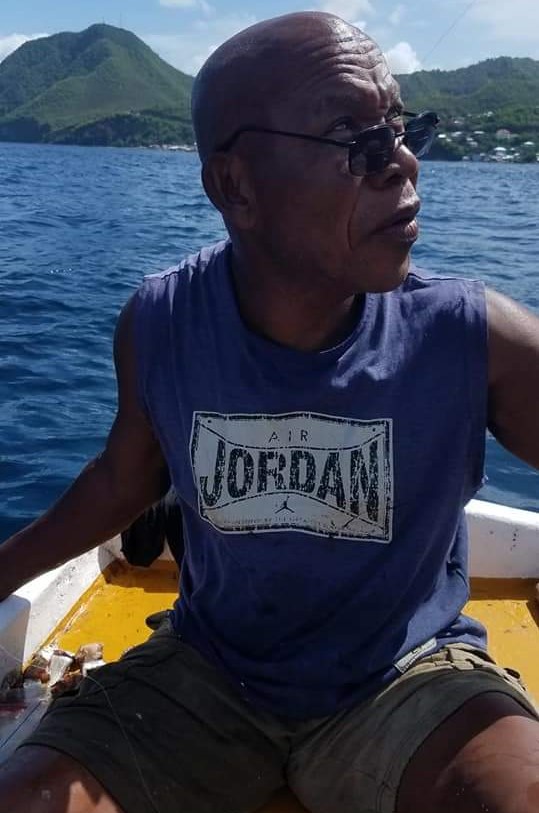 Huron Vidal
It's now a week since our good friend Huron Vidal has been missing at sea off the coast of Dominica when he was last seen around 8.30am last Thursday 11th August in his boat heading off to sea.
His family is still hoping and praying that Huron will be found safely and his daughter, Brianna, has asked the public and fisherman, "Now and again it would be good if you could just glance on the water and see if you see anything at all because we would really like to have my dad back home," she stated.
Meanwhile, acting inspector of police Fixton Henderson has revealed in a media statement that at about 1 pm on August 15, fishermen from the community of Colihaut discovered what appeared to be human remains while at sea.
The Inspector noted that the unidentified remains which were found outside the coast of Bioche were handed over to the Commonwealth of Dominica Police Force (CDPF) via the coast guard and are being stored at a funeral home while investigations continue.
We continue to hope and pray that Vidal will be found safe and sound.
CLICK HERE for the latest update on Dominica News Online
6th January 2023
TRIBUTE IN LOVING MEMORY OF HURON VIDAL - As many of our members will be aware, our good friend and colleague, retired Sergeant Huron Vidal, went missing at sea off the coast of Dominica on 11th August 2022. CLICK HERE for our report about Huron being reported missing. We had hoped and prayed for good news that he would be found safe and sound, but sadly Huron has never been found and it is presumed that he was lost at sea.
We have now received poignant video of a Mass for Enlightenment and Peace held in Loving Memory of Huron at the Dublanc Catholic Church in Dominica on Sunday 4th December 2022. CLICK HERE to view the video.
Huron joined the Bermuda Police Service in April 1976, and served for 28 years as a popular first class police officer before retiring in January 2004, during which time he had been promoted to Sergeant and had worked for several years in Marine Section.
We again offer our sincere condolences to Huron's family on their tragic loss.