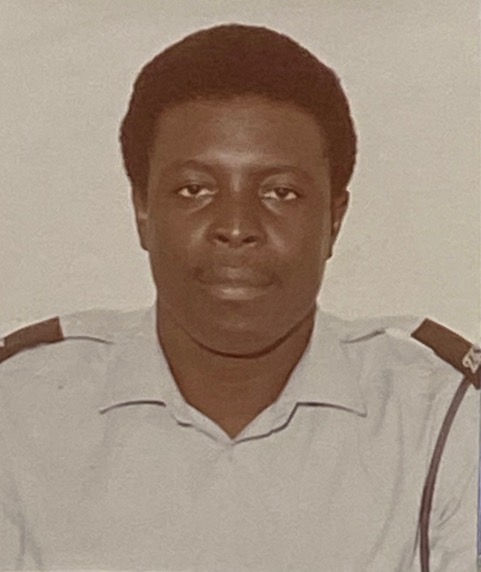 Young P.C. David Gibbons
We were deeply saddened to hear the news that our good friend and former colleague, retired Sergeant David Andrew Gibbons, passed away in Barbados on 23rd August 2022.
David was born and raised in Barbados and he joined the Bermuda Police as a young constable on 14th March 1968. He attended Basic Training Course #10, being one of six officers recruited in Barbados, together with Bermudian recruits several of whom had passed through Cadet training.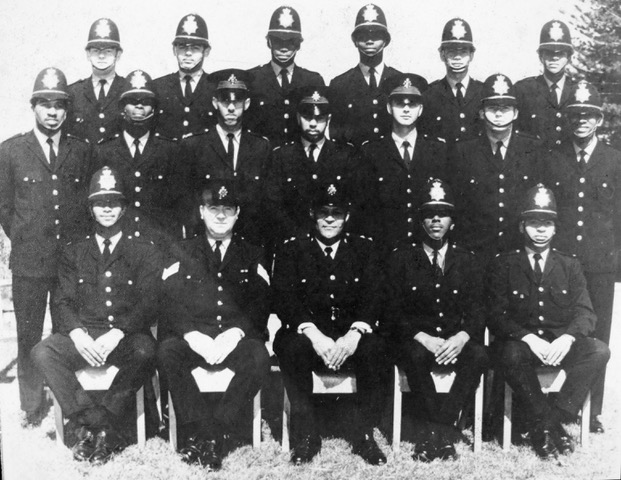 Basic Training Course #10
Back row (l-r) P.C.'s Howard "Stumpy" Kirkham, John Harvey, Lionel Haynes,
Willhelm Bourne, Louis Griffith, Archie Warner,
Middle Row - Curtis DeGraffe, David Gibbons, Colston "Jack" Eve, Edward Bailey,
Stephen Petty, Jerome "Jerry" Perry, Winston Esdaille,
Front Row - Dennis Ramsay, Sgt John Cafferkey, Inspector

William Maurice "

Syke" Smith,
P.C'S Noel Burgess and Michael Phillips.
Following graduation David served for 18 months in Western Division prior to transferring to Central Division from August 1969 until June 1971 at which time he was posted on Mobile Reserve.
In 1972 David was appointed Parish Constable for Pembroke East until his transfer to Eastern Division in 1975. He was promoted to Sergeant in January 1979 whilst in Eastern Division where he was appointed Divisional Clerk in 1982 and became a Watch Sergeant (Sgt 49) in Eastern Division in 1987.
David was awarded his Long Service and Good Conduct Medal in 1986, and for several years he was in charge of Airport Control until his retirement in September 2000. Following his retirement from the BPS David continued to work at the Airport as a trainer for airport security personnel.
David was much loved and greatly respected by all who served with him. CLICK HERE to view the many comments we have received from his colleagues and friends on our ExPo Fcebook page.
We send our sincere condolences to his children, David Andrew Jnr, Dawn Gibbons, Pamela Hill, and all of David's family and many friends. We will keep you informed of funeral arrangements.
___________________________________________
27th August 2022
EDITORS NOTE - We have received the following letter from Commissioner of Police, Darrin Simons regarding the Passing of Retired Sergeant 43 David Gibbons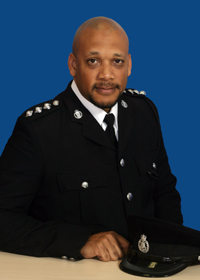 Commissioner of Police Darrin Simons
Dear Colleagues,
We learned this week, of the passing of one of our BPS family members, former Sergeant 43 David Andrew Gibbons.

David Gibbons was born in Barbados on 18th September 1945, and joined the Bermuda Police Service as a Police Officer on 14th March 1968.

He was assigned to Western Uniform patrol on completion of his training on the 23rd June 1968, where he remained until 2nd August 1969, before being transferred to Central Uniform where he worked until 1971.

Still in the rank of Constable, he was transferred to Central Parishes (Pembroke East) on the 7th January 1972, where he worked for three (3) years. In June of 1975, he was transferred to Eastern Uniform and in February 1977, he passed his Sergeant's exam. On the 1st January 1979, Constable 43 David Gibbons was promoted to the rank of Sergeant. He went on to become the Eastern Divisional Clerk on the 20th October 1982.

Between the 31st January and 11th February 1983, he attended an Instructional Techniques Course and between the 7th March and 25th March 1983, Sergeant Gibbons attended a Corporal/Sgt's Management Course in Brampton Ontario. On the 30th November 1987, Sergeant David Gibbons was posted to Eastern Division as a Watch Sergeant, where he worked until his retirement. Sergeant Gibbons was a supervisor and mentor to many, which included myself, A/DCOP Mrs. Astwood and ACOP Mr. Weekes, to name a few.

Sergeant 43 David Gibbons retired from the Bermuda Police Service after 32 years of dedicated service to the people of Bermuda, on the 18th September 2000.

Retired Sergeant 344 MacDonald, also JCI Senator 50961 (1992-1993 JCI Vice President), kindly shared with me the tribute below about Sgt. Gibbons.
Our thoughts and prayers are with his family which include his children David Gibbons, Dawn Gibbons and Pamela Hill. His grandchildren; Taylor Hill, Chelsea Hill, Jaiden Hill, Noah Kipps-Gibbons, Miles Kipps-Gibbons, and Jacob Ratteray, friends, former colleagues and loved ones during this time of bereavement.
Darrin Simons
Commissioner of Police
Bermuda Police Service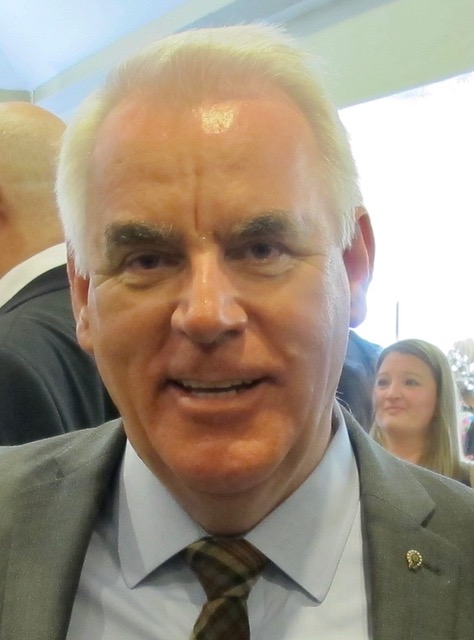 Retired Sgt. Alex MacDonald
It was indeed quite a shock to get your message earlier today. David Gibbons was a mentor to me as a Police Officer and as a Senator of Junior Chamber International (JCI). Below is a brief note on his activities in the Bermuda Junior Chamber, more locally known as the Bermuda JC's...

"Sergeant David Gibbons was one of the founding members of St. George's Junior Chamber back in the early eighties. He worked alongside other members of the St. George's community on such projects as the St. George's Christmas Parades, the Festival of the Performing Arts, and numerous leadership projects. Working with other Bermuda Chapters of the JC's, he undertook working alongside Sir John Swan and William Ingham in establishing Bermuda's first aluminium can recycling centre in 1988, and continued to work alongside other JC volunteers until 1991 when Government took over the recycling project.
Sergeant Gibbons also represented Bermuda JC's overseas at numerous JCI Global Conferences around the world. In 1985 he was with the Bermuda delegation in Cartagena, Columbia, when JCI Senator CC Gail Simmons became the first female Executive Vice President of the global organization. Ten years after he first joined Bermuda JC's, Sergeant Gibbons received the highest award by the international organization and became Senator 42206 and joined many prominent individuals from all corners of the world as a life time member of the Junior Chamber International Senate. Senator Gibbons was an active member of St. George's and Bermuda JC's until he retired and left Bermuda for his home country of Barbados."
Alex MacDonald