25 May, 1937 – 28 July, 2022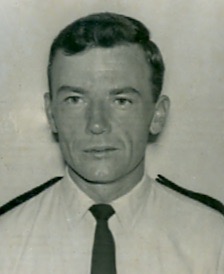 Young P.C. John Mulholland
We were deeply saddened to hear of the death of our old friend and former colleague, John Mulholland, on Thursday 28th July 2022, in California. John had served here in the Bermuda Police from 30th May 1961 - 31st October 1971. We were advised of his death by his daughter, Zoe Mulholland, who very kindly provided us with the following information about her father.
The son of a Royal Navy Commander, John was the oldest of four children and at the age of eighteen, started his national service in the Royal Air Force, stationed in Malaysia and Singapore.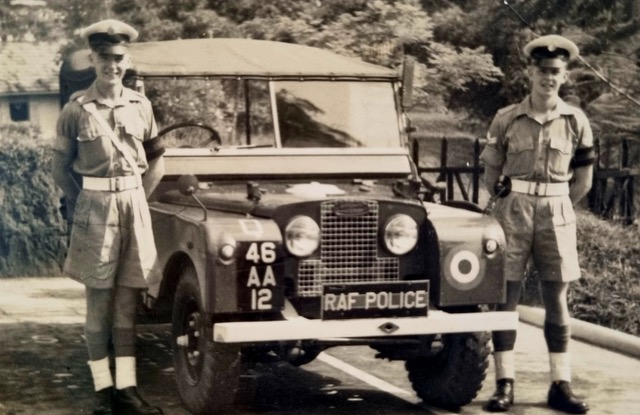 John (left) in the RAF Military Police, Singapore - 1956
He became a military policeman and upon return to Edinburgh in the late 50's, joined the Scottish Police Force and served in the Lothian and Borders Police in Edinburgh before being recruited by the Bermuda Police.
John joined the Bermuda Police on 30th May 1961 and worked in uniform and in CID during his ten years in the Bermuda Police Force.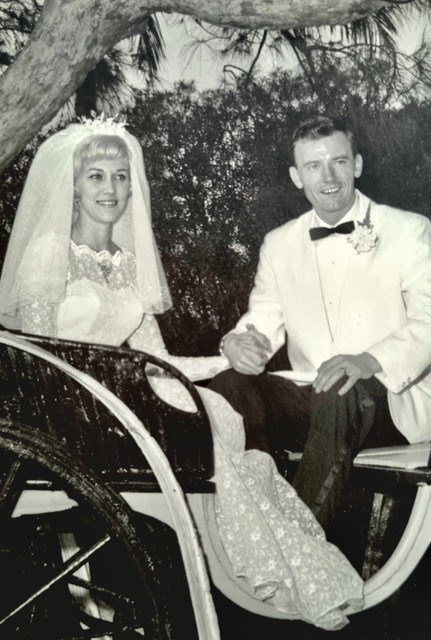 John and Anna riding in their wedding carriage - 1963
In 1963 he married Anna Mulholland (nee Labanti) and they had two children, David and Zoë.
John was an active member of the Police Drama Group and performed in several of the Police productions at City Hall theatre. His first appearance was as Able Seaman "Haggis" McIntosh in 'Seagulls Over Sorrento'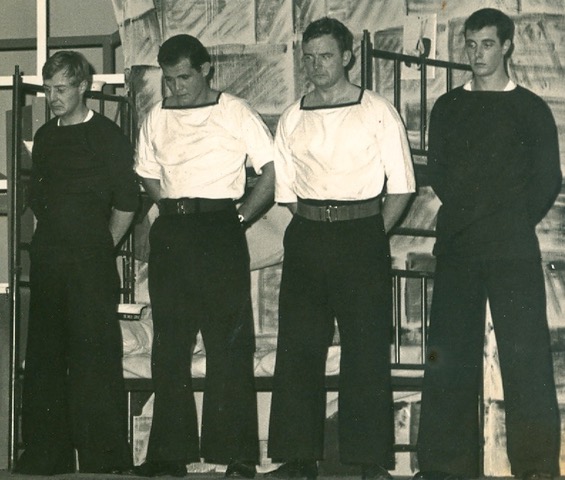 Scene from 'Seagulls Over Sorrento'
(l-r) "Dusty" Hind, Jack Rouse, John Mulholland, and Roger Sherratt
This was followed by John playing a villainous role in the comedy "Arsenic and Old Lace" and an appearance as a peace-loving pipe smoking medical student in "Doctor in the House" in which his beautiful wife, Anna played the part of a nurse.
John went on to appear in a memorable production of R.C. Sherriff's "Journeys End" as the somewhat pompous Colonel, probably the most ambitious of all the plays tackled by the Police Drama Group with its large all male cast set during World War 1. This play swept the board in the 1967 annual Bermuda Sun "Sunburst Awards" (Bermuda's version of the Oscars) winning Play of the Year, Director of the Year, and the Best Supporting Actor was awarded to John Mulholland.
John made his last appearance for the Police Drama Group in the comedy "If Men Played Cards as Women Do' during Bermuda's first One Act Play Festival.
CLICK HERE to view a comprehensive article on the History of the Police Drama Group
John also made history as a participant in the first ever PRC Boxing Tournament held in 1969, which became one of the most popular events on the Police sporting calendar. John fought as a heavyweight in the final fight of the night, and although John was on the losing end in this bout he deserved a great deal of credit for stepping into the ring with Jack Rouse. CLICK HERE for our article on the First Boxing Tournament.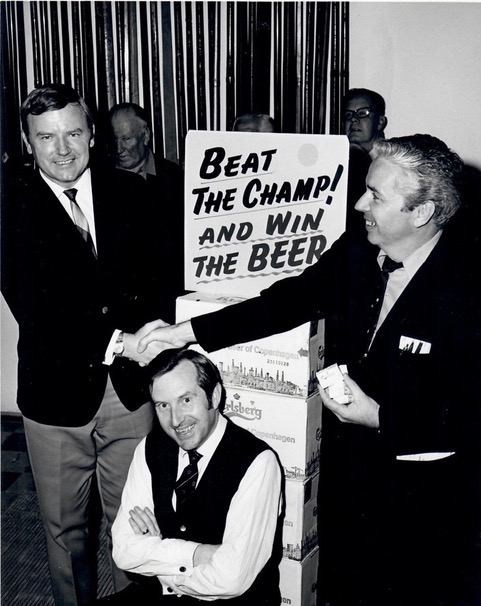 John receives his prize for
beating the World Snooker Champion
John was a member of the Police Football Club. He was also an excellent snooker player as he clearly demonstrated when he had the good fortune of 'Winning the Beer' when he beat the reigning World Champion of Snooker in the early 1970's. A consummate entertainer, John could often be found back in the day sidled up next to 'Goldie' at Henry VIII's, belting out tunes and tickling the ivories.
John left the Police Force in October 1971 and worked for several years at Sunlife Insurance before moving back to Scotland in the late 1970's where he managed a fitness gym and also gave private driving tours in and around Edinburgh and the Scottish Highlands. He did a quick stint as a gold prospector in Australia but when that didn't 'pan' out he headed back to Scotland. He returned to Bermuda in 1999, and joined fellow former police officer, Paul Field, at Safeguard Security.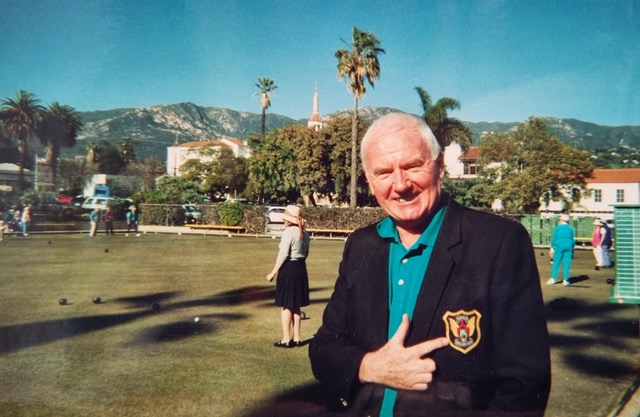 John at the Lawn Bowls Club in Santa Barbara
In 2004 John left Bermuda and settled in Santa Barbara, California, where he married his third wife Pearl in 2005. John spent his retirement playing and teaching one of his favourite pastimes, lawn bowls; a sport he excelled at throughout his years in Scotland. His mother, Maisie, had been a lawn bowls champion.
John and Pearl in happy times
Sadly, John had been in failing health for some time, suffering from Alzheimer's. He and his wife Pearl were both were in hospice care at the time of John's death.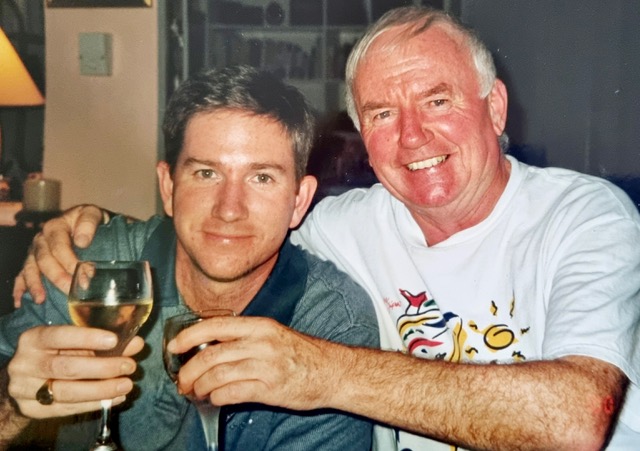 John with his son Dave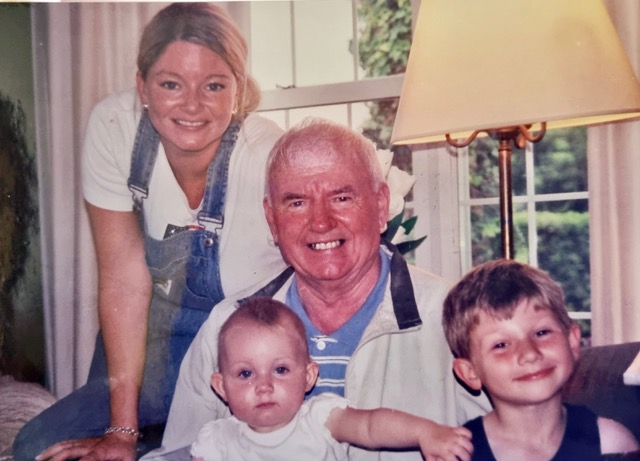 John with daughter Zoe and his grandchildren Lexi and Liam
John is survived by his wife, Pearl, daughter Zoë Mulholland, son David Mulholland (Gail), grandchildren Liam and Lexi, younger siblings William Mulholland and Elizabeth Jent, nephews Phillip and Michael Jent, Roy, Neil and Andrew Dingwall, and neice Hedda Mulholland. He is predeceased by younger sister Isabella Dingwall (George).
EDITORS NOTE - We understand that John will be cremated and his ashes buried with Pearl's when it is her time.
We extend our sincere condolences to John's wife, children, grandchildren and his family and friends.
12th August 2022