Researched and written by retired
Det. Superintendent George Rose CPM
.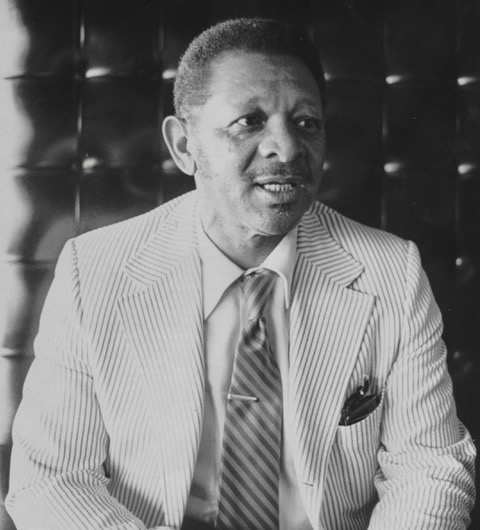 Sgt. Charles Edward Williams
aka 'Bongo' or 'J.J.'
(1914 – 2000)
According to information recorded in the Bermuda Police Force Personnel Register, Charles Edward Williams was born in the United States of America on 13 August, 1914. Additional on-line information reveals him to have been born in the state of Kentucky to parents Jesse (sic) and Fannie Williams.
The 1920 US Federal Census [enumerated on the 15th January] for Cynthiana City, Harrison County, Kentucky shows the Williams' family in rented accommodations at 120 Penn Street where Charles is aged 6 years. An older sister by the name of Jessie May aged 10 years together with a younger brother by the name of James Henry Williams aged 2 years and 9 months of age are also recorded. All of the family members including Charles are shown as having been born in Kentucky, USA.
The Census records the family race as mulatto with the Head of the household Jesse Williams then aged 32 giving his occupation as a 'Plasterer'. Jesse's wife, Fannie, is shown as aged 30 years.
When and under what circumstances Charles arrived in Bermuda has not been ascertained but, on 29 April, 1935 at St. Mary's Church, Warwick, at the age of 21 Charles married Helen Ailine Olive who, the Register revealed, was born on 20 September 1912. They lived at "Sundial Cottage" #31, Ord Road, Warwick Parish at that time when Charles gave his occupation as that of mason.
[No wedding day photographs could be located]
JOINING THE POLICE FORCE
World War II commenced on the 3rd of September, 1939 and some eight months later on the 1st May, 1940 at the age of twenty-five Charles was appointed to the Bermuda Police Force on a six months' probationary period. His first posting was to Hamilton where he remained for just over 20 years with a short stint in the Western parishes.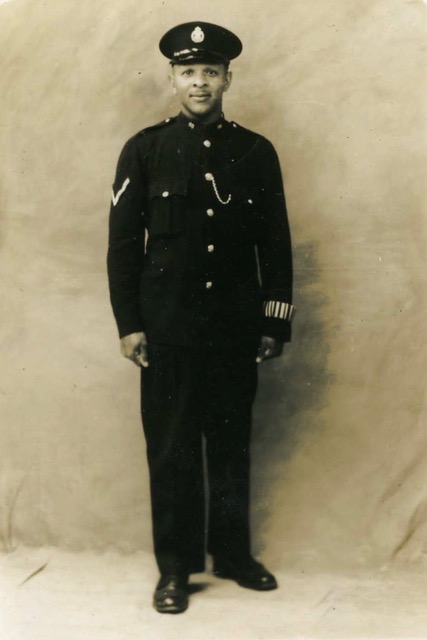 P.C. Charles Edward "Bongo" Williams
COURT APPEARANCE FOR YOUNG CONSTABLE WILLIAMS
On the 9th April 1941, Constable Williams engaged in one of his first court appearances reported as follows in the Royal Gazette and Colonist Daily (RG&CD): –
NAVAL RATING CHARGED WITH BREAKING WINDOW
"Charles Sidney Silence, a rating at H.M. Navy, appeared before the Wor. H.M. Godet in the Hamilton Police Court yesterday morning on a charge of breaking a plate glass window of premises in Washington Lane, Hamilton, about 8.45 o'clock on Tuesday night. Silence pleaded guilty to the charge.
"Constable Williams stated that he found the accused lying on his face in Washington Lane in an intoxicated condition shortly after the accused had kicked in the window. The witness did not see the accused actually put his foot through the window
"The accused said he had had a few drinks and was sorry he acted in such a manner. An officer who appeared in court gave Silence a good character and added he was a good man aboard ship.
"The magistrate bound the accused over to come up if called upon, and ordered him to pay for the repairs to the window, amounting to £3."
On the night of the 6th January 1944, Constable Williams involved himself in perhaps one of the Island's earliest car speeding offences. The case was reported as follows in the RG&CD on January 24th:
R.N. MOTOR DRIVER IS FINED £2 FOR SPEEDING
Judge is Lenient When Told Accused To Be Disciplined
"Lawrence Joseph Pear, a Royal Navy motor driver was convicted in Sandys Police Court on Friday before the Wor. C.Tucker Fowle J.P., Magistrate for the Western District, on a charge of exceeding the speed limit.
"Because a representative of the Royal Navy, who appeared on behalf of the accused, told the court that Pear would be disciplined for the offence, Mr. Fowle said he would deal leniently with him. A fine of £2 was thereupon imposed.
"Charles Edward Williams testified that on the night of January 6 at 19.30 o'clock he was on duty on the Middle Road in the vicinity of the Belmont Manor Hotel when he observed a green station wagon proceeding towards Somerset at a speed which he estimated was between 30 to 35 miles an hour.
"The witness said that immediately behind the station wagon was another car which appeared to be trying to overtake it. Afterwards the second car returned and he obtained a report from the driver.
"An American Naval Officer, Lawrence Crum stated that at about 10.30 p.m. on December 6 he was in a car on the Middle Road when a green station wagon over-took him. The latter vehicle appeared to be travelling at an excessive speed. He followed it, eventually over-taking the fast moving vehicle and obtaining particulars from the driver.
"He subsequently reported the incident to Constable Williams.
"The accused pleaded guilty."
BREAKING AND ENTERING AT LOBLEIN'S STORE, WARWICK
A case of breaking and entering of Loblein's Store in Warwick was thwarted by Charles who came upon the crime scene in progress whilst on patrol in the early morning hours. Court case proceedings were reported as follows by the RG&CD on October 25, 1944:
YOUTH IS CHARGED WITH BREAKING AND ENTERING
Attempt To Commit A Felony Alleged In Court Hearing
"William Desilva, a 17 years old youth of Paget, appeared before the Wor. R.J. Tucker, Acting Police Magistrate for the Western District, in Hamilton Police Court yesterday, charged with breaking and entering O.R. Loblein's Store, Snake Road, Warwick, together with a juvenile, with intent to commit a felony therein, during the early hours of October 11. DeSilva

[believed to be William 'Shoebox' DeSilva of unceasing notoriety for many years thereafter]

was represented by Mr. T.N. Dill.
"Opening the case for the prosecution, conducted by Superintendent Miller, David DeCouto, the manager of the premises, described the building, saying there was a window near the back door which had a tear in the wire screen.
"When he left the store at 6.30 p.m. on October 10, all doors were securely fastened. Three windows were left open for ventilation purposes, iron bars being placed inside. The window with the torn screen was one of these.
"At 3.0 a.m. on October 11 he received certain information and proceeded to the premises, finding them still fastened and secure; the interior of the store being in order.
"A juvenile of Pembroke East, who [had been] charged with the same offence in Warwick Police Court last Thursday and convicted, told the Court that he had known the accused for some months.
"At 9.0 p.m. on October 10 he was at an ice-cream parlour in Paget when the accused arrived. The juvenile watched DeSilva and others, playing cards until after midnight when the accused suggested to the witness that they go down the road together. Cycling to Warwick they arrived at Loblein's Store on the Snake Road when DeSilva suggested going round to the back of the premises
"DeSilva obtained a box from outside the store and placed it beneath the window. Taking something from his pocket, he placed it over his hand and then inserted his arm through the hole in the wire screen.
"At that moment, Constable C. E. Williams came around the corner and caught them both. Asked what he was doing there, the accused said he was trying to get something from the store because DeCouto, the manager, had made his brother pay a fine of £5. They were both taken to the Belmont Hotel and eventually to Hamilton Police Station.
"Answering Mr. Dill in cross-examination, the witness commented that if the accused said that he (the witness) had planned the attempted robbery and not DeSilva, it would be untrue.
"Constable Williams said the accused was caught as he was standing on a box with his hands resting on the window sill, the sash resting on his shoulders.
"Det. Sgt. Williams took statements from each of the youths, handing each one a copy of the other, DeSilva, in his statement to the police, admitted placing his arm in the window after shining his torch inside adding that he knew it was wrong to do that.
"On reserving his defence, DeSilva was committed for trial in the Supreme Court, bail being allowed in the sum of £25 with one surety."
FIRE AT WARWICK PARISH VESTRY
On January 2nd 1945, Constable Charles "Bongo" Williams was awoken from his sleep at home in the middle of the night to attend the scene of a nearby structural fire. His actions were recorded some two weeks later as part of a Coroner's Inquiry into the cause of the fire. Inquest proceedings were reported as follows in the RG&CD on Wednesday, January 17, 1945.
CAUSE OF DANCE PATIO FIRE IS NOT KNOWN
Coroner's Inquiry Is Held Last Night In Warwick
"After hearing the evidence of five witnesses a Coroner's jury conducted by the Wor. Dr. Dunbar Bell, in the Warwick Parish Vestry room last night, were unable to determine the cause of the fire which destroyed the building adjoin the dance patio at Ord Road, Warwick, in the early hours of Tuesday, January 2.
"Evidence was given by Mr. Gerald Ambrose De Shields, a pilot who resides in Warwick, that he discovered the fire in the patio at about 2.30 a.m. when on his way home. Noticing smoke streaming across the valley from the patio, DeShields investigated. On finding the dance patio ablaze, he went at once to the house of the owner, Mr. John Edness, where he informed Mrs. Edness of the conflagration.
"DeShields then awoke Police Constable Charles Edward Williams at his home. Constable Williams and DeShields went to a nearby house and telephoned for the fire brigade.
"They arrived at the scene of the blaze well after 3.0 a.m. and the fire brigade came shortly afterward. It took the firemen about two and a half hours to extinguish the blaze because of their inability to get a sufficient quantity of water. As the roof of the stage or orchestra stand, had fallen in by the time they arrived at the scene, both of these witnesses felt that the blaze had originated in that part of the building. Edness arrived on the scene shortly after the firemen, they said.
"Edness felt sure that the fire had originated on the stage, declaring himself to be 'definite' on that point. His reason for this was the fact that a quantity of lumber and a considerable number of chairs were stored there.
"Edness estimated the damage at approximately £3,000. The building, he said, was not insured as it had not been completed. He worked in the building at times, the last occasion being the Saturday previous to the fire. He had pulled the electric light switch off when leaving the premises on the Monday afternoon preceding the day of the blaze. Edness always kept the lights switched off when not working at night in the building. His tools were also destroyed in the fire and his estimate of the amount of the damage included everything destroyed.
"Manuel DeSilva, line foreman employed by the Bermuda Electric Light Company, testified that he was awakened at 4 o'clock on the morning of the fire by a telephone call from the Company. He went to the scene of the fire and cut down the electric light lines leading into the burning building. As there was nothing else he could do, he returned to his home at about 5.0 a.m. Later in the day, DeSilva went to the patio, took down all the wire leading to the building and removed the light meter, which he returned to the station. The meter was badly burnt. He did not think the fire was caused by a short circuit in the wiring, as had this been the case, the fuses in the transformer on the pole some distance away would have been burnt out, which was not the case.
"Detective Japheth James Williams testified that he viewed the burnt building on January 2, later interviewing and questioning the owner and his two sons.
"Up to the present I have been unable to determine the origin of the fire," he stated.
"After some deliberation, the jury brought in the following verdict: –
"That the said building adjoining the patio in the Parish of Warwick, Bermuda, was partially destroyed by fire on Tuesday, January 2, 1945, and from the evidence adduced we do not know what caused the conflagration."
"The following comprised the jury:
"Messrs. Anthony Cordeiro Benevides (foreman), Raymond Horace Tatem, Edwin Earlston Adderley, Anthony Faries, Gilbert Nathaniel Scott, Martin Wilson, Llewelyn Reginald Johnson and John Henry Bean."
Constable Williams investigated the theft of tomatoes with the following result which was reported in the RG&CD on Saturday, July 7, 1945:
–
WARWICK POLICE COURT
"Victor Santucci and Herbert Anderson were each fined £1 in Warwick Police Court on Thursday morning on the charge of stealing tomatoes, valued at 5/- from Jacinto Souza, of Cedar Hill, Warwick. The two men pleaded not guilty to the charge.
"Evidence was given by Mrs. Mildred DeSilva and Constable Williams.
"Mrs. DeSilva stated that she had gone to pick some tomatoes off her tomatoes vines on June 16 when she saw the two accused picking them off those vines. They had other tomatoes already stuffed in their pockets. She spoke to them and then made a report to her husband.
"Constable Williams stated that the accused had been questioned concerning the theft and they did not deny taking the tomatoes. They told the constable that they would give their evidence in court.
"The two men informed the court that they had picked one of two tomatoes off the ground but had not stolen any from the vines."
Later in the same year when off-duty, Constable Williams heard offensive words spoken from beneath the Somerset Bridge and took court action against the offender. The matter was reported as follows in the RG&CD on Monday, October 1, 1945: –
SOMERSET POLICE COURT
"James Doars, 19-year-old coloured Bermudian of Sandys Parish, was fined £5 in the Somerset Police Court before the Wor. C. Tucker Fowle on Saturday for using offensive language at a recent sail boat race in the West End.
"Mr. Fowle made it very clear to Doars that if any previous convictions had been recorded against him he would have spent a time in prison for his conduct.
"The evidence showed that Doars used the offensive words while in one of the sail boats as it was going under Somerset Bridge. There were some 40 or 50 people on top of the bridge, many of them women, some of this group calling upon Doars to desist but he did not.
"Among those on the bridge was Police Constable Williams, at the time off-duty. Constable Williams gave testimony identifying Doars in court."
CONSTABLE "BONGO" WILLIAMS WINS BILLIARDS FINAL
In early December, Constable Williams was the winner in the billiards finals for the Citizens Cup as reported by the RG&CD on Tuesday, December 4, 1945.
FINALS OF POLICE CUE CUPS PLAYED ON FRIDAY
Large Number of Spectators Watch Billiards Played
"The Police Department played the finals of their annual billiards competitions last Friday night at the Police Recreation Rooms, Victoria Street, before a large audience. Present at the matches were His Worship the Mayor of Hamilton, S. P. Eve, M.C.P., Commissioner of Police Mr. J. S. McBeath, Mr Owen Darrell and Superintendent George Smith.
"The finals of the Citizens' Cup were played off between Constable Tindall and Constable Williams. Constable Williams being the winner in a close match, seven points separating victor from vanquished. The final scores were Williams 150, Tindall 143.
"The finals for the Stoney Cup were played for between Sgt. J. S. Wilson and Constable Talford. Sgt. Wilson won this cup with ease the scores in this final being 215 to 151.
"At the conclusion of the trophy finals, a 10-up competition was held in which Mr. Eve, Mr. Darrell and Mr. McBeath were participants. Mr. Eve knocked the Commissioner out of the competition in the first round, only to be eliminated himself by Mr. Darrell in the next round. Inspector Brown knocked out Mr. Darrell in the semi-final with Constable Talford finally winning the match.
"Following this competition Mr. Eve presented the Citizens' Cup and a miniature to Constable Williams. Constable Tindall received a cedar cup for runner-up.
"Acting on behalf of Mr. William Stoney who was unable to make the presentation himself because he was confined in his home through illness, Mr. Owen Darrell presented the Stoney Cup to Sgt. Wilson and also gave him a miniature. Constable Talford received a cedar cup.
"Constable Talford also received the 10-up cup which was presented to him by the Commissioner of Police."
A DEDICATED POLICE BEACH PATROL – IN 1946?
In May of 1946 an interesting prosecution took place which may have heralded the beginning of a dedicated police beach patrol during the summer months and which may have included Charles 'Bongo' Williams. In stating this probability however it is important to note that there were a number of other Constables on the Force at this time with the surname of Williams. In this immediate post-war year, visitors were able once again to travel the North Atlantic shipping lanes free from the danger of U-Boat attacks.
For that reason alone the following 1946 case history [in part] is of interest as reported by the RG&CD on Tuesday, May 14, 1946 when the:
MAGISTRATE INTERPRETS LAW AS "HE READS IT"
………"Permission to address the court was given to Mr. Pantry [Police Superintendent Charles William Pantry] before the hearing of the actual case. It was on the instructions of the Commissioner of Police that Mr. Pantry gave the police view as their interpretations of the meaning and purpose of Section 4, Sub-section (4) of The Summary offences Act.
"Wandering abroad and failing to give a good account of himself" – was the only thing that the police had to charge the accused under, said Mr. Pantry under the conditions in which he was found.
"Your Worship is the sole judge of the meaning of the law in your Court, and it is only with a view of being helpful that I respectfully submit our views for your consideration.
"Let me first respectfully direct your Worship's attention to Section 17 of the Summary Offences Act which repeals all the Acts mentioned in the Schedule with a view, as the preamble says, 'to consolidate and amend the law relating to Section 2 subsection (10) of this Act which reads:
SUSPECTED PERSON
"Every suspected person or reputed thief frequenting any quay or wharf or warehouse near or adjoining thereto, or any street, highway or avenue leading thereto, or any place of public resort, or any avenue leading thereto, or any street or highway or place adjacent with intent to commit felony (sic)
"Now it is obvious, and indeed I know it to be a fact by remembrance of the debates at that time that Section 4 Sub-section (4) of the Summary Offences Act was to be the consolidating factor of the sub-section I have read in the old Vagrant Act 1869.
"Now to consolidate a number of Acts into one compact act does not mean that there was any intention to weaken the law, rather the intention would be to strengthen the law, make it into a more compact form, or in the word used to 'consolidate' it.
"How does all this affect the police position? I have no desire to prejudice the accused's case, but I feel that I am in order in telling Your Worship that we have been experiencing a number of thefts from bathers' clothing when left on the beaches.
Incidentally, these bathers have been, without exception, visitors to these Islands. On receiving these reports police at once instituted Beach Patrols, and it was during one of these patrols that Superintendent Miller and Sergeant Fisher came upon the accused under suspicious circumstances.
"Now under Section 2, Sub-section (10) of the Vagrant Act, repealed by Section 17 of the Act the accused is charged under, police would have been permitted to put in evidence this accused's previous convictions to substantiate the fact that he was a suspected person or a reputed thief, the words that section uses.
"Are we entitled to do so under Section 4, Sub-section (4) of the Consolidating Act under which this charge is brought? It is, in a sense, a prevention of crime clause, therefore I am asking Your Worship to give me that permission in this case. It is important and I am sure Your Worship will give the point every consideration, having in mind that the Legislature must have been considering the position when they enacted the sub-section the accused is charged under.
RULES AGAINST POLICE
"After the magistrate had ruled against his submission, Mr. Pantry commented that there were few things more pernicious than the continual reenactment of laws which were reasonably good as they stood. Although the ruling had been against the police, Mr. Pantry sensed that Mr. Fowle appreciated that the police were in a happier and stronger position under the old Vagrant Act than they were at present. If a revision of the law was in mind, Mr. Pantry said that he hoped the matter would be expedited. People were now relaxed and on holiday, and bathers were easily victimized.
"For the prosecution Superintendent P. Miller was the principal witness and Sergeant Fisher also gave evidence against Wilbert Henry Felix "Patch" Ming, who was charged with "wandering abroad and failing to give a good account of himself."
"Ming pleaded "not guilty" to the charge and the magistrate dismissed the case after he had heard the evidence of the witnesses, and the accused had stated his case and had replied to determined cross-examination by Superintendent Pantry.
"According the evidence, Superintendent Miller, Sergeant Fisher and Constable Williams met by arrangement on Wednesday, April 24, about 3.15 in the afternoon, at Long Bay, on the South Shore in Warwick in order to examine the scene of a robbery which had taken place there on the previous Monday when, during the afternoon, a Mr. Fitzgerald had money, a watch and gold clip stolen from him. A short dark man, wearing no hat and a white shirt was the description of a man seen in the vicinity which had been given to the police.
"Sergeant Fisher told of spying a white shirt in the bushes; how, when he looked again, it had disappeared and how he had found the accused sitting down. The accused gave his name as James Smith, of Ord Road, and said that his purpose for being in that locality was to choose a site for a picnic. Superintendent Miller joined the group and several times asked the man to tell them his name, which he refused to do.
NECESSARY TO GIVE NAME
"I told the accused that it would be necessary for him to give me his name, as I was making certain inquiries in this area," said Mr. Miller, "and that person answering his description had been seen there." Ming was told of the theft of money and jewelry, which had taken place on April 22, on the beach directly below the spot where he was hiding in the bushes.
"The accused then told the police that his name was Wilbert Henry Ming; that he lived in Devonshire and had ridden there from Warwick Camp on his bicycle which he had put in the bushes about 25 yards from the South Shore Road. The accused denied that he was hiding or that his bicycle was hidden."
"Directly below where the police had found Ming, there was a "white lady," testified Mr. Miller "whom I took to be a visitor. She was painting. It appeared to me, sir," he addressed the magistrate, "that the accused was in the bushes waiting to prey on that woman or her belongings." The superintendent pointed out that the accused could not be seen from the main road nor from the beach.
"The accused gave the police permission to search his person and nothing of an incriminating nature was found on him, nor later in his house when it was searched on a warrant.
"On the Friday following the robbery at the beach on Monday, and the discovery by police of Ming in the bushes on Wednesday, a gold clip, similar to the one stolen, was found in the vicinity of the place where the accused had been questioned.
SEEKS PICNIC SITE
"Ming testified that he had stopped at the beach because he had heard a lot about Pink Beach being a place for picnicking. He walked to a cedar tree and sat down and went to sleep. Upon awakening, he said, he noticed just below him a lady painting. He got up and looked at her and became interested in watching her paint. It was a few minutes later, said Ming, that he saw gentlemen running back and forth back of him (sic).
"[Ming] explained that he had given the name James Smith in response to questioning by Sgt. Fisher, because he didn't know who he was and didn't know anything had happened in that vicinity. Superintendent Miller, Sergeant Fisher and Constable Williams were all in plain clothes.
"Ming said that after he had been told that a robbery had taken place there, he told them he had been in trouble for beach robbing, and that he didn't want to do anything like that again. He had, he said, learned a great lesson by the time he had served in prison.
"Ming said that on Easter Monday he had been at Bernard Park watching the children fly kites and that he had been near the vicinity of the beach only that night when he visited at the house of a friend.
"Summing up his case, Mr. Pantry remarked that the section under which Ming had been charged was entirely one of prevention of crime. It was natural that people wouldn't steal when policemen were around, and the law appreciated this, said Mr. Pantry, by providing that the suspected person bear the burden of proof satisfactorily to account to the police for their actions.
"The beach patrol, he pointed out, had been instituted for the express purpose of looking for persons like the accused. Mr. Pantry pointed out that the accused had admitted that he knew Constable Williams by sight so that he must have known that the men, in spite of their plain clothes, were policemen.
"[Magistrate] Mr. Fowle said that he thought Ming was quite justified in not giving his name to the men in plainclothes, and pointed out that after he had recognized Superintendent Miller as a high ranking officer and had been told of the robbery, he gave is correct name and also his police record.
"While Mr. Fowle agreed that the accused's explanation of his presence by the fact that he was looking for a place to have a picnic might not be too good, he pointed to the fact that Ming had a friend living in the vicinity. Whether Ming was hiding, might be true, said the magistrate, or it might not.
"I feel that it would be unjust to convict you under the circumstances, and I am going to dismiss the charges," announced the magistrate."
CHARLES INJURED IN ROAD TRAFFIC ACCIDENT
On Monday, February 9, 1948 the RG&CD reported the following details of what nowadays might be described as a 10-57 when Constable Williams received injuries in a road traffic collision where the offending vehicle was at fault. No record could be found of whether or not the driver was prosecuted for driving without due care and attention in this instance.
CAR CRASHES TO AVOID CYCLIST
……………..In part
"A second accident, early last evening, caused Constable C. E. Williams to suffer a fractured hand when his autobicycle (sic) struck the opened door of a taxi parked near the Sports Arena. As the policeman was riding past the automobile, the door was suddenly opened and he struck it before he could steer his autobicycle out of the way.
"After his hand was treated at King Edward Hospital, Constable Williams was released to go home."
Later in the year Constable Williams witnessed a road traffic accident leading to both parties being charged with the attendant traffic offences. The matter was reported by the RG&CD on Monday, August 9, 1948
MOTORIST FINED £10
"On a charge of driving without due care and attention, Arthur James Wainwright was fined £10 and had his licence endorsed by the Wor. H. Martin Godet in the Magistrates' Court, Hamilton on Saturday.
"While driving a car, the defendant was involved in an accident with Sinclair Dinsmore Wilkinson, who was riding an auto-cycle. The accident occurred at the junction of Church Street and Burnaby Street on July 9th.
"Constable Williams testified that Wilkinson was riding west down Church Street, and Wainwright was about to make a right turn into Burnaby Street. Wainwright, said the witness, "cut the corner."
"Wainwright was represented by Mr. E.T. Richards, who cross-examined Constable Williams and elicited the fact Wilkinson did not have a licence to drive an autocycle.
"The next case was a charge against Wilkinson of riding an autocycle without a valid driver's licence. He pleaded guilty and was fined £5."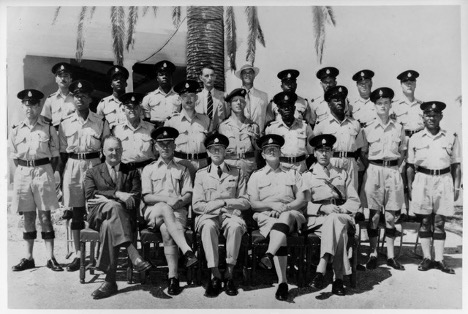 Photo of Senior Officers and attendees at Training Course – 1955
Top Row (l-r) Ernest "Ernie" Moniz, Unknown, Aubrey "Tom Copper" Johnson,
John Starbuck, Floyd Maxwell Foggo "Happy" Duerden, Unknown,
Cannoth Roberts, John Cafferkey, Bill Freeman
Middle Row – Dave Parsons, Webster Furbert, Harry Fisher, Joseph Nixon,
Sgt Major Passmore, Milton Cholmondley, Leon Bean, Trevor Owen,
Charles "Bongo" Williams.
Front Row – Supt. Col Newing, Supt Webster (Instructor), DCOP Max Bronte Parker,
Insp. Percy Miller and Insp. John "Jack" "Tug" Wilson.
EDITORS NOTE - The above photograph appeared in our ExPo "Who, Where and When" column. CLICK HERE to view the article
On May 1, 1957 whilst serving in Hamilton, Charles was promoted to Sergeant. during an official visit of Her Majesty's Inspector of Colonial Police Forces.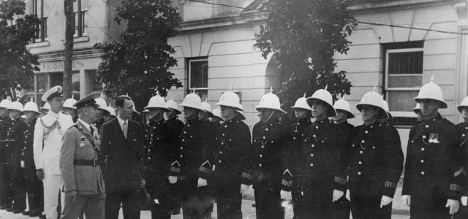 Members of the Bermuda Police being inspected on Parliament Street
outside Hamilton Police Station. It is believed this was taken during
a visit by Her Majesty's Inspector of Police in 1957
Speculatively, the above photo may have been a visiting HMI inspection of the force. Date unknown but the old police station (including the central magistrates' police court) on upper Parliament Street was demolished in circa 1978/79 in order to make way for the new Government Administration building as it is today (2020).
The military officer in white dress may be S.N.O.W.I. (Senior Naval Officer West Indies) then stationed at HMS Malabar. The khaki uniform worn by the police commissioner suggests a time perhaps in the late 1950's or very early 1960's.
This could be 1957 when a visiting HMI inspected the force under Commissioner Henderson.
FIRST COMMENDATION
On July 15, 1961 Sergeant Williams was: –
"Commended for powers of observation which resulted in the arrest of a longshoreman for larceny of goods from the Docks"
On July 1, 1962 Charles was posted to Operations and whilst there he completed a Sergeants Refresher Course between the dates July 23, 1962 – August 04, 1962.
Just less than 12 months later on 24 June 1963 he returned for duties in the Western Division from where he saw a two months posting to Police Prosecutions Department for the period September 01, 1964 to November 02, of the same year before returning to the Western Division.
SECOND COMMENDATION
On January 29, 1965 Sergeant Williams was again –
"Commended for excellent local knowledge which enabled an early arrest to be made. The suspect was sentenced to 20 years for Rape. Charles was congratulated by the Chief Justice."
Although there is no documentary evidence in support of the following assertion it is most likely that this commendation was passed privately by the Chief Justice to the Commissioner of Police by way of a letter. This method of promulgation would have best served to protect Sergeant Williams from any form of public retribution – imagined or otherwise – in revealing sensitive suspect information within his knowledge to investigators.
As you will read below, the rapist lived in Ord Road, Warwick and would therefore have been a close-by neighbor to Charles and his wife. There should be little doubt that Sergeant Williams' forte during his service on the force was his particular talent in gathering and evaluating important local knowledge together with his cultivation of sources for use in the solving of crime.
The case history is transcribed below from reports in the RG&CD beginning on Wednesday, January 20, 1965
Man Pleads Guilty To Rape Charge
"Fifty-two year-old Stanley William Swan, described by counsel as "illiterate" and having a "low mentality," pleaded guilty in the Supreme Court yesterday to raping a thirteen-year-old girl in Warwick.
"The rape charge was one of three levelled at the part-time golf caddy who lives at Ord Road, Warwick. Swan was remanded in custody until Monday for sentencing by the Chief Justice, the Hon. Sir Myles Abbott.
"I want to think very carefully about what I am going to do with you and to consider also very carefully what Mr. Smith has said about you," stated Sir Myles. Mr. Smith, who appeared for the accused, had spoken in mitigation.
"The charges brought against Swan were that of breaking and entering and committing a felony; that he with intent to disable the girl did grievous bodily harm to her, and that he had unlawful carnal knowledge of her without her consent.
"The facts of the case were outlined by the Solicitor General, Mr. Hector Barcilon, who said there was a similarity between the attack and that of Pitcher in the Tucker's Town case last year.
UNDER 13
"The Solicitor General said the girl was just under 13 years at the time of the offence. She was born [redacted information]. She lived with her mother and seventeen-year-old brother in Warwick. The brother had left the house at 7 p.m. on December 19. The mother left the house at about five minutes to nine, leaving the girl watching television.
"Some time after that the girl heard noises upstairs. There was something that sounded like a bang on the door and a hand subsequently gripped her. In the scuffle that ensued the girl was "quite substantially beaten up."
"Mr. Barcilon said the accused dragged the girl out of the house. While they were still within the grounds of the house the man had a knife at the girl's neck. He put it down for a second and the girl managed to pick it up and throw it into the bushes.
ACROSS ROAD
"The assailant then forced the girl across the road through a fence and onto the Belmont Manor golf course where he committed the offences. The mother had been at her brother's house and had telephoned home at 10 p.m. to see how their young girl as getting on. She got no reply and phoned the house of a neighbor. A search was started and while it was continuing the girl came back in a "hysterical" state.
"She was obviously severely beaten about the head and neck," continued Mr. Barcilion. Despite her upset state the girl, according to Mr. Barcilion, has "sufficient common sense" to be able to give the police such a good description of her assailant that the police immediately thought of the accused among other suspects.
"Police officers from 12 o'clock onwards, paid three or four visits to the house of the accused locate about 250 yards away. He was subsequently found and asked to account for his movements that night.
PRAISE FOR POLICE
"Mr. Barcilon praised Detective Sgt. Waddell and Dr. T.A.J. Wickham for the efficiency with which they carried out certain tests. The findings were subsequently confirmed in London where specimens were taken by Det. Inspector Sheehy.
"Mr. Barcilon noted that until yesterday the accused had maintained that he had nothing to do with the incident. The Solicitor General termed it "rather refreshing" to find that he had decided to admit the offences and save the girl the further embarrassment of having to give evidence again."
"The defendant Swan had among other convictions two for prowling – one in 1938 and the other in 1939. The last conviction was for being drunk and incapable in 1948.
INQUIRIES
"Mr. Smith said this was a "particularly tragic case." The defendant, he said, had not given him any explanation as to why he did what he did.
"I have made inquiries from his relatives about his mentality," said Mr. Smith, "but the only light I have been able to obtain is from his sister who says he drinks heavily and when he is drunk he does silly things."
"The lawyer added that what was so tragic about the case was that the defendant had a low mentality, was illiterate and easily influenced by drink. Mr. Smith realized that young girls must be protected by the court. Of the man charged, he hoped, but bearing in mind the nature, the Chief Justice would deal with him as leniently as possible".(sic)
When reporting the final stages of the Supreme Court hearing the RG dated Tuesday, January 26, 1965 wrote –
RAPIST SENT TO GAOL FOR TOTAL OF 20 YEARS
"Stanley William Swan, the 52-year-old man who pleaded guilty to raping a 13-year-old girl, was sent to prison for 20 years yesterday.
"Impassively, Swan heard the Chief Justice, the Hon. Sir Myles Abbott tell him icily:
"You are horrible man and I am going to punish you very severely for your outrageous crimes.
"In a hushed Supreme Court the Chief Justice delivered this judgment on the Warwick man in measured tones: –
"Stanley William Swan, you have pleaded guilty to breaking and entering a house and therein doing grievous bodily harm to a girl who is little more than a child. You committed a most brutal assault upon her.
"Then, you dragged her out of the house and raped her, an offence to which also you pleaded guilty.
"Finally you entered a plea of guilty to having unlawful carnal knowledge of this girl.
VILE CONDUCT
"The only thing that can be said in your favour is that, by your having pleaded guilty, you made it unnecessary for the victim of your vile conduct to go through the ordeal, for the second time, of describing that conduct.
"You are a horrible man, and I am going to punish you very severely for your outrageous crimes. You are 52 years of age and therefore cannot be whipped. Were you of such an age that that penalty could be imposed, I should order you to be soundly whipped with the cat o' nine tails.
"I said, not many months ago, in another similar case, that I should in future impose that punishment, where the law allows it, in any appropriate case which comes before me, and I repeat that warning for the benefit of anyone else who may feel inclined to perpetrate this kind of disgusting and revolting crime.
SENTENCES
"On the count of breaking and entering and doing grievous bodily harm to this girl, you will go prison for five years.
"On the count of rape, you will go to prison for 15 years, and that sentence will run concurrently with the sentence passed on the second count, but consecutively to that passed on the first count. (sic)
"Thus, the total period of imprisonment to which you are now sentenced to 20 years" (sic)
TRAINING COURSES
In June 1965 Charles became a Grade 2 driver for Divisional cars only.
His Personnel Register records that between the January 29, 1965 and February 26, 1965 Sergeant Williams attended additional courses of instruction and received First Aid Lectures.
The Register records that as of December 31, 1965, Charles was in receipt of a Housing Allowance of £10 per month together with a Telephone Allowance of £2 per month.
MEMORIES FOLLOWING RETIREMENT
Upon his retirement on May 13, 1970, 55-year old Sergeant Williams spoke to reporter Valerie Smith about his 'happy life' as a policeman, following on from which she wrote in the Mid-Ocean News on Saturday, 9 May, 1970 –
A policeman's life is a happy one even if you don't like evictions
"There is hardly a Bermudian living in the western Parishes who hasn't heard of Sergeant Charles Edward "J.J. Williams" as he is fondly known. In 30 years on the Bermuda Police Force his work has brought him in touch with a great many people.
"In his duties executing the law and in the people's times of distress, the thought of being of service to them inspired him most.
"Now at 55, and having just retired, he can look back on his career and say from experience "Police life is a hard life and there are a lot of things you have to do that you don't like. I enjoyed all the years I spent as a policeman."
"He joined the force during the push-bike days when life in Bermuda was vastly different from what it is now. He had learned his trade as a mason but the war started and construction business came to a halt.
"When the war was on young men either joined the army or joined the police force," he recalled, "and since my father (J.J. Williams) had been a policeman, I decided to go on the force.
"The Commissioner then was Mr. McBeath, and even though there was only a handful of Bermudians on the force Sgt. Sinclair Bean and myself joined together. There were only about 12 coloured policemen then and the force was about one third the size it is now.
"At first he was a parish constable for Warwick when he really got to know the people. "We investigated all sorts of complaints and people came to depend on us."
"Then he was attached to Eastern District for about [four] years, then transferred to Hamilton.
"There he took over the processing of summonses for a while…..and himself served summonses in Paget, Pembroke and Devonshire.
"I didn't have much trouble handing out summonses," he recalls.
"People living in those days were different than they are now. The only thing I didn't like about that job was having to execute an eviction warrant. I hated to see people turned out on the streets."
IN CHARGE OF A WATCH
"In 1957 he was sent back to Somerset after which he was made a sergeant, and transferred back to Hamilton. There, at Central Police Station, he was one of the first coloured sergeants to be in charge of a watch.
"The years that followed saw him working as a traffic sergeant; as prosecutor in Hamilton magistrates' court and back to Somerset as Parish Sergeant in charge of all the western parishes. He remained at that job, one which he liked most, until his recent retirement.
"For a short while, Sgt. Williams also worked with the C.I.D. and although his father retired as a detective sergeant, "I love the uniform and much prefer it to plain clothes work."
"In 30 years Sgt. Williams has seen many changes and improvements within the police force. "Now a person has more chances to go further in a police career than when I joined."
SALARIES
"Starting salaries have risen from £16 a month to over £30 a week.
"Motorized traffic has brought many new patrol vehicles into the force. He has used every type from the pedal cycle to the heavy motorcycles and sleek patrol cars. New departments have been added since he joined, and the prosecutions officers have a bigger and better court in which to work.
"However, there are still few Bermudians on the force. I think there are more West Indian policeman there now than Bermudians," he remarked.
"Sgt. Williams considers it very unfortunate that more local men do not join.
"I had a good relationship with the public because I knew them. I found that most Bermudians on the force do have the good relationship with the public that I had. It is the manner of approaching people that is important."
MURDERS
"Speaking of his most trying times as a policeman, Sgt. Williams considers the murders at Warwick's "Murder Mile" as perhaps the worst.
"It meant extra work for all policemen – long hours and endless enquiries."
[EDITORS NOTE - "The Moonlight Killer Murders" – The author is currently researching an article about the Warwick Murders for publication on our EXPO website]
"Sgt. Williams has also taken part in all the riots in Bermuda. Despite the long hours put in as a policeman, Sgt. Williams has still found time for sports and community activities.
SPORTS
"At one time he was president of Warwick Workmen's Club, the Police Choir and the Western County Cricket Club. He has played cricket and used to captain the Police Cricket Team. He was champion of billiards and snooker at the Police Club, of which he is a member, and he also plays golf at Ocean View Golf Club.
"Some years ago he was master of Abercorn Lodge 123, under the Irish Constitution and he is now a trustee of St. Paul A.M.E. Church and a member of Keep Bermuda Beautiful.
"Although he has retired, Sgt. Williams hardly looks like a man who's ready to give up work. He – "has no plans now. I'm doing a little renovation to our house and a bit of gardening which I love, and I […..] getting a well- deserved rest."
POLICE OFFICERS RECEIVE QUEEN'S AWARDS
In February 1976, amongst a number of other recipients', seven police officers named in the Queen's New Year's Honours List received as follows the insignia of their various awards from the Governor, Sir Edwin Leather in a ceremony at Government House.
The Royal Gazette dated Wednesday, February 18, 1976 reported on the presentations –
Governor presents Queen's awards
"During the brief ceremony, the Governor, in full official dress, stood on a small platform in one of the Government House reception rooms and presented the awards.
"Sergeant Michael Hammond Burke received the Colonial Police Long Service and Good Conduct Medal; Mr. Dudley Francis Proctor and Sergeant Gerald Everard James were awarded the Clasp to the Colonial Police Long Service Medals; ...........
"Mr. Dudley Proctor retired from the Bermuda Police Force in December last year after 25 years' service. The 45-year-old Bermudian was promoted to Sergeant in 1965, and acted as deputy Provost Marshall in 1970 for two years. Yesterday he received the clasp for the Long Service Medal he was awarded in 1968.
"Sergeant Gerald Everard James also received the Clasp yesterday. Born in British Honduras in 1931 he came to Bermuda in 1960 to join the police force after 10 years with the police in his native country. He was promoted to sergeant in 1966 and is presently in charge of the Operations Cycle Squad. He received his Long Service Medal in 1967.
CLICK HERE to read our "Then and Now" article about the late Chief Inspector Gerald Everard James.
"Sergeant Michael Burke received his Long Service and Good Conduct Medal after 18 years with the Bermuda Police Force. Born in Jersey in the Channel Islands, he served with the Royal Military Police from 1952-54 and with the London Metropolitan Police for the two following years. In 1962 he was promoted to sergeant.
"Inspector Gladwin Clinton Hall, Colonial Police Medal and Clasp to Colonial Police Long Service Medal.
"Inspector Douglas Noel Hebbard, Colonial Police Medal.
"Mr. Charles Edward Williams, Queen's Certificate and Badge of Honour for his valuable community service during his service with and since his retirement from the Bermuda Police Service."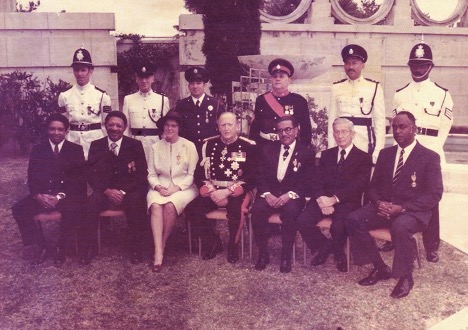 February 1976 awards presentation group at GH
Standing (l-r) Sgt. Mike Burke, Insp. Douglas Hebbard, ? Colour Sgt. Manuel F. Perry,
Bermuda Regimen
t.
Insp. Gladwin 'Doc' Hall, Sgt. Gerald "Gerry" James
Seated (l-r) Dudley Proctor, Charles Edward 'J.J.' "Bongo" Williams,
H.E. The Governor Sir Edwin "Ted" Leather and Lady Leather, ? ? and Ted Bassett?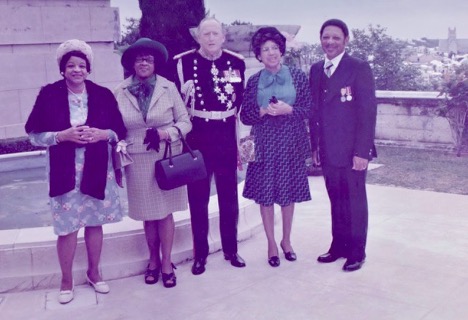 Charles Edward "Bongo" Williams with family members and
H.E. The Governor Sir Edwin Leather
Invited to comment on his personal knowledge of Sergeant Charles Williams, retired Inspector St. Clair 'Brinky' Tucker provided the following information in October 2019:
"I remember "Bongo" or "J.J". I am fairly certain he spent his last days living on Ord Road, not far from the Ord Road Grocery, on the north side of the road. I had the pleasure of singing in the Police Choir with him and I also sat in Lodge with him. I was present when he received Honorary Grand Lodge Honors at Abercorn Lodge. Unfortunately, I don't have any photos of him." [Any surviving photo of Charles in Lodge uniform cannot be located].
In November 2019, "Bongo's" nephew Lionel J.C. Williams when writing to the Expo Editor confirmed as follows –
"Yes, "Bongo" was Charles' police moniker. Every constable and officer had one. Without children, he was all about his police motorcycle and later his dog. He always kept a huge German Shepherd as a pet after leaving the force. Charles enjoyed sports such as cricket and was active with County Games and Warwick Workmen's Club for many decades. In February of 1976 he was awarded a Queens Certificate for community service. He was a dedicated Freemason and thoroughly enjoyed singing in [both] the Police and his Church choir."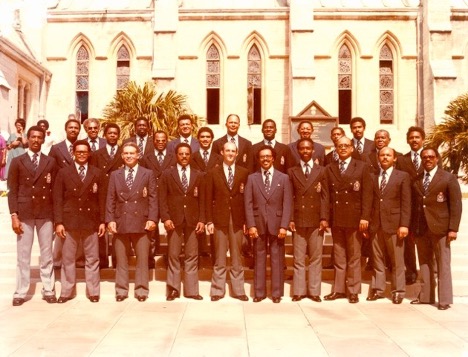 Bermuda Police Choir
(Picture taken in front of the Hamilton Cathedral)
Back rows (l-r) Dennis Ramsay, Lynn Hall, Cal Christopher, Bob Anthony,
Norrell Hull, Allan "Harry" Lister, Wayne Perinchief, Hilton "Jellybean" Wingood,
Leon "Big Toe" Bean, Charles "Bongo" Williams, Howard Dill,
Ken McDowall, Westmore Bean, St Clair "Brinky" Tucker
Front row - Adrian King, Sinclair "Sinky" White, Sonny Roberts,
Reese Bartley, Dai James, Cecil Smith (Conductor), Willie Bourne,
Michael Spurgeon Phillips, John Harvey, Lennett "Lennie" Edwards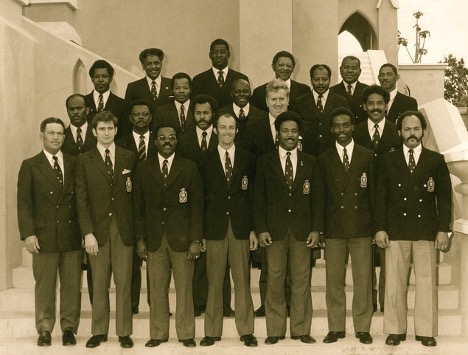 The above photo of the Police Choir was published on our ExPo website in the "Who, Where and When" column in March 2014. CLICK HERE to view the article.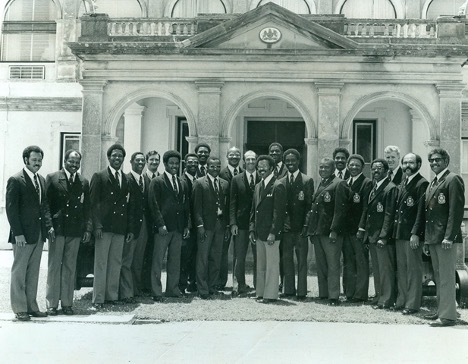 The Bermuda Police Choir visit Government House
(l-r) Ed Bailey, Fred Beach, Cal Christopher, Howard Dill, Lyndon Lewis,
Reese Bartley, Hubert Simmons, Dennis Ramsay, Norrell Hull,
Mike Phillips, Dai James, Cecil Smith, Leon Bean, Willy Bourne,
Westmore Bean, "Brinky" Tucker, "Bongo" Williams, Lenny Edwards,
Andy Maule, John Harvey, Lynn Hall.
110TH ANNIVERSARY OF THE FOUNDING OF THE BERMUDA POLICE
On Friday 6th October 1989, then Commissioner of Police, Frederick 'Penny" Bean hosted a luncheon at the Police Recreation Club for former and retired police officers and their widows. Among the guests was retired Sergeant Charles Edward "Bongo" Williams, and by coincidence also in attendance was then Superintendent George Rose who wrote this article.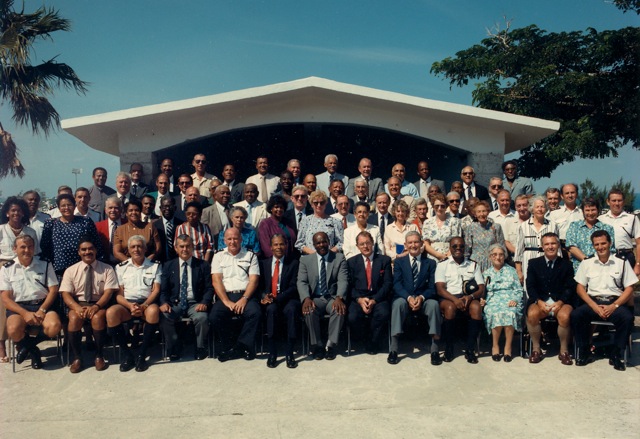 BERMUDA POLICE
110th ANNIVERSARY LUNCHEON
for former police officers and widows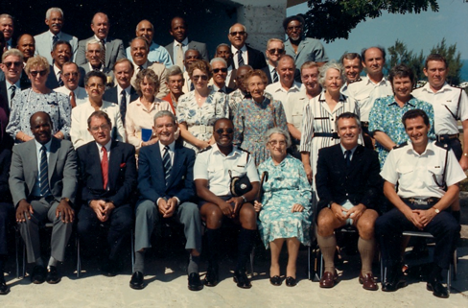 Retired Sgt Charles Edward "Bongo" Williams is seen in this enlarged
section of the photo taken at the 110th Anniversary Luncheon
He is in the 2nd from top row, second on left between retired Chief Inspector
Hilton "Jellybean" Wingood and retired Insp. Jack "Tug" Wilson.
Supt George Rose is sitting far right on the front row.
CLICK HERE for an article in our Who, Where and When": column featuring this photograph
PASSING OF CHARLES EDWARD "BONGO" WILLIAMS
Charles died on Christmas Day in the year 2000. His obituary appeared as follows [in part] in the Royal Gazette Funeral Notices of the 29th December, 2000 –
"A homegoing service for Mr. CHARLES EDWARD WILLIAMS, beloved husband of the late Helen Ailine Williams in his 87th year, of "Sundial Cottage", 31 Ord Road, Warwick WK09 will be held at St. Paul A.M.E. Church, Court Street on Sunday, December 31, 2000 at 3.00 p.m.
"Internment will follow at St. Mary's Cemetery, Warwick.
"Surviving are brother, Gladstone, sister-in-law Daisy Williams, Delia Williams, Inez Wilson, Iris Ramsay, Myrtle Furbert, Mary Cann, Phyllis Astwood; brothers-in-law, Milton Marsh, Horace (Mack) Astwood, Norman Astwood and Arnold Cann; aunt Olive Smith, godchildren, Dorothy Stovell-Richards, Betty-Ann Lowe and Lynette Glover; housekeeper/caregiver Effie Fox, nieces, nephews, other relatives and numerous friends.
"Will members of the Abercorn Lodge No. 123GRI please tile at the Freemason's Lodge on Reid Street at 1 p.m. Amis Memorial Chapels."