The Life of Edward Angus "Ted" Burton
Researched and compiled by
Det. Superintendent George Rose CPM (retired)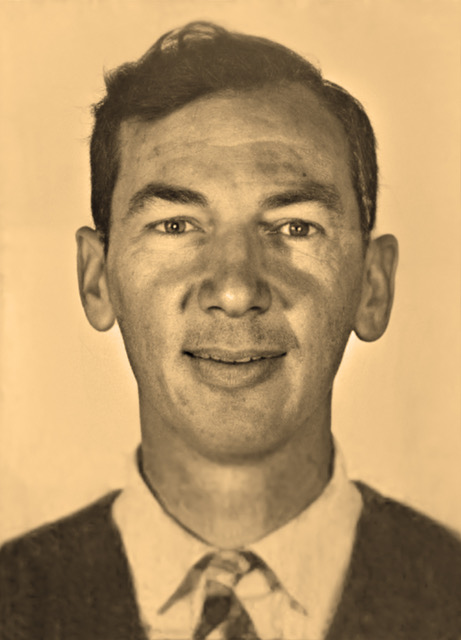 Edward Angus "Ted" Burton
INTRODUCTION
This article covers the life and times of the Late Edward Angus "Ted" Burton who served in the Bermuda Police Force from 1951-1967 with a 2 year break to serve in the Kenya Police During his service here Ted took it upon himself to study the history of the Bermuda Police at a time when there were no computers and no internet; his source material was very limited, and in some cases Police records were in such poor condition that Ted was given the job of disposing of them. Ted published several history-related articles in the Police Magazine, but his major contribution in this area was the first ever expansive history of the Bermuda Police, entitled "The Policing of Bermuda from the earliest of times" published in the Bermuda Historical Quarterly magazine in 1955. CLICK HERE to view the article.
Unfortunately, Ted never wrote about his own life and George Rose has undertaken the daunting task of researching and collecting as much information as possible about the man to whom we owe a great debt of gratitude. I think it is also fair to say that Ted was an intriguing character who led a quiet life about which much remains hidden to this day.
We are grateful to George for taking on the task of writing this article about a man who could so easily have been forgotten.
EARLY DAYS
According to his Bermuda Police Personnel file Edward Angus 'Ted' Burton was born on the 4th July, 1923 in Morpeth, a busy and historic market town in the county of Northumberland, England. I could find no record of 'Teds' birth on that date, however, there is a record of the birth of Edward Burton during the 4th Quarter, 1918,at Morpeth. The record shows the mothers' maiden name as Burton.
Ted was educated at Durham City Senior Secondary School, and later served as a Petty Officer in the Royal Navy (Fleet Air Arm) from 1941 until 1948. During three of these years he served in Egypt, and in the Far East in 1947. The Fleet Air Arm is the air force of the Royal Navy – it was formed on 1 April 1924 from the Royal Air Force squadrons operating at sea.
During his military service Ted received three campaign medals which were issued for service between 1939-45; Africa Star – Defence Medal – War Medal (often incorrectly referred to as the "Victory Medal".) Images of these medals and the criteria behind their award are referenced below in ADDENDUM #1.
JOINING THE POLICE
After his navy discharge in 1948, 'Ted' joined the Hampshire Constabulary where he served as a constable until 1950.
He joined the Bermuda Police On 23 April 1951, and was initially appointed for 6 months as a Probationary Constable which was confirmed in October of that year. Ted served initially in Hamilton but was quickly transferred to Operations (Traffic) in September 1951 whilst still a probationary constable.
SPORTING ACTIVITIES
Ted was clearly quite athletic and played several sports for the Police including football and rugby. He is featured in the following photo as a member of what is believed to be our first ever Police rugby team:-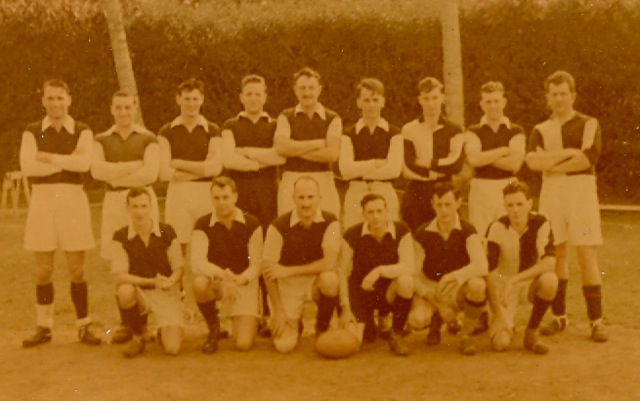 Bermuda's first Police Rugby Team
taken in July 1954 at BAA Field
(I-r) Back Row – Robert Railton (Capt) (former professional for Whitehaven),
Jack Ham, Bill Freeman, ? Arthur Rose, Peter Jackson, ?, Jim McMaster,
Collins (left to become Master at Arms on the Queen of Bermuda)
Front Row – Ted Burton, White, Frank Walsh, Charles Giltrap ,
John Joe Sheehy, The Rt. Hon Raymond Barnwall
The above photo, together with the names in the caption, was supplied to us by former Inspector Arthur Rose who said this was "our very first Police Rugby Team taken at BAA Field. We only played rugby once in a while, and it would usually be against visiting Royal Navy Ships." Arthur remembered Ted as being "very fast on his feet." CLICK HERE to read our "Then and Now" article by Arthur Rose which provides more details about the rugby team.
Following Ted's arrival in Bermuda, the Royal Gazette often carried sports reports of both rugby and football matches in which Ted participated.
The first mention in the Royal Gazette of Ted playing rugby was in October 1951, when he played for BAA Rugby Team in a friendly match against a visiting Royal Navy ship, H.M.S. Superb which was won 8-0 by the B.A.A. team of J. Vallis, P. Paley, C. Anderson, K. Bower and E. Burton; C. Giltrap and R. Marshall; G. Powell, W. Hill, T. Lewis, P. Bunn, R. Barritt, D. J. Williams, T. Evans and G. Rosser (captain). Ted also played in the annual Onions v Limeys rugby matches, and 7-a-Side rugby tournaments, with some matches being played at the Prospect Garrison Field and occasionally refereed by Supt Charles Pantry.
POLICE RECREATION CLUB ENTERS FOOTBALL TEAM IN E.P.C.LEAGUE
In the Fall of 1953 it was noted that with the addition of more football playing recruits in the Police Force, the Police Recreation Club were able to enter their own football team in the E.P.C. league "which will be a source of much pleasure to all who follow soccer." (quote from Bermuda Sports, volume 10, October 1952.
"The list of police football players at that time included Arthur Rose, Alan Harker and Jack Ham, all form­erly of B.A.A, and Jim McMasters, who played with St. George's. All four have played for the Limeys. New names include K. B. Jones, E. J. Jones, Ian Morrison, D. McDon­ald, C. Renaud, J. Sneddon, A. Redford, Jock Sutherland, S. Madden, R. Collins, M. Brennan, R. Barnewall, P. Cafferky, J. Walsh, F. Walsh, J. Sheehy, C. Giltrap, G. Denham, E. Frederiksen and E. Burton. Their Home ground was B.A.A. Field, and they were then starting to play in blue shirts with white sleeves, white shorts, blue and white stockings."
Of note is a report in the Sports Scene column of the Royal Gazette, on December 15, 1953 with the following observations:-
"A local writer stated, a year or two ago, that soccer was the simplest of all games to watch, as it simply involved two teams trying to bang the ball into opposite goals. Basically, that is correct; in actual fact, it is a ridiculous statement.
"Take, as an instance, the Police – St. George's Cup semi-final on Sunday. Here were two teams trying, from the simple angle, to score against each other, but the fact that only one true goal was scored does not indicate that both teams were playing the game from a simple angle.
"On the contrary. Both teams are the most improved sides in local soccer; both played a tough 90 minutes in cut and thrust style, both tried to play constructive football, but both fell down on tactics.
"This was the most interesting game seen on the local scene this year. As a student of soccer – never an expert – it was absorbing because never before have so many tried to play soccer in its true sense. If this match is an indication of what can be expected in the season's second half, then please eliminate representative games. But lack of tactics beat them. If St. George's had switched their loose, swinging approach, in the second half, to short passes into open spaces, it is possible Police would have buckled. If Police, with a spotty forward line, had used more individual approach, more than one goal might have resulted. This is hyper criticism, if you wish, but the possibilities were there………………….
"Curtis and Ham are like two Horatios at the bridge; Rose is unbeatable in the air, Jones is developing into one of the classiest half backs in the league. Just let them get two more forwards of Burton and McMaster's class, and trouble looms for the Combination. These are just names noted in passing and from earlier games. Both sets of players in this match were trying to play constructive football."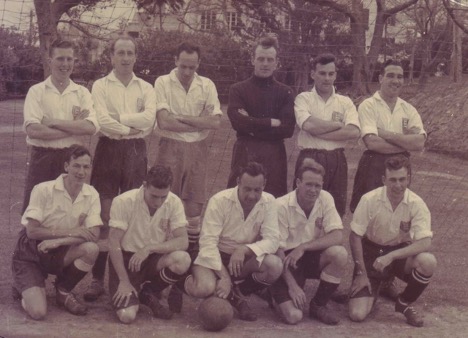 An early Bermuda Police football team circa 1956
Back row (l-r) Alan "Bugsy" Harker (Civilian), ?.
Front row (l-r) Edward 'Ted' Burton ? Larry Swain in middle of front row
and that could be Kenneth Brian Jones between Larry and James 'Jim' McMaster.
This photo of one of our early Police football teams includes Ted Burton front row left. Mike Cherry knew Ted who he described as a quiet and reserved man who played a good game of both football and rugby. Mike confirms that Ted was known to be a fast runner and a useful player in both teams.
POLICE START TO USE RADAR SPEED METERS
Shortly after his transfer to Traffic Department in September 1951, Ted was one of the first police officers to be involved in catching speeders using the new speed meters or radar devices.
A headline in the Royal Gazette on 22nd November 1951 read "First Conviction Since Police Acquired Their Own graph." This Royal Gazette article reported that the first five convictions resulting from the use of a speed-meter in Bermuda were obtained by the use of device which had been on loan to the local police by the State Connecticut police in April 1951.
A Bermuda-owned speed-meter was subsequently purchased through a House of Assembly grant. This device arrived from the United States in October, according to Sergeant John Marshall.
The first conviction resulting from the use of the Bermuda police department's own "little black box," officially known as an electro-matic speed-meter, which is radar-operated, was recorded in Hamilton Magistrates' court on 21st November 1951.
Appearing before the Magistrates Court was Mr. Alfred E. Leon Furbert, of Warwick East, who passed through a radar speed zone on the South Shore Road; Paget, on November 10. He was recorded by the electro-matic speed-meter as travelling at 29 miles an hour, P.c. E. M. Smith who received special training in the United States in the operation of the checking apparatus, testified that Furbert was checked through the radar controlled speed zone at 11.20 p.m. when he was going in an easterly direction and was without a tail light.
Furbert pleaded not guilty. He was, however, convicted and fined £5 and his licence endorsed. The speed-meter graph, which was recorded as Furbert passed the machine, was placed in evidence against him.
Police-sergeant John Marshall, who was conducting the radar check, corroborated P.C. Smith's testimony, and P. C. Edward Angus Burton was in the police patrol car which checked the number of the speeding auto-cycle and testified to that effect.
The magistrate said he was satisfied that the speed offender was the one who had been without a rear red light and convicted Furbert. For being without a rear light, Furbert was fined £1. He pleaded guilty to that offence.
P.C. Burton appeared in court to give evidence in other speeding cases involving the new "little black boxes" as they were commonly referred to, and also for other traffic offences such as careless driving.
'WHOSE REVOLVER' IS KEY QUESTION IN SUPREME COURT CASE
Constable Ted Burton was directly involved in case of two men appearing in Supreme Court charged with breaking into Spanish Point Boat Club, and possessing a firearm and ammunition.
The above headline appeared in the Royal Gazette on 25th July 1952 after the start of a Supreme Court trial. "An unloaded .22 revolver, a round of .22 ammunition, a .32 bullet and a plastic cigarette case were among the exhibits produced in the Supreme Court yesterday when the trial of William De Silva commenced before the Chief Justice, the Hon. J. T. Gilbert.
"William DeSilva, of Paget also known as "Shoebox," and George Henry Thomas DeSilva DeCosta of Warwick, "Shoebox," the accused had pleaded not guilty to being in possession of a firearm when he broke into the Spanish Point Boat Club on Monday, June 9. A plea of not guilty has also been entered against the charge that De Silva possessed a firearm at the time of his arrest.
"The accused at the opening of the assizes pleaded guilty to breaking into the club house and stealing.
"When the Jury was being empaneled for his trial yesterday De Silva objected to Mr. Sidney Albert Frederick Oatway as a juryman. His objection was sustained.
"The case for the Crown is being conducted by the Solicitor General, Mr. Peter Smith. De Silva is being defended by Mr. E. T. Richards, M.C.P. This morning at 10.15 Mr. Richards will open the case for the defence.
"CIRCUMSTANTIAL EVIDENCE"
Presenting the alleged facts of the case to jury, Mr. Smith said that the prosecution was relying on circumstantial evidence. "We are relying on little bits of evidence pointing in the same direction, pointing at the fact that the accused had a gun in his possession and further that he had a gun on him when he broke into the club and when he was apprehended by a police constable. Nobody saw the accused with a gun," the Solicitor General added.
The first prosecution witness was John Peter Chiappa, commodore of the Spanish Point Boat Club. He said that at 6.20 a.m. on Monday, June 9, he went to the clubhouse and found approximately 20 cartons of cigarettes, peanuts, chewing gum, a bottle of vermouth and some keys were missing.
Robert Belvin Tatem, steward at the club at the time of the burglary, identified the plastic cigarette case as belonging to his assistant Clifford Simmons.
The deposition of Simmons, who was too ill to attend the trial, was read in court. In it he stated that he had left his case, containing a packet of cigarettes and some matches, on top of the icebox in the clubhouse. He next saw it when a detective showed it to him some days later.
TWO MEN STOPPED BY P.C. BURTON
In his evidence Police Constable Edward Angus Burton told the court that he was patrolling Victoria Street in the police truck about 4.50 a.m. on Monday, June 8, when he saw two men on an auto-bicycle. "I recognized the driver as "Shoebox" De Silva. The two men were carrying a large cardboard container," he said.
He stopped the two men near to the entrance of "Clovelly." He got out of the truck and asked De Silva for his driving and vehicle licences. He put the pillion passenger, George Henry Thomas DeCosta Silva, in the police truck. The accused asked if he could relieve himself, and was allowed to do so. He went to through the gate of "Clovelly," where he remained for about two minutes.
When he came back Constable Burton ordered him to ride his auto-bicycle in front of the police truck to Police headquarters. At the junction of Church and Parliament Streets the accused gave the police truck the slip, and although Constable Burton searched for him he was unable to find him.
DID NOT SEE GUN
Under cross-examination by Mr. Richards, Constable Burton said he kept his eye on the accused all the time he was in the grounds of "Clovelly." There was sufficient light to enable him to do this. He did not see De Silva with a gun.
Domingoes Paiva Soares told the Court he was employed as a gardener at "Clovelly." As he was raking up leaves there he found a gun and a cigarette case. Holding the gun in his hand, Soares said: "It had seven things in it. I do not know what you call them."
Asked by Mr. Richards if he had taken the gun home after showing it to the Police, Soares answered excitedly: "No, no, I left it there."
There were one or two leaves on the gun when he raked it up. The leaves lying on the ground could not have been there more than a week, the witness added.
Police Constable Charles Edward Thompson said he was on duty in the Police Station when Soares came in with the gun and cigarette case. The gun was fully loaded with .22 ammunition. The barrel seemed fairly clean, although he did not examine it carefully.
The finding of a .32 bullet behind a partition in the premises occupied by De Silva until a fortnight before the burglary was recounted by Detective Sergeant John Wallace Starbuck. The detective said he examined the weapon, which in his opinion was a revolver with a .22 cylinder and a .32 barrel. The .32 bullet he found would fit the barrel of the revolver but not the chamber or cylinder. From its condition the gun had not been exposed to the elements for any considerable time.
Cross-examined by Mr. Richards, the witness said the partition was fixed about 18 inches away from the main wall of the house, which abutted the street. A hole in the partition enabled a person to get through to between it and the outside wall.
"That gun could not fire the bullet you found in the house?" Mr. Richards asked.
"That is correct," the detective said.
Detective Starbuck said he had not examined the gun for fingerprints, and admitted that it "would have been useful if finger-prints had been obtained. He thought the gun had not been exposed more than 48 hours because there was no rust or matter clinging to it.
"Would it surprise you to know that Soares said the gun was covered by some leaves when it was found," Mr. Richards asked.
"I have not heard his evidence," answered the detective.
John Matthias told the Court he had let his house to the accused in April. He had given the accused notice to quit two weeks before the Police arrived to search the premises. No one had used the house with his consent during that time.
Matthias, said he did not know of any plaster partition in the house, but qualified his statement by adding that a few boards had been placed across the hall dividing the room.
The Supreme Court trial continued the following day when:
DeSILVA FOUND GUILTY ON FIREARMS CHARGES
William "Shoebox" De Silva, whose explanation in the Supreme Court yesterday to counter a charge of illegally possessing a revolver was described by the Chief Justice as "practically incredible," was found guilty after a retirement of 40 minutes by the jury.
DeSilva was charged with possessing a gun while breaking into the Spanish Point Boat Club and with possessing it at the time of his arrest. To a charge of clubhouse breaking and stealing he had pleaded guilty. De Silva was convicted on all counts.
Evidence was given on Thursday that the accused, in company with George Henry Thomas DeCosta Silva, was stopped by Constable Edward Burton who was patrolling in a police truck along Victoria Street. Two men were on an auto-bicycle and carrying a large cardboard container.
TWO ARRESTS MADE IN ALLEGED BREAK-IN
Ted was also involved in two arrests in late September 1952 in connection with an alleged break-in at the Acadia Dry Goods Store, on the Acadia Block, Angle Street, belonging to Miss Myrtle Seaman.
Following a telephone message from a nearby resident at 9.30 p.m. on Sunday, Sergeant J. Blackwell and Police Constable E. A. (Ted) Burton jumped into the police truck and hurried to the scene. Constable M. M. Marsh, on patrol, saw the police truck and followed it. He arrested a man leaving the store. The man had about £40 worth of goods from the store with him, police said.
Another man was arrested yesterday morning in connection with the crime by Inspector Swainson of the Criminal Investigation Department.
PACK RACING!
On March 31st 1953 the Royal Gazette reported that two auto-cyclists were accused in the Lower Court, Hamilton yesterday of speeding at midnight while racing. They were Herman Charles Paul, of Pembroke, and George Chesterfield Mouchette, of Devonshire West. Paul pleaded guilty but Mouchette denied the charge.
Two police constables testified. One, P.C. E. A. Burton, stated he took Mouchette's number as he passed the latter to stop Paul, who was in the lead. The constable identified Mouchette as Paul's companion during the speed check.
The Wor. H. Martin Godet convicted both accused, fined each £5 and suspended their licences for two months each.
TRANSFER TO SPECIAL BRANCH
In March 1954 'Ted' was transferred to the Special Branch (the "S" Branch of the CID) and worked there for the next two years, but he had a surprising change of environment in 1956.
In the photo below at top row centre are L.M. "Nobby" Clark and Ted Burton both wearing identical ties over a white shirt. They were attending a training course at Prospect given by Supt. E Barker who was a Training Officer with the Lancashire County Constabulary and came out to Bermuda several times to run training courses for everyone in the Police Force up to the rank of Chief Inspector, the last one being in 1955.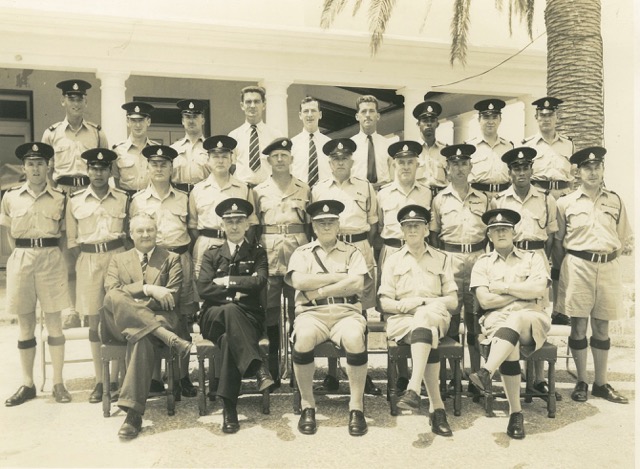 Training Course Members and Senior Officers – circa 1954
Top Row – (l-r) Pc's A.J. Tony Saunders, Douglas "Red" Hebberd, J. Curtis,
L.M. "Nobby" Clark, Ted Burton, Jack K. Shaughnessy, Howard Dill,
John M.Cafferkey, and R. Hodgson.
Centre Row – Pc's H. Lyness, Neville Phillips, Sgt L. McPherson, Pc Frank Maddern,
Sgt Major Passmore (D.C.L.I.), Insp J.M. Brown, Pc M. Ferguson,
Sergeant Robert "Bob" Ball, Pc E. Durrant, and Sgt J. Cribbin.
Front Row – Chief Supt C.J.R. Newing (CID), Mr. E. Barker (Training Officer,
Lancashire County Constabulary), Commissioner R. G. Henderson, M.V.O.,
Deputy Commissioner M.B. Parker, and Supt Percy Miller.
SERVICE IN THE KENYA POLICE
In late May 1956 'Ted' was seconded to the Kenya Police where he served as an Inspector until August 1958. His transfer to the Kenya Police was recorded as follows in The Bermuda Police Magazine Vol. 2, No. 1, page 33 of July 1956:-
"Constable E. A. Burton, Motor Traffic Unit, has been transferred for service with the Kenya Police. He has been promoted to the rank of Inspector of Police. Ted came to Bermuda in 1951 after serving in the Hampshire Constabulary. He performed duties with the beat section, the Motor Traffic Unit and the "S" Branch of the C.I.D. He will best be remembered for his services during the time he was in charge of the Hamilton Police Barracks.
"Ted was the first person to write a history of the Bermuda Police Force. This was published in the "Bermuda Historical Quarterly" in Autumn 1955.
"We trust that Ted will have every success in his new life and that we will hear from him when he takes up his duties in Kenya after a well-earned bit of leave in Canada and the United Kingdom.
"He should be in good hands when he arrives in Nairobi at any rate as he will find Inspector C. N. Giltrap waiting for him. Charlie is an ex-member of this Force who has been in Kenya for about two years and who drops us a few lines every now and then to keep in touch."
TRAVELLING TO KENYA
I have been able to trace details of Ted's journey on 15 June 1956, on board the ship "KENYA" (a passenger/cargo liner) from the Port of London to Mombasa, Kenya. The Passenger Manifest Departure List at third line from the bottom shows that 'Ted' traveled 1st Class on a UK passport and revealed that he was a single man with his date of birth confirmed as 4 July, 1923. He gave his last permanent country of residence as Bermuda and his intended future residence (for a period of more than 12 months) as that of Kenya.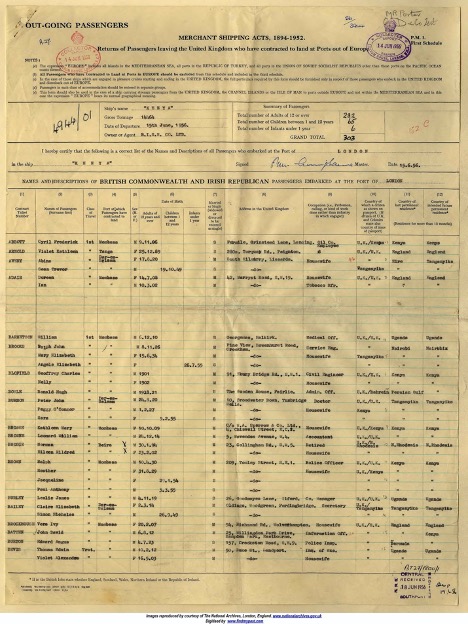 Passenger Manifest
Also on board was another police officer by the name of Ralph Brown who was travelling with his wife and their two young children. It is clear that he and his family were returning residents to Kenya, and it is most likely that Ted and Ralph Brown would have enjoyed each other's company during the voyage to Mombasa where they may have been engaged in similar job-related duties upon arrival.
Expo research member John Skinner advises that "all whites on appointment to the Kenya Police were appointed as Inspectors." This was also the case for some of the other British colonial police forces throughout the world including Hong Kong.
Ted's two years deployment in Kenya from June 1956 until August 1958 was undoubtedly related to the 'Mau Mau' uprisings involving revolts against British colonial rule in the country. Although much of the violence had been taking place between rebel and loyalist Africans since 1952, the Mau Mau was operatively crushed by the end of 1956. But the uprisings effectively helped to hasten native Kenyan majority rule heralding a period of colonial transition to independence in 1963.
TED'S MARRIAGE
Ted's brief personnel file in Bermuda Police register indicated that he was married on 10th November, 1956 to "Minnie", a Canadian citizen born on 1st July, 1920. It is unusual that neither the full name of his wife, nor the place of their marriage were shown in the record although the date meant that they were married during Ted's tenure in Kenya. Following an extensive search I discovered an article in the Royal Gazette dated 6th December 1956 reporting that "

Inspector and Mrs. E. A. Burton were married on November 10 in Nairobi (Kenya) Cathedral.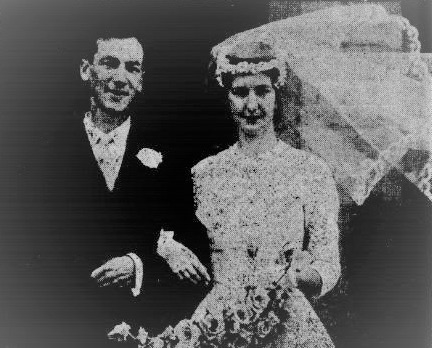 Ted and Minnie on their wedding day - 1956
(Photo courtesy Royal Gazette)
The bridegroom is the son of Mr. and Mrs. Frank Burton of Durham City, England, and served in the Bermuda Police Force from April, 1951, until last May, when he was transferred to Kenya. He met his bride, the former Miss Minnie Mason, daughter of Mr. and Mrs. Joseph Mason of St. Thomas, Ontario, Canada, when she was on holiday in Bermuda early this year. The wedding was performed by the Provost of Nairobi Cathedral, the Very Rev. Geoffrey Lester. The couple honeymooned in Marangu, Tanganyika, on the slopes of Mount Kilimanjaro."
RETURN TO BERMUDA
In August 1958 Ted and Minnie returned to Bermuda from Kenya whereupon Ted was seconded to the office of the Colonial Secretariat in Hamilton for a short period. Two months later, in October 1958, he was posted to C.R.O. [Criminal Records Office] where he remained for the next 4 years during which time he was promoted to Sergeant on 1st August 1960. While in C.R.O. 1960 he attended a C.I.D. Training Course at Hendon, and a Sergeants Refresher Course held in Bermuda in July 1962.
From June 1962 Ted served for 12 months in Central CID after which he was transferred to HQ (Prosecutions). He certainly moved around on a regular basis, and in 1964 he attended a 6 month course at the Scottish Police College before being posted to Training School for 3 months as an instructor for Basic Training Course #5 at a time when training courses were being held in the old Clock Building at Prospect which had been occupied by the British Army until withdrawal of the Army in 1959.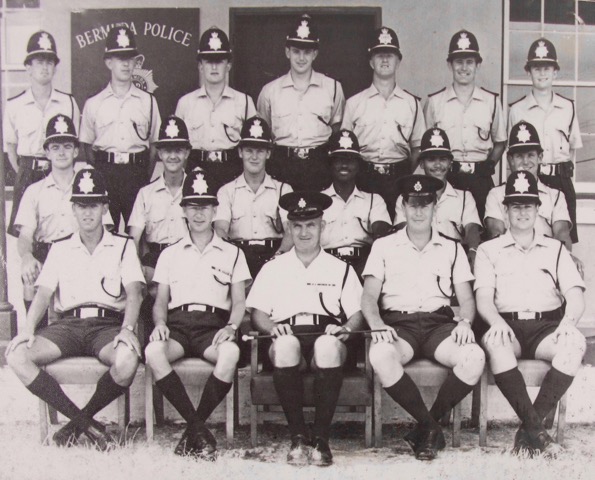 Basic Training Course No. 5
July - October 1964
Top Row (l-r) David Mulhall, Gordon Weller, Peter Duffy, James Miller,
Keith Dunmore, Peter O'Shea, William "Willy" Galloway
Middle Row – Christopher "Walter" Somers, David Long, Delwyn "Dell" Trott,
Wayne Perinchief, Edward "Ray" Banks
Seated – PC John Rawson (Instructor), Sgt. Ted Burton, Chief Insp. Roy Chandler,
P.C. Andrew Heggie (Instructor), and Duncan Batchelor
Former constable Edward "Ray" Banks (1964 – 1967) recalls that along with nine other young recruits, he arrived in May of 1964 at the Bermuda Police Training School. "The group of twelve was completed with the addition of locals Wayne Perinchief and Del Trott. Chief Inspector Roy Chandler was in charge with Andy Heggie (self-defense instructor), John Rawson (life-saving), and Sergeant Ted Burton."
Following this Basic Training Course, Ted moved to "A" (Administration) Department at Police Headquarters for almost two years before taking the position of Deputy Provost Marshall in 1966 - a position that was regular held by police officers - and his final posting was to Central CID in February 1967. However, some three months later, on 23 May, 1967 Ted abruptly resigned the Force after 16 years and 30 days of service.
At the time of his resignation from the Bermuda Police, Ted and his wife were still living at Zuill's Park in Smiths Parish. They remained in Bermuda for a short while and are believed to have then emigrated to Canada where they settled.
A HISTORY BUFF IN THE MAKING
As earlier quoted in the 1956 Police magazine "Ted was the first person to write a history of the Bermuda Police Force. This was published in the 'Bermuda Historical Quarterly' in Autumn 1955."
Although there is very limited information about Ted's actual service in the Bermuda Police other than his postings, it is clear that very early in his career he developed a passion for studying the history of the Bermuda Police. It is noteworthy that also included in the Police magazine article published just prior to his "transfer" to Kenya was a comment that Ted would best be remembered for the time he was in charge of the Hamilton Police Barracks which were then located on Victoria Street immediately behind the Hamilton Hotel.
It is believed a section of the hotel was being used at that time to store both Government and Police records so Ted would have been in close proximity to both the Hamilton Library and the depository for police records. If he accessed any records stored in the Hamilton Hotel it was just in the nick of time because they may well have been destroyed when the hotel was razed to the ground in the fire of December 1955.
As a young single man Ted would have resided in the Police Barracks from his first arrival in 1951 until his departure to Kenya in late 1955. In any event, it was during these 4 years that he undertook the formidable task of writing the first comprehensive history of the Bermuda Police which he titled, "The Policing of Bermuda – From the Earliest of Times".
The only indication we have of how Ted came to take on this onerous project are his own self-deprecating words as published in The Bermuda Historical Quarterly in 1955, in which he writes, "As far as is known this is the first attempt anyone has made to write a History of the Bermuda Police. As I do not have any literary ambitions or qualifications, one may think it presumptuous of me to undertake the task.
"The fact is – I thought I was on easy street. After spending two or three days in the Bermuda Library and coming away with only a couple of useful paragraphs I knew my hands were full.
"I have spent many hours lost to this world delving through historical records and enjoyed every minute of it. Unfortunately, time has not been one of my attributes and I feel that there is much left unwritten. On the whole, however, this History will probably serve as a useful guide".
Fortunately for posterity, the editors of The Bermuda Historical Quarterly realized the historical value of Ted's writings when they made the decision to publish his treatise, "The Policing of Bermuda from the earliest of times" in its entirety in the Autumn 1955 edition of their magazine which begins is follows"-
THE BERMUDA HISTORICAL QUARTERLY
AUTUMN QUARTER 1955
Published by the Bermuda Historical Quarterly, Hamilton Bermuda.
INTRODUCTION
"The main body of this particular issue of the Bermuda Historical Quarterly is occupied by a history of the police in Bermuda written by Mr. Edward A. Burton who came to the Colony in April, 1951, to join the Bermuda Police Force. His interest in its past was aroused when one day he came upon the old photograph which we are using as the frontispiece to this number. (obtain photo is possible) Immediately he began the research which developed into this article, and later leading him to further writing – previously all his hobbies were connected with athletics and out-door sports.
"Mr. Burton was born in Morpeth, Northumberland, educated at Durham City Senior Secondary School, and served as Petty Officer in the Fleet Air Arm from 1941 – 1948;
during three of these years in Egypt and in the Far East in 1947. We are glad to have an aspect of Bermuda history hitherto untouched upon in our pages and to have the interest of the Commissioner of Police, who has contributed a Forward."
"This edition of The Bermuda Historical Quarterly also includes a Foreward by then Commissioner of Police R.G. Henderson, together the Author's Note shown below:-
FOREWARD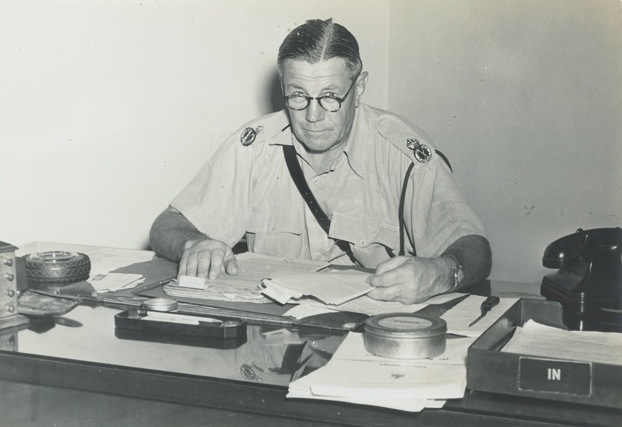 Commissioner R.G. Henderson
"I have read Mr. Burton's History of the Bermuda Police with great interest. He has dealt with the subject in a most excellent manner, and a necessary job has been done – and done well.
"This Force, young though it may be, is already proud of its tradition, and Mr. Burton has done much to strengthen this essential quality and foster esprit de corps. I recommend this issue of the Bermuda Historical Quarterly to every member of the Force."
R. G. HENDERSON
Commissioner of Police
AUTHOR'S NOTE
"As far is known this is the first attempt anyone has made to write a History of the Bermuda Police. As I do not have any literary ambitions or qualifications, one may think it presumptuous of me to undertake the task.
"The fact is – I thought I was on easy street. After spending two or three days in the Bermuda Library and coming away with only a couple of useful paragraphs I knew my hands were full.
"I have spent many hours lost to this world delving through historical records and enjoyed every minute of it. Unfortunately, time has not been one of my attributes and I feel that there is much left unwritten. On the whole, however, this History will probably serve as a useful guide.
"The source of my information in most cases will be obvious by the text, but in those where it is obscure I have given the source in the Appendix."
E. A. BURTON
EDITORS NOTE - We have published Ted's "Policing of Bermuda from the earliest of times" in its entirety here on our website in our "Interesting Articles" column. CLICK HERE to view it. To the best of our knowledge there are very few copies of this article available anywhere other than in the Bermuda Library and the Government Archives.
ARTICLE ON THE POLICE FINGERPRINT DEPARTMENT
Shortly after completing his assignment in Kenya, Ted returned to Bermuda and was transferred to the Criminal Records Office (C.R.O.) for four years. Perhaps it was partly due to his spell working in C.R.O. which included the Fingerprint Section, that his next history project was to write an excellent article about the inauguration of the Police Fingerprint Department in Bermuda.
Bermuda's Governor in 1924 was General Sir Joseph John Asser, K.C.B., K.C.M.G., K.C.V.O., and he was instrumental in suggesting to the Chief of Police, John H. Sempill that the new fingerprinting system coming into use around the world would be beneficial to the Police as a deterrent to crime. Mr. Sempill had taken fingerprinting instruction prior to coming to Bermuda, and with the support of the Governor he obtained permission to visit New York where he met with Captain Golden, considered to be the leading expert on fingerprints at that time in the United States. Mr. Sempill then arranged for two of our Police Officers, Inspector W.N.T. Williams and Detective Officer, Charles Edward "D.O" Simons to attend a fingerprint course in New York after which they returned to the Island and set up our fingerprinting department.
In his article, Ted concluded, "Anyone who has knowledge of the Fingerprint Department today will realize that great strides have been taken since the system was inaugurated and that we are continually keeping abreast of modern methods where their introduction is beneficial to the Force. The officers are highly trained in accordance with the standards set at Scotland Yard."
Ted's article provides fascinating insights into the inauguration of the Fingerprint Department. CLICK HERE to view it in our "Interesting Articles" column.
EDITORS NOTE - Charles Edward Simons had been appointed as Bermuda's first ever detective in 1919 and "D.O." Simons went on to gain a reputation as a legendary detective becoming head of C.I.D. for many years until his retirement in 1935. CLICK HERE to read his lifestory in our "Hall of Fame" column.
Charles Edward "D.O" Simons was appointed as
Bermuda's First Detective Officer
by Mr. Sempill in 1919 and went on to
become the Head of CID
CLEARING OUT OLD POLICE FILES FROM THE PRC
Retired Chief Inspector Roger Sherratt remembers Ted was working as a Sergeant in 1964 when he first arrived on Island. Roger recalls hearing that some historic police files had been transported to Prospect from the Hamilton Police Station when the Police took over the Army Headquarters at Prospect in 1959. These files were stored in the damp cellar beneath the Police Recreation Club where they started to rot and that Ted was ordered to destroy the files by taking them to the dump.
Fortunately, because of his keen interest in police history Ted realized what a disaster that would be and he tried to put aside a few records of particular significance, which was said to include the Harry Sousa murder file and a small piece of the rope used to hang Edward Skeeter in 1878. But he couldn't save them all and it seems that most of the files were in such poor condition they had to be disposed of.
'PERSONALITY INTERVIEW' – CHIEF SUPT. PANTRY
In the 1965 Summer Edition of the Bermuda Police Magazine Ted published an extensive interview he had with then recently retired Chief Superintendent Charles W. Pantry.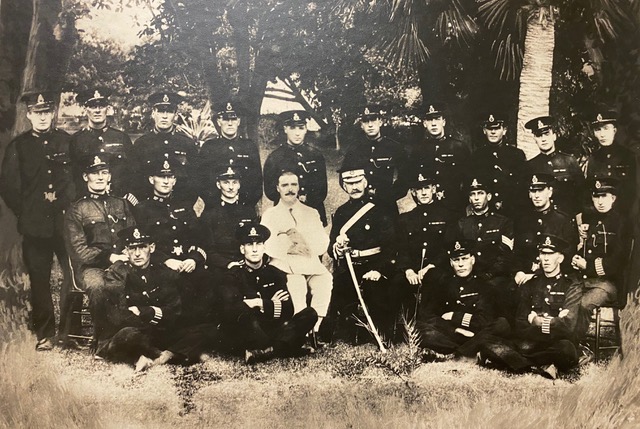 First group of overseas recruits - 1920
Front Row (l-r) PC's P. Pierce, John Strang McBeath, J. Walker, R.J. Henderson
Centre Row – PC's R. Lowe, H. Smith, Inspector Fearneley,
Mr. Jackson (Colonial Secretary) Mr. J. H. Sempill (Chief of Police)
Sgt. Major W.N.T. Williams, Sgt. A. Churm, PC's E. Case and J. Monroe
Back Row – PC's L. Shanks, Frederick Cray, Cecil George Tingey,
Albert E. Rogerson*, Charles William Pantry, C.W. Amos, T. Allison, V.E. Fender,
Alfred Henry Burrows, and J.B. Martin (or Martyn).
Mr. Pantry was one of a contingent of 20 officers - the first group ever to be recruited from the U.K. - who were interviewed and hired by Chief of Police Sempill in London. They set sail from England to Montreal, then travelled by rail to Halifax, Nova Scotia, before finishing their journey by sea to Bermuda in August 1920. Within a couple of hours of their arrival Constable Pantry was one of several young men who had to report for duty at Hamilton Police Station and he was dropped off in Victoria Park to start his patrol despite being a complete stranger in a strange land!
Some of the young men only lasted for a short while but P.C. Pantry made his career in the Police Force, serving for over 30 years before retiring as a Chief Superintendent in 1952.
Ted's interview with Mr. Pantry provides a vivid description of life in the Police Force and will be of interest not only to police officers but to anyone interested in life as it was in Bermuda from the 1920's through the 1950's. CLICK HERE to view the article in our Hall of Fame.
LEGACY
We really have no idea what sparked Ted Burton's initial interest in studying the history of the Bermuda Police Force. There is no indication that he was officially or unofficially asked to do any research, or that he was encouraged by his senior officers in this regard. Ted himself writes that he had no literary ambitions, and he even felt he might be thought of as being presumptuous in undertaking the task of doing so. Bearing in mind that he had no prior knowledge of the Island and was armed with nothing more than a manual typewriter and his own self-motivation, I believe this dedicated young police officer made an enormous contribution to the history of the Bermuda Police and has left a legacy of which we can all be proud.
SEARCH FOR INFORMATION ABOUT TED AFTER HE LEFT BERMUDA
As mentioned earlier, at the time of his resignation from the Bermuda Police after 16 years, Ted and his wife were still living at Zuill's Park in Smiths Parish. It is believed they remained in Bermuda for a short while then emigrated to Canada. I have made numerous enquiries to trace their whereabouts after leaving Bermuda, but have not been able to establish where they settled.
These enquiries revealed that Ted's wife, Minnie (Mary) Burton died on November 19, 1984 at the age of 64. She rests at the Elmdale Memorial Park Cemetery (Section H), St. Thomas, Elgin County, Ontario, Canada. Her cemetery stone is shown below.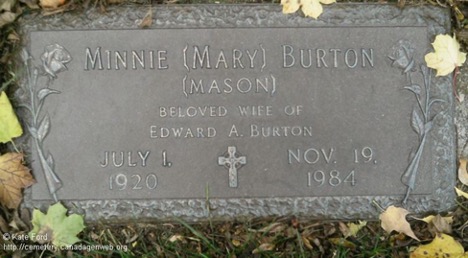 Photo courtesy of Kate Ford
10th December 2020
15th December 2020
EDITORS NOTE - George Rose had undertaken exhaustive research to discover where Ted and Minnie settled after they left Bermuda. As mentioned above, George was able to confirm that Minnie died in November 1984 and was buried in Elgin County, Ontario, so it would be reasonable to presume that they must have been living in Ontario prior to that time.
George had been unable to confirm whether or not Ted was still alive at the time of writing this article, but within days of its publication he was finally able to ascertain that Ted had applied for and obtained a U.S. Social Security number on 8th February 1990, in the Virgin Islands/Puerto Rico. In his application Ted listed his parents as Frank Burton and his mother as Ethel Smithson. Sadly, the record also showed that Ted died on 15th February 1999 in the U.S.A..
If anyone can shed any further light on Ted and Minnie's travels after they left Bermuda, and whether they have any living relatives it would be much appreciated if you would contact George through the address of our ExPo website at This email address is being protected from spambots. You need JavaScript enabled to view it.
One final note. When George first embarked on this project we knew very little about our former colleague Edward "Ted" Burton but through George's diligent research and "detective work" I believe we are now able to give due credit to a man who truly left his mark whilst serving in the Bermuda Police Force.
POSTSCRIPT
RECOGNITION OF "THE POLICING OF
BERMUDA" BY THE BERMUDA RECORDER
In October 1972 the Bermuda Recorder published an Editorial as the first of a précised series of the contents of Ted Burtons article on the Police of Bermuda from the earliest days" published in the 1955 Autumn edition of the Bermuda Historical Quarterly.
It should be noted that four weeks prior to the commencement of these publications, Police Commissioner George Duckett was shot to death at his home in Devonshire on the evening of 9th September 1972.
CLICK HERE to read about investigations into the Commissioner's murder which was followed 6 months later by the assassination of His Excellency the Governor and the murder of his Aide-de-Camp.
The Bermuda Recorder article read as follows:-
The second in this series is a continuation
of the history of the Police Department
by E. A. Burton, an ex-policeman. It is the
hope of The Recorder that this series
will create more goodwill between
the Police Dept. and the Community.
A WORTHY CONTRIBUTION
Most people in some parts of the western Hemisphere subscribe to the precept that man is entitled to life, liberty and the pursuit of happiness. If indeed we do hold this to be a truth, then we do believe that life is sacred and no one has the right to take it except God Almighty who gave it.
Further, if we support this principle, then we obviously agree that no one has the right to deny man of his liberty. He should be free to make his own choices.
The civilized world has embraced the idea that every man has the right to the pursuit of happiness – each choosing his own path in search of that formula which would give him enjoyment, success and allow him to make his contribution to his community.
Assuming that our thinking does coincide with this precept, we must undoubtedly accept the fact that there are customs which have the force of law. These customs prescribe the methods we employ in achieving out right to life, liberty and the pursuit of happiness.
We believe that the majority of Bermudians are law-abiding and are anxious to do their part in ensuring that peace and harmony prevail. On the other hand, there a few who thrive on discord and war – even though it be with words. Be that as it may, we repeat that for a country such as ours, law and order must prevail if we are to continue the prosperity that Bermuda is having at this moment.
An integral part of this scheme of maintaining law and order and preserving our rights as citizens is the Bermuda Police Department.
Some of us agree that laws must be made to protect us, and in the same breathe we utter words to the effect that these same laws when enforced by the authorities take away our liberty. We must be fully cognizant of the fact that the laws that protect us from abuse are the same for those who commit the abuse, and we do have redress.
Few Bermudians have sought the Police Department in their pursuit of happiness; but this should in no way be justification for treating with contempt those who have accepted the challenge. Remember, policemen have the same basic rights as we in the community – life, liberty and the pursuit of happiness."
KNOW YOUR POLICE DEPARTMENT
"Bermuda's Police Force has been the subject of much discussion – both bad and good – in Bermuda. Over the years they have changed in image from the friendly "man in blue" to an object of derision for our youth epitomized in the label "pig".
"Much of the bad publicity surrounding the Police Force is due to the fact that not many Bermudians are on the Force; but is this the fault of the Force itself, or of Bermudians?
"In an effort to create more understanding between Bermudians and the men on our Police Force, the Bermuda Recorder is presenting a series of articles on our Police Force entitled: "KNOW YOUR POLICE DEPARTMENT". In this series, we will explore the beginnings of the Police Force, its history, its recruitment and training programs, and its various departments and their functions.
Publication of the above précised articles by E. A. Burton seemingly ended on the 4 November, 1972; but they immediately resumed on the 10 November, 1972 with a continuation of the history of the Force authored by then Chief Inspector Maurice 'Sykes' Smith who brought the History up to date from 1954 to 1972.
__________________________________
ADDENDUM # 1 – MEDALS
THE AFRICA STAR MEDAL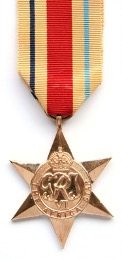 The Africa Star medal is a military campaign medal awarded to British and Commonwealth forces who served for one or more days of service in the North Africa theatre of operations between 10th June, 1940 and 12th May, 1943 during the Second World War.
The Star was awarded for the following qualifications and operations:
Navy – at sea in the Mediterranean between 10th June, 1940 and 12th May, 1943, and or service in support of the campaigns in Abyssinia, Somaliland and Eritrea. Naval service ashore in the same areas as the army would also qualify.
The ribbon of the medal is symbolic. The pale buff colour represents the desert. The dark blue stripe represents the Royal Navy and Merchant Navy, the central vertical red stripe the Army and light blue the Royal Air Force. This ribbon is worn with the dark blue stripe furthest from the left shoulder.
THE DEFENCE MEDAL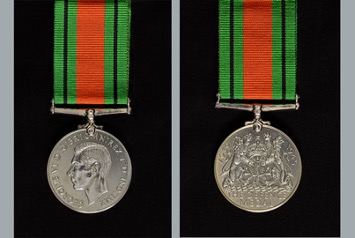 The Defence Medal was awarded for service in the forces in non-operational areas subjected to air attack or closely threatened for at least three years' service in Great Britain until 8th May 1945 or one year in territories overseas until 2 September 1945.
The Defence Medal is awarded for non-operational service such as those service personnel working in headquarters, on training bases and airfields and members of the Home Guard. The medal is also awarded for non-operational service overseas for example in India or South Africa.
The colours of the ribbon symbolize enemy attacks on Britain's 'green and pleasant land' and the black out.
To apply for the Defence Medal, you must have either:
1080 days (3 years) service in the UK between 3 September, 1939 and 8 May 1945.
1080 days (3 years) service in the Home Guard between 14 May, 1940 and 31 December, 1944.
360 days (1 year) non-operational service overseas between 3 September, 1939 and 2 September, 1945
180 days non-operational service in an overseas area deemed to be closely threatened or subject to air attack between 3 September, 1939 and 8 May, 1945.
THE WAR MEDAL
(often incorrectly referred to as the "Victory Medal")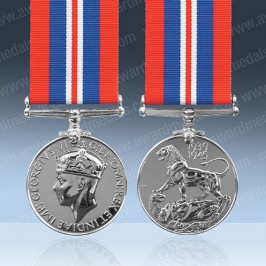 The War Medal 1939 – 1945 was a British decoration which was instituted by the United Kingdom on 16 August 1945, for award to subjects of the British Commonwealth who had served full-time in the Armed Forces or the Merchant Navy for at least 28 days between 3 September 1939 and 2 September 1945.