CHIEF SUPERINTENDENT CHARLES W. PANTRY
Served from 1920 - 1952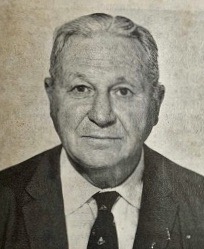 Charles W. Pantry
INTRODUCTION
The following "Personality Article" about Chief Superintendent Charles W. Pantry, who served in the Bermuda Police from 1920 – 1952, was first published in the Summer edition of the Bermuda Police magazine in 1965. The article was written by Sergeant Edward A. "Ted" Burton who had taken a great interest in the history of the Bermuda Police.
In late 2020, retired Superintendent George Rose was immersed in a project to write an article about the tremendous contribution Ted Burton had made to conducting research and writing about the history of the Bermuda Police while serving here between 1951 and 1967. Within 4 years of his arrival Ted had written the first ever comprehensive history of the Police Force, "The Policing of Bermuda from the earliest times" published in the Bermuda Historical Quarterly magazine in 1955.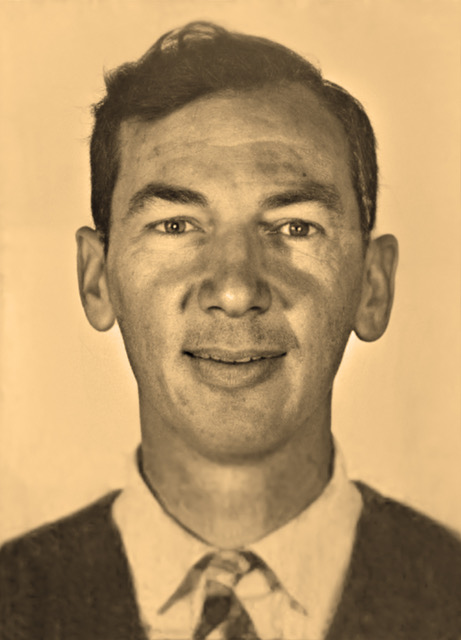 Edward "Ted" Burton
Ted went on to write at least two more excellent history-related articles, the first of which was about the inauguration of the Fingerprint Department in 1924, and the second was this "personality article" about the life and times of Chief Superintendent Pantry who was one of twenty young recruits who were the first overseas contingent to be hired from the U.K. 1920.
Ted interviewed Mr. Pantry for this article some 13 years after his retirement, and Ted made a wise choice because his subject had a terrific story to tell, from his early childhood in South Africa, to his service in the Royal Marines during the First World War, and his arrival in Bermuda as a young untrained police officer who, literally within hours of landing here, was kitted out in thick blue serge uniform and dropped off in Victoria Park to walk the beat. There were no motor cars in the 1920's but young officer Pantry certainly had his share of excitement as recorded in this interview.
Our Police Service is greatly indebted to Ted Burton for his tremendous enthusiasm in capturing the fascinating history of the Bermuda Police, and none more so than the story of the Late Chief Superintendent Charles W. Pantry.
'PERSONALITY INTERVIEW'
CHARLES W. PANTRY
Interviewed by E. A. Burton
On August 9th 1920, the Bermuda Police Force underwent a great change in establishment when 20 officers, the first, ever to be recruited from the United Kingdom, arrived in Bermuda.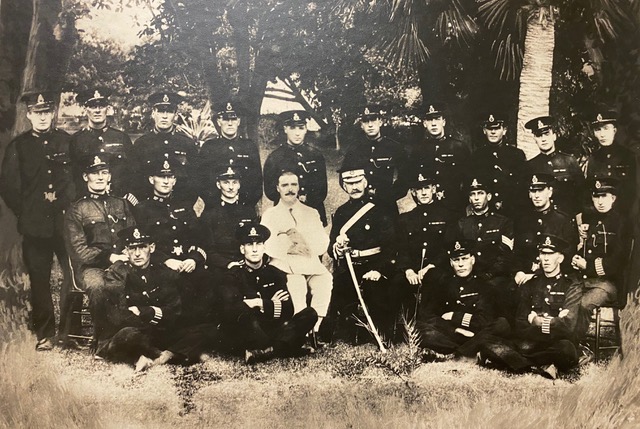 First group of overseas recruits - 1920
Front Row (l-r) PC's P. Pierce, John Strang McBeath, J. Walker, R.J. Henderson
Centre Row – PC's R. Lowe, H. Smith, Inspector Fearneley,
Mr. Jackson (Colonial Secretary) Mr. J. H. Sempill (Chief of Police)
Sgt. Major W.N.T. Williams, Sgt. A. Churm, PC's E. Case and J. Monroe
Back Row – PC's L. Shanks, Frederick Cray, Cecil George Tingey,
Albert E. Rogerson*, Charles William Pantry, C.W. Amos, T. Allison, V.E. Fender,
Alfred Henry Burrows, and J.B. Martin (or Martyn)
The Force had for many years been suffering from a shortage of men of the right calibre, due mainly to the fact that they were grossly underpaid. (A newspaper report at the time alleged that a sergeant received £10 per month pay but it cost him £18 per month to live). The arrival of the 20 men increased the number actually serving from 26 to 48. One of the officers arriving on that date was Charles Pantry who ultimately served the Force for over 30 years.
Mr Pantry was born in November, 1894, at Beaufort West in the then Cape Colony
South Africa. His father, an Englishman had emigrated to South Africa in the 1880s and subsequently married an Afrikaans lady named Nazette whose parents had emigrated from France shortly after the French Revolution.
They ran one of the few hotels in the area which was called "The Beaufort Hotel."
Right up until the age of ten the principal language spoken in the family was Dutch.
Charles, however, was sent to the Rondebosch Boys High School where he learned to speak English, an achievement of which all the boys at the school were proud.
In 1904, a young and somewhat apprehensive boy left South Africa to further his education in England. He attended a grammar school at Solihull, Birmingham and there realised that his English was not all that it should be. His accent quickly led him to be called a 'Pro-Boer', among other less complimentary remarks, which resulted in a series of fights behind the gym. From Solihull his education was continued at King Edward Grammar School, Aston, Birmingham.
Now at an age where he considered that he had had sufficient schooling, an impressionable young man was captivated one day when his eyes caught the adventurous looking posters outside the Royal Marine Recruiting Office at Broadstreet, Birmingham. Just a step on the other side of the threshold and on the 6th day of February, 1911 he enlisted.
After two years training at Eastney Barracks, Charles was drafted to his first ship, a battle cruiser named HMS New Zealand, which was built on the Clyde with funds supplied by the people of New Zealand. She immediately sailed around the world to New Zealand and stayed nearly four months. Before leaving Eastney the young rugged recruit had played rugby for the Marine Artillery and possibly it was because of his prowess that he was chosen for the trip to New Zealand.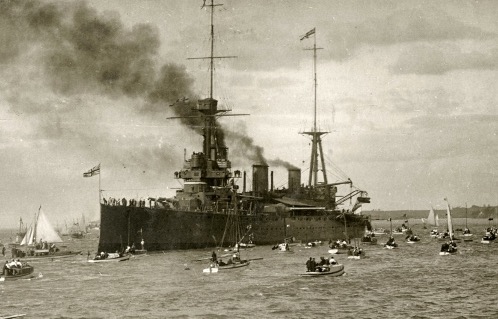 HMS NEW ZEALAND ARRIVING IN AUCKLAND IN 1913
Photo courtesy of the National Museum of the Royal New Zealand Navy
From what he reports there is every reason to believe that young Charles Pantry
was aboard this battle cruiser as she steamed into Auckland harbour in 1913
The trip to New Zealand terminated with Mr Pantry being awarded what is now a rare silver medallion by the Prime Minister of New Zealand. This medal was struck to commemorate the ship's visit and was awarded to Officers and men who participated in international activities - in Mr. Pantry's case it was for Rugby. Fifty years later Mr. Pantry presented this medallion to the Royal Marine Museum at Eastney where it is believed to be the only one of its kind.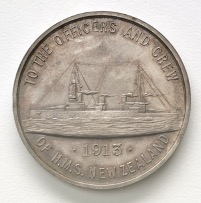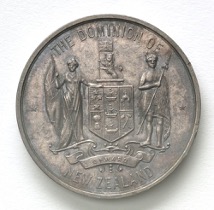 Medal awarded by the Citizens of Auckland
to the officers and crew of HMS New Zealand
commemorating the battleship's visit to
Auckland 29th April-10 May 1913
Like all ambitious young men, Mr. Pantry was promotion conscious and early in 1914 he was recalled to barracks in order to take his Corporal's course, but due to the war clouds, instead found himself drafted on board H.M.S. Hibernia of the Third Battle Squadron with the rank of Acting Bombardier. For the next couple of years he was continuously occupied in various acts of war operating from the Firth of Forth. The battle of Heligoland was dominant during this period and the memories of many Northern Patrols stand out vividly.
Shore leave was greatly restricted in those tense days and for exercise roller skating on the deck was a popular pastime. During one of these exercises Mr. Pantry fell and broke his leg. This resulted in his being taken ashore to the Base Hospital at Queensferry where, by some mismanagement, he was mixed up with a number of patients wounded in action and transported to a hospital on the Isle of Bute, where he had considerable embarrassment telling all and sundry that his injuries were received roller-skating. On recuperating he was sent back to Eastney and was then drafted overseas. His destination in the first instance was Salonica, but for reasons unknown he found himself landed at Alexandria; thereafter he moved up and down the North African coast-line organising the coastal defences.
Towards the end of 1917 he and his friends were sent across the Mediterranean to Marseilles, presumably to take part in warfare there, but just when they were ready to go into action they were returned to Eastney.
After a short spell of leave, Mr. Pantry was drafted on board H.M.S. Moldavia, an armed Merchant Cruiser, and went back on the Northern Patrol, where sometimes the guns were so frozen it was impossible to man them. Service on this ship saw the capture of a German Prize Crew from a U boat which, a few days previously, had taken possession of an Italian ship. Among many other duties the Moldavia ran bullion from West Africa to Avonmouth on a number of occasions. Finally she was sent to New York in order to escort a convoy of troops back to the war in Europe.
The Moldavia, as well as being convoy leader also carried about 300 troops. On 28th May 1918 H.M.S. Moldavia entered the waters of the English Channel, only to be sighted by a German U boat and was subsequently torpedoed on the port side just below where Mr Pantry was on duty in charge of his gun crew. Suddenly the whole world seemed to blow up in front of his eyes and in short time the ship was sinking bow first. Fortunately, a destroyer was near at hand and all but 66 men were rescued. Those lost were all troops quartered around where the torpedo hit. All the rescued were landed at Dover. Mr Pantry and his colleagues on being taken back to barracks were assigned a 'square number' consequently sitting out the rest of the war in comparative peace.
Early in 1920, a Command General Order was issued stating that young N.C.O.s aged about 25 would be given an Admiralty Discharge if they applied for and were accepted by the Bermuda Police Force which was being reorganised. Mr Pantry's Adjutant at the time was Captain H.C. Harrison who captained England at rugger in 1918. He tried to dissuade Mr Pantry from applying, but the challenge Bermuda offered was too appealing.
He and four other Marine N.C.O.s were selected after being personally interviewed by Mr. Sempill the then Chief of Police in Bermuda.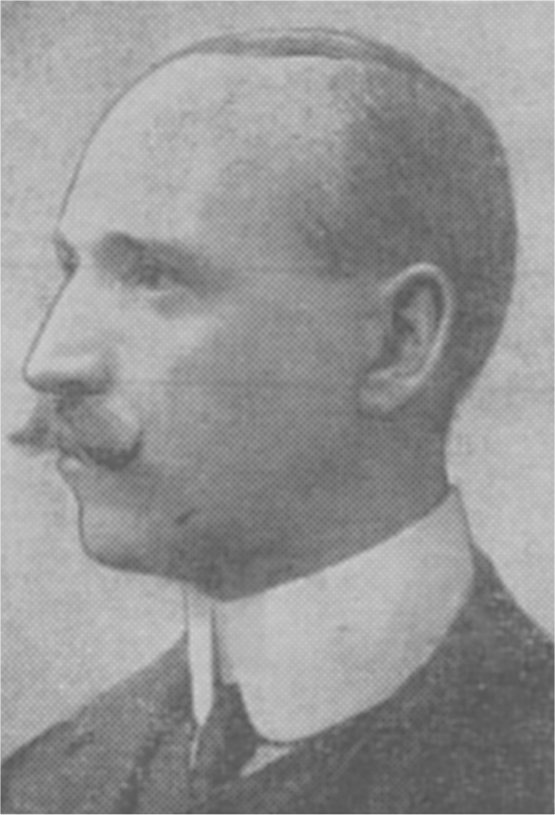 Chief of Police Sempill
After being issued with a bundle of clothing obtained with cooperation of the Metropolitan Police Force, the five Marines together with thirteen ex-Metropolitan policemen and Mr Sempill set sail for Bermuda towards the end of July. They sailed to Montreal, thence by rail to Halifax, thence by sea to Bermuda, arriving on August 9th, 1920.
On arrival they were paraded on the dock and were marched in strict military order to the Allenhurst Building on Parliament Street. This building a short time before had been the Allenhurst Hotel on Parliament Street was adapted for use as a police barracks.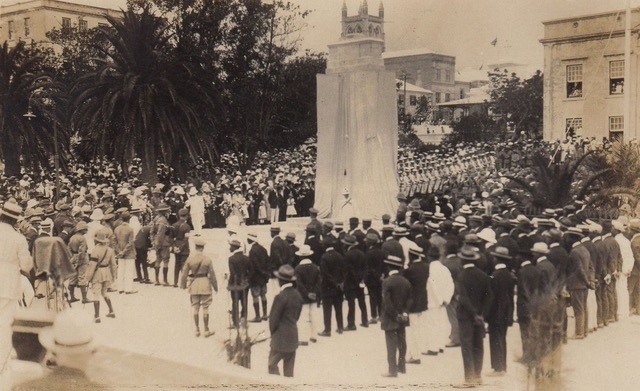 Unveilling of the Cenotaph - 1925
The Allenhurst building can be partly seen in the top left corner of this photo
Editors note - The above photo shows the Allenhurst Building just a few years after it started to be used as accommodation for police officers. Although it was taken 5 years after the arrival of the 20 recruits, including young Constable Charles Pantry, there is every likelihood that several of those young men are in attendance at this unveiling ceremony.
The time was about 5 p.m. and the men hadn't been at the barracks for more than a few minutes when a Sergeant Churm came along and detailed several of them for duty on the next watch which was 8 p.m. to 4 a.m. They were obliged to undo their bundles of uniform and straighten them out as best they could ready for wear. On that hot August night, dressed in heavy choke-neck uniform, complete strangers and without having seen the Police Station, Constable Pantry and several others were marched from the Allenhurst Building and dropped off on various beats. Constable Pantry was dropped off at Victoria Park and told to patrol No. 5 beat. When it came to 4 a.m. and time to return to the police station to book off, he found that he was lost and had to ask an old man who was clearing away horse manure (a common sight in those days) how to get back to the Police Station.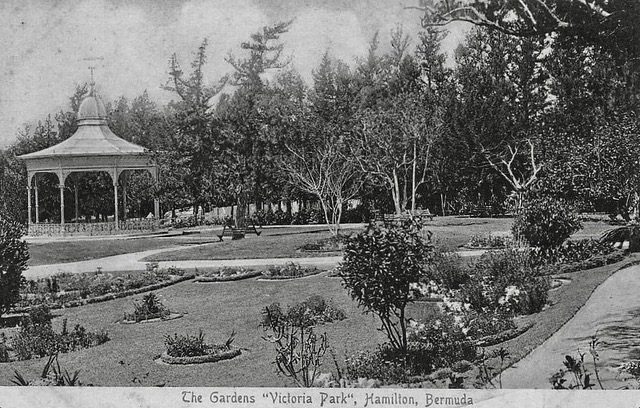 Early photo of Victoria Park
The uniform supplied was made of thick blue serge and was found to be absolutely unbearable in the hot August sun. This uniform contrasted with that already being worn by the existing police which was of a light grey material. Arrangements were soon made with the Marines at the Dockyard for the men to be fitted out with white tunics which were altered slightly for police use. These were worn with the blue trousers and a white pith helmet. Not really a great improvement!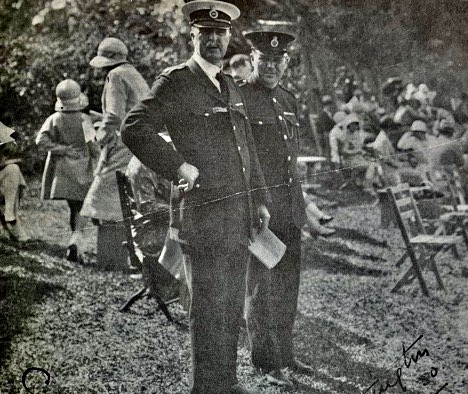 Mr. Pantry (right) with past Commissioner
The legend beneath this undated photo perhaps suggests that the
'past Commissioner' references Mr. Sempill although this would be the first time he was ever
designated as Commissioner. Mr. Sempill resigned his post in Bermuda in 1927
and as far as is known he never returned to the Island
There was no vehicular traffic on the Islands then and the only transport owned by the Police consisted of a few push bikes used by the Parish Officers. Police Headquarters consisted of two or three rooms above the Hamilton Police Station (a situation which with only slight variation, existed until 1957) where the Chief of Police carried out the duties of Provost Marshal General, Warden of Prisons, Registrar of Cycles, Registrar of Carriages, Registrar of Dogs and Official Inspector of Horses This work of course was delegated to others who, with an establishment of only 46 at the time, found themselves plenty to do.
All training was of the 'self-taught' variety, but by perseverance aided by a love of police work Mr. Pantry gradually rose through the ranks until he was appointed Chief Superintendent. He was promoted to Sergeant in February, 1923; Sub-Inspector in July, 1933, (this rank was changed to Assistant Superintendent in January, 1938) Superintendent in July 1941 and Chief Superintendent in July, 1950.
Fourteen years of Mr. Pantry's service were spent in charge of the C.I.D. which had started from literally nothing at all. One of the greatest advancements in the Force during his career was the establishment of the Fingerprint Bureau in 1924 when officers were sent to New York for training. Their training and enthusiasm was ultimately passed on down the line to others. Besides many cases being solved by the identification of fingerprints, perhaps the greatest achievement was the identification of all the dead passengers recovered from the wreckage of the Cubana airliner when it crashed off St. David's in 1952.
The most outstanding criminal case during Mr. Pantry's career, as will be agreed by everyone, was the Stapleton Murder in 1943, the details of which would satisfy any criminologist or amateur detective. The most significant change as far as police duties were concerned was the introduction of motor vehicles which changed the calm serenity of the Islands. Of course this had its blessings, for in time it was possible to dispense with the registration of cycles and carriages and the inspection of such horses as were left was given to the Government Veterinarian. The days of the 'horse manure man' were over !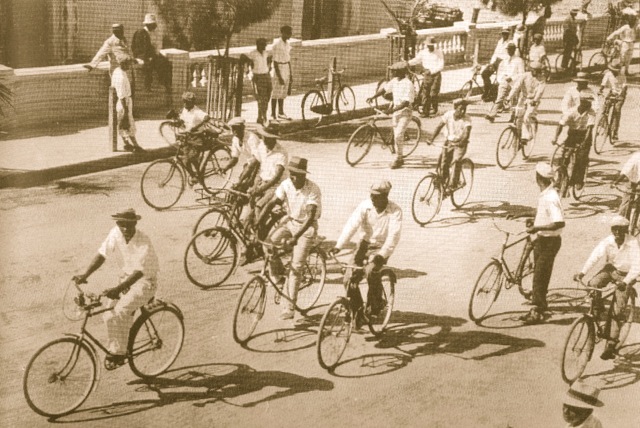 Pedal cycles were the major form of transport prior to 1946
and had to be registered as we now do more motor vehicles
In a police career covering over 30 years Mr. Pantry finds it difficult to single out all the newsworthy and interesting things that have happened to him. Arrests which made the headlines years are remembered by only a few. However names plucked out of the past like Fitzgerald Smith and Enos might bring back memories for some. One need only look through Mr Pantry's list of commendations to realise that he was a pretty active policeman. He was commended by the Governor twice and he received several police commendations. He was also commended by the Corporation of Hamilton for his services in connection with fires and was the recipient of the Hamilton Fire Brigade Meritorious Service Medal as well as the Colonial Police Meritorious Service Medal.
Mr Pantry remained active in the rugby world throughout his career and in 1926 he captained the first Bermuda Rugby team to tour abroad. This team toured Canada and won five of the eight games played. Even whilst on duty Mr Pantry has reason to bless his ability to bring an opponent down with a flying tackle for he made several arrests in this way.
On one occasion, however, he came unstuck. This was during the bootlegging days when the police had the unenviable duty of enforcing the Liquor Control Act. Liquor was not allowed to be taken on board visiting American ships and all sorts of ruses and devices were used to circumvent the law. One day Mr Pantry intercepted the bandleader from a cruise ship who was attempting to board carrying a Gladstone bag containing ten bottles of gin. In a flash the bag was thrown overboard and a chase ensued which terminated when Mr Pantry made one of his flying tackles and found himself flying through the air – overboard. Even so, the arrest was made and the bandleader was suitably punished. When one considers that even firearms were known to have been used on occasions, the bootlegging days stir the imagination; further revelations, however, must be left for another day.
Mr Pantry was, and still is, a member of the International Police Association for Identification. In his capacity as State Vice-President for Bermuda in 1954 he was responsible for bringing to Bermuda nearly two hundred members and their wives to hold their Annual Conference. This was a tremendous piece of organisation on Mr. Pantry's part and quite a shot in the arm, at the time, to Bermuda's tourist business.
Mr. Pantry retired from the Force in 1952, the last of the 1920 vintage to do so. During those years, in addition to his police career, he found time to marry a local girl, Violet Vallis, in 1921, and raise a family of three sons and one daughter. One of his sons, Louis, also chose to be a policeman, and is now an Inspector in the Royal Canadian Mounted Police at Whitehorse in the Yukon.
Retirement has not dampened Mr. Pantry's interest in police work. He was for two years Executive Officer in the Reserve Constabulary and has indulged considerably in Private Investigation work. Ah! The tales he has left untold.
On being specifically asked his views, Mr. Pantry said that the Police Force has progressed immeasurably since his time and has become a real professional Force. Well - we on the Force must agree with him, but we must also allow that the foundation stone was laid by keen, able and adventurous officers such as he.
________________________________________________________________
EDITORS NOTE - We have published this article, written by then Sergeant Edward "Ted" Burton as it appeared in the Police Magazine in 1965. We are aware that Mr. Pantry still has direct descendants living here in Bermuda, and possibly elsewhere. We are presently making enquiries to see if they might be able to provide any further information and possibly photographs of Mr. Pantry. Anyone who can provide more information about the Late Chief Superintendent Charles W. Pantry is asked to contact us at This email address is being protected from spambots. You need JavaScript enabled to view it.