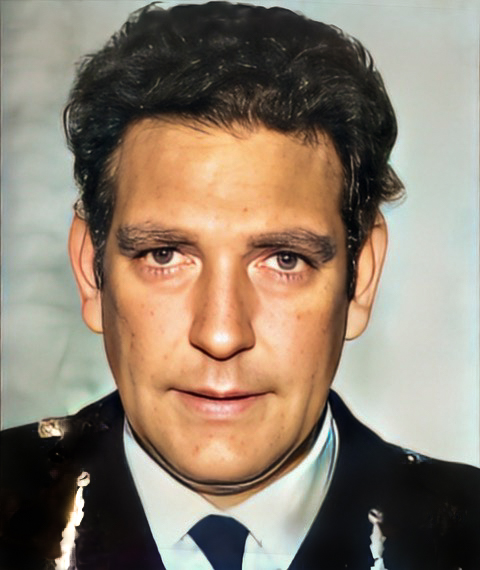 Commissioner George Duckett
9th September 2022
It was 50 years ago today, on the 9th September 1972, that Bermuda's Commissioner of Police, George Duckett OBE was shot and killed, setting off some of the darkest days in the Island's history.
Mr. Duckett was changing a broken outdoor light bulb on the back porch of his home at Bleak House in Devonshire when he was ambushed and shot with a .22 calibre Schmidt revolver. A number of shots were then fired through the kitchen window, one of which struck Mr, Duckett's daughter, Marcia. Mr. Duckett died but his daughter survived. The shooting was reported by Mrs Duckett when she arrived at Operations in a very distressed condition. First officers at the scene were Sgt Custerfield "Custy" Crockwell and P.C. Frank Smith. Mr. Duckett and his daughter were conveyed by ambulance to King Edward Memorial Hospital where the Commissioner was pronounced dead on arrival, and his daughter was treated for her injuries.
Mr. Duckett was born at St. Annes-on-Sea, Lancashire, in December 1930 and attended King's School, Chester, where he excelled as an all-round sportsman captaining the school cricket team, football team and tennis team.
In 1949 he joined the Royal Army Educational Corps as an instructor at the Headquarters of the British Army on the Rhine.
He began his career in the Colonial Police Service in 1951, and after training at Mill Meece and the Metropolitan Police College at Hendon, he was appointed as an Assistant Superintendent in the Nigeria Police in November 1952, serving in Lagos.
In 1957 Mr. Duckett served with the United Nations Forces in the Congo as the Officer in Charge of one of the Nigeria Police Contingents in the Congo. He went on to serve as Commandant of the Northern Police College. In 1964, Mr. Duckett was promoted to the rank of Assistant Commissioner responsible for Officer training. He was awarded the Nigerian Police Medal for Meritorious Service, and received his OBE in the 1966 New Years Honours List.
Following his retirement from the Nigeria Police in December 1966, Mr. Duckett was appointed to the Ministry of Overseas Development in May 1967 to head a British Police Training Mission to Jamaica where he served until he took up his appointment as Commissioner of Police in Bermuda in December 1969.
In his Obituary published in the Bermuda Police Magazine, Mr. Duckett was described as a very keen and active sportsman who played cricket, football, tennis and squash. He was also an enthusiastic supporter of our police sports teams, particularly rugby, boxing, and tug o'war. He rarely missed a Police sporting or social event.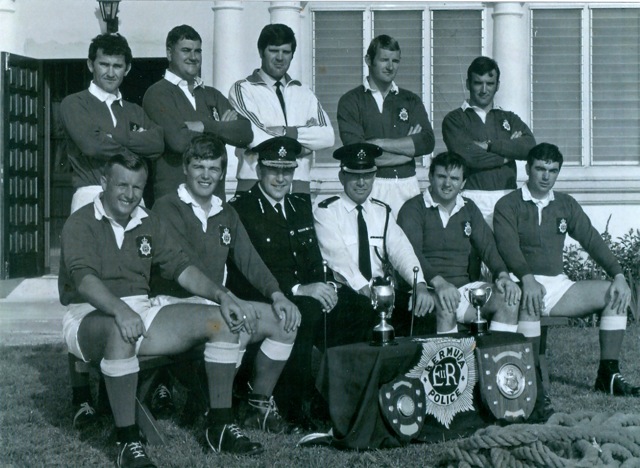 Members of the Police Tug o' War Team display their trophies outside the PRC
Standing (l-r) Barrie Mancell, Keith Pratt, Mike Parris, Alex Armfield, Graham Maddocks
Seated - Davie Kerr, Bill Butterworth, Commissioner of Police George Duckett,
Supt Jim McMaster, Pat McBride, and Andy Lavery
Mr. Duckett was a big man, standing over 6'4" who drew quietly from his experiences elsewhere and applied those which he considered to be beneficial to the Bermuda Police. It was said that to all intents and purposes it was as if he had known no other Force than the Bermuda Police of which he was inordinately proud.
Mr. Duckett often described himself as a "blunt North Countryman" and was known to always speak his mind, but his bark was said to be usually worse than his bite, and he took a keen interest in the welfare of his men and women. He resented unwarranted criticism of the Police and would defend his officers at any and all levels. His courage was well known; he feared no one, and this earned him the respect of his personnel and the community.
Mr. Duckett was described as first and foremost a police officer, everything else was subordinated to his chosen profession. He was happiest working "on the ground" as he termed it, than he was behind his desk at Headquarters, He was, above all, a leader of men.
Following his tragic death, Commissioner Duckett's funeral was held at the Most Holy Trinity Cathedral in Hamilton and was said to be one of the largest funerals ever held in Bermuda with large crowds thronging the sidewalks and the grounds of the cathedral. Following the service the funeral cortege escorted by the Police Motor Cycle Section drove to the Police Cemetery at Prospect where he was laid to rest.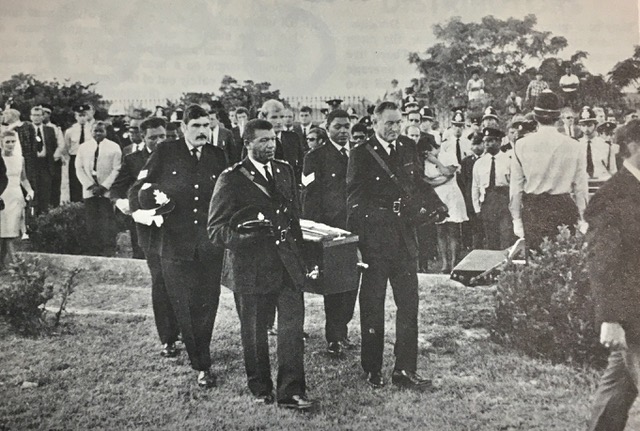 Commissioner Duckett laid to rest at Police Cemetery
Pallbearers (left side) - Chief Inspector Harry Lister, Sgt Barrie Meade, D.C. Dudley Swan
(right side) - Inspector Arthur Rose, Sgt Custerfield Crockwell and P.C. Alex Armfield
The following Message of Sympathy from Sir E.T Richards, the then Government Leader, was indicative of the feelings of many others in the community:-
"I am writing to you as Government Leader to convey to you and to ask you to convey to all officers and men of the Bermuda Police Force the deep sense of horror and shock with which I and members of the Government heard of the tragic death of the Commissioner of Police Mr. George Duckett.
As I have said publicly, Mr. Duckett was a dedicated and fearless police officer who was both devoted to the Force and to the concept of service to the community. His death is a great loss the Force, to the Government and to the people of Bermuda. Both you and the members of the Force may wish to know that I saw Mrs. Duckett this morning and conveyed to her my deepest sympathy and that of Lady Richards.
It is regrettably true that it sometimes requires a tragic incident to bring home to some of us in the community the personal courage, loyalty and sense of duty which are required of a Police Officer. I want you and all members of the Force to know that my colleagues and I in the Government are most sensible of the very high standard of service given, at all times, by the Bermuda Police, particularly under the leadership of the late Commissioner, and that you have the sympathy and the fullest confidence and support of us all in the days which lie ahead."
Yours sincerely
E.T. Richards
Government Leader
Postscript
Following the death of Commissioner Duckett, the Deputy Commissioner Leroy Maxwell "Nobby" Clark took over as Acting Commissioner of Police and was appointed as Commissioner of Police in November 1972.
The brutal killing of Commissioner Duckett was the first in a series of murders and serious crimes that rocked Bermuda during the next two and more years including the assassination of H.E.Governor, Sir Richard Sharples, KCMG, OBE, MC, and his Aide-de-Camp, Captain Hugh Sayers, who were shot and killed one evening as they were strolling through the grounds of Government House along with the Governor's dog which was also killed.
Less than a month later Mr. Victor Rego and Mark Doe were brutally murdered during an armed robbery at the Shopping Centre on Victoria Street.
The investigations into these murders and other serious crimes was led in part by two senior detectives from Scotland Yard, Detective Chief Superintendent William "Bill" Wright, and Detective Inspector Basil Haddrell, who were brought in to assist the Bermuda Police. These two experienced detectives had earlier assisted in the investigation of the murder of Jean Burrows in July 1971, at which time a Murder Squad was formed to coordinate that investigation using systems that were pioneered by Scotland Yard and were to prove invaluable to the Bermuda Police in dealing with future serious crimes including these murders.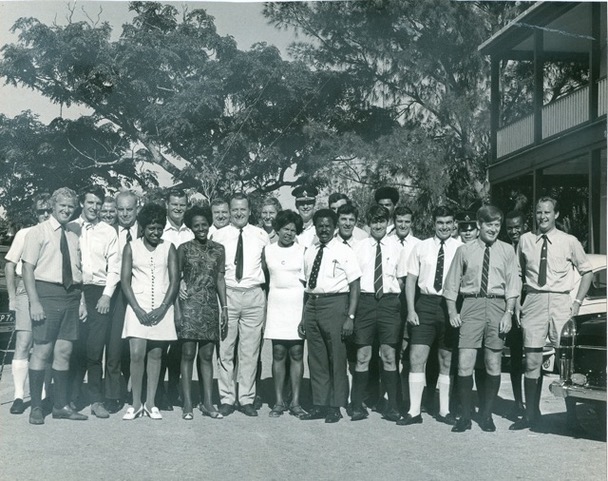 Members of Bermuda's first Murder Squad - September 1971
(l-r) Dai Thomas, Keith Dunmore, Steve Dunleavy, Stuart Holmes, Frank "Gruff" Hammond,
Carol Holdipp,
Joe Colton, Aideen Forde/Fletcher, John Mulholland, Bill Wright from Scotland Yard)
Gwylan Willams,
Verbina Daniels COP George Duckett, Lenny Edwards, ( ?), Tom Cassin,
Ian Ganson, Carlton Adams,
George Rose, Andy Lavery, Ralph Saints, Norrie Galbraith,
Orson Daisley, and Basil Haddrell from Scotland Yard.
The investigations into these crimes were no doubt the most extensive and thorough ever carried out by the Bermuda Police. These investigations led to several men being strongly suspected of being involved in one or other, or all of the crimes, and one of the prime suspects, Erskine Durrant "Buck" Burrows was finally arrested in October 1973 on a night when he was heavily armed while riding a motor cycle. Detective Inspector Clive Donald and Detective Sergeant Larry Smith were part of a stake-out team keeping observations in an area where it was believed Burrows was staying. Although he was heavily armed, Burrows was pounced on and arrested without any injury to himself or anyone else. The two officers were later deservedly awarded The Colonial Police Medal for Gallantry.
Further investigations led to another man, Larry Tacklyn being arrested and also charged along with Burrows, with the murders of the Governor, his ADC, and Messrs Rego and Doe, while Burrows alone was charged with the murder of Commissioner George Duckett.
Following lengthy trials in the mid-1970's both Burrows and Tacklyn were found guilty and sentenced to be executed. Once all avenues of appeal had been exhausted, the two men were executed in December 1977. The Bermuda Regiment and the Police Reserve Constabulary were embodied because of serious disturbances and rioting at that time. Gradually, peace was restored and the worst crime spree in Bermuda's history was finally over.
Editors Note - CLICK HERE for an excellent article wirtten by retired Superintendent George Rose about some aspects of the investigations into a series of murders and numerous armed robberies, starting with the the murder of Commissioner George Duckett.
COMMENTS -
9th September 2022
Received from Colin MacKenzie who served from 1970 -1979
Hi, there, Roger. Read that good article about George Duckett and all the incidents that came after his death. It brought back memories of those years in the 70's when I was attached to Special Branch Bodyguard Section. Like the other officers on the section, we rotated on those protection duties.
I remember being with Sir E.T. Richards, Government Leader, and Sir Edwin Leather, the Governor at one time. Without fail, the wives and family members of these VIP's all realized the seriousness of the circumstances of my presence (and that of the other bodyguards) and when instructions or direction was given about when to do something or not to do something, there was never any objection. There was a polite affirmation that I was in charge and for one reason only - to ensure their safety. As well, when on duty at Sir E.T's house, Lady Richards was very attentive and would always ensure that I had a cup of tea, water and a sandwich, as she always used to say, to keep me alert!
The attention given to the VIP's when at their own house was very focused for obvious reasons. I would always be informed if my assigned VIP would leave their house for any reason, even to get something from their car, and that meant being near them to ensure their immediate safety. The care, attention and respect from the VIP's that I was assigned to was really appreciated.
And, finally, I was on the protection detail at the airport for the arrival and visit of the Queen and Prince Phillip. I remember Prince Phillip had a very friendly personality, always had a smile. The Queen had more of a quiet personality but very engaging with the public. Now, sadly, the Queen has passed on but my memories of her and Prince Phillip will always be there, as will my memories of being on duty to serve and protect those VIP's whose lives were in the hands of the officers attached to the VIP Bodyguard Section. I wish all my former colleagues who were on the Bodyguard Section with me best wishes and good health.

Sincerely,
Colin.
12th September 2022
Received from retired Assistant Commissioner of Police, Carlton Adams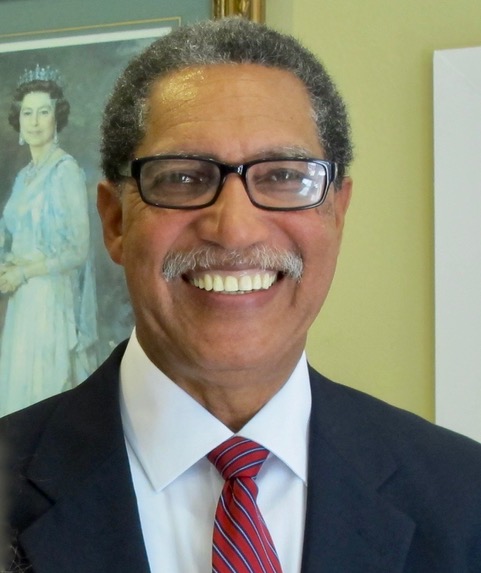 Retired ACOP Carlton Adams
George Duckett was appointed Commissioner of Police to the Bermuda Police Force as it was then known following the departure of Commissioner George Robins who had retired. At the time it was said that he had a background in Police Training.
Mr. Duckett, far from perfect as an individual, was in many ways completely unlike his predecessor and very quickly became a controversial figure in Bermuda. His management style was for the most part autocratic and likewise controversial. He could be aggressive and intimidating in an instant and was not popular with some members of the Force, and indeed some segments of the public as a result.
He was a keen rugby fan and an enthusiastic supporter of the police rugby team. Woe-betide on duty officers found watching a game as it was being played. On one such occasion two such officers caught by him at a popular venue were instantly transferred from the Traffic Dept to a Watch at Hamilton Police Station, and with immediate effect.
I got to know Commissioner Duckett after being summoned to his office not having been provided with explanation for the reason beforehand. His reputation having been established I was apprehensive and trying to think of what it was I had done wrong to merit his attention. However, I was politely welcomed, given a seat and questioned about my activities as a junior Det Constable. He was particularly interested in the incidences of B&Es and other petty crimes and individuals believed frequenting a property a short distance from his residence, Bleak House just off the nearby railway trail and what is now called Palmetto Road.
Subsequently I met with Mr. Duckett on several other occasions when the discussions were much the same as described, the last being when he mentioned that I would be going to Bishopgarth Police College in the UK for Initial Detective Training. Up until then Force Policy dictated that only officers who had been confirmed in their appointments, a four-year process to completion, could be considered for overseas training and there were some mutterings of opposition in the ranks to my having been selected as I had served nearly three years. Opposition was soon silenced. Mr. Duckett's word within the Force was to be considered as law.
The 9th of September 1972, a Friday, was my day off and I learned of Mr. Duckett's death by gunfire the following day, a Saturday. Force members were shocked, as no such harm had ever befallen a serving police officer in the entire history of the Island. A murder room was set up, a team of local officers selected, myself among them to investigate the murder. We were shortly joined by Det. Supt. William Wright and Det Sgt. Basil Hadrell from Scotland Yard.
In December of that year, I travelled to Bishopgarth Police College in Yorkshire UK, and upon return to Bermuda in March of 1973 resumed my posting at the murder room, the investigation having been expanded to address the murder of the Governor and his ADC and in April that of two shopkeepers in Hamilton. Eventually I was among a small number of officers who saw the investigations to an end when two persons before the courts were convicted of the murders in 1977.
Years later I reached the answer to a question that had long eluded me; and that is why was it that Commissioner Duckett had singled me out in the manner that he did for overseas training at Bishopgarth? The answer is simple, he was impressed by my efforts, recognized future potential and took action to prepare me to succeed, at least that is what I like to believe.
The Duckett Memorial Trophy continues to be contested every year by local rugby teams and on two occasions in the past I have as Assistant Commissioner presented the Trophy to winning teams. When last played for the Trophy was won by the Police rugby team.
Today Friday 9th September 2022 marks the passage of 50 years since the tragic passing of Commissioner Duckett.
Assistant Commissioner of Police retired
Editors note - CLICK HERE for our ExPo article on the creation of the Duckett Memorial Trophy shortly after the tragic death of Commissioner George Duckett.