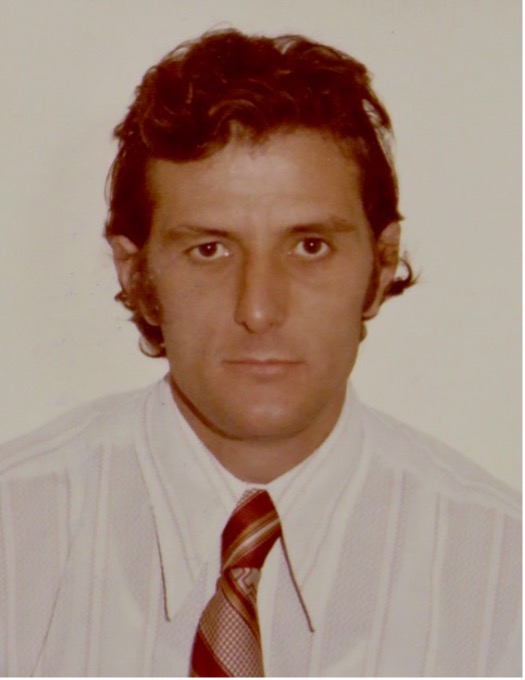 Researched and compiled by
Detective Superintendent
George Rose CPM (retired)
At about 12.45pm on Monday 19th April 1971, a visiting American couple in their early thirties climbed to the top of the hill in the nature reserve and bird sanctuary known as Spittal Pond, Smith's Parish to view the then Spanish Rock inscription overlooking the South Shore. On looking down towards the sea beneath them they saw a young white youth lying on his back adjacent to a wooden railing. His left arm was resting on the railing and he was holding a short dog leash in his right hand.
Beside the youth they saw on the grass near the boy's arm, a German shepherd dog lying on its stomach with its head resting across its left front paw. They saw blood on its muzzle and front leg. They heard the youth say, very weakly, "Help me."
POLICE AND AMBULANCE SUMMONED
The male visitor went down to the youth and saw that he was hurt. He shouted to his wife to run back to the main road and call the police from the telephone booth they had spotted earlier and this she did.
He asked the youth what was wrong and what had happened to which he replied, "I shot the dog and shot myself."
The visitor asked him where the gun was and he said he didn't know. The visitor looked around the immediate area but didn't see a firearm. He asked the boy his name and understood him to reply "Crabillo," – or something similar.
Continuing his questioning the visitor asked the youth if he lived on the island and he replied, "Yes, in Warwick." When asked how long he had been there (it was now close to 1.0 pm), he replied, "Since 11."
When asked where he had shot himself the youth replied, "In the heart." He pointed to his left breast area but the visitor didn't see any injury or blood and didn't look under his clothing. He kept saying, "Don't let them take my dog, don't let them put her away."
The visitor remained with him until the police and ambulance arrived. He comforted the youth and sheltered him from the sun.
Spittal Pond Nature Reserve
POLICE AT SCENE
Police Sergeant Barry Meade attended the scene followed by area patrol car driver Constable Territt Cabral who had received a radio message that a man had fallen over the edge of the cliff at Spanish Rock, Smith's Parish. PC Cabral carried a rope with him to the scene. He said he knew the injured man to be named Raymond Cabral and was informed by PS Meade that the dog and the man had been injured by gunshots.
[Because the names Cabral and Cabrall were shown to have been variously spelt at times throughout the subsequent enquiry all such references in this article should be recognized as being interchangeable and have been adjusted as necessary to read Cabrall].
Constable Cabral saw PS Meade open the windbreaker, lift the victim's shirt and expose his chest. He saw what appeared to be a bullet hole situated just above the left nipple. He saw that the hole was clean except for a slight trace of blood surrounding the hole.
Importantly, Constable Cabral said that he did not notice the presence of a bullet entrance hole in the front of the victim's windbreaker.
Constable Cabral saw that the dog was bleeding from an injury on the bridge of the nose between the eyes. Constable Cabral asked the victim to explain what happened. Victim told him, "It's no good man."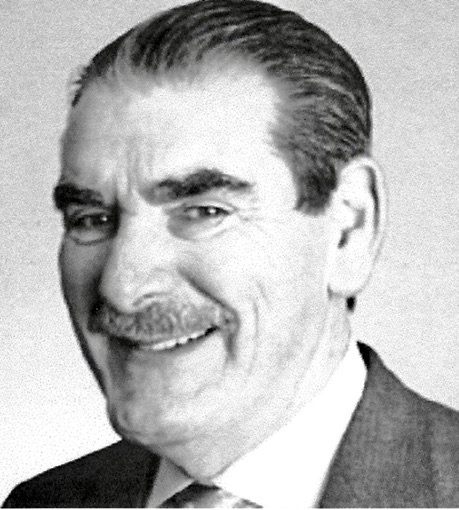 Barrie Norman Meade, QC
Former Police Inspector who later
became a Crown prosecutor
and Queen's Counsel
When Constable Cabral asked him for his name the injured man said nothing but reached into his right rear trouser pocket and handed a piece of paper to the officer who read the words – "Raymond Cabrall, 16755" – written thereon.
[16755 was later confirmed to be the telephone number belonging to the residence in Ord Road, Warwick of his parents with whom he lived.]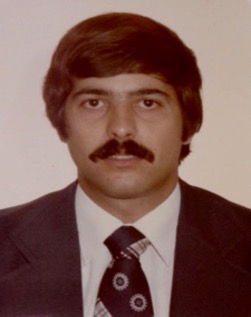 Territt "Terry" Cabral
Constable Cabral commenced a search of the immediate area extending towards the cliff top and then visually down into the sea at the base of the cliff. He saw and found nothing of importance. He kept a general watch on Raymond as he searched around the area and at one point assured him that he would shortly be taken to hospital. He recalls Raymond saying, "If you take me you must take my dog."
Constable Cabral remained alone at the scene with the dog after Raymond had been transported to hospital. Thereafter, and without disturbing the scene too much, he made another search of the general area. He went to the top of the cliff again looked down into the water but didn't see anything unusual. He searched the surrounding bushes and amongst the rocks at the immediate scene but found nothing. He returned to the top of the cliff face and to the dog and found everything as he had left it. He roped off the general area and again commenced a search looking for anything unusual.
He was joined shortly thereafter by scenes of crime officers DI Leslie Waddell (Firearms), DC Stewart Holmes (Photography), and DC's Wallace and Willey (SOCO). PC Cabral explained to them the story as he then knew it. Some minutes later, in answer to a call from DC Ron Wallace, he went to the water's edge below the cliff and saw a small revolver lying in about three feet of water.
The gun was clearly visible and was located in a place he had previously searched. The gun was seen to be at the bottom of the cliff and in a line with the scene and approximately six feet from the cliff face directly below the position of the injured man. Constable Cabral retrieved the gun from the water and handed it to DC Wallace before leaving the scene.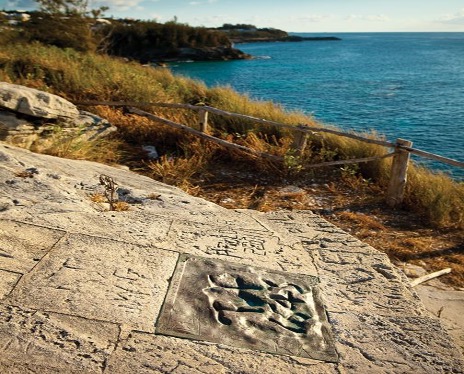 Spanish Rock Inscription
Spittal Pond 1971
Attending ambulance personnel included a registered nurse who rendered routine medical aid to the patient at the scene. The nurse noted that her patient held onto the injured dog lying nearby. A stretcher was brought to the scene despite the injured youth wanting to stand up and walk down the winding hill towards the waiting ambulance. The nurse noticed her patient was wearing a blue colored windbreaker over a mushroom colored light-weight pullover and a tee shirt. She saw a hole consistent with his injury in the pullover and shirt just above the left breast area. She did not however see a hole in the windbreaker panel.
JOURNEY TO HOSPITAL
During the journey to the hospital the nurse rode inside the ambulance with her patient. She recalls him saying to her words to the effect: "When you are alive, people want you dead and when you are dying, they want you alive." She reported that he kept saying, "Leave me alone, don't touch me." He asked, "Where's my dog?" Also, he said, "I didn't have a gun. I can't remember, I can't remember." Also, he said more than once, "I didn't do it. I didn't do it." The nurse reported that her patient at no time mentioned to her that someone had shot him.
On his arrival by ambulance at the hospital Cabrall's condition was assessed and the findings included an entry wound over the left nipple. No exit wound was found, only a haematoma, about 2 inches diameter was present to the left of the Vertebral Column i.e. on the left side of his back.
Cabrall was in shock and his blood pressure started to fall as the pulse rate began to rise. An examination revealed acute blood loss together with a large collection of blood in the left side of the chest – a "haemothorax". This diagnosis was confirmed by X-Ray and a resuscitation of Cabrall immediately commenced.
SURGERY
Cabrall was transferred to the Operating Room and underwent surgery on the left side of the chest (a Thoracotomy). The surgeon, assisted by two other doctors, repaired an entry and exit wound in the left lung and removed about 6 pints of blood and a blood clot from the left side of the chest. He removed a bullet from the patient's back which had been lodged directly beneath the skin in the haematoma mentioned above.
Raymond Anthony Cabrall, aged 22 [dob 26 July, 1948] was later transferred to the I.C.U. where he remained for 3 days.
Meanwhile, attending CID officers at the site included Detective Sergeant Lawrence Jackson and Detective Constable Tarte. DS Jackson saw that the dog had a small hole between the eyes and that it was bleeding. He searched the scene and general area but found nothing of significance.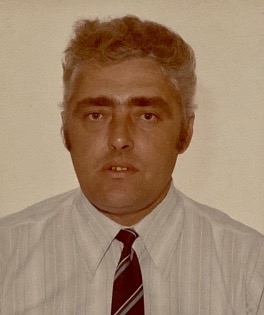 Lawrence "Laurie" Jackson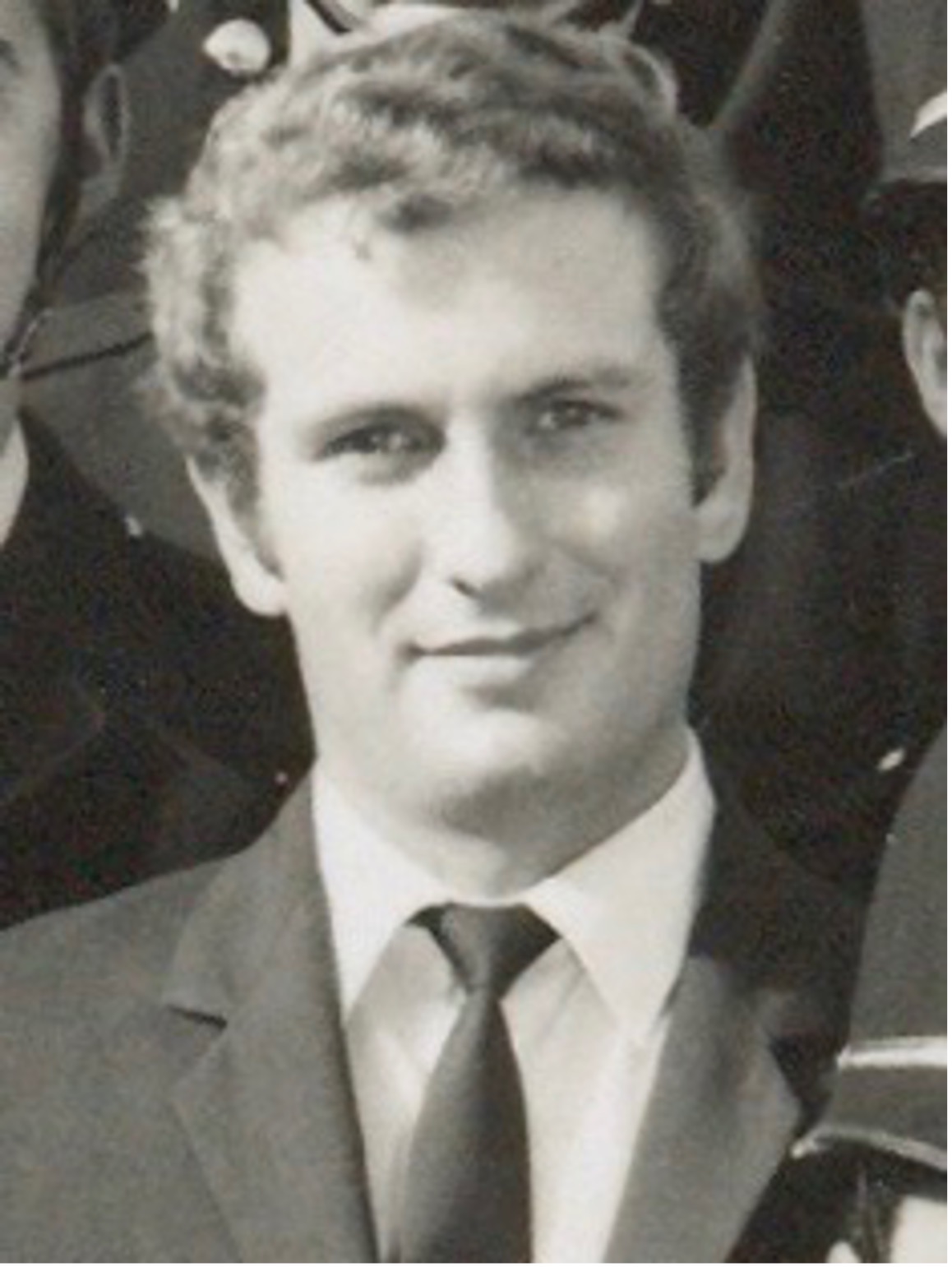 Robert Malcolm "
Malky" Tarte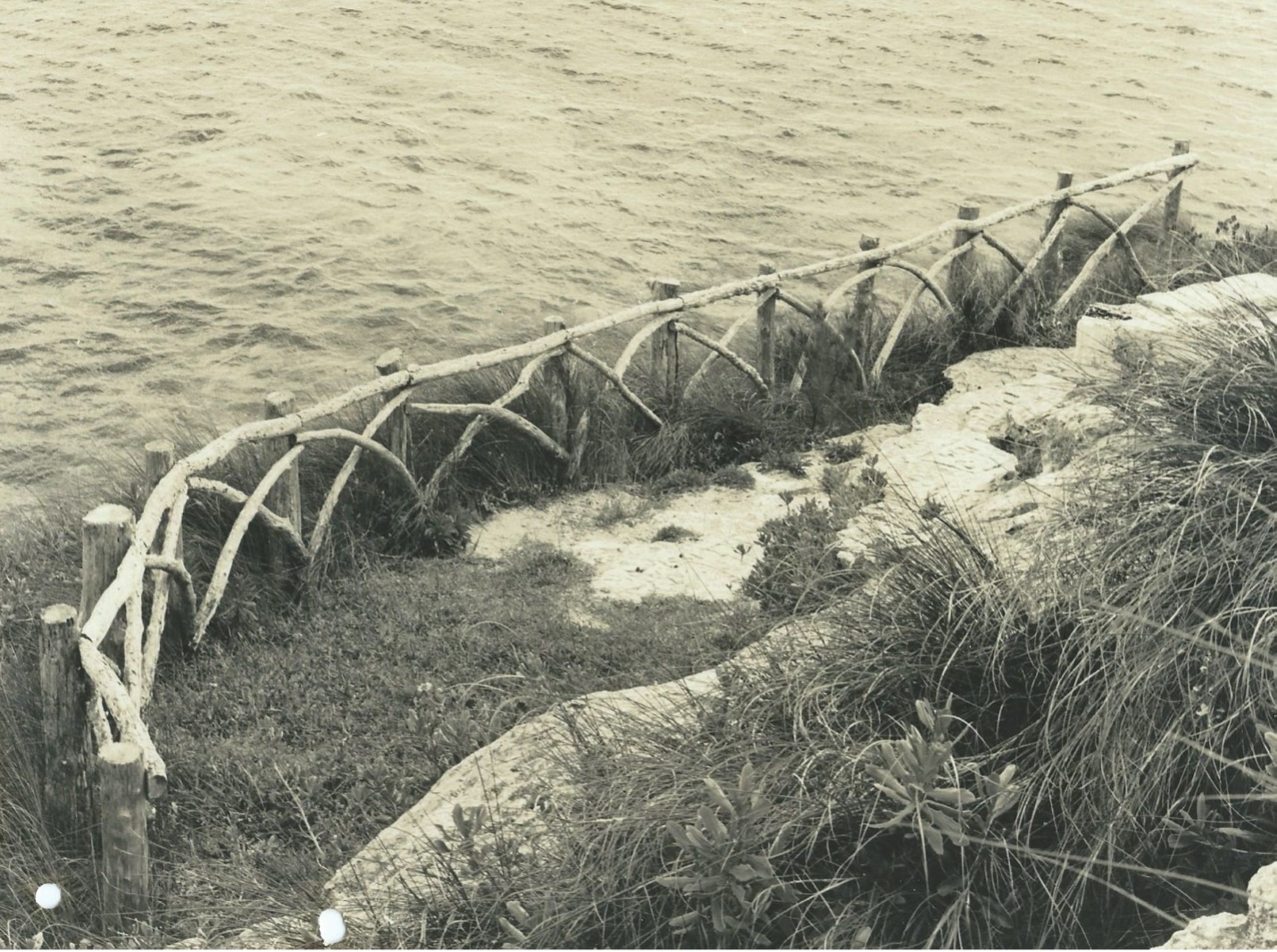 Police Photo believed taken by D.C. Holmes
The cliff side ledge at Spanish Rock,
Spittal Pond. Sea level at this point
is approximately 80 feet below
The German shepherd dog, named 'Senter' was photographed 'in situ' and, after the attending Veterinary Surgeon Dr. George 'Paddy' Heslop MRCVS had given her an injection to calm her for the trip down the rocky hillside, she was carried by DS Jackson and DC Tarte to the doctor's vehicle and driven to his surgery.
Dr. Heslop said later: "There is a chance she might be saved. It depends on where the bullet has lodged." He said the animal was still heavily sedated because of shock, and could not be operated on until she improved.
After examining the dog and viewing the X-rays he said, "It seems the bullet missed her brain and she stands a good chance of pulling through."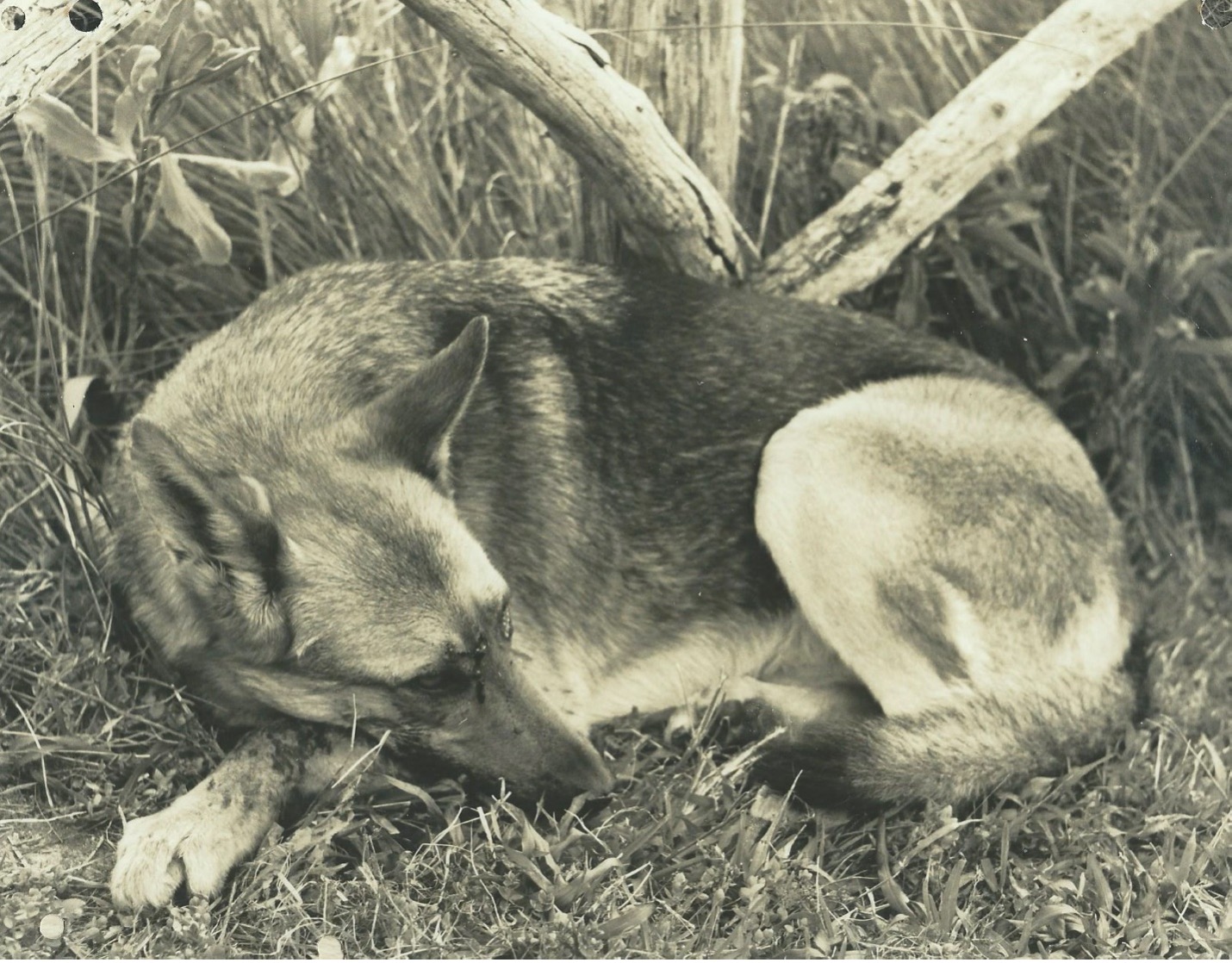 Police photo believed taken by by D.C. Holmes
of injured dog "Senter" showing gun shot
wound between the eyes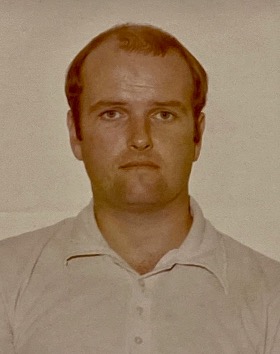 Stewart (Sherlock) Holmes
Press reports in the Royal Gazette (RG) the following day included the three front page photographs with captions depicting activities at the scene. Regarding the question of foul play, a Police spokesman said:
"All we can say at this time is that the matter is under full investigation."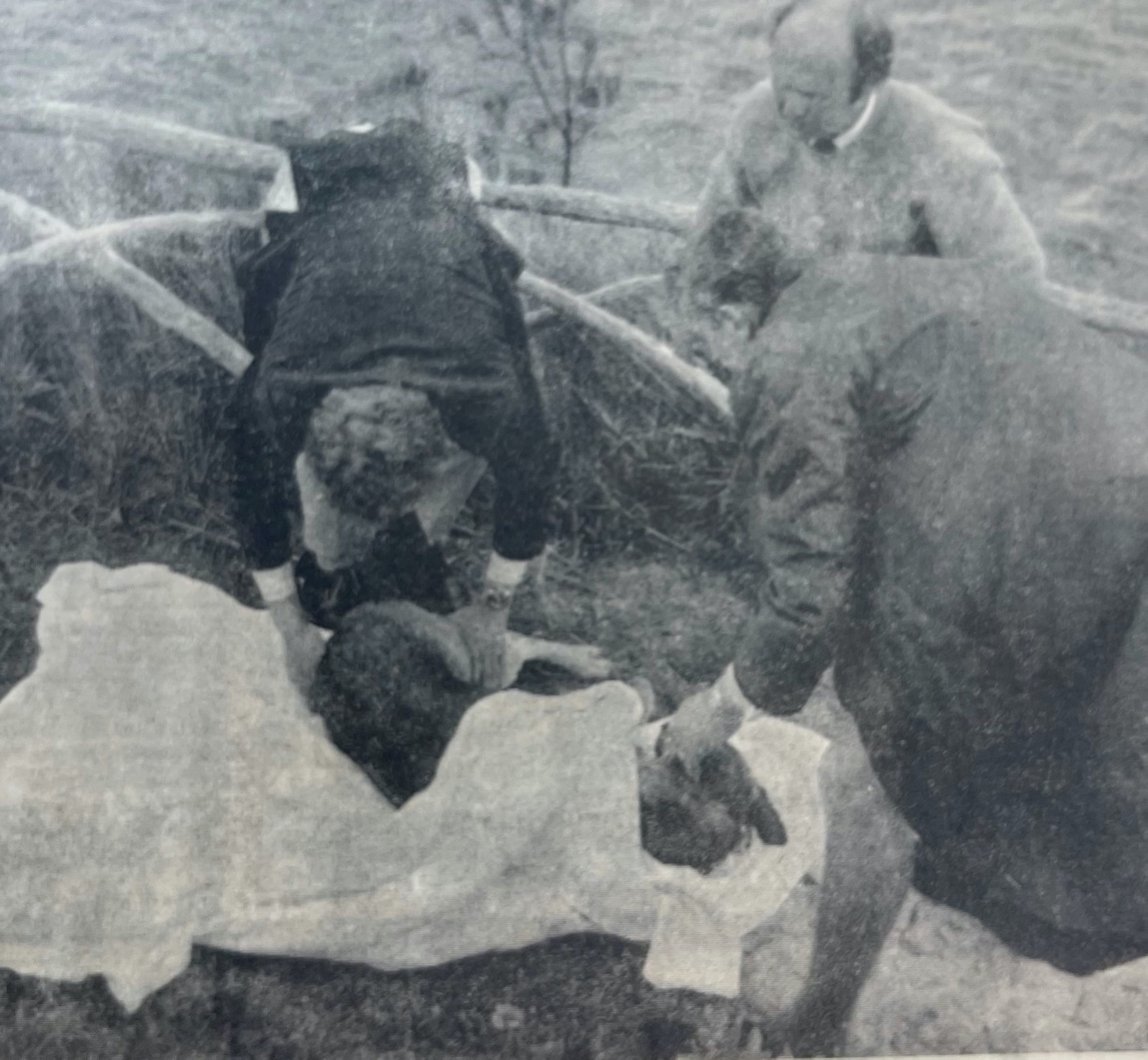 Dr. Heslop watches as the dog with gunshot
wound is placed in a sheet. This was the area where
the incident occurred at Spittal Pond, Smith's Parish
(Photo from Royal Gazette)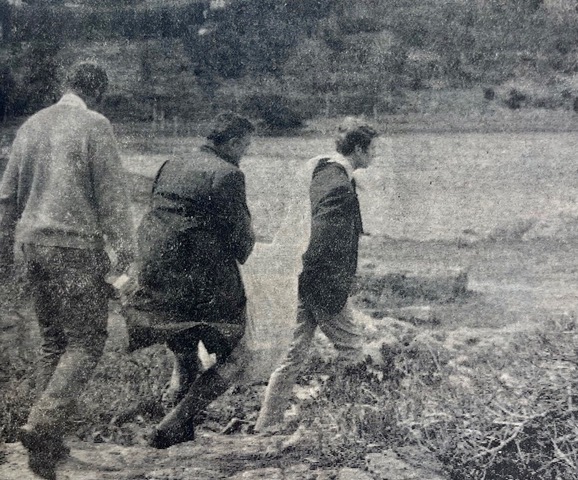 Two detectives carry the wounded dog from the scene of
yesterday's shooting. Following behind is Dr. Heslop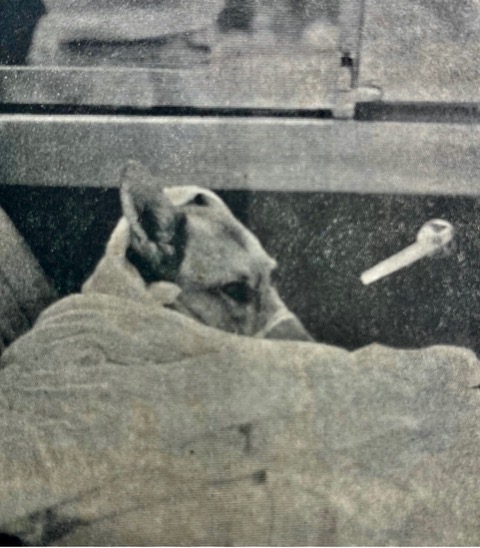 The wounded dog inside Dr. Heslop's van
GUN EXAMINATION
An examination of the gun revealed it to be a damaged .22 'RG 14' revolver. The chamber beneath the firing pin, together with the chamber to the immediate left, contained empty cartridge cases. Four bullets remained in the six-chamber gun. The damage to the revolver was consistent with it having been thrown from the scene and bouncing off the rocks before entering the sea.
GUN VICTIM OUT OF DANGER
Press reports informed the public that the Warwick man who was found at Spittal Pond with a bullet in his chest had made a "tremendous improvement" and was in a "satisfactory condition" after being in a "very serious" state and "seriously ill" when he came out of the operating theatre.
Four days later, on the Friday, April 23, 1971 a (RG) reporter by the name of Jean Burrows [who was herself brutally raped and murdered some 2½ months later on Saturday, July 3, 1971] wrote that gunshot victim Raymond Ray sic. had made very good progress and had been released from the intensive care unit the day before and was recovering on a general ward.
CLICK HERE: to read the EXPO article 'A Brutal Murder on Pomander Road'
Two days later on Sunday, April 25 on the surgical ward at the hospital Cabrall was first interviewed by DS Jackson, officer in charge Eastern CID.
SLUG LODGED IN DOG'S THROAT
Meanwhile, the Press continued their case interest during the following week and reported that police were keeping a careful watch on the condition of a sick dog which had a 'Slug lodged in her throat', and which could be an important piece of evidence in the shooting incident.
Veterinarian Dr. Paddy Heslop said that the position of the bullet did not appear to be causing her any great pain and it had been decided not to operate until she was stronger. Now, he said, the German Shepherd seems to be making extremely good progress. She is walking again and is taking regular meals – a special soft diet of hamburger and milk.
Dr. Heslop continued, "She is doing quite well, but is still a bit shaky on her feet. She still has a balance problem, and I think it will be several days before I can operate to remove the bullet which is lodged in her throat."
Police are anxious to take possession of the bullet for ballistic comparisons. The operation will probably take place towards the end of the week – and Police will take possession of the bullet. "We will obviously be wanting to examine it," a spokesman said yesterday.
CABRAL RELEASED FROM HOSPITAL, QUESTIONS VETERINARIAN STAFF
Having made a good recovery, Cabrall was discharged from hospital on Monday, 26th April, 1971. Two days later, he visited Dr. Heslop's surgery and enquired about 'Senter'. In the absence of the doctor, he spoke with a veterinary assistant asking how 'Senter' was and could he see her?
He asked if the injury would affect the dog's sight, smell or equilibrium. He asked where the bullet was lodged and how the bullet had entered the dog – whether from the front, the back or aimed from above.
The assistant told him that the bullet 'had passed through between the eyes, through the roof of her mouth and lodged in her throat.'
Continuing his questioning of the assistant – who answered no other of his requests and continually referred him to the Police – Cabrall appeared to be very interested in the path of the bullet as it entered into the dog and whether the doctor could calculate the angle from which it had been fired. He asked how much the CID. knew about the whole case.
The assistant reported that some days later she took a 'phone call from Cabrall who told her that he did not want Dr. Heslop to do anything to the dog, or remove the bullet until he (Cabrall) had decided what he wanted done with her.
POLICE SILENT ON SPITTAL POND SHOOTING
At the end of April, the RG reported that Police were maintaining a veil of secrecy around their inquiries into the Spittal Pond shooting of Raymond Cabrall and his 3-year-old German shepherd bitch, 'Senter' – and that a Police spokesman would neither confirm nor deny that foul play is suspected in the incident. All that Police headquarters were prepared to say was that "certain lines of inquiry are being pursued and that these require "detailed investigations."
The same press report however, "understands that the bullet which penetrated Mr. Cabrall's lungs, just missing his heart, was of .22 calibre, and probably came from a target rifle".
SHOT DOG DELAYS INQUIRIES
That weekend the Bermuda Sun weekly newspaper reported, in part, under the heading: – 'Shot Dog Delays Inquiries' that 'a wounded dog is still hampering police investigations into a shooting incident in which a man may narrowly have escaped with his life. Yesterday a police spokesman said the bullet in the dog will be "an important piece of information." But, he added, enquiries along "a certain line" are still being carried out."
SPITTAL POND SHOOTINGS: 'A MYSTERY', SAYS VICTIM
The following weekend, the same newspaper sharply criticized the police and recorded Cabrall's version of the events at Spittal Pond under the heading – 'Spittal Pond Shooting: 'A Mystery', Says Victim'. The report said, in part, that Mr. Raymond Cabrall, the man found at Spittal Pond three weeks ago with a bullet perilously close to his heart, [had] told his version of the incident and had made a sharp attack on the police. He claimed that since the shooting, he has been seen by them just once – even though he has been out of hospital for nearly two weeks now – and no statement has been taken from him, he said.
"The police haven't done a thing at all about it and I think it's very distressing," said Mr. Cabrall who claims he cannot remember hearing any shots or seeing anyone at Spittal Pond. "I really don't know who it could have been. I have no adversaries and I get along well with everyone," he said. "Since it happened, one detective has seen me for 30 seconds and that was it. I just think that's the local police," said Mr. Cabrall who lives in Paget and is due to re-start work today."
Police public relations officer Insp. Hubert Simmons said later:
"I've got no comment to make on it. This is for the CID and they no doubt have to take into account certain circumstances – and I've no doubt Mr. Cabrall will be seen by them."
In view of these allegations – all of which were contrary to the known facts then in possession of the police, – Cabrall was Q/A interviewed at Central CID by DS Jackson during the evening of May 8, 1971. His replies during the interview are set out, in part, as follows:
"I must apologize about the newspaper, but I think the Police have been sitting on their asses. What do you think happened?" Cabrall refused to admit that he had shot himself or his dog. He said, "I have paranoid tendencies and I always thought when I went home in the dark that someone might attack me. I gave up drugs because I thought I would be less able to defend myself."
The tourist's statement was read to Cabrall who replied:
"I didn't shoot myself. I don't remember telling him. You have drawn your own conclusions prematurely."
He denied having spoken of suicide saying, "No, I don't think so."
His friend's statement outlining his earlier talk of suicide and his killing of his dog was read out to him; his reply was – "Who said that? Who made that statement? I have a right to know who made that statement."
POLICE REMAIN SILENT ON SHOOTING AT SPITTAL POND
According to the RG on Monday morning, May 10:
"Despite claims from the man himself¸ Police this weekend maintained a tightlipped silence on their inquiries into the mystery shooting of [22] year old Mr. Raymond Cabrall.
Mr. Cabrall, now out of hospital following treatment for a gunshot wound, himself says he does not know what happened at Spittal Pond where he and his dog were found shot.
Yesterday the Police answer to questions was the same as before, 'no comment' and 'nothing further to say'.
So far, the authorities will neither confirm or deny if foul play is suspected. Neither will they say what sort of weapon was responsible for Mr. Cabrall's injuries.
Indeed, so far, they have not even conceded the existence of a weapon."
AUTHOR ASSIGNED TO THE INVESTIGATION
That Monday afternoon I was assigned to this investigation after being summoned to Central CID by Det. Superintendent Hammond. I was instructed to locate and interview as many friends, relatives and associates of Raymond Cabrall as I could locate.
I was told that other lines of enquiry were ongoing. I was instructed not to concern myself with the forensic side of the enquiry and that I was to work alone and produce a report on my findings by the end of that month. [May].
I reviewed the circumstances of the shooting and the enquiries conducted to date. The investigation was thus extended to include the history, friends and background of Cabrall. Over the course of the next two weeks, I located and interviewed 19 associates, friends and relatives of Raymond Cabrall.
That same Monday evening [May 10], DS Jackson, in the presence of DS Dudley Swan, recorded a statement from Cabrall in which he laid out his version of the events of the morning leading up to his visit to Spanish Rock in company with 'Senter' on 16 April, 1971.
In his statement Cabrall said, in part –
"On Monday 19th April 1971 I arose at 6.00 a.m. as usual. I wasn't feeling physically up to par so I didn't feel well enough to work. I told my mother to phone my boss to tell him that I wouldn't be to work. This was due to my physical, and not to any other reason. Later on in the day at perhaps around 10.00am I thought 'shit on the whole business' So to save being seen around when I should have been at work, I decided to take my dog – it's a young dog, to Spittal Pond. This was to relax as I didn't feel physically fit. I thought I would take advantage of the time. I drove the car to Spittal Pond with the dog.
I'm not sure where I parked the car exactly. I proceeded in a normal manner. We progressed up to Spanish Rock and sat there. I sat there just reminiscing and the only thing I remember is lying there. I don't know, I can't remember whether or not I was shot. I was lying face down and the dog was lying out across my arms which were outstretched, or thereabouts. The dog was regurgitating blood.
I remember there was pain, a deep burning pain like a hot iron through me. I don't know whether or not I was trying to decide what had happened. I don't really know what was going through my mind. I think it was pain more than anything. I recall a nurse saying something. I believe to calm me down. I may have said something about 'Don't leave my dog' and maybe I was trying to walk. I recall giving something to somebody, maybe a policeman, asking my name or something. It may have been the policeman, the tourist or the nurse. I think it was piece of paper with identification when he asked me who I was. I don't think there was anything else. I can't think of anyone who would be an enemy, you never know. I have fought with some people. I couldn't name anyone."
Signed: Raymond Cabrall.
At the conclusion of the above statement Cabrall was invited to attend the office of Det. Superintendent Hammond at Prospect Headquarters. Cabrall accepted the offer and drove to Prospect in his own car. A Q/A interview lasting 1¾ hours was conducted in the presence of DS Swan and DS Jackson who kept a record.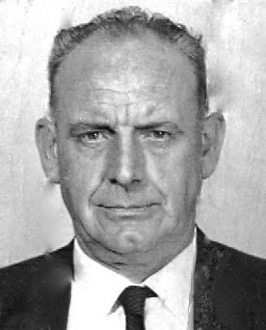 Francis "Frank" (Gruff) Hammond
Detective Superintendent
During the interview Cabrall dared the police to make public the fact that they believed he had shot himself and his dog. He accused the police of drawing premature conclusions and of being negligent. Cabrall asserted that the tourist had misinterpreted what he (Cabrall) had said when he told the tourist that he had shot himself and his dog.
Cabrall answered, in part –
"I've talked to Dr. Frazer Smith. I have also considered everything. If I thought there was the remotest chance that I shot myself, I would say. I would choose a different way to such a crude method as shooting."
"I'm not in the position to say who would harm me. I am trying to help you. My friends would be useless to you. I'm not giving names and addresses."
"What I told Sgt. Jackson in the statement is all I know. If I knew my adversary I would tell you. If you were shot, you wouldn't remember. You tell me from what elevation was I shot. What distance?" Describe the shooter. "I've been through this before. If I knew what he looked like I would tell you. Why should I send you on a moonbeam?
The tourist may have misunderstood. If I shot myself, where is the gun? Why didn't I tell him where it was?" "Why wasn't it found?" "I was dying. The doctor said, had I lain there a few minutes more I would have died."
[The tourist] "may have been carrying a torch for the U.S. Government. He was mistaken about what I said. Why did he try to question me when I was hurt? He could have been mistaken because of my accent. Sometimes Americans can't understand English people or Bermudians."
Other discrepancies were put to Cabrall which he was unable to answer with clarity when pressed. He became disrespectful, rude and evasive but did agree to further questioning as necessary.
The RG wrote two sentences on their front page of Wednesday, 12th May, 1971:
NO SNIPER
"There is no evidence to support the theory that a sniper is on the loose, a Police spokesman said yesterday.
He was being questioned concerning a frontpage article in one of the weekend newspapers where this inference was made."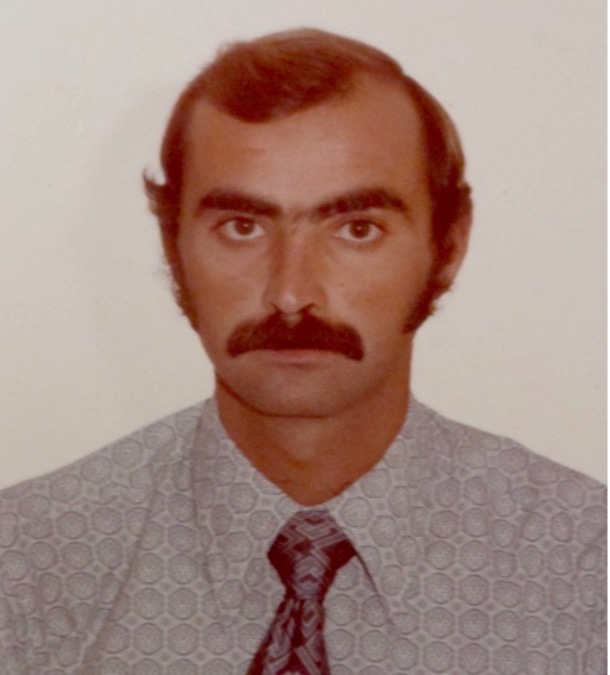 Stephen Mark Petty
Also on this same day, [May 12] Constable Stephen Petty visited Cabrall at his residence and talked to him about the shooting. Cabrall said that he was annoyed at the police because at his interview two days before, when the CID said he had shot himself. He told Constable Petty that if the CID couldn't prove that he had shot himself then he would sue them for defamation of character. He indicated that if the police apologized to him, he would forget the entire matter.
On Thursday, May 13th I re-interviewed a personal male friend of Cabrall who had earlier on given a written statement to DS Jackson two days after the shooting. This friend was known to me personally by way of an earlier unconnected matter. In his statement to DS Jackson this witness had said –
"About two months ago while we were working on a building site ……… Raymond said that he had thought of committing suicide several times in the past and he could see no harm in it, if that is what he wanted. He never said how or where or when he would do it. Since this time, he has never mentioned the subject of suicide to me again. …….
"Raymond has a German shepherd dog named 'Senter' of which he is very fond, and takes good care of, and during the time we were discussing suicide he always said he would do away with the dog as well."
WITNESS RE-INTERVIEWED
When I re-interviewed this witness, he made a further written statement to me in which he said that he went to see Cabrall at the hospital shortly after he came out of Intensive Care. Cabrall told him, in part:
"I shot the dog first, waited for about twenty minutes. The dog didn't move so I figured she was dead. I then shot myself. I fell to the ground. I realized that I didn't do a good job and it would be a long time before I died. I then saw the dog try to stand up and realized she wasn't dead. The next thing I realized was some man found me and then ran away.
The friend continued:
"I know he mentioned throwing the gun away. That's how he has told me he did it. He has told me again that he has done it to himself. I think Raymond needs psychiatric treatment. He says now that he will never do it again. He's stupid. I'll try to get him to speak the truth."
SEARCH WARRANT EXECUTED
On May 20th, acting on reliable information that the firearm used in this shooting had been imported from Cleveland, Ohio, USA, I executed a search warrant at the residence of a close relative of Cabrall. No firearm or component part thereof, or ammunition was found at the residence.
Two of Cabrall's close friends visited him shortly after he was moved from Intensive Care. They asked him how it had happened and Cabrall replied, "I really don't know, all that I know is that I was on the ground and I felt this burning pain inside. I looked around and I saw my dog lying beside me."
Another witness I interviewed spoke of Cabrall having said, "A lot of people think I tried to kill myself. I didn't and they can't prove it."
I learned from a close relative that Cabrall had asked his mother to collect his clothing from the hospital about one week after the shooting and that she had destroyed the articles at his direction by way of incineration.
Another close relative was interviewed and was immediately hostile. Witness was anti-police, resented being questioned and refused his co-operation. However, he verbally provided me with his belief as to what happened to Raymond Cabrall. He said,
"My theory is that he was cooling out on the grass with the dog. Somebody must have been down there. A bullet must have ricocheted off the rocks and hit Ray. The dog went for the guy and he shot the dog. That seems logical to me. Doesn't it to you? I'm making no statement. I've given you mine verbally. I know a lot more than you boy and that's the way it will stay."
Another contact I interviewed reported having a conversation with Cabrall at a house located within sight of Spittal Pond during the mid-morning of the shooting. Cabrall had arrived in his car having taken a day off from work, and the witness believed that he was in a depressed state of mind and also noticed that he did not have 'Senter' with him. Witness also noted that Cabrall was not wearing his wristwatch or ring – all very unusual occurrences the witness thought.
This same witness later visited Cabrall in the hospital when he overheard another relative visitor ask Cabrall "Where is the gun?" to which Cabrall replied, "Oh, it's somewhere, no one will find it."
Another close relative reported having been told by another relation that Cabrall had shot himself and his dog and that he had disposed of the gun because he realized he wasn't dead and someone might find him before he died.
On Tuesday, June 1st. 1971, acting on instructions, I attended the offices of a daily newspaper and a weekend newspaper respectively and imparted certain information to the Editors of each of them.
On Thursday, June 3rd. 1971, I submitted all witness statements resulting from my enquiries and highlighted in my report the following conclusions:
Cabrall saying that he does not remember what happened to himself or his dog is an excuse I believe to be wholly untrue and totally lacking in any factual foundation.
Cabrall admitted his attempted suicide by shooting to at least two independent persons.
Two single bullets had separately entered the bodies of both Cabrall and his dog at a very close range and from a point directly in front of both.
The dog was impacted at a point on the nose bridge directly between the eyes.
The position and angle of entry of both bullets is consistent with a self-infliction by Cabrall.
On his own admission Cabrall saw no other person or persons in his vicinity.
At no time did Cabrall make a formal written complaint to the Police alleging that he was attacked and shot by another at Spittal Pond on the morning of Monday 19thApril, 1971.
Cabrall has been altogether evasive in his answers and generally not co-operative with Police during their enquiries.
Cabrall had authorized the disposal by his mother of his windbreaker and shirt (possibly bearing nitrate powder burns) before the Police could take possession of them.
The damaged revolver was found a short distance from Cabrall on the seabed lying in a position consistent with having been thrown there by him.
When asked his name Cabrall produced an identification note written in his own handwriting with the name Cabrall written thereon, together with the telephone number 16755 later determined to be the residential number for his father parents Manuel and Azalia Cabral.
To date no-one has been charged with any offence relating to this incident and there is no evidence to suggest that Cabrall met with foul play or that any other person or persons were involved in this shooting.
Throughout the rest of 1971 and into 1972 I kept in occasional touch with one of the more responsive witnesses interviewed earlier in an attempt to gain any further information that Cabrall might have revealed to them. All remained quiet and nothing of value was gained.
The Bermuda CID together with Scotland Yard personnel were kept exceedingly busy pursuing the extensive enquiries into the murder of Police Commissioner George Duckett in September 1972 followed by the March 1973 assassination of His Excellency Sir Richard Sharples together with the simultaneous murder of his ADC Captain Hugh Sayers,
CLICK HERE: to read about the high-profile killings in Bermuda in 1972 and 1973
AND THEN ..…….. IN AUGUST, 1976 –
MAN FOUND DEAD AT BOTTOM OF SOUTH SHORE CLIFF
Some five years later, at about 3 p.m. on the afternoon of Thursday, August 26, 1976 the lifeless body of Raymond Anthony Cabrall of Harrington Hundreds, Smith's Parish was discovered at the foot of a cliff on the South Shore Road near the Flamingo Beach Club in close proximity to the junction with Dunscombe Road, Warwick.
Under the above headline, the RG wrote:
"The body, which was found by tourists from the Belmont Hotel as it lay among rocks, showed no external injuries except a scratch low down on one leg.
The dead man, who was bearded with long curly brown hair, was dressed in blue denim cut-off trousers, a dark green T-shirt and sandals.
A number of police officers went to the scene at once but it was not immediately clear whether he had fallen from some point on the cliff. Mr. Cabrall was married but Police could not immediately say that he had any children.
Dr. Keith Cunningham, pathologist at King Edward VII Memorial Hospital, also attended the scene and examined the body which was removed by ambulance to the mortuary."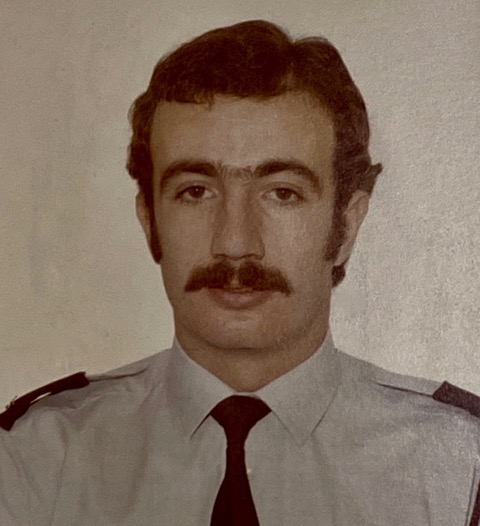 Charles "Charlie" Mooney
Among the police officers attending the scene, then Constable Charlie Mooney recalls his actions as a witness to history on that very busy day in August 1976 when he writes:
George,
"Here is the second part of that day. When we arrived back at the PRC for refs (lunch in the old bar) the Commissioner, Mr. L.M. (Nobby) Clark came in and announced that because of the good work that had been done "The beers are mine". Then the phone rang at the bar and I was beckoned to it. At that time we did not have cell phones or even portable radios. The radios were all contained in the Police vehicles. If we were leaving the vehicle for refs, we would inform Operations with the location and telephone number. In this instance it would have been "Tango 10, 10-11 at 261".
I was told to go to Flamingo Beach in Warwick Parish where a male body had been discovered on the beach. I arrived at Flamingo Beach and took out the resuscitator case from the rear of the car. There were about 100 steps down to the Flamingo beach at the rear of the hotel. I was holding the case by the handle and jumping down the steps. Suddenly the case burst open and its contents bounced off the steps onto the cliff and down to the beach and rocks at the bottom. When I arrived at the body of the man now known to me as Raymond Cabrall, it was obvious that he was deceased and that the resuscitator would not be required. I later escorted the body to the Morgue at KEMH.
That day of the 26th August, I was scheduled to be on 08.00hrs to 16.00hrs shift. By now I was running late and into overtime. To complicate matters further, my wife was still in the KEMH having just given birth to our daughter on the 24th August. Fortunately, we had a really efficient telephonist at Operations in those days by the name of Dee Tavares. Dee was aware of what was happening and she knew that I had planned visiting my wife at KEMH, and that I was going to be late, so she called the Maternity ward to have the message passed on to my wife.
I do remember having to be in the morgue for the identification of the body to Dr. Bennison. Before leaving the KEMH and returning to Operations and going off duty, I contacted the Maternity Ward and received permission to visit the ward after hours."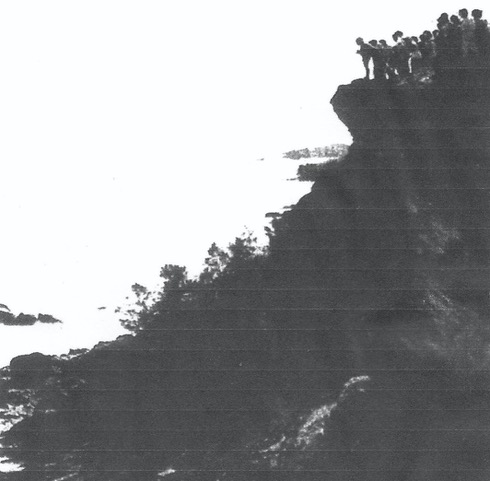 ONLOOKERS PEER AT THE BOTTOM OF THE SOUTH SHORE
CLIFF WHERE THE BODY OF MR. RAYMOND CABRALL WAS
FOUND LODGED IN ROCKS ON THURSDAY AFTERNOON
AUTOPSY PERFORMED
"The findings from an autopsy performed on the body of Mr. Raymond Cabrall, found at the foot of a South Shore cliff will not be made public until an inquest is held. A police spokesman said that this was the procedure in all cases of all sudden and unexplained deaths.
He added that the Cabrall inquest probably would not be held until October at the earliest, as several other inquests still have to be held."
CORONER'S JURY HEARS OF DEATH ON A SOUTH SHORE CLIFF
On December 21, 1976 the RG reported, in part, that a Coroner's jury had ruled on the death of 28-year-old Mr. Raymond Anthony Cabral on August 26 as a result of injuries received in an accidental fall from a cliff on the South Shore in Warwick. The court heard that the deceased was the second youngest in a family of six and that, although not working at this time, he had been employed as a carpenter with Columbia Pictures prior to his death. [Columbia Pictures was on the Island at this time making the movie "The Deep"]
"The inquest, held in Hamilton magistrates court before an eight-man jury, was presided over by the Wor. K.C. Nadarajah and Sgt. Brinley Jones was Coroner's officer. Mr. Geoffrey Bell represented the family of the deceased. Evidence was given by 11 witnesses [actually 10]: Dc Philip Bermingham, Dr. Chris Acott, Dr. Keith Cunningham, Mr. Joseph Rabain, Mr. Leroy Basden, Mr. Nelson Cabral, Mr. Joseph Cabral, Mrs. Christine Wall, Pc Bernard Joinville, Dc Donald [should read Detective Chief Inspector Donald who was not called] and Dc Hill."
D/CONSTABLE PHILIP DAVID BERMINGHAM / DC RODERICK BARCLAY
Dc Bermingham of the Bermuda Police Fingerprint and Photographic Dept. presented the court with a combined police album of 14 photographs – Exhibit 1
DR. CHRISTOPHER ACOTT
Doctor Acott, Medical officer, KEMH read from his report and told the court, in part:
"On arrival I found Mr. Cabral lying on some rocks. His left ankle was obviously broken, it was angled at 90O to his leg and wedged between two rocks. His head was turned to the left and wedged against some more rocks. Rigor mortis had already been established. There was absence of heart sounds, pulses, reflexes and pupillary responses. I estimated that he had been dead for a few hours. I am of opinion that the man had been dead at least twelve hours. He would have died toward the early hours of that morning. I left the scene, leaving the police responsible for removing the body due to its inaccessible position."
DR. KEITH CUNNINGHAM
Doctor Cunningham, Pathologist, KEMH read from his report and told the court, in part: –
"I went to the scene at 1705 hrs. on 26 August, 1976. The body was still there. In my opinion death had occurred between 15 to 18 hours earlier – 12 midnight to 3 am.
On 27/8/76 I accompanied Dr. W.H. Bennison, F.R.C. Path. and watched post-mortem.
Shown photograph 14 – "this is the person who was subject of autopsy. Dr. Bennison has left the Island permanently. I verify his signature. [Reads report of Dr. Bennison to the court.] The body had been identified to Dr. Bennison by Pc 498 Charles Mooney."
In his report Dr. Bennison records Cabral's cause of death as 'Transection of spinal cord by dislocation at the atlanto-occipital joint. Multiple bony injuries.
"Concerning the location of the injuries and the area, I would say the chances of survival are small. It suggests more the actions of a man trying to save himself. Accidental death more likely.
XX by Jury: – Witness reads from the report of Allan Richardson, B.Sc. Government Analyst stating that – "There is no evidence of alcohol intake. No drugs were detected in post-mortem samples."
Witnesses Mr. Basden and Mr. Rabain went to the area of the beach with the tourist [whose name was not known] and saw the body. Mr. Basden then went back to Flamingo Beach and told the bartender about the body and Police were notified and an ambulance was called. On the arrival of doctors and the Police, no sign of life was found in the body.
LEROY DAVID BASDEN
Leroy Basden said he made a statement to Police on 27/8/76. He confirmed it was correct and read, in part –
"About 1.30p.m. [should read 3.0p.m.] on Thursday, August 26, I was on my job at the Bermudiana Beach when a white male tourist approached me. He was with a lady and two young boys. This man did not give me his name but, he said to me, "I have just taken a walk along the rocks from the beach club and on my way up I saw a man lying on the rocks and he appeared as if he was asleep, but on my way back I had a second look at this same guy and he looked as if he had something wrong with him."
Basden and a colleague Joseph Rabain went to look at the guy. Basden ran to the Flamingo Beach Club and raised the alarm after which he returned to the scene.
Basden told the court – "Just then quite a few people gathered around the area. I returned to the rocks and placed a towel over his head to lessen the attention of the people gathered around."
XX by Jury: Nil.
JOSEPH CHARLES RABAIN
Joseph Rabain said he made a statement to Police on 27/8/76. It is correct. (Read).
He identified the deceased in Police photograph 14.
XX by Jury: "Basden put the towel on his face."
JOSEPH EDWARD CABRAL
Joseph Cabral, a first cousin to the deceased who was then living with him and his wife, told the court that the deceased had stayed home on the evening of Wednesday, August 25 talking with him, while waiting for his friend Mrs. Wall to arrive at the house. Joseph went to bed around 11.30 p.m. leaving Mr. Cabral in the living room listening to the stereo.
Earlier the next day, Joseph awoke to find that Raymond was not in the house. He noticed that his wife's Mobylette was missing from outside the house.
Joseph said, in part –
"I have no reason to suspect foul play. He has a friend – Christine Wall. She was due to meet him at 9.30p.m. at my house. He was looking forward to seeing her. He was not upset because she did not come."
XX by Jury: Nil.
XX by Bell: "She was a friend – not a girlfriend."
CHRISTINE ANNE WALL
Mrs. Christine Wall told the court that she made a statement to the Police on 27/8/76 in which she said that on the evening before his death, she had made arrangements with Raymond to see him around 9.30 p.m. at his house but she failed to attend.
[Mrs. Wall's failure to visit with the deceased was due to circumstances beyond her control]
XX "He was very keen to make up with his wife."
XX by Jury: Nil.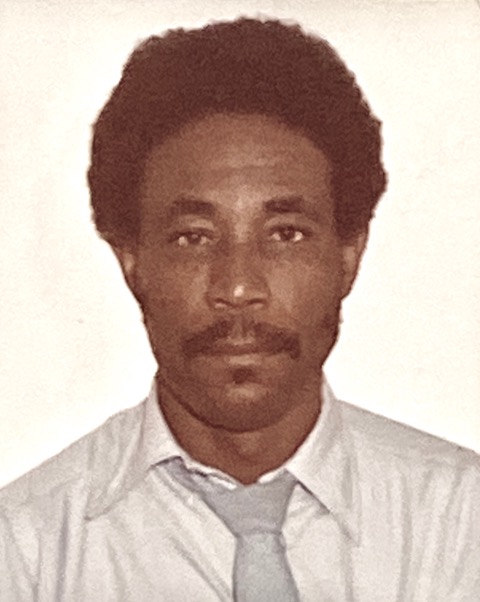 BERNARD "Bernie" JOINVILLE
CONSTABLE BERNARD JOINVILLE
Pc Joinville read his statement to the court stating, in part, that in the early morning hours of August 26, [at 04.49 hrs.] he was on patrol in a Police vehicle, and was checking business premises along the South Shore Road. At the Shell Gas Station in Warwick, he noticed [a] white Mobylette No. 541D parked on the gas station forecourt. He saw that the back tyre was defective, and the inner tube was tangled around the chain. The cycle was not locked. He said its appearance was consistent with the wheel blowing out while it was still being ridden. There were no other damages on the cycle. [This white Mobylette No. 541 was later determined to have been owned by the wife of the deceased's cousin with whom the deceased was living at the the time of his death].
Stanley Hill
D/CONSTABLE STANLEY HILL
Dc Stanley Hill read to the court his comprehensive sudden death report detailing his investigations pertaining to Cabral's death.
Headings within the lengthy five-page report consisted of: Initial police action; Formal identification of body; Examination of body in locus; Post-mortem examination; Background of the deceased; and, Deceased's activities on 25/26th August, 1976.
Dc Hill told the court that Mr. Cabral first came to the notice of Police when he shot himself and his dog at Spittal Pond in 1971. He had previous convictions for possession of drugs. He was known to doctors at the St. Brendan's Hospital and he used to suffer from periods of depression.
Between 11.30p.m. on Wednesday evening, August 25, and 3.0p.m. the following afternoon, Thursday, August 26, Mr. Cabral's movements were not known.
"I investigated this death. I made a report" – [which he read to the court]
XX. Nil.
"In directing the jury, the Wor. K.C. Nadarajah said that it appeared that the defendant [should read deceased] was walking along the cliff face and slipped and fell to the bottom of the cliff on his back and lodged between the rocks some 100 feet below.
"There is no reason to think that it was not accidental," he added."
VERDICT
"An inquisition taken for our Sovereign Lady the Queen at the Magistrates' Court, Hamilton in the parish of Pembroke, Bermuda, on the 20th day of December, 1976 before The Wor. K.C. Nadarajah one of the Coroners of our Lady the Queen for the said Islands upon the oath of [seven names and addresses redacted] being good and lawful men of the said Islands duly sworn to inquire for our Lady the Queen as to the death of Raymond Anthony Cabral and those of said jurors whose names are hereunto subscribed upon their Oath do say:
That the said Raymond Anthony Cabral died on the 26th of August, 1976 as the result of an accidental fall from a cliff on South Shore Road, Warwick.
In witness whereof as well the said Coroner and the jurors have hereunto subscribed their hands on the day and year first above written."
NOTE FROM THE AUTHOR
I am most grateful to the staff at the Bermuda National Library and Archives for their persistence in accessing this publicly available 46-year-old Coroner's Inquest record from within government files. Their assistance is much appreciated. The file can now be viewed at the Bermuda Archives in Hamilton.