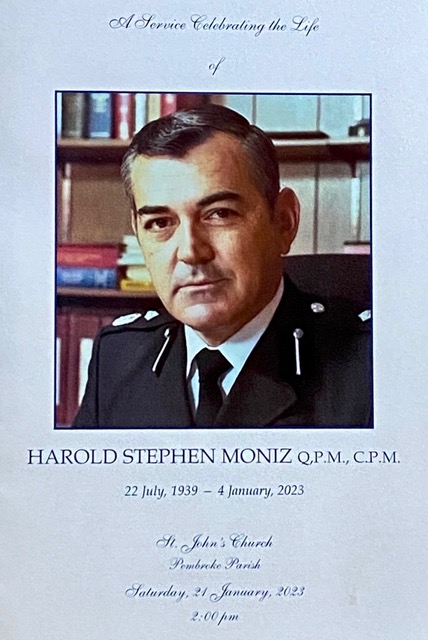 Order of Service for Funeral
The funeral of our good friend and colleague, retired Deputy Commissioner, Harold Moniz, or "H" as he was fondly known, was held at St. John's Church in Pembroke at 2pm on Saturday 21st January 2023. The church was packed with family members, including his beloved wife, Jill, their children, Stephen Moniz and daughter, Suzanne Horseman and her husband Reggie, their grandchildren, Blake and Ashley, and numerous friends, together with senior police officers in full dress uniform, and at least a hundred or more former and retired police officers.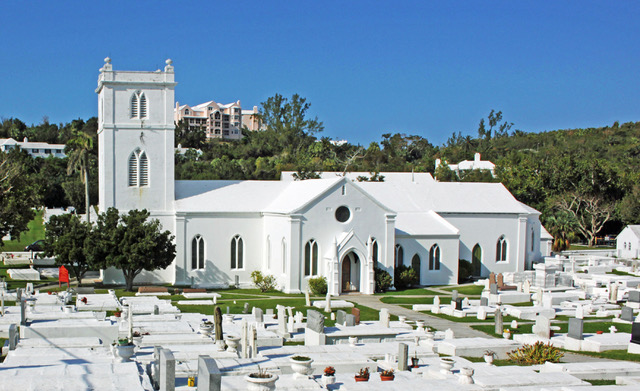 St. John's Church, Pembroke
This was a "Police Funeral" in every sense of the word, with Commissioner Darrin Simons, in consultation with family, having authorized a full ceremonial funeral which are reserved for deceased serving BPS members, and, with approval of the Commissioner of Police, deceased former BPS members who served with distinction and retired in good standing.
An Honor Guard comprised of Commissioner Darrin Simons, Deputy Commissioner Na'imah Astwood, Assistant Commissioner Antoine Daniels and Assistant Commissioner Martin Weekes.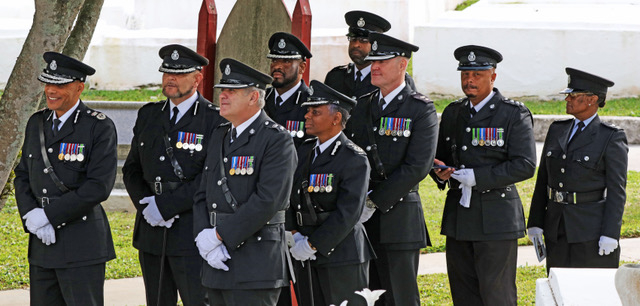 Senior Officers entering Church
(photos taken at funeral and burial kindly provided by Dexter "Fudge" Flood)
Honorary Pall Bearers comprised of Commissioner Darrin Simons, Assistant Commissioner Antoine Daniels, Assistant Commissioner Martin Weekes., Superintendents Nicholas Pedro and Sean Field-Lament, Reserve Commandant Sandra Beach, Deputy Reserve Commandant Ron Michel Davis, Reserve Inspector M. Harris and Reserve Sergeant Sherry Tucker.
Senior Officers were dressed in their winter patrol dress, along with all accoutrements - Sam Browne, swagger cane and white gloves and full dress medals.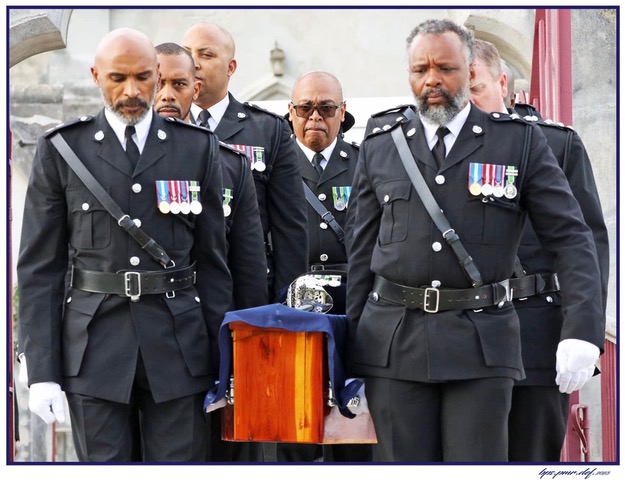 Pallbearers at St. John's Church
The Bearer Party included Acting Superintendent Sherwin Joseph, Chief Inspector Arthur Glasford, Chief Inspector Robert Cardwell, Chief Inspector Peter Stableford, Acting Chief Inspector Darren Glasford, Acting Chief Inspector Dorian Astwood, Inspector Kuhn Evans, Inspector Clifford Roberts, Chief Inspector Calvin Smith (retired), Acting Superintendent Dennis Astwood, Chief Inspector Alexander Rollin, Inspector Antoine Fox, Sergeant Raoul Ming, Sergeant Andrew Exell, Sergeant Johnathan Talbot, and Detective Constable Warren Bundy. Hat Orderlies were Inspector Karema Flood, and Inspector Charline Thompson (retired). In charge of Logistics was Constable Kimberley Spring.
Funeral Coordinators were Acting Superintendent Dennis Astwood and Chief Inspector Calvin Smith (Retired).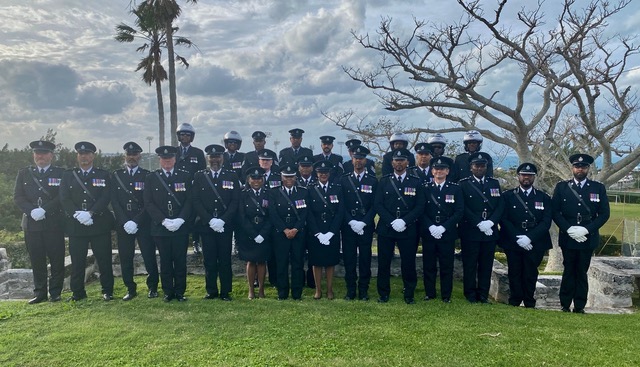 BPS Funeral Bearer Party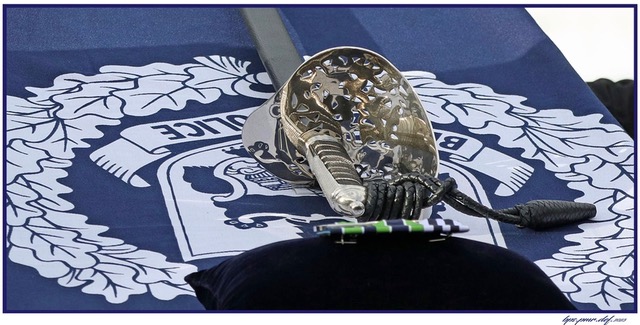 Police flag decorated with helmet, medals and ceremonial sword
The coffin was draped with the official Bermuda Police flag and decorated with Mr. Moniz's police helmet, ceremonial sword and his medals.
Tributes were given by Commissioner Darrin Simons, and retired Superintendent, Rev, Larry Smith.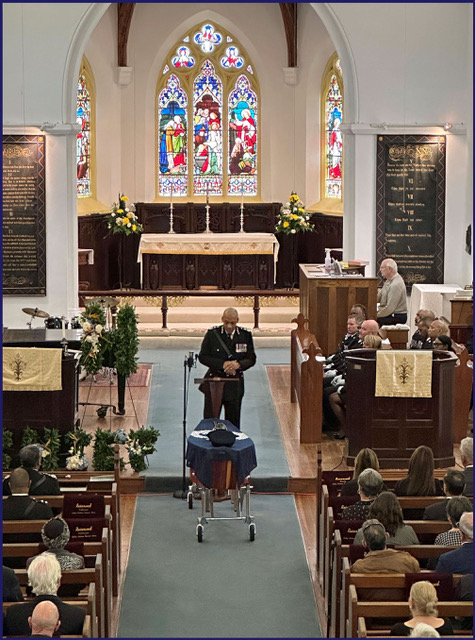 Commissioner Darrin Simons delivering Tribute
Tribute given by Commissioner Darrin Simons
"On behalf of the Bermuda Police Service, I rise to express my sincere condolences to the family, friends and colleagues of Retired Deputy Commissioner Harold Moniz. He passed away on the 4th January at the age of 83.

Bermuda owes a debt of gratitude to Deputy Commissioner Moniz for his 40 years of faithful, dedicated service to our community and Police family.

Mr. Moniz joined the Bermuda Police on 1st August 1959 at 19 years of age. In 1959 our population was 42,000. The winds of change were blowing. Racial storms were brewing. The Progressive Group started what is known as the theatre boycott. A dock worker strike crippled imports. Such were the times when Mr. Moniz started his career.

His first couple of years were busy on uniform patrol in both the Western and Central Divisions. In 1961 he was transferred to Central Criminal Investigation Division as a young detective.

Now, right when ZFB started broadcasting, in 1962, Mr. Moniz made history when he became one of the first two officers to be posted to the newly created Narcotics Department.

In 1963, the same year Casemates Prison opened, he moved to Traffic division for about 4 years where he proved to be an excellent police motor cyclist. He had experience!

I am told, we have it on good authority, several members of the Police Traffic Department recall chasing a young Harold around the Island on his auxiliary cycle prior to him joining the Police. Skills learned in mischief he doubt converted to the greater good.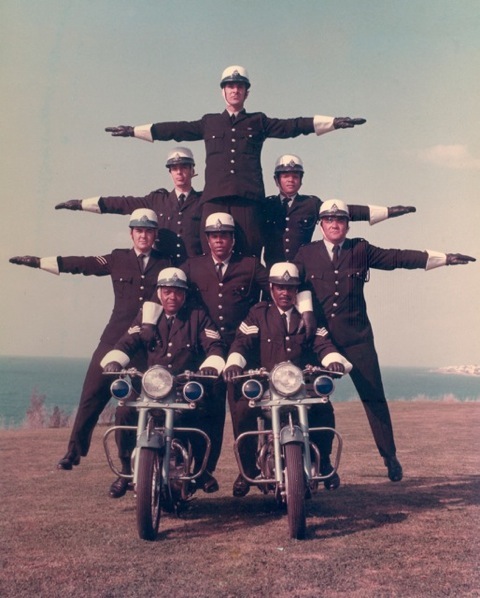 Members of the Police Motor Cycle Display Team
perform their breathtaking pyramid routine
From top (l-r) Tom Cassin, Dennis Brookes and Erskine Warner,
Sgt Harold Moniz, Campbell Simons and Eddie Foggo,
Sgt "Custy" Crockwell, and Sgt. Gerry James


Mr. Moniz became a key member of the legendary Police Motor Cycle Display Team. This was the team that provided escorts for the Governor and public displays of keen riding skills.

1965 was difficult year. The Royal Bermuda Regiment was formed and the BELCO riots happened. I wonder, what role did he play in Making Bermuda Safer? What sacrifices did young PC Moniz make? How did he feel? How did these events impact him? Such were the events Mr. Moniz policed.

In 1966 Universal suffrage was achieved and there were 20,000 motor cars in Bermuda. And I draw to your attention a critical point of history - I was born.

In 1967, Mr. Moniz was promoted to Sergeant and in 1971 he was promoted to Inspector. He then oversaw the Narcotics Department at a time when illegal drugs were becoming a major problem on the Island. Incidentally, this was 1 year before Commissioner Duckett was assassinated 1972.

Not too long after the 1977 riots Mr. Moniz was promoted to Chief Inspector in charge of the Eastern Division. He continued to rise rapidly through the ranks. He was promoted to Superintendent in 1979 as OIC Central Division. And to Assistant Commissioner in July 1981 as the head uniform patrol department.

Mr. Moniz had a reputation for being a caring and considerate senior officer. He had an encyclopaedic knowledge of the law, and was always willing to guide those who worked under his command.

Mr. Moniz was significant in the integration of sports, particularly football. When he was coming along there was a 'black' league and a 'white' league. He helped to integrate the sport and bring about what is now known as the Bermuda Football Association. Did you know: The Friendship Trophy which is now played over the Christmas and New Years holiday, was donated by the Bermuda Police Service and came about from his efforts to see more integration in Bermuda?

In July 1999, after 40 years of service to the police family and most importantly to our community, Mr. Moniz retired as Deputy Commissioner of Police under Mr. Lemay.

A lifetime of service: to his friends and colleagues I say, "That is something to be celebrated". And to the family I say, "That is something to be cherished and be deeply proud of. And I also say thank you for your sacrifice along his journey."

In closing, on behalf of the women and men of the BPS I extend condolences to his loving wife, Jill, his children, Stephen and Suzanne, and the rest of his family, friends, and colleagues.

My prayer is that you will find a measure of comfort in the fond memories you have of Harold and the service he gave in Making Bermuda Safer. May God Bless you all."
Officiating at the Service was The Revd. Bryan Haigh. The Organist was Mr. Norman Brown. Scripture Readings were read by Susan Crane and Ashley Horseman, and Ronnie Lopes sang the solo: Ave Maria.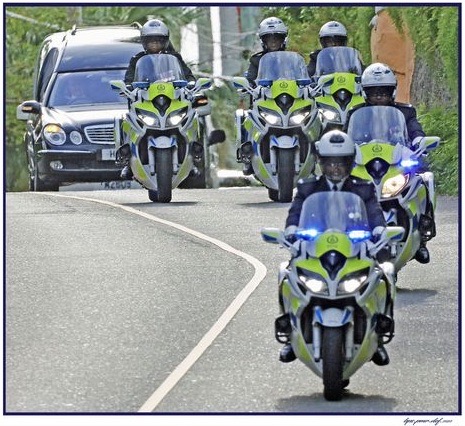 Police Motor Cyclists escort Mr. Moniz to his final resting place
Interment took place at St. Mark's Church in Smith's Parish during which, with the kind permission of RBR Commanding Officer Lt. Col. Beasley, the Royal Bermuda Regiment (RBR) Bugler Lt. Sheldon Fox played The Last Post.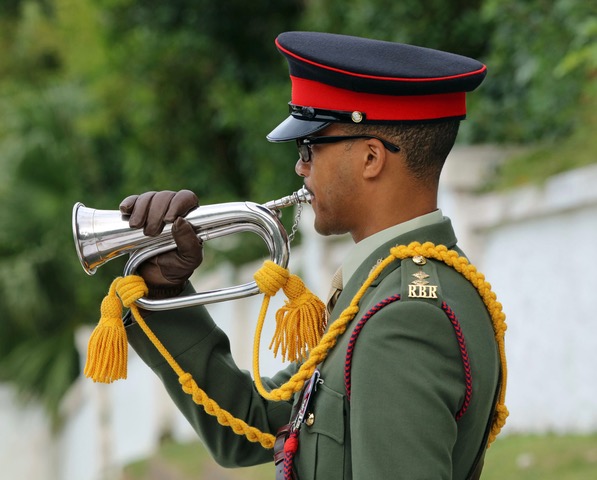 Bugler Lt. Sheldon Fox played The Last Post.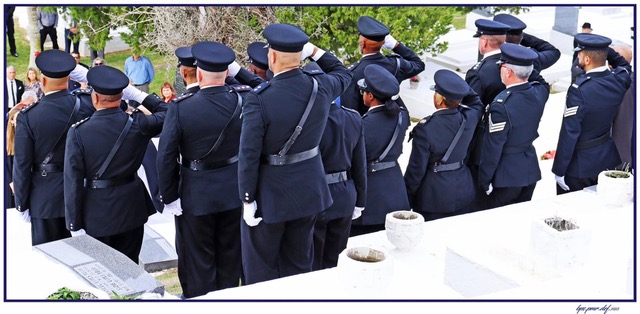 Police officers give final salute
This was without doubt one of the largest Police funerals seen for many years, and a great tribute to a first class police officer who was popular throughout the ranks of the Bermuda Police Service during his 40 year career.
Message of Gratitude from the Family
Harold's family acknowledge your presence here today and would like to take this opportunity to express their gratitude for your many kind and beautiful expressions of sympathy, condolences and love shown to them during this time of bereavement. Special thanks are extended to the Bermuda Police Service for their participation and support.
Editors Note - We wish to thank Dexter "Fudge" Flood, the official police photographer for kindly providing these excellent photographs of the funeral.