What are YOU doing over Cup Match 2014?
Thursday morning in Bermuda on a beautiful sunny day with gentle breezes wafting the hot air; azure blue seas sparkling all around us, and poincianas still in bloom. Nothing out of the ordinary except - It's Cup Match week and the Island is hopping. Thousands of people headed up to Somerset this morning to catch the start of our annual two day cricket game between Somerset and St. George's, while many more are camping along the South Shore beaches and on every spare patch of ground with a little shade and easy access to a beach.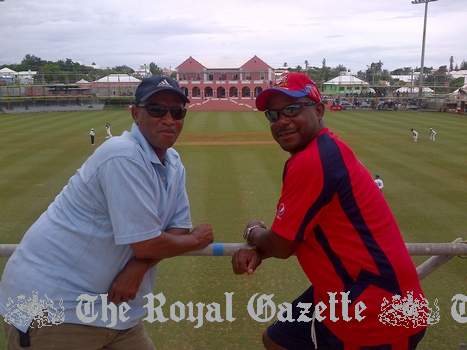 Two former Cup Match greats
Noel Gibbons and Jeff Richardson at Somerset Cricket Field
(photo courtesy of Royal Gazette)
Literally the whole Island is shut down for these two magical days, and you can be sure we come to a complete stop for the whole weekend – except for the grocery stores and liquor stores now opening on Saturday and Sunday so we can all replenish our supplies.
Perhaps another exception is the Police who have to deal with drink induced accidents and domestics!
These days we can even sit at home and watch the cricket on television, a far cry from 1902 when the official Cup Match was held despite the fact that it wasn't a public holiday but was taken as two days off to celebrate the abolition of slavery back in 1834. Thursday is Emanciaption Day and Friday is Somers Day – the historical day in 1609 when Sir George Somers ship, Sea Venture, was wrecked off the reefs in St. George's which later led to the first settlement of Bermuda.
Practically everyone in Bermuda has his or her favourite team – either blue and blue (St. George's) or red and blue (Somerset) with my preference being blue and blue because when I first arrived here in 1964 I worked with both Neville Darrell and the late Marcus Packwood, both of whom played in the St George's team, although I might also have been influenced by the fact that the blue and blues had a tremendous team starring the likes of Cal "Bummy" Simons, Clarence "Tuppence" Parfitt, and Rupert Scotland.
I'm already glued to the radio listening to ball by ball commentary while my wife is busy in the kitchen cooking up a storm ready for when we get together here in our Flatts home for an invasion of family and friends this afternoon and this evening. Sadly, I miss the "Voice of Cricket" himself, Jim Woolridge, who had now retired from commentating but will undoubtedely be listening to his radio or watching it on TV.
But enough of my Cup Match plans! Last night I wondered what all of our former colleagues around the world might be doing during this Cup Match weekend. You probably don't have Thursday and Friday off, but I wonder if our Bermudians who live abroad such as Terry Cabral and Stanley Hill still follow the game, and whether any of you might even bring out the Goslings Black Seal and toast those Bermuda memories with a "dark and stormy".
Whatever you are doing, please free to write in and let us know where you are and what you are doing this weekend. We would love to hear from you. You can either write in the "comments" section below this article, or email us at This email address is being protected from spambots. You need JavaScript enabled to view it. and we will post your comments on the website.
We also wonder how many former police officers can you remember who played in Cup Match?*
Just to get you in the mood you can check out the following Royal Gazette articles about this years Cup Match, and several articles about the history of Cup Match:-
Cup Match: History behind the Holiday by Larry Burchall in Bernews (CLICK HERE)
Bermuda Cricket Cup Match at Bermuda-Attractions.com CLICK HERE
St. George's ditch youth policy (RG 28/7/14) CLICK HERE
Best of Friends worst of enemies RG 30/7/14) CLICK HERE
Cup Match is finally here. How the teams match up, by Clay Smith (RG 30/7/14) CLICK HERE
Lunch first day: Somerset in Control (RG 31/7/14) CLICK HERE
The first day of Cup Match certainly had more than it's share of swings and roundabouts. Somerset were in the ascendancy at lunch, but the gane swung in favour of St. George's later in the day. Read all about it in today's Royal Gazette , and the Bernews reports below. We "blue and blues" are smiling for the first time in a while, but this match is far from over!
First day: O'Brien relives the joy of six (RG 31/7/14) CLICK HERE
Live Blog Updates from first days play on Bernews CLICK HERE
For most of the second day it looked as though this years' Cup Match would go down to the wire, but Somerset's batting was much too strong and the Cup winners won with ease thanks to a magnificent 121 not out from Terryn Fray.
Final Result : Fray hundred fires Somerset to thumping win (
RG 1/8/14) CLICK HERE
2nd August
We have received the following email from Ray Sousa in Australia
Excellent item on Cup Match. As a kid Cup Match, like Easter, meant new clothes. I also enjoyed the matches, although we often got caught in heavy showers of rain. I am sure Cup Match was the true traditional start of some Bermudians feeling black and proud. Having said that I question if white businesses were not the true winners, due to the amount of liquor, food and clothes purchased at the time. I know in my family a small fortune was spent each year.
As a Police Officer, I often wondered what would happen if the crowd in a state of

drunkenness

rioted ! H

ow would we handle it ? Fortunately we were never tested, however on one occasion things got a bit dicey. I came across a very large abusive, man with a stick in his hand surrounded by Officers. An anti-Police crowd was there. I had

previously

arrested the giant, during which we had both

received

minor injuries. I requested the officers to step back, [ much to the annoyance of Senior Officers there]. I then told the offender to put down the stick or one of us would end up in the hospital, or even the morgue. " P

lease keep that crazy bastard away from me ", came t

he reply. The stick was put down and the man agreed to leave the ground with me following him ensuring he did. Needless to say the Senior Officers made it clear they were not happy with my conduct; but I gained a bit of respect from the Locals. The most important thing was no-one was hurt.
As stated, I enjoyed the colour and

atmosphere

of Cup Match. One

disappointment

was that only blacks played in the teams. If a few good white cricketers had taken part, I believe it would have helped break down race barriers that existed at the time.
7th August 2014
List of Police Officers who have played in Cup Match
We are keen to compile a comprehensive list of every police officer who has ever played in Cup Match. We will also do our best to obtain photos of each player and some information about them.
Just to get the ball rolling (excuse the pun), I would like to start with a player who only played once, in 1960 for St. George. Marcus Packwood joined the Bermuda Police in June 1961 and served for just 4 years before he died, much too young, in August 1965 after a short illness. Marcus was not a Cup Match star by any means but he was a good bowler who played for the Police team and was an exceptionally nice guy and a pleasure to work with.