At home on Alexandra Road, Prospect
During a recent chat with Dave Garland (while playing golf together at Mid Ocean), he was reminiscing about the joys of living in the Police housing at Prospect when he and his wife Sue were first married. Here are a few of Dave's recollections, and we wonder if anyone else would have similar memories of their time on Alexandra Road, Mary Victoria Road, and Frog Lane.
Sue and I moved into 23 Alexandra Road in the summer of 1969. We had as neighbors one of Bermuda Police Forces all time incredible characters, Sean Sheehan and his lovely wife Pat.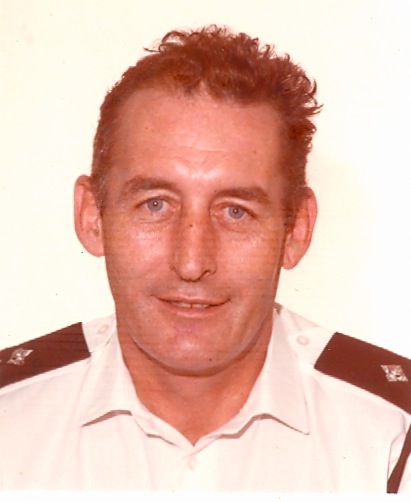 Inspector Sean Sheehan
We loved them very much, including their two children Cliona and Aine. On the other side lived Reese Barclay and family. There were many great characters living in the Police Houses at the time.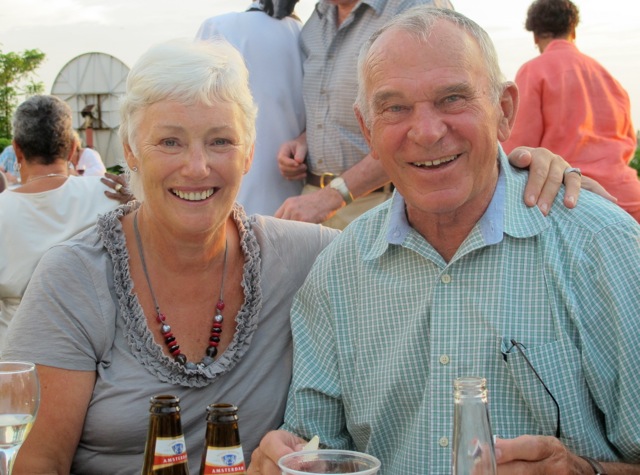 Sue and Dave Garland enjoy eating out at one of our BBQ's
Just as Sean and Pat's house became a meeting place for various Irish officers, ours became a Retreat, for want of a better word, for Yorkshire men and a few others. Regular visitors were, Uncle "Paddy" and Uncle Jeff to Caitlin, our daughter, as time went by. They were, of course, Ian "Paddy" Ackroyd and Jeff Baker (Welsh) same as Sue. Even today Caitlin fondly remembers them both.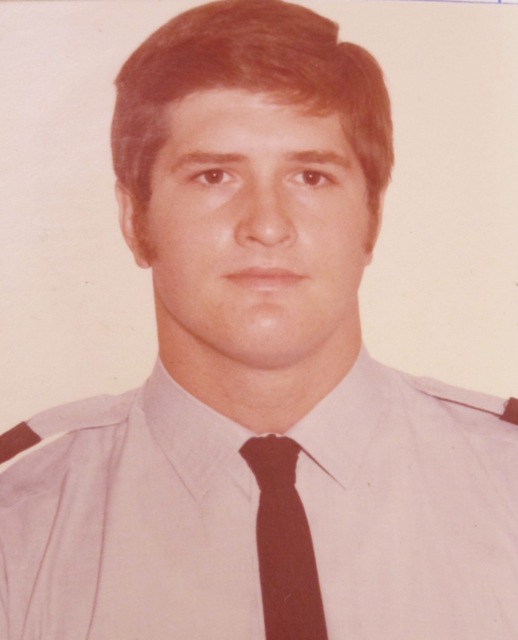 Others who visited on various occasions were Les Tomlinson, Bob Kinnon, Mike Parris and his sidekick Jimmy Costello (Lancastrian). Recently Bob Porritt came to Bermuda and when tRoger Sherratt told me of his arrival, he also informed me that Bob had told him about Sue and myself inviting him home for dinner shortly after he arrived. He was a bit in the dumps knowing nobody. How lovely it was to see him again. He visited #23 regularly for a while. To be honest there were many more. I always felt sorry for new recruits stuck in the Prospect barracks.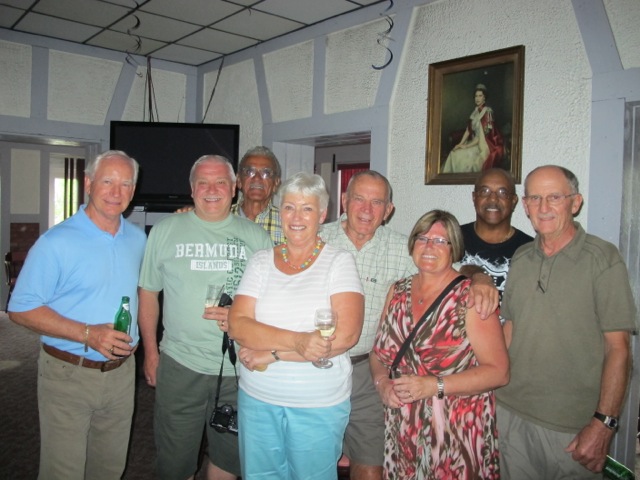 Bob and Pam Porritt re-visit Bermuda in 2012
(l-r) Ernie McCreight, Bob Porritt, Eddie "Boxhead" Foggo, Sue and Dave Garland,
Pam Porritt, Reese Bartley and Dave Cook
During the time we lived at #23 we had a few illustrious gentlemen stay with us. The first was a young constable who had only arrived a couple of days earlier; he had been in a bit of bother and Supt "Nobby" Clark brought him to the house at 11 pm and said, "Dave, put him up for the night. I'll see him in the morning? No name on this one.
We had Gerry Ardis and his wife for two weeks, waiting to move into a rental. They had just got married. Ian Balsden was another, left with us by "Nobby". He stayed for two weeks and left the island shortly afterwards.
"Nobby" also dropped off David Shakeshaft who stayed with us for over three weeks. He'd been in some problem, he was no bother and we all got on very well.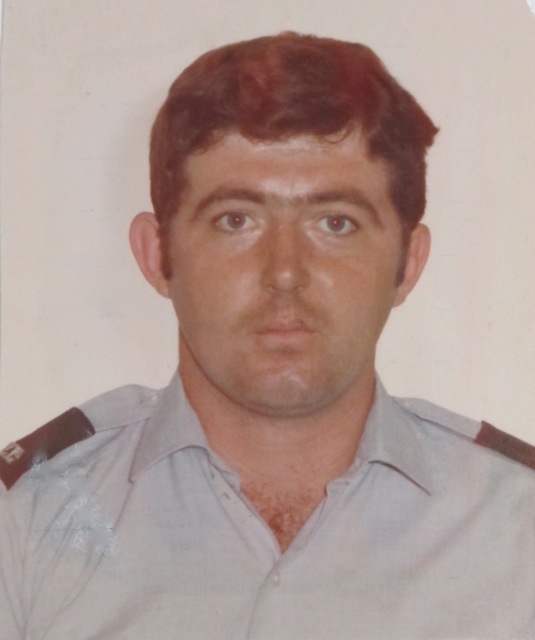 The highlight of the year was Xmas dinner and we always had two or three single officers for dinner and drinks. They were fondly remembered days and Prospect was a great place for police officers children to grow up in. In the middle was a large grass area where they played football and cricket, and I remember the Mullen boys Michael and Terry cut down an area where they hit golf balls.
Down the back road as we called it lived Eric Leng, George Garrod, Jim McNiven and John Joe Sheehy (his son Michael now lives in Bermuda and works at Flanagans).
On the top road I remember, Vic Richmond, Mike Burke, Keith Pratt, Tom Cassin, Jeff Payne and many others. I wonder if any ex-officers who lived in this area have the same happy memories of police housing.
To end, the highlight of living at #23 was when I had most of the Celtic Football team around there for a BBQ in 1972. About 10 of them signed Caitlin's baby book which I still have today. Jock Stein, Billy McNeil etc and they gave me a Celtic shirt.
What great days.
Dave Garland.
Editors note - We would be pleased to receive comments from any of those young men who visited the Garland household during the years when they lived on Alexandra Road.
We would also be delighted to hear recollections from any other former residents of the police housing at Prospect.
9th August 2014
We have just received the following comments from Ian "Paddy" Ackroyd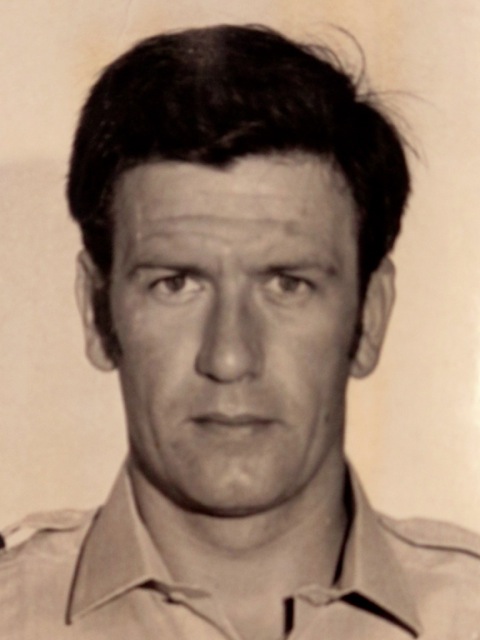 I feel very fortunate to have been "adopted" by Sue and Dave Garland shortly after arriving in Bermuda.
We became and remain good friends and still stay in touch.
Their home at Prospect was an oasis for many of us and their hospitality and friendship was truly appreciated by the new recruits when they welcomed us to their home.
Have only good memories of my tenure in Bermuda and I enjoy the times here when the exBdaPolice crew get together and we reminisce about the positive experience it was for all of us.
Met up with Bill Nixon, the Prices, Coco, Dai Thomas and Helen Gallagher at Tom's memorial service in NI last year and very recently with Paul Hendrick, Jeff Baker and Colin MacKenzie at Paul's legendary annual pool party in Ontario. Very comfortable to touch base again with everyone from those great days whenever we meet or stay in touch by 'phone, email and Skype.
Congratulations to you for the fine job you do with the website. Great vehicle for all of us across the globe to follow the events/happenings of everyone and hope it continues to flourish.
With kind regards to all
Following our reqest for more information about life in the Police Housing at Prospect, we just received the following email from Carolyn and Mike Burke. This is one of the most fascinating and informative articles we have ever receiving for our website and we are delighted to publish it exactly as received:-
Dear Roger
You asked for some memories of living in the police houses so I have written out some of Mike's and my years on Alexandra Road.
Please feel free to edit it if you feel it is necessary and also correct any misspelled names. I'll look through our photo albums and try to find a few photos to copy and send but they'll come by 'snail mail' as I'm not clever enough to know how to send them via computer. We enjoyed reading Dave Garland's
story.
Anyway, here goes with my story (with Mike's approval!) Carolyn
LIVING IN POLICE HOUSES AT PROSPECT, BERMUDA (PREVIOUSLY OCCUPIED BY THE BRITISH ARMY SERVICEMEN, THEIR WIVES AND FAMILIES)
Mike and I lived on Alexandra Road from November 1963 until October 1979 when we moved to Camp Lodge opposite Police HQ (where
"Red" Hebberd and his family had lived for many years). Along Alexandra and Mary Victoria Road were 2 and (a few) 3 bedroom houses plus
three apartment blocks (each with 4 one bedroom apartments) on Alexandra Road. The apartment blocks were lost to police families about
1965 and Bermuda families were moved into them.
At the time we moved into married quarters in 1963 (first to Apt. 3, then to house No. 16) the following families were there. Dave and Pat Parsons lived in No 1 with a name plate beside the door stating it was 'The Parsonage'. Their young son, Andrew, had received a drum from Santa for Christmas that year and very early on New Year's morning the rat-a-tat-tatting of his drum resounded as he marched up and down the road, which probably didn't go down too well with the New Year's Eve revellers who were trying to sleep in or who were nursing a 'too many drinks' headache.
Jim Hanlon was in No 2. On the same New Year's Eve, a conga line from a party in the apartments snaked in through his front door and out the back one while he calmly continued reading his newspaper as though nothing unusual was happening.
I don't remember everyone who lived in the apartments at that time (No. 3 to No 14) except Crawford and Mary (Mame) Rae, Christine Muspratt, Ray Hackett (who left to train as a lawyer), John and Joan Allen, Ronnie Mullen, Bob Coppock & later Clive and Penny Donald (I think), Mike Woods plus others I've forgotten.
Ian and Liz Morrison were in No. 15. No. 16 was used as a temporary home for families while Public Works renovated their houses and then we moved in there. Next were Derek and Helen Fletcher who had a gentle old boxer, Nipper, and a ginger cat, Tiddles, that spent most of the day cooled out in our back garden with our cat, George. In the rest of the houses along Alexandra were Jimmy Woodward, George and Joanne Linnen, Harvey and Jeannie Fothergill, Derek Singleton, Joe and Margaret Colton, John Joe and Joan Sheehy and Derek Taylor.
On Mary Victoria Road in November 1963, were John and Jenny Mullen, John and Celine Cafferky, Jim Lyons, Jim and Marion McNiven, Ken and Joanne Norman, Jimmy and Annie Moir, Pat McLaughlin, and Jim McMaster. There were also two derelict houses which were eventually knocked down.
Doug (Red) & Kitty Hebberd lived at Camp Lodge. Tom Doyle lived in Depot Lodge.
During the 17 years we lived on Alexandra Road we saw many families come and go and quite a few changed houses several times as their families grew in size and as bigger and better-located accommodation became available. For example, Crawford (Crow) Rae lived in Apt. 4, then 1 Frog Lane, 18 Alexandra and then Mary Victoria Road before taking early retirement on medical grounds and returning to Scotland. Some men resigned; some retired; some bought private housing on the island. Besides those I've already mentioned, other police families who stayed in the houses, or who came for a while and then moved on were John & Barbara Edwards, Vic & Anne Richmond, Max & Anna Williams, Eric (Ekkie) & Jeannette Laing, Merv & Edwina Willey, Tony & Jill Watson, Dave & Pattie Adams, Bob & Helen Hay, Norell Hull, Dick & Dorothy Cuddihy, Dick & Anne Murphy, Wayne & Judy Perinchief, Andy Bermingham, Bob Porter, Tom and Joanne Cassin, Keith & Jackie Pratt, Mike Palmer, John and Sandra Barnett, Steve Petty, Stan and Hillary Hill, Dave & Sue Garland, Shaun & Pat Sheehan, Willie McCracken, Alan & Pauline Bissell, Gertie & Alan Barker, John & Anna Mulholland, George & Wilma Garrod, Orsen Daisley, Dennis Byrne (the second), Dave Cann, Neil & Marion Cox, Eddie & Aloma Foggo and a few others whose names I can't remember just now.
My apologies to those wives whose names have slipped my mind and so aren't mentioned.
Some of the officers who lived on Frog Lane were Bill Bryan, Harold Moniz, Jerry James, Colin Jowett.
In 1963, Mr. Powell, a farmer who lived down a lane at the far end of Alexandra Road and below what was then the Hotel Catering College, pastured his 5 or 6 cows in the oval area between Alexandra and Mary Victoria Roads which, I thought, gave the area a nice country feel. This area was mostly long grass and weeds with oleanders and fiddlewood trees growing here and there. It was probably a small park when the British Army families lived there. Crow Rae, who had made a lovely miniature 9 hole golf course beside his house at 1 Frog Lane in 1965 or '66, made another 9 hole course in the oval area when he moved back to Alexandra in 1967 but it proved unsuccessful as some golfers hit the ball too hard, endangering residents and windows, so he gave up on it and let the weeds grow back. It was then used as a play area by the children until it was destroyed and our peaceful living was shattered in 1971 by bulldozers, cranes and hammers when the government decided to build a large low-cost housing estate there plus a large apartment building at the entrance of Alexandra Road.
Mike and I think our house at No. 16 had a ghost. I first had the feeling when I was expecting our son, Mark, and it became stronger when our daughter, Sally, came along but disappeared once the children were about 7 or 8. I never mentioned this to Mike but when Sally was born he told me about ghostly happenings he'd been experiencing over the past few years which were exactly the same as mine.......waking suddenly in the middle of the night with a strong feeling that someone was standing at the end of the bed; having a shower and such a strong feeling of a presence on the other side of the curtain that we'd pull it back to make sure no one was there. I finally found a curtain with see-through areas in it and that feeling was solved. The children often mentioned several such happenings to us, even waking in the night and calling us to their room to tell us someone had been standing beside their bed looking at them. We had never talked about the ghostly feelings in front of them and would reassure them by saying they'd had a bad dream. Even our cat would be sound asleep beside us on the couch, wake suddenly and stare fixedly at something across the room. When we looked in that direction he'd quickly relax and go back to sleep. There were also other small incidents. We're sure it wasn't just our imagination but we felt it was a good ghost, if that's what it was....perhaps one of the yellow fever victims who had lost a child to yellow fever. Once we'd both confessed our ghostly feelings to each other, we walked through the peaceful British Army cemetery (now also the Police cemetery) reading the inscriptions on the tombstones, thinking how sad that they had died so young of yellow fever...men, women, children, babies....and wondering if one of them might be 'our ghost'.
We loved our house on Alexandra Road and everyone enjoyed living in the police houses, I'm sure, but it was never the same after the housing estate was built. Joan Sheehy, Jackie Pratt and I got together and persuaded the authorities to put in speed bumps as it became unsafe for the children to walk along the road with many speeding cars. The fire department, for some reason, was allowed to install a siren on top of the water tank at Prospect behind our house and at 5 pm every day a long, loud, screaming wail assaulted our ears.....I'm sure the young men who lived in barracks also remember it.
Like Dave Garland, we often had single men for a barbecue or roast meal and occasionally for Christmas dinner if Mike was off duty. The children loved having these nice young visitors in the house. Most families would have a single policeman live in and look after their house and pets while they were away on holiday. This was not only a great help to the family but also gave the young officer a nice change from living in barracks.
Happy days, happy memories and so many more I could write about and so many nice people it is a pleasure to have known.
Carolyn Burke
Editors note - Our sincere thanks to Carolyn and Mike for taking us back in time on such a nostalgic journey. We would be delighted to hear from anyone else who might like to share their memories of living at Prospect.