Bermuda Recollections 1972-1974
We recently heard from Tim Shea who worked here in Bermuda with the U.S. Navy at the Naval Air Station from 1972-1974. He had just discovered our website after perusing a Facebook page called Navy NAS Bermuda where he happened to see a post from our good friend and colleague Territt (Terry) Cabral. He contacted Terry to enquire about two old friends from his Bermuda days, Clive and Jenny Owen, and Terry was able to let him know that they had both recently visited Bermuda and that their visit was mentioned on our Bermuda Ex-Po website. Tim promptly contacted us and we put him in touch with Clive and Jenny with the following result, in Tim own words:-
"I recently became reunited with an old friend and neighbor from Bermuda through the help of the Bermuda Ex-Police Association (Bermie Ex-Po) hosted on the ExpoBermuda.com site. Although I have not been back to Bermuda since leaving in 1974, I keep in touch with the island through the internet and often wonder what became of the friends I knew back then.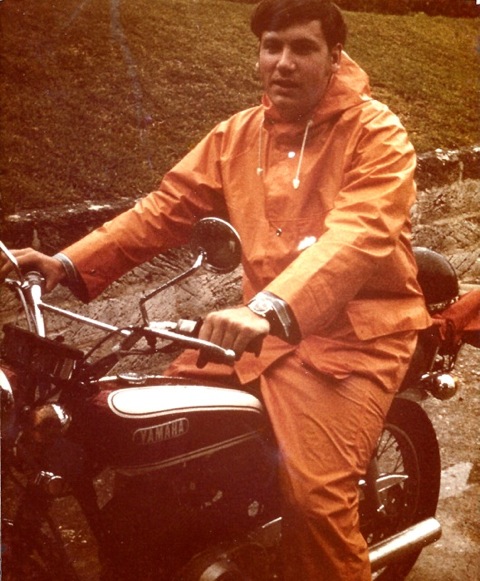 Tim Shea on Yahama in Bermuda - March 1974
I am also a member of a Face Book page called Navy NAS Bermuda and happened to be perusing it one day and saw a post by Mr. Territt Cabral, a former Bermuda policeman (CID, MI5). I reached out to ask if he by chance knew Clive Owen and lo and behold, he did. Not only did he know him, he advised that Clive and Jenny had just recently visited Bermuda and this was documented on the Bermie Ex-Po site. I did a little digging, found the site, read the article and there they were! A little older and grayer, but my old friends nonetheless.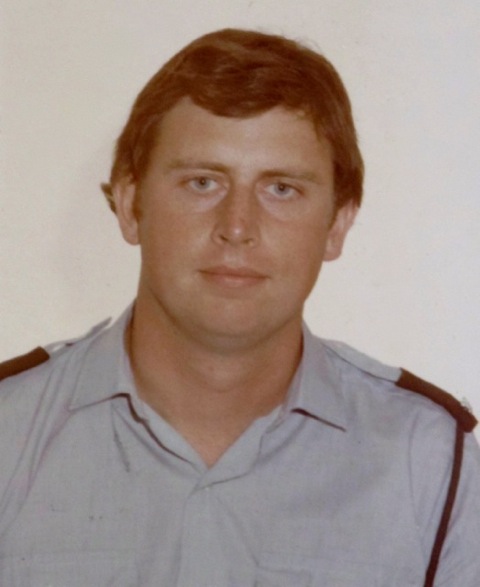 Young P.C. Clive Owen
I was determined to track them down and reconnect. I reached out to the editor, Mr. Roger Sherratt via e-mail, and asked if they could provide an e-mail or postal address where I might try to contact Clive and Jenny. I received a very quick response from Roger who advised that he had sent my e-mail on to them. I had a reply in my In-box later that same day! To say I was thrilled would be an understatement. Clive and I have exchanged several e-mails and basically have caught ourselves up for the past 40 years. I'm planning to travel when I retire, and England and their home are definitely on my "list."
I sent a "Thank You" to Roger the very next day and he suggested that I write a few lines for the Bermie Ex-Po website.
How did I come to be in Bermuda? I was in the U.S. Navy and received orders for NAS Bermuda. I had no idea that we even had an airfield in Bermuda! I was somewhat familiar with Bermuda as a destination for honeymooners and college breakers, but like most Americans, I thought it was located much further south, closer to the Bahamas. I had a lot to learn about Bermuda.
I was stationed at Naval Air Station Bermuda (Kindley Field) from the fall of 1972 to late summer 1974. I worked as an air traffic controller in the radar room at the base of the air traffic control tower that sits high above the airfield.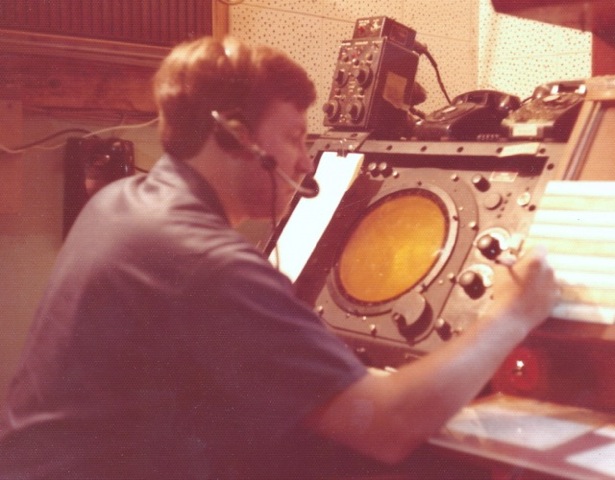 Tim Shea working an approach - March 1974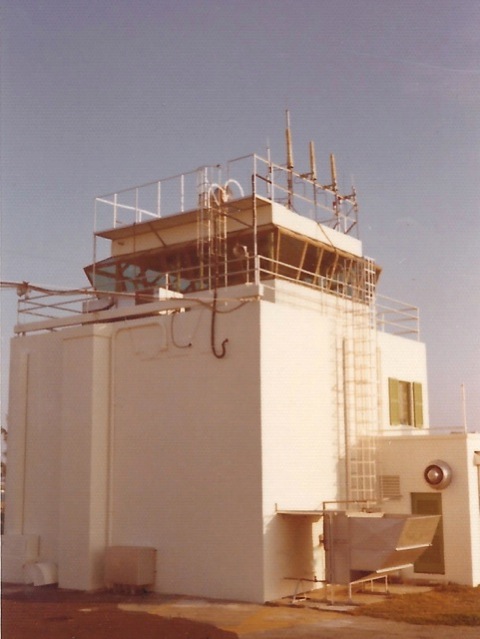 Bermuda Air Traffic Control Tower - March 1973
The Naval Air Station (Kindley) was handed back to Bermuda
and is now called Southside.

T

he tower is still in operation
Four of us controllers rented Scotland House, Harrington Sound Road, Smith's from Mr. Hilton Burgess, who lived just down the road from us. We got to know a few of our neighbors and I became friends with Clive and Jenny Owen as they were right next door. Clive worked for the Bermuda Police as a motorcycle officer and Jenny was a nurse at the hospital.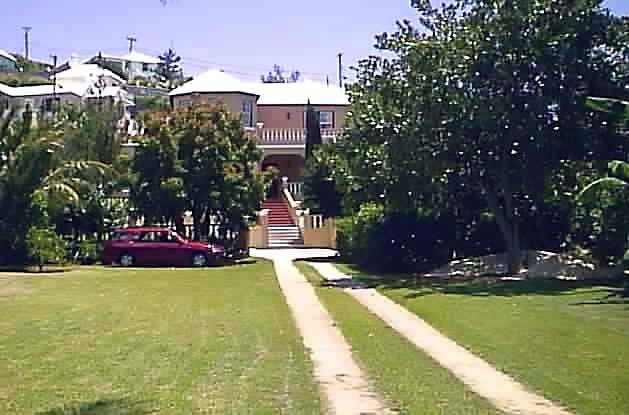 Scotland House on Harrington Sound Road, Smith's Parish
How did I meet Clive and Jenny? I don't have a clear memory of exactly how I met them, but I suspect it was while I was trimming the hedges between the properties when Clive rolled into the drive in uniform and astride the Police twin-Triumph motorcycle. We no doubt struck up a conversation, introduced ourselves and found that we had a lot in common, mostly music. Clive had music from the UK and I had music from the US. We'd trade, play and discuss. Clive was teaching himself guitar and I was an amateur player as well, but had no instrument and was looking to buy one.
So one fine Monday in 1979, April 9 to be exact (I still have the receipt), Clive and I went down to Riihiluoma's in Hamilton to find me a guitar. Those on the showroom floor wouldn't do, so they sent us to the attic where we could tune, play and compare dozens of guitars in stock. It was a great afternoon and I went home with my new guitar. Now Clive could teach me some of the tunes he knew. I especially recall "Streets of London" by Ralph McTell. Still a favorite. There wasn't much I could teach Clive as he was light-years ahead of me and was simply more talented.
Jenny was a fine cook and I had many a home-cooked meal at the Owen household. Jenny introduced me to quiche Lorraine (I haven't had better since) and curries. I was familiar with curry as a spice, but not Indian cuisine. Very exotic to this American's palate.
I left Bermuda in a bit of a rush in August 1974 as I had been accepted to a college and the Navy had given me an "Early Out" to start my classes and probably never properly said my "goodbyes" and exchanged addresses. I am thrilled to have found these old friends through the Bermie Ex-Po Association. I do plan to return to the island and bore my wife with a tour of all the places I went, etc.
These days I live in Orlando, Florida where I am an airport consultant after having a career in airport management. In fact, I know Aaron Adderley, your Airport General Manager, who I met when I was on staff at Orlando International Airport. Aaron was on assignment to our airport to spend time with each of the departments and take ideas back to Bermuda LF Wade International Airport. We have stayed in touch since. Aaron gave me a beautiful aerial photo of the airport and I only have to look over my shoulder to see it hanging on the wall beckoning me to return. Soon!"
Tim Shea 18th
August 2014