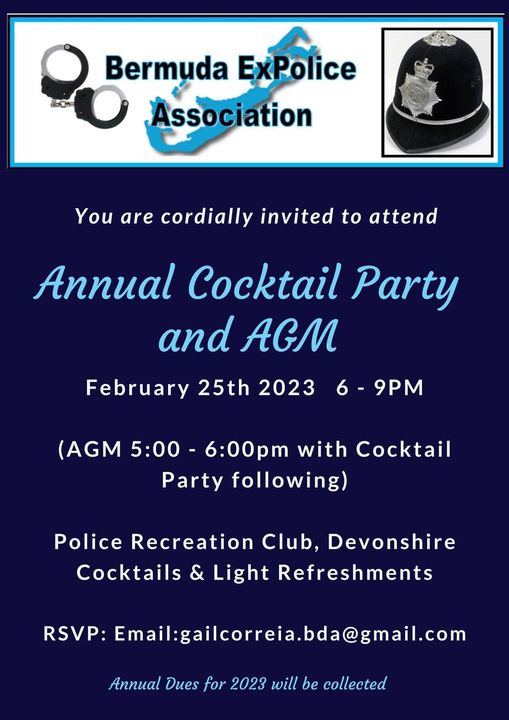 We're delighted to advise our members residing in Bermuda, and any other members who might be on Island in late February, that we will be holding our Annual Cocktail Party, and our Annual General Meeting (AGM) at the Police Recreation Club on Saturday 25thFebruary 2023, from 5pm – 9pm
The evening will start at 5pm with our AGM. We will be sending out all the information for the AGM in advance, such as the Agenda, President's Report, Annual Financial Report, and details of the Election of Officers so that we can complete the AGM as quickly as possible and get on with the reception.
We have traditionally asked members to kindly pay their annual dues when attending this event, but have not been able to do so during the Covid pandemic. The annual membership fee is $40 if you are under 70, and $20 if you are 70 and over. Spouses are Associate members are not required to pay any membership fee.
We look forward to returning to "normal" after Covid, and this evening will be an excellent opportunity to get together with our friends, colleagues and spouses. It would be much appreciated if you can confirm your attendance by RSVP to Gail Correia via Email at
This email address is being protected from spambots. You need JavaScript enabled to view it.